Event #9: €1,650 Pot-Limit Omaha/No-Limit Hold'em Mix
Dias: 2
Event #9: €1,650 Pot-Limit Omaha/No-Limit Hold'em Mix
Dia 2 Concluído

Nível 31 : 60,000/120,000, 120,000 ante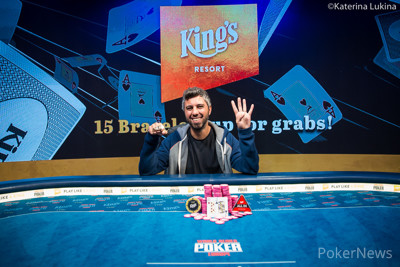 Asi Moshe isn't a player with a lack in accomplishments or total earnings from live tournaments. Before this tournament he was the proud owner of three WSOP gold bracelets but this didn't stop him from winning a fourth one, while his total earnings are now more than $2.5 million. This caps a fantastic year for Asi Moshe since he had already won a bracelet during 2019 WSOP in Las Vegas, by conquering Event #44: $1,500 Bounty No Limit Hold'em.
This is a unique accomplishment that his fellow countryman and good friend Timur Margolin managed to achieve last year, to win one bracelet in Las Vegas and one in Rozvadov, and this year it was Dash Dudley's earlier and now Moshe's turn to repeat it.
When asked about how he feels for winning his fourth career bracelet, Moshe said "It's really crazy, specially considered I don't really play Omaha, just a little bit online but just the way I pick up the cards feels really weird. But poker tournaments are poker tournaments, it still worked out. I looked at the ICM and I got many chips so everything worked out but I'm not an Omaha player for sure."
The three-handed lasted a lot more time than expected, based on the stacks of the players when it started. "I felt ok. Obviously, the situation can change a lot in three-handed play. Harout Ghazarian on my left doubled three different times on me but I just tried to play ICM, according to their stacks. I tried to refocus on every hand and play disconnected from the hand before."
Something that Moshe had on his side was the rail, with many of his friends supporting him during the ride of the final table. "There is a lot of people from Israel who come to play here so I had some very good friends here to support me". Regarding his plans for the rest of the festival, he said "In fact I miss my daughter too much. I knew I was just coming here for five days, like I did last year and I'm glad it ended up with a bracelet. I'm happy to come home and I want to send my thoughts to my wife Erga and my daughter Mika!"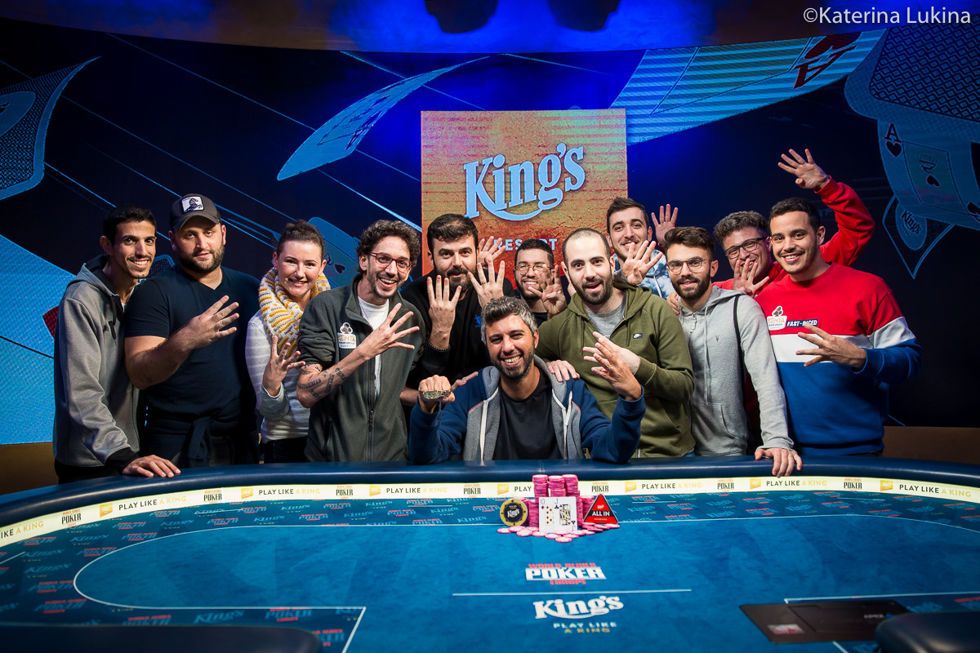 Final Result Event #9: €1,650 Pot-Limit Omaha/No-Limit Hold'em Mix
| Place | Winner | Country | Prize (in EUR) | Prize (in USD) |
| --- | --- | --- | --- | --- |
| 1 | Asi Moshe | Israel | € 97,465 | $108,186 |
| 2 | Kristoffer Rasmussen | Denmark | € 60,230 | $66,855 |
| 3 | Harout Ghazarian | Canada | € 41,754 | $46,347 |
| 4 | William Chattaway | United Kingdom | € 29,480 | $32,723 |
| 5 | Jakob Madsen | Denmark | € 21,206 | $23,539 |
| 6 | Erik Cajelais | Canada | € 15,548 | $17,258 |
| 8 | Quan Zhou | China | € 8,861 | $9,836 |
| 9 | Chris Ferguson | United States | € 6,893 | $7,651 |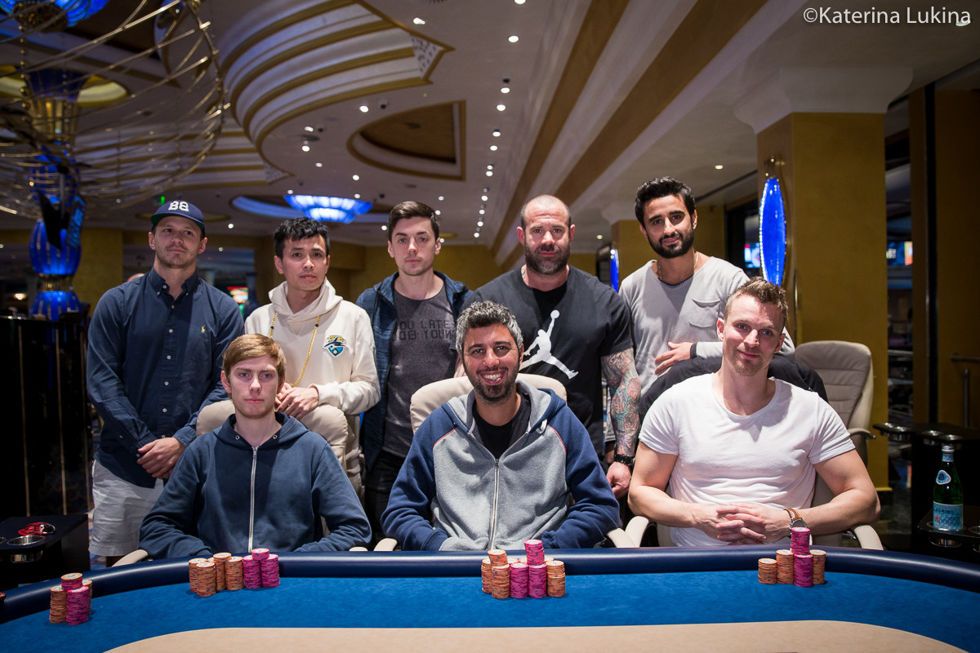 Day 2 of the event started with 56 hopefuls returning to their seats to earn a place in the money, at first, and then see how far they can go. With 42 players receiving a payout based on the structure, it meant that 14 of them would leave empty-handed. Among those who didn't manage to earn money were bracelet winner Samuel Higgs and Ming Jeun Teoh, while the bubble-boy was Siarhei Chudapal. The player from Belarus was left with less than five big blinds, and he put them in the middle with jacks from the small blind, after Paul Hendee's open from the button who called with king-three. The board had just one three on the flop but a king on the turn and another three on the river sent Chudapal to the rail one place away from the money.
Big Names that Fell Short
After the bubble burst the eliminations were quick and multiple bracelet winners Daniel Negreanu, Jeff Madsen, Shaun Deeb and Jeff Lisandro departed from the field before the last two tables.
The biggest story of the event until the final table was the appearance of Chris Ferguson there. Ferguson went all the way to enter the unofficial nine-handed final table but the dream of winning his seventh bracelet was lost in a Pot-Limit Omaha hand against Harout Ghazarian.
Ferguson had to compromise with the ninth place and a €6,893 payout.
The Dominant Performance of Asi Moshe
Asi Moshe had an amazing performance from start to end, sitting with the chip lead in the beginning of Day 2, something that he didn't relinquish almost for all 14 hours of play. This chip lead drove him into the final table with the biggest stack and he continued to earn chips from his opponents, making it almost impossible for them to reach him.
When the event was left six-handed Moshe started a rampage that resulted in sending all of his opponents to the rail after this point. Erik Cajelais, Jakob Madsen, William Chattaway, Harout Ghazarian and eventually Kristoffer Rasmussen in the heads-up, all surrendered to Moshe.
The heads-up lasted only two hands when Moshe shoved in the second one with jack-ten and he got called by his opponent's queen jack. The flop had a queen but Moshe turned a straight to send his last opponent packing and wear the fourth bracelet in his hand.

Nível 31 : 60,000/120,000, 120,000 ante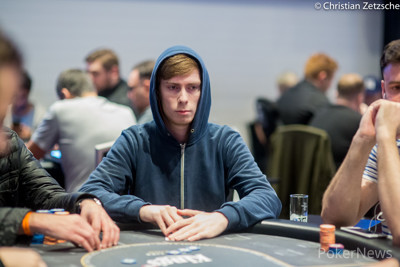 No-Limit Hold'em
Just two hands were enough for the heads-up to end. Kristoffer Rasmussen gave a walk to Asi Moshe in the first one, and Moshe shoved on the second, with Rasmussen making the call.
Asi Moshe:

Kristoffer Rasmussen:
Rasmussen had a dominating hand and the flop brought a queen but the
indicated that there is going to be a sweat. Indeed, the
on the turn gave a straight to Moshe and made him a big favorite to win the hand.
The
didn't change anything and the tournament is over.
Nível 31 : 60,000/120,000, 120,000 ante

Pot-Limit Omaha
Harout Ghazarian called on the button and Kristoffer Rasmussen folded. Asi Moshe tanked before raising to 420,000. Ghazarian announced pot and Moshe quickly moved all-in, snap-called by Ghazarian.
Harout Ghazarian:

Asi Moshe:
Ghazarian didn't hit throughout the board
, giving the flush to Moshe on the turn and went to cashier to collect his €41,754 prize.

Nível 31 : 60,000/120,000, 120,000 ante
Pot-Limit Omaha
Asi Moshe is in this process of rebuilding the stack he lost in the previous hands. After winning some pots against Harout Ghazarian, he won one from Kristoffer Rasmussen too.
Rasmussen opened to 250,000 from the button and Moshe called from the small blind with Ghazarian getting out of the way. The flop came
and Moshe check-called a bet for 205,000.
Both players after the
in the turn and the
in the river. Moshe opened
and it was enough to rake him the pot since Rasmussen mucked.
Nível 31 : 60,000/120,000, 120,000 ante
Jogador
Fichas
Oscilação

Asi Moshe

4,500,000

1,350,000

Harout Ghazarian

2,050,000

-500,000

Kristoffer Rasmussen

1,650,000

-850,000
Nível: 31
Blinds: 60,000/120,000
Ante: 120,000
Nível 30 : 50,000/100,000, 100,000 ante
Pot-Limit Omaha
Harout Ghazarian raised to 250,000 on the button and Asi Moshe calle in the big blind.
The flop was
and both checked. On the
turn, Moshe check-called for 300,000.
The
was checked and Moshe announced "straight", revealing
, which was enough to make Ghazarian muck his cards.
Nível 30 : 50,000/100,000, 100,000 ante
Pot-Limit Omaha
Asi Moshe raised his button to 250,000 and Kristoffer Rasmussen shoved for 1,235,000, snap-called by Moshe. Rassmussen had the best hand with
and was against
for Moshe.
The flop came
, giving outs to Moshe for the flush but he didn't hit throughout the
turn and
tiver and Rassumussen took down the pot.

Nível 30 : 50,000/100,000, 100,000 ante
Pot-Limit Omaha
Harout Ghazarian is getting closer to Asi Moshe, after winning a sizable pot against him. Moshe raised to 300,000 preflop from the small blind and Ghazarian called from the big blind.
The flop came
and Ghazarian called a bet for 200,000 from his opponent.
The turn was the
and Moshe bet 525,000 this time, with Ghazarian calling again after some tanking.
The river was the
and both players checked. Moshe shaked his head to indicate that he didn't have anything and showed
. Ghazarian opened
for a flush and scooped big pot.