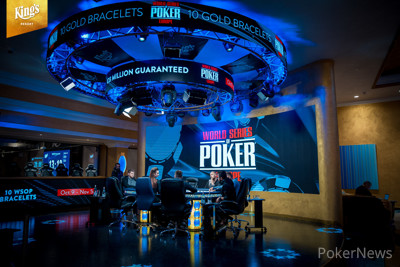 It's a case of one down, two to go as we enter Day 2 of Event #9: €100,000 Super High Roller with Timothy Adams in the chip lead.
It was touch and go last night whether Adams would be pipped by German Dominik Nitsche. Adams had held the chip lead throughout the day, but a flurry of activity for Nitsche in the last level actually put him in the chip lead.
However, in the very last hand of the day, Steve O'Dwyer doubled through Nitsche, and the chip-lead pendulum swung back in the Canadian's favour.
As well as Adams, Nitsche and O'Dwyer, several other players including Adrian Mateos, Tobias Ziegler and Stefan Schillhabel are well-placed. 2018 WSOPE bracelet winner Michael Addamo is also in the top 10 chip counts with 33 players remaining.
However, with late registration open for the first two levels of the day, we expect to see some frantic action early on as players race to avoid having to potentially fire another bullet in the second-biggest buy-in event ever held at a World Series of Poker Europe.
Play resumes at 1pm, with the schedule for the day to play down to a final table of eight. There will be 15-minute breaks after every two levels, and a 60-minute dinner break after level 16 (~19:30).
Day 2 Seat Draw
| Table | Seat | Player | Country | Chip count | Big Blinds |
| --- | --- | --- | --- | --- | --- |
| 40 | 1 | Aymon Hata | United Kingdom | 2,300,000 | 29 |
| 40 | 3 | Vladimir Troyanovskiy | Russian Federation | 4,245,000 | 53 |
| 40 | 4 | Joao Vieira | Portugal | 5,415,000 | 68 |
| 40 | 6 | James Chen | Taiwan | 3,210,000 | 40 |
| 40 | 8 | Steve O'Dwyer | Ireland | 7,390,000 | 92 |
| | | | | | |
| 43 | 1 | David Peters | United States | 6,110,000 | 76 |
| 43 | 2 | Wai Leong Chan | Malaysia | 2,725,000 | 34 |
| 43 | 3 | Johannes Becker | Germany | 3,520,000 | 44 |
| 43 | 4 | Martin Kabrhel | Czech Republic | 1,755,000 | 22 |
| 43 | 7 | Steffen Sontheimer | Germany | 3,375,000 | 42 |
| 43 | 8 | Ahadpur Khangah | Iran | 5,095,000 | 64 |
| | | | | | |
| 44 | 1 | Christoph Vogelsang | Germany | 3,590,000 | 45 |
| 44 | 2 | Michael Addamo | Australia | 6,385,000 | 80 |
| 44 | 4 | Ivan Leow | Malaysia | 5,220,000 | 65 |
| 44 | 5 | Ole Schemion | Germany | 2,850,000 | 36 |
| 44 | 6 | Richard Yong | Malaysia | 1,425,000 | 18 |
| 44 | 8 | Koray Aldemir | Germany | 3,420,000 | 43 |
| | | | | | |
| 45 | 1 | Matthias Eibinger | Austria | 2,885,000 | 36 |
| 45 | 2 | Stefan Schillhabel | Germany | 7,275,000 | 91 |
| 45 | 3 | Orpen Kisacikoglu | Turkey | 3,560,000 | 45 |
| 45 | 4 | Rainer Kempe | Germany | 1,765,000 | 22 |
| 45 | 7 | Julian Thomas | Germany | 5,770,000 | 72 |
| 45 | 8 | Manig Loeser | Germany | 2,085,000 | 26 |
| | | | | | |
| 46 | 1 | Sergio Aido | Spain | 3,070,000 | 38 |
| 46 | 3 | Mikita Badziakouski | Belarus | 5,865,000 | 73 |
| 46 | 4 | Jan-Eric Schwippert | Germany | 5,280,000 | 66 |
| 46 | 5 | Michael Soyza | Malaysia | 2,080,000 | 26 |
| 46 | 6 | Stanley Choi | Hong Kong | 4,235,000 | 53 |
| 46 | 7 | Igor Kurganov | Germany | 2,400,000 | 30 |
| | | | | | |
| 47 | 2 | Timothy Adams | Canada | 12,960,000 | 162 |
| 47 | 3 | Dominik Nitsche | Germany | 9,515,000 | 119 |
| 47 | 7 | Tobias Ziegler | Germany | 8,230,000 | 103 |
| 47 | 8 | Adrian Mateos | Spain | 8,365,000 | 105 |