Chris Moorman Eliminated in 2nd Place (€800,000)
Nível 29 : 50,000/100,000, 10,000 ante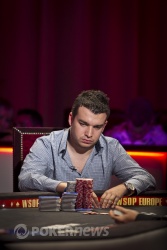 Hand #201: Elio Fox had the button. He raised to 200,000, and Chris Moorman three-bet to 430,000. Fox responded with a shove, and Moorman made the call for his tournament life. It looked like he had about 2.1 million chips left, and they were now all committed to this pot. And as the cards were turned up, the news was not at all good for the Brit.
Showdown
Fox:

Moorman:
For the first time in 11 hours, the atmosphere in the room became electric as everyone scrambled around to find a line of sight. Some ran to the television screens, others flooded the perimeter of the stage, craning their necks to catch a glimpse of the decisive flop. The dealer spread out
, and that was a fantastic sweat. A chorus of nervous chatter coursed through the studio as Moorman picked up another four outs to fill in the gutterball.
The turn came the
, and that was another sweat. If he had to miss fourth street, the board pair was a good way for Moorman to do it. Now he could catch a three or a four to chop, or a five or seven to win. Thirteen outs once seems like an awful lot for a guy who runs like Chris Moorman, but it just was not meant to be today.
River:
That's clean and safe for Fox, and it's the card that's put the bracelet on his wrist here in Cannes!
It's hard to be disappointed when you've just earned €800,000, but Moorman was clearly frustrated with the way his day ran out over the last couple hours. He was closing in on half the chips in play at one point, and you'd have been a fool to bet against him, even when he started leaking a bit. We know we wouldn't want to face him heads-up for a bracelet, but Fox looked him up with the confidence of a true champion, jabbing away at the little pots and landing every big punch he threw.
Moorman will have to settle for second place today, and the cash he'll collect should eventually help to take away some of the sting. It's been another fine run for he and the Brits here this week.