Casey Carroll Leads After $1,000 Pot-Limit Omaha Day 1

Nível 10 : 500/1,000, 0 ante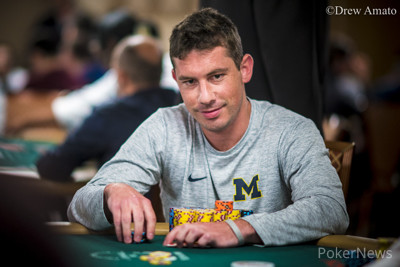 Day 1 of Event #25: $1,000 Pot-Limit Omaha attracted a field of 1,058 and after a fast-paced and action-filled day, with a whole host of big names entering.
The likes of Vanessa Selbst, Frank Kassela, Allen Kessler, Mike Ross, Shaun Deeb, Ryan Laplante, Mike Sexton, Rep Porter, Men Nguyen and Connor Drinan all played and bust today.
Such as the intensity of today's action, the money bubble burst shortly before the final level of the day, with the remaining players all guaranteed $1,501. Martin Kabrhel was lucky to survive, as at one point he was all in from the big blind with just one big blind remaining. However, there were six limpers and the Czech player rivered a flush to stay alive.
Some players who bust in the money included Martin Kabrhel (154th - $1,501), Naoya Kihara (148th - $1,501), Manig Loeser (139th - $1,501) and Yuval Bronshtein (116th - $1,579).
Defending champion Sam Soverel also cashed in this event, but bust in the last level of the night in 111th for a payout of $1,579.
It's also interesting to note that the second, third and fourth place finishers in last week's $565 Pot-Limit Omaha Event all bagged up at the end of the night. Jason Stockfish (69,200), Steven Wolansky (14,100), Igor Sharaskin (118,600), and Scott Davies (45,900) will all return tomorrow.
There are still some big names left in the field including Bruno Politano (51,200), Nadar Kakhmazov (103,100), Michael Mizrachi (153,800), Dan Heimiller (16,800), Alex Foxen (102,000), Tony Cousineau (24,000), Jason Wheeler (92,00) and Fraser MacIntyre (111,100) but none of them come close to the monster stack of Casey Carroll.
He bagged up 210,800 and will return tomorrow with the intention of getting one step closer to the final table and shot at earning their first WSOP bracelet along with $179,126 in prize money.
The players will return Wednesday at 12 p.m.
| Room | Table | Seat | Player | Country | Chip Count |
| --- | --- | --- | --- | --- | --- |
| Amazon | 168 | 1 | Kyle Fleischmann | United States | 65,300 |
| Amazon | 168 | 2 | Scott Bohlman | United States | 76,800 |
| Amazon | 168 | 3 | Jason Chung | United States | 45,700 |
| Amazon | 168 | 4 | Jose Rosenkrantz | United States | 11,700 |
| Amazon | 168 | 5 | Steven Wolansky | United States | 14,100 |
| Amazon | 168 | 6 | Andrew Watson | United States | 18,500 |
| Amazon | 168 | 7 | Adam White | United States | 27,100 |
| Amazon | 168 | 8 | Kenneth Po | United States | 19,700 |
| | | | | | |
| Amazon | 169 | 1 | Mark Zullo | United States | 55,500 |
| Amazon | 169 | 2 | Jason Wheeler | United States | 92,000 |
| Amazon | 169 | 3 | Justin Gardenhire | United States | 41,500 |
| Amazon | 169 | 4 | Caufman Talley | United States | 34,700 |
| Amazon | 169 | 5 | William Migely | United States | 57,300 |
| Amazon | 169 | 6 | Matthew Franklin | United States | 23,600 |
| Amazon | 169 | 7 | Peter Ruderschmidt | United States | 32,000 |
| Amazon | 169 | 8 | Kenneth Gregersen | Denmark | 61,800 |
| Amazon | 169 | 9 | Lawrence Lazar | United States | 45,400 |
| | | | | | |
| Amazon | 170 | 1 | Eugene Tung | United States | 34,400 |
| Amazon | 170 | 2 | Brant Hale | United States | 22,900 |
| Amazon | 170 | 3 | Rami Mornel | United States | 13,800 |
| Amazon | 170 | 4 | Michael Rocco | United States | 81,400 |
| Amazon | 170 | 5 | Alex Foxen | United States | 102,500 |
| Amazon | 170 | 6 | Domone Siripane | France | 4,600 |
| Amazon | 170 | 7 | Dan Heimiller | United States | 16,800 |
| Amazon | 170 | 8 | Jon Lane | United States | 64,400 |
| | | | | | |
| Amazon | 171 | 1 | Jesse Rockowitz | United States | 28,300 |
| Amazon | 171 | 2 | Jacob Dahl | United States | 22,200 |
| Amazon | 171 | 3 | Edward Slack | Guatemala | 33,800 |
| Amazon | 171 | 4 | Jeff Chapman | United States | 30,000 |
| Amazon | 171 | 5 | Gregory Kolo | United States | 45,000 |
| Amazon | 171 | 6 | Daniel Spencer | United States | 44,500 |
| Amazon | 171 | 7 | James Hoeland | United States | 29,000 |
| Amazon | 171 | 8 | Alexandre Fradin | France | 128,900 |
| Amazon | 171 | 9 | Timothy Woodson | United States | 24,200 |
| | | | | | |
| Amazon | 172 | 1 | James Chen | United States | 77,800 |
| Amazon | 172 | 2 | Allan Le | United States | 138,000 |
| Amazon | 172 | 3 | Christopher O'Rourke | United States | 41,800 |
| Amazon | 172 | 4 | Grantel Gibbs | United States | 46,700 |
| Amazon | 172 | 5 | Jacques Misonne | Belgium | 20,200 |
| Amazon | 172 | 6 | Jesse Fulmer | United States | 164,700 |
| Amazon | 172 | 7 | Joshua Ladines | United States | 16,700 |
| Amazon | 172 | 8 | Yosuke Sekiya | Japan | 33,000 |
| | | | | | |
| Amazon | 173 | 1 | Bradley Jansen | United States | 59,800 |
| Amazon | 173 | 2 | Alexander Condon | United States | 18,700 |
| Amazon | 173 | 3 | Renato Marques | Brazil | 48,900 |
| Amazon | 173 | 4 | Tyler Groth | United States | 54,200 |
| Amazon | 173 | 5 | Stephen Ladowsky | Canada | 15,600 |
| Amazon | 173 | 6 | Yueqi Zhu | China | 37,700 |
| Amazon | 173 | 7 | Darren Taylor | United Kingdom | 96,400 |
| Amazon | 173 | 8 | Arvi Vainionkulma | Finland | 58,500 |
| | | | | | |
| Amazon | 175 | 1 | Jonathan Zarin | United States | 55,900 |
| Amazon | 175 | 2 | Daniel Tang | United Kingdom | 14,000 |
| Amazon | 175 | 3 | Toby Joyce | Ireland | 95,500 |
| Amazon | 175 | 4 | Christopher Flint | United Kingdom | 40,100 |
| Amazon | 175 | 5 | Fraser MacIntyre | United Kingdom | 111,100 |
| Amazon | 175 | 6 | Christopher Frank | Germany | 105,400 |
| Amazon | 175 | 7 | Jonathan Ruiz | United States | 55,900 |
| Amazon | 175 | 8 | Igor Sharaskin | Russia | 118,600 |
| | | | | | |
| Amazon | 176 | 1 | Yashuo Chin | United States | 146,200 |
| Amazon | 176 | 2 | Jason Stockfish | United States | 64,200 |
| Amazon | 176 | 3 | Nick Schwarmann | United States | 36,000 |
| Amazon | 176 | 4 | Kan Ying | China | 28,000 |
| Amazon | 176 | 5 | Madhava Wimalaratna | United Kingdom | 8,300 |
| Amazon | 176 | 6 | Yu Zheng | United States | 34,200 |
| Amazon | 176 | 7 | Brad Ruben | United States | 23,800 |
| Amazon | 176 | 8 | Jeffrey Wang | United States | 41,400 |
| Amazon | 176 | 9 | Karim Lehoussine | France | 18,000 |
| | | | | | |
| Amazon | 177 | 1 | Tony Cousineau | United States | 24,000 |
| Amazon | 177 | 2 | Mikhail Semin | Russia | 45,000 |
| Amazon | 177 | 3 | Donald Maloney | United States | 20,500 |
| Amazon | 177 | 4 | Bill Mince | United States | 53,500 |
| Amazon | 177 | 5 | Phillip Mighall | Brighton, , GT | 55,400 |
| Amazon | 177 | 6 | Florian Strasser | Austria | 93,000 |
| Amazon | 177 | 7 | Jeremy Janowiak | United States | 21,900 |
| Amazon | 177 | 8 | Andrew Lukovsky | United States | 116,500 |
| | | | | | |
| Amazon | 178 | 1 | Rumen Nanev | Bulgaria | 15,700 |
| Amazon | 178 | 2 | Michael Mizrachi | United States | 153,800 |
| Amazon | 178 | 3 | Corey Emery | United States | 32,200 |
| Amazon | 178 | 4 | Gary Bolden | United States | 47,500 |
| Amazon | 178 | 5 | James Hughes | United States | 55,300 |
| Amazon | 178 | 6 | Andrew Margolis | United States | 85,200 |
| Amazon | 178 | 7 | Nadar Kakhmazov | Russia | 103,100 |
| Amazon | 178 | 8 | Morgan Popham | United States | 26,000 |
| Amazon | 178 | 9 | Daniel Harmetz | United States | 30,000 |
| | | | | | |
| Amazon | 179 | 1 | Oskar Silow | Canada | 16,200 |
| Amazon | 179 | 2 | Juuso Leppanen | Finland | 58,800 |
| Amazon | 179 | 3 | Richard Hu | United States | 46,300 |
| Amazon | 179 | 4 | Benjamin Eilers | United States | 50,400 |
| Amazon | 179 | 5 | Nick Peperone | United States | 32,100 |
| Amazon | 179 | 6 | Adam Brown | United States | 56,300 |
| Amazon | 179 | 7 | Gregg Merkow | United States | 38,900 |
| Amazon | 179 | 8 | Jesse Chinni | United States | 140,200 |
| Amazon | 179 | 9 | Jeff Sluzinski | United States | 64,600 |
| | | | | | |
| Amazon | 180 | 1 | Bruno Politano | Brazil | 51,200 |
| Amazon | 180 | 2 | Scott Davies | Canada | 45,900 |
| Amazon | 180 | 3 | Tom Midena | United States | 95,600 |
| Amazon | 180 | 4 | Shane Raleigh | United States | 13,400 |
| Amazon | 180 | 5 | Jesse Yaginuma | United States | 74,200 |
| Amazon | 180 | 6 | Joseph Bowers | United States | 10,900 |
| Amazon | 180 | 7 | Vincent Lam | Canada | 14,900 |
| Amazon | 180 | 8 | Jia Mai | Canada | 168,000 |
| Amazon | 180 | 9 | Casey Carroll | United States | 210,800 |