Nível 20 : 5,000/10,000, 0 ante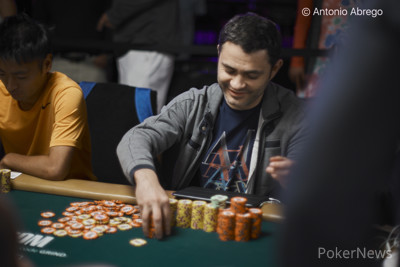 Day 2 saw 102 players resume play from a total of 1,058 entries, and at the end of 10 thrilling hours of poker only 11 players remain. Russian PLO sensation Igor Sharaskin bagged a huge lead with 1,470,000 in chips, more than double his nearest rival Casey Carroll.
Some of the big name who fell on Day 2 included Jason Wheeler, Jason Stockfish, Scott Davies and Dan Heimiller.
For a long time it looked like it was going to be Michael Mizrachi's day. His well-known aggressive play saw him pick up a number of pots uncontested but also brought him rich reward when he did have it, such as the hand where he held kings and eliminated Nadar Kakhmazov who had been a thorn in his side all day.
Then it looked like Darren Taylor, who emerged as one of the chip leaders in the first few levels of the day and gave a nerveless performance throughout the day, would prevail. At times he seemed to have ice in his veins as the cash game pro played fearless poker against some very seasoned opponents.
One critical pot after the dinner break saw Mizrachi call a four-bet from Taylor and they got it all in on the flop. Mizrachi had a pair and straight-draw but the kings of Taylor held to give him one of the big stacks and sow the seeds of Mizrachi's decline.
Taylor was being cheered on by his friends from Northern Ireland including his brother who had made the trip to Vegas with him. "They call him the Slayer," they told PokerNews as the day drew to a close and Taylor hoovered up some more pots. "He kills it online and he's here for the win."
It all came crashing down though barley fifteen minutes from the close of play when Taylor got involved in the biggest pot of the tournament with Sharaskin. By the river, where Sharaskin had bet 235,000 on a board reading
, there was over 500,000 in the middle. Taylor thought for over five minutes, and perhaps his desire to win contributed to his eventual call. He mucked when Sharaskin showed him
for a full house.
Sharaskin went on to eliminate Yosuke Sekiya minutes later to further increase his lead.
Astonishingly Sharaskin finished third in Event #18: $565 Pot-Limit Omaha for $102,045 on June 9 out of a huge field of 3,186 players. To make such deep runs in these huge fields so close together is incredible, and will be even more so if he can convert his chip lead into a win.
The tournament is not over by any means though. 888 Ambassador Bruno Politano flew under the radar for most of the day but played with a smile on his face and will return as the short stack.
Jonathan Zarin finished 21st for $7,443 in the $565 PLO and lies seventh on the leaderboard. It could be a spectacular final day of poker on Thursday.
Cards are back in the air at noon and they will play down to a winner for a gold bracelet and $179,126.
The PokerNews Live reporting team will be there to recount the action blow by blow.
Day 3 Seat Assignments
| Room | Table | Seat | Player | Country | Chip Count |
| --- | --- | --- | --- | --- | --- |
| Brasilia | 1 | 5 | Casey Carroll | United States | 667,000 |
| Brasilia | 1 | 6 | Daniel Spencer | United States | 399,000 |
| Brasilia | 1 | 7 | Jonathan Zarin | United States | 333,000 |
| Brasilia | 1 | 8 | Adam Brown | United States | 292,000 |
| Brasilia | 1 | 9 | Allan Le | United States | 504,000 |
| | | | | | |
| Brasilia | 2 | 1 | Tyler Groth | United States | 577,000 |
| Brasilia | 2 | 2 | Mark Zullo | United States | 289,000 |
| Brasilia | 2 | 6 | Igor Sharaskin | Russia | 1,476,000 |
| Brasilia | 2 | 7 | Bruno Politano | Brazil | 135,000 |
| Brasilia | 2 | 8 | Darren Taylor | United Kingdom | 350,000 |
| Brasilia | 2 | 9 | Jesse Chinni | United States | 277,000 |