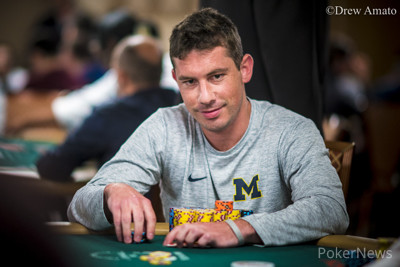 Welcome to Day 2 of Event #25: $1,000 Pot-Limit Omaha at the 2017 World Series of Poker in Las Vegas. On Day 1 a total of 1,058 players entered, but only 102 will return today when play resumes at 12 p.m. local time. The money bubble burst late on Day 1 after approximately one hour of hand-for-hand play, and all remaining players are guaranteed at least $1,576, but all eyes are on the top prize of $179,126 and the accompanying coveted gold bracelet.
Leading the way is Casey Carroll, who has a massive stack of 210,800 chips. But with many fearsome contenders remaining in the pack, nobody has a clear-cut path to victory. Michael Mizrachi (153,800), Jason Wheeler (92,000), Nadar Kakhmazov (103,100), Juuso Leppanen (58,800), Tony Cousineau (24,000), and Dan Heimiller (16,800) are just a few of the more well-known players who will take their seats for Day 2.
Several familiar faces from last week's Event #18: $565 Pot-Limit Omaha are still in the hunt for WSOP gold in this event, including runner-up Jason Stockfish (69,200), third place finisher Igor Sharaskin, and fourth place finisher and WSOP Asia-Pacific Main Event winner Scott Davies (45,900).
Players will play 10 one-hour levels on Day 2 with 15-minute breaks every two levels and a one-hour dinner break after level six at approximately 6:30 p.m. local time.
Check back here to follow all the action on PokerNews.
| Room | Table | Seat | Player | Country | Chip Count |
| --- | --- | --- | --- | --- | --- |
| Amazon | 168 | 1 | Kyle Fleischmann | United States | 65,300 |
| Amazon | 168 | 2 | Scott Bohlman | United States | 76,800 |
| Amazon | 168 | 3 | Jason Chung | United States | 45,700 |
| Amazon | 168 | 4 | Jose Rosenkrantz | United States | 11,700 |
| Amazon | 168 | 5 | Steven Wolansky | United States | 14,100 |
| Amazon | 168 | 6 | Andrew Watson | United States | 18,500 |
| Amazon | 168 | 7 | Adam White | United States | 27,100 |
| Amazon | 168 | 8 | Kenneth Po | United States | 19,700 |
| | | | | | |
| Amazon | 169 | 1 | Mark Zullo | United States | 55,500 |
| Amazon | 169 | 2 | Jason Wheeler | United States | 92,000 |
| Amazon | 169 | 3 | Justin Gardenhire | United States | 41,500 |
| Amazon | 169 | 4 | Caufman Talley | United States | 34,700 |
| Amazon | 169 | 5 | William Migely | United States | 57,300 |
| Amazon | 169 | 6 | Matthew Franklin | United States | 23,600 |
| Amazon | 169 | 7 | Peter Ruderschmidt | United States | 32,000 |
| Amazon | 169 | 8 | Kenneth Gregersen | Denmark | 61,800 |
| Amazon | 169 | 9 | Lawrence Lazar | United States | 45,400 |
| | | | | | |
| Amazon | 170 | 1 | Eugene Tung | United States | 34,400 |
| Amazon | 170 | 2 | Brant Hale | United States | 22,900 |
| Amazon | 170 | 3 | Rami Mornel | United States | 13,800 |
| Amazon | 170 | 4 | Michael Rocco | United States | 81,400 |
| Amazon | 170 | 5 | Alex Foxen | United States | 102,500 |
| Amazon | 170 | 6 | Domone Siripane | France | 4,600 |
| Amazon | 170 | 7 | Dan Heimiller | United States | 16,800 |
| Amazon | 170 | 8 | Jon Lane | United States | 64,400 |
| | | | | | |
| Amazon | 171 | 1 | Jesse Rockowitz | United States | 28,300 |
| Amazon | 171 | 2 | Jacob Dahl | United States | 22,200 |
| Amazon | 171 | 3 | Edward Slack | Guatemala | 33,800 |
| Amazon | 171 | 4 | Jeff Chapman | United States | 30,000 |
| Amazon | 171 | 5 | Gregory Kolo | United States | 45,000 |
| Amazon | 171 | 6 | Daniel Spencer | United States | 44,500 |
| Amazon | 171 | 7 | James Hoeland | United States | 29,000 |
| Amazon | 171 | 8 | Alexandre Fradin | France | 128,900 |
| Amazon | 171 | 9 | Timothy Woodson | United States | 24,200 |
| | | | | | |
| Amazon | 172 | 1 | James Chen | United States | 77,800 |
| Amazon | 172 | 2 | Allan Le | United States | 138,000 |
| Amazon | 172 | 3 | Christopher O'Rourke | United States | 41,800 |
| Amazon | 172 | 4 | Grantel Gibbs | United States | 46,700 |
| Amazon | 172 | 5 | Jacques Misonne | Belgium | 20,200 |
| Amazon | 172 | 6 | Jesse Fulmer | United States | 164,700 |
| Amazon | 172 | 7 | Joshua Ladines | United States | 16,700 |
| Amazon | 172 | 8 | Yosuke Sekiya | Japan | 33,000 |
| | | | | | |
| Amazon | 173 | 1 | Bradley Jansen | United States | 59,800 |
| Amazon | 173 | 2 | Alexander Condon | United States | 18,700 |
| Amazon | 173 | 3 | Renato Marques | Brazil | 48,900 |
| Amazon | 173 | 4 | Tyler Groth | United States | 54,200 |
| Amazon | 173 | 5 | Stephen Ladowsky | Canada | 15,600 |
| Amazon | 173 | 6 | Yueqi Zhu | China | 37,700 |
| Amazon | 173 | 7 | Darren Taylor | United Kingdom | 96,400 |
| Amazon | 173 | 8 | Arvi Vainionkulma | Finland | 58,500 |
| | | | | | |
| Amazon | 175 | 1 | Jonathan Zarin | United States | 55,900 |
| Amazon | 175 | 2 | Daniel Tang | United Kingdom | 14,000 |
| Amazon | 175 | 3 | Toby Joyce | Ireland | 95,500 |
| Amazon | 175 | 4 | Christopher Flint | United Kingdom | 40,100 |
| Amazon | 175 | 5 | Fraser MacIntyre | United Kingdom | 111,100 |
| Amazon | 175 | 6 | Christopher Frank | Germany | 105,400 |
| Amazon | 175 | 7 | Jonathan Ruiz | United States | 55,900 |
| Amazon | 175 | 8 | Igor Sharaskin | Russia | 118,600 |
| | | | | | |
| Amazon | 176 | 1 | Yashuo Chin | United States | 146,200 |
| Amazon | 176 | 2 | Jason Stockfish | United States | 64,200 |
| Amazon | 176 | 3 | Nick Schwarmann | United States | 36,000 |
| Amazon | 176 | 4 | Kan Ying | China | 28,000 |
| Amazon | 176 | 5 | Madhava Wimalaratna | United Kingdom | 8,300 |
| Amazon | 176 | 6 | Yu Zheng | United States | 34,200 |
| Amazon | 176 | 7 | Brad Ruben | United States | 23,800 |
| Amazon | 176 | 8 | Jeffrey Wang | United States | 41,400 |
| Amazon | 176 | 9 | Karim Lehoussine | France | 18,000 |
| | | | | | |
| Amazon | 177 | 1 | Tony Cousineau | United States | 24,000 |
| Amazon | 177 | 2 | Mikhail Semin | Russia | 45,000 |
| Amazon | 177 | 3 | Donald Maloney | United States | 20,500 |
| Amazon | 177 | 4 | Bill Mince | United States | 53,500 |
| Amazon | 177 | 5 | Phillip Mighall | Brighton, , GT | 55,400 |
| Amazon | 177 | 6 | Florian Strasser | Austria | 93,000 |
| Amazon | 177 | 7 | Jeremy Janowiak | United States | 21,900 |
| Amazon | 177 | 8 | Andrew Lukovsky | United States | 116,500 |
| | | | | | |
| Amazon | 178 | 1 | Rumen Nanev | Bulgaria | 15,700 |
| Amazon | 178 | 2 | Michael Mizrachi | United States | 153,800 |
| Amazon | 178 | 3 | Corey Emery | United States | 32,200 |
| Amazon | 178 | 4 | Gary Bolden | United States | 47,500 |
| Amazon | 178 | 5 | James Hughes | United States | 55,300 |
| Amazon | 178 | 6 | Andrew Margolis | United States | 85,200 |
| Amazon | 178 | 7 | Nadar Kakhmazov | Russia | 103,100 |
| Amazon | 178 | 8 | Morgan Popham | United States | 26,000 |
| Amazon | 178 | 9 | Daniel Harmetz | United States | 30,000 |
| | | | | | |
| Amazon | 179 | 1 | Oskar Silow | Canada | 16,200 |
| Amazon | 179 | 2 | Juuso Leppanen | Finland | 58,800 |
| Amazon | 179 | 3 | Richard Hu | United States | 46,300 |
| Amazon | 179 | 4 | Benjamin Eilers | United States | 50,400 |
| Amazon | 179 | 5 | Nick Peperone | United States | 32,100 |
| Amazon | 179 | 6 | Adam Brown | United States | 56,300 |
| Amazon | 179 | 7 | Gregg Merkow | United States | 38,900 |
| Amazon | 179 | 8 | Jesse Chinni | United States | 140,200 |
| Amazon | 179 | 9 | Jeff Sluzinski | United States | 64,600 |
| | | | | | |
| Amazon | 180 | 1 | Bruno Politano | Brazil | 51,200 |
| Amazon | 180 | 2 | Scott Davies | Canada | 45,900 |
| Amazon | 180 | 3 | Tom Midena | United States | 95,600 |
| Amazon | 180 | 4 | Shane Raleigh | United States | 13,400 |
| Amazon | 180 | 5 | Jesse Yaginuma | United States | 74,200 |
| Amazon | 180 | 6 | Joseph Bowers | United States | 10,900 |
| Amazon | 180 | 7 | Vincent Lam | Canada | 14,900 |
| Amazon | 180 | 8 | Jia Mai | Canada | 168,000 |
| Amazon | 180 | 9 | Casey Carroll | United States | 210,800 |