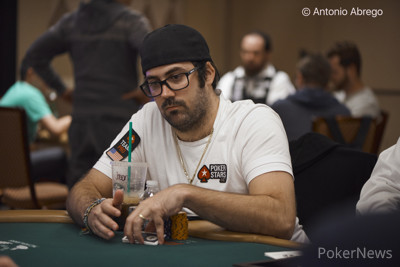 Chance Kornuth was all in against Jason Mercier. Mercier had bet 750 and Kornuth raised all in for 8,000. Mercier eventually folded while Shaun Deeb, who had folded, was documenting the entire process.
After Mercier folded, Kornuth pulled his cards close to his chest and, with a smirk on his face, tossed them face up on the table showing what appeared to be a pair of sevens, but was apparently two pairs.
On the next hand, a new player joined the table: Idris Gencoglu. He tried to limp in early position. He was told by the dealer and the table that he isn't allowed to limp and must open for a raise, so he made it 100.
"You can't limp in this?" said Kornuth. "That's shenanigans."
After the min-raise by Gencoglu, Mercier made it 450 to go. Deeb and Gencoglu both called.
Each player drew one and then checked. Deeb threw out an ace to show his highest card and Gencoglu turned over
. Mercier mucked.