Event #87: $2,500 Mixed Omaha/Seven Card Stud Hi-Lo 8 or Better
Dias: 4
Event #87: $2,500 Mixed Omaha/Seven Card Stud Hi-Lo 8 or Better
Dia 4 Concluído
Nível 34 : Blinds 500,000/1,000,000, 100,000 ante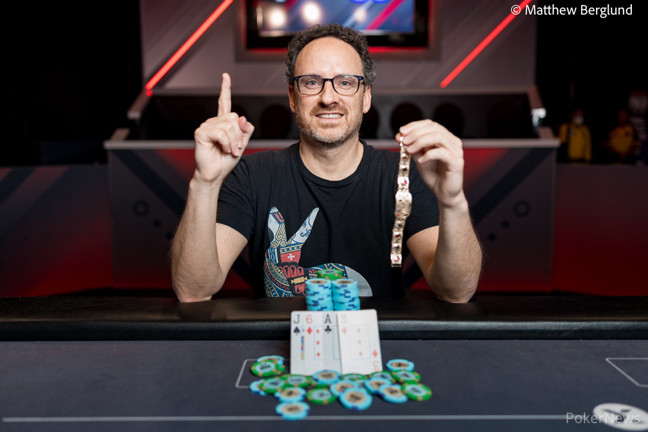 "It's always been my dream to win a bracelet," said Bradley Smith. "Anyone who plays poker, it's their dream to win a bracelet." Today, his dream has come true.
Smith overcame a field of 460 entrants, a marathon final table that stretched the tournament into an unscheduled fourth day, and a back-and-forth heads-up battle with Nghia "3 Putts" Le to win $221,733 and his first WSOP gold bracelet in Event #87: $2,500 Mixed Omaha/Seven Card Stud Hi-Lo 8 or Better at the 2023 World Series of Poker at Horseshoe and Paris Las Vegas.
Smith hails from Thornhill, a suburb of Toronto, Ontario, Canada. His entry into mixed games has been fairly recent. "I didn't play any mixed games until 2017," said Smith. "I played the $1,100 Mega Satellite for H.O.R.S.E. the night before the 10k event - that was my first live mixed game of any kind. I won $10,000 - I was actually the chipleader when that ended. The next year might have been my first WSOP mixed game tournament - the $1,500 H.O.R.S.E., and I finished third in that [in 2018 for $87,769]. I've absolutely fallen in love with mixed games. I don't play them any other time of the year, but I would play mixed games all the time if I could."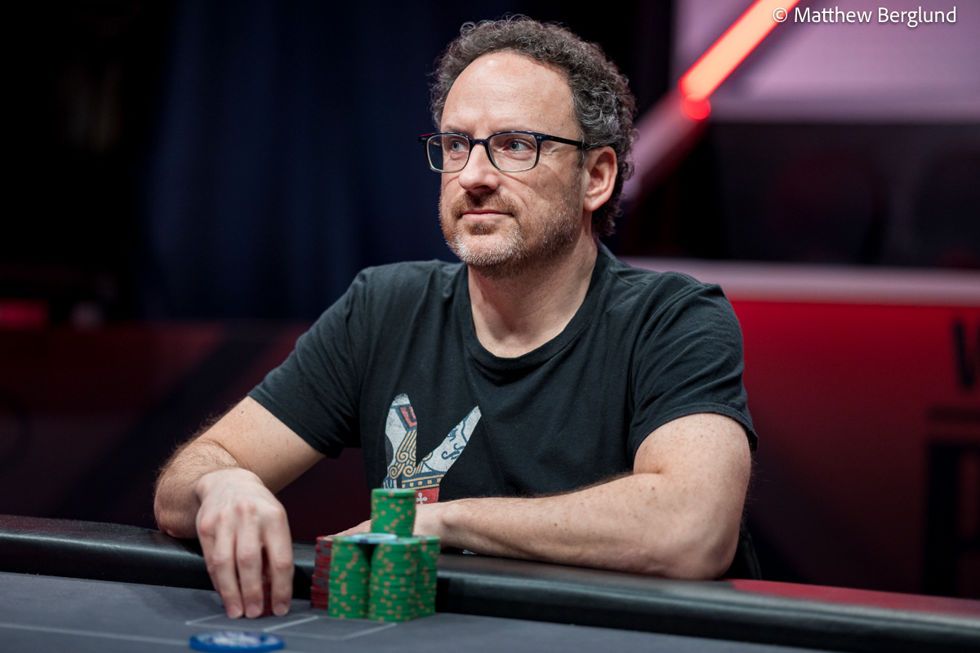 This event was right up Smith's alley. "Omaha-8 and Stud-8 are my two favorite games. I won a tournament (in this format) at another place about two weeks ago or so. I would say I played the best of my life in this tournament. I was super focused for every single second. You know, never giving up at any point in time."
His confidence was high, and entering Day 4 as the short stack left him unfazed. "I think I played every single hand in this tournament to the best of my ability," said Smith, "and there was not any point that I ever gave up for one second, even if I didn't have a lot of chips."
"Your mental health is a huge part of the game, just your mentality," he added. "Throughout my entire life, I've just been a very calm and chill person. There's not many things that get to me. I'm not someone who's going to raise my voice or if someone says something to me, I don't usually make a big deal about it or say something back, you know? I just do my thing."
Final Table Results
| Place | Winner | Country | Prize (in USD) |
| --- | --- | --- | --- |
| 1 | Bradley Smith | Canada | $221,733 |
| 2 | Nghia Le | United States | $137,039 |
| 3 | Nick Pupillo | United States | $94,681 |
| 4 | Omar Mehmood | United States | $66,605 |
| 5 | Timothy Frazin | United States | $47,721 |
| 6 | Jonah Seewald | United States | $34,836 |
| 7 | Philip Sternheimer | United States | $25,919 |
| 8 | Yuval Bronshtein | Israel | $19,662 |
Day 4 Play
With the final three players unable to find a winner after ten levels of play yesterday, an extra day was necessary to crown a champion. The final three arrived with their eyes set on taking home the crown. Nick Pupillo was unable to get anything going, losing several early pots to Smith before being eliminated in Omaha Hi-Lo when Smith flopped two pair against his paired eights. With Pupillo out, Le and Smith were heads up.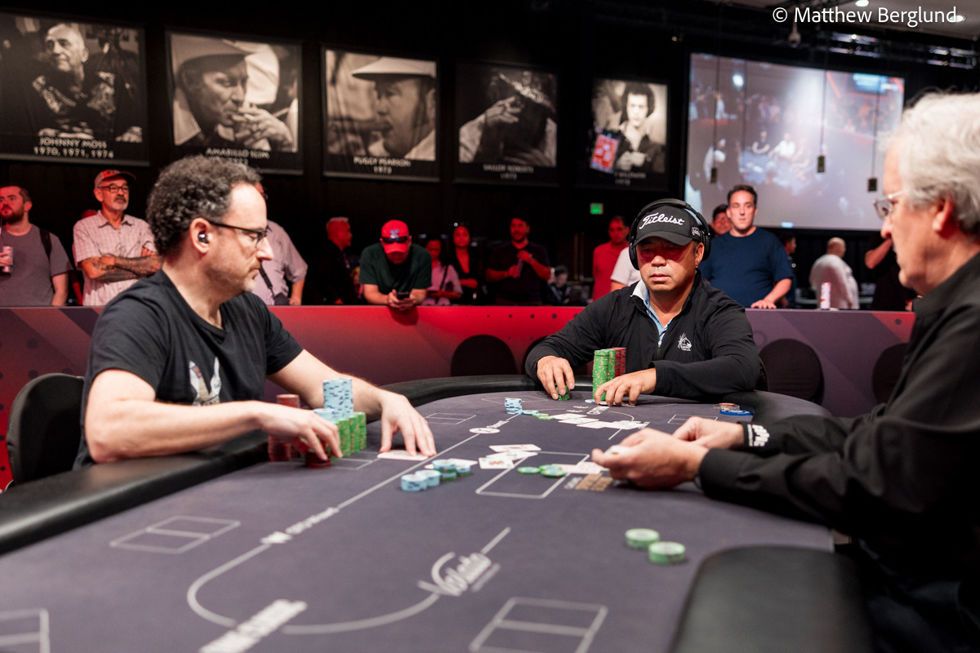 Their heads-up battle lasted over three hours and was full of twists and turns. Smith took the lead within the first 15 minutes and seemed poised to take it down. Le was undeterred, though, and mounted a vicious comeback. He turned four million chips into over 11, and at one point held 70% of the chips in play. Smith remained in his zone, though, still smiling and talking. He doubled up on a scoop in Omaha Hi-Lo, and took back the lead shortly thereafter. This time, it was a lead he would not relinquish.
The end came just 40 minutes later. Le got the last of his short stack in the middle preflop in Omaha Hi-Lo, but Smith turned top pair and Le could not catch up. The two competitors shook hands, and a champion was crowned.
Le Speaks
Le, who talked and joked a lot during the event, had more to say after his elimination. "A lot of mixed emotions," he said when asked what he was feeling. "Obviously everybody wants to play and win the bracelet. I felt like I had it in my hands, and it slipped away. He [Smith] played great, give him a lot of credit. He's very methodical, great player. It's an honor to play in this tournament - it's my first time playing this event. So happy to advance this deep, actually! A little bit of sadness in there, but not much. I learned a lot. Had a chance to compete with these great players and finish second. Maybe next year," he added with a smile.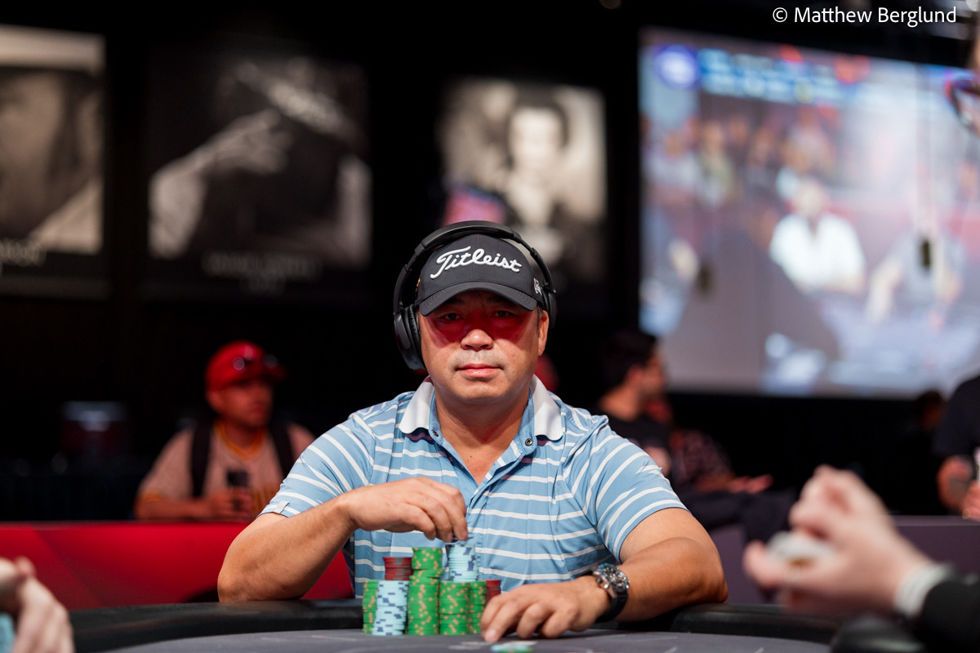 "Any time you come out to this arena and somehow land at two final tables and finish third and second - I'm a no-limit player, but I think I've found my game," added Le. "I am in love with H.O.R.S.E. and limit mixed games. It feels very relaxing, and it's much easier for the people who can make a decision after the flop. I can make solid, sound decisions in these games, so I'm going to continue to play and pursue them."
Last Word With the New Champ
Smith became a little emotional when asked who he wants to shout out, and what is coming next for him. "I want to thank my friends, and my entire family and my kids [he has a daughter turning 18 today]. I'm not a full-time poker player. I'm actually starting something new when I get back home to Toronto - I'm going to be working in the financial services sector. That's something new, but the good thing about it is I can make my own hours and I can still come here every summer. I feel like I was meant to play poker. I loved mixed games. I don't ever want to miss a summer being here. It's fun for me. I love the competition. I'm a competitive person, and I like all aspects of the game. I love poker."
Smith opened his backpack to confirm that his newly-won WSOP bracelet was firmly inside its case. After looking at it one last time, he placed it back in his bag and headed to collect a career-high score. Today, poker loved him back.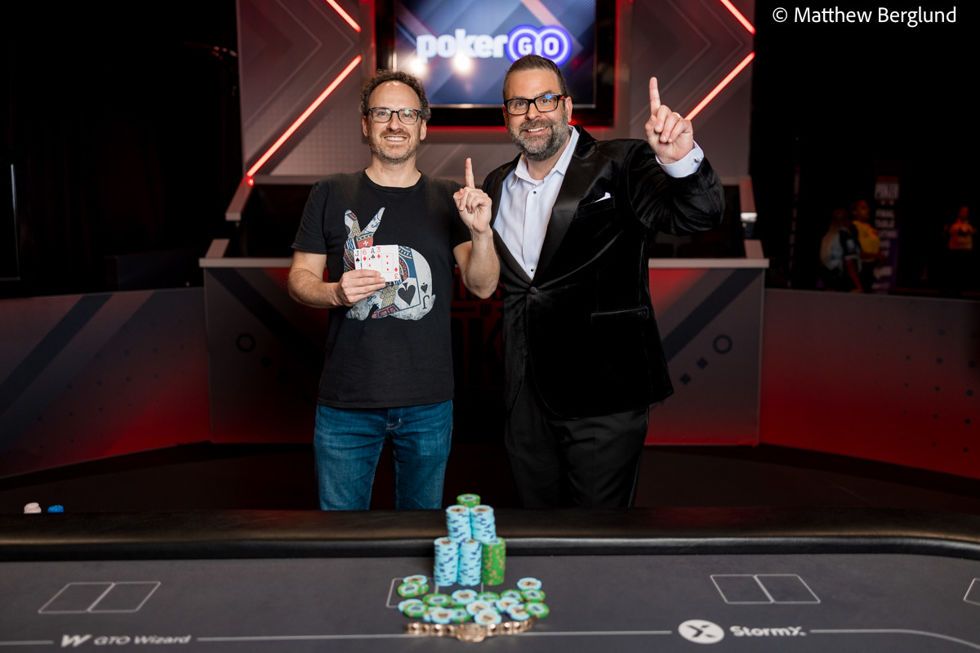 This concludes PokerNews' coverage of Event #87: $2,500 Mixed Omaha/Seven Card Stud Hi-Lo 8 or Better. Stay tuned for continuing updates from the rest of the World Series of Poker.
Nível 34 : Blinds 500,000/1,000,000, 100,000 ante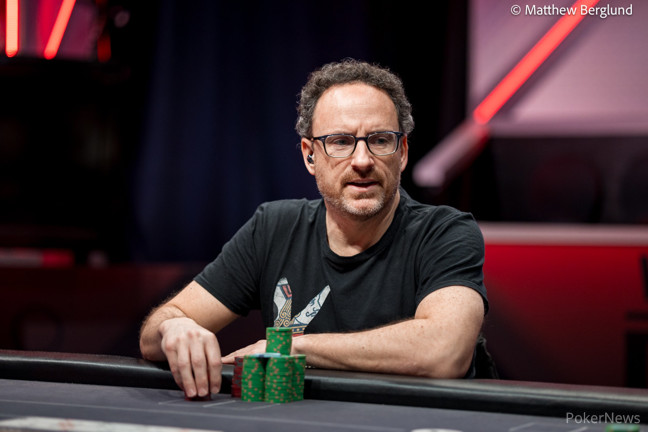 Bradley Smith has won his first career World Series of Poker bracelet, defeating Nghia Le in a back-and-forth heads-up match to claim the $221,733 top prize.
Stay tuned for a recap of the day's action.
Nível 34 : Blinds 500,000/1,000,000, 100,000 ante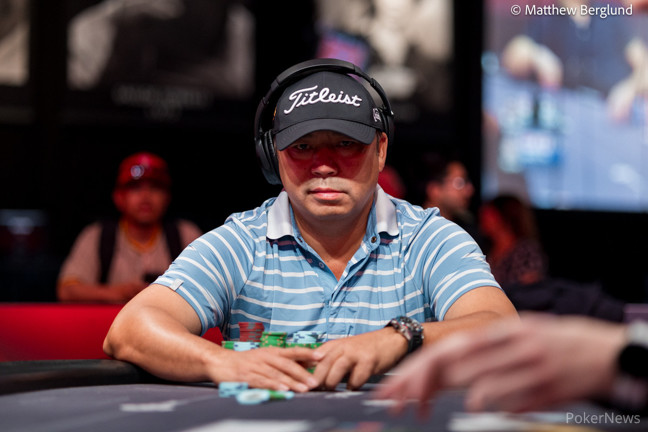 Omaha Hi-Lo 8 or Better
Nghia Le reraised all in from the big blind and Bradley Smith called.
Nghia Le: Q♦9♠6♠5♦
Bradley Smith: A♣J♠6♦3♦
The 4♠Q♣K♣ flop gave Le a pair and Smith a straight draw. Smith improved to top pair on the A♥ turn and Le couldn't catch up on the 7♦ river as the two opponents shook hands and Le headed off to collect his runner-up payout.
Nível 34 : Blinds 500,000/1,000,000, 100,000 ante
Omaha Hi-Lo 8 or Better
Bradley Smith raised preflop, with Nghia Le then coming over the top from the big blind. Smith made the call.
The Q♣8♣J♣ flop saw Le check to Smith. Smith bet, and Le folded after a minute.
Nível 34 : Blinds 500,000/1,000,000, 100,000 ante
Stud Hi-Lo 8 or Better
Bradley Smith: XxXx/3♥7♠10♣J♥/Xx
Nghia Le: XxXx/K♦8♣8♦5♥/Xx
Nghia Le completed and Bradley Smith called. Both players checked on fourth street.
Le resumed betting on fifth and Smith called. Le bet again on sixth and Smith stuck around.
Smith then opened the betting on seventh and Le tanked for a few moments before mucking. "I could beat eights," he told Le, showing A♠2♣ as he took the pot to open up a big lead.
Nível 34 : Blinds 500,000/1,000,000, 100,000 ante
Stud Hi-Lo 8 or Better
Bradley Smith: XxXx/10♣J♠10♠J♥
Nghia Le: XxXx/3♥4♥5♠5♦ - folded on sixth street
Smith completed with his ten, with Le making the call.
Fourth and fifth streets followed the same line, with Smith check-calling a bet from Le.
Smith bet again on sixth street. Le checked his cards while shuffling his chips and thinking. He checked his cards again and prepared chips to raise before finding a fold.
Nível: 34
Omaha: 250,000-500,000, 500,000-1,000,000 Limits
Stud: 200,000-500,000, 500,000-1,000,000 Limits, 100,000 Ante
Nível 33 : Blinds 400,000/800,000, 100,000 ante
Omaha Hi-Lo 8 or Better
Nghia Le raised the button and Bradley Smith called to the 8♣K♠2♠ flop.
Le bet again and Smith called. The turn came the 4♦ and Smith again check-called a bet.
The J♠ fell on the river and Le bet once more. Smith tanked for about a minute before pushing in a call as Le turned over A♣A♠7♦5♣ for aces and a low. Smith showed 10♥8♠6♦4♠ for two pair to chop the pot as Le shook his head in frustration.
Nível 33 : Blinds 400,000/800,000, 100,000 ante
Omaha Hi-Lo 8 or Better
Bradley Smith raised preflop into Nghia Le, who made the call.
The 9♣7♦3♦ flop saw Le check-call a bet from Smith.
The 10♥ arrived on the turn, and Le took a few moments before placing a bet. Smith began to think, checking his cards, before putting out a raise. Le made the call.
The 6♥ river came with another check from Le. Smith bet, but Le found a fold. "Good fold," said Smith, who has regained the lead.