Event #77: $777 Lucky 7's
Dias: 3
Event #77: $777 Lucky 7's
Dia 3 Concluído

Nível 43 : Blinds 2,000,000/4,000,000, 4,000,000 ante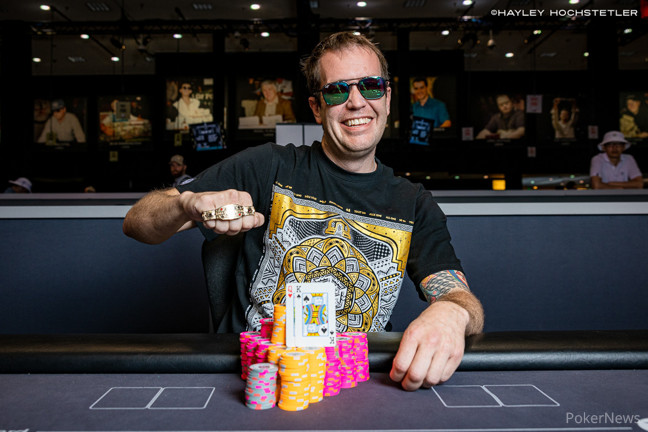 Tears and emotion. That was the feeling of Shawn Daniels when he called on the river to win Event #77: $777 Lucky 7's No-Limit Hold'em of the World Series of Poker in Horseshoe and Paris Las Vegas.
With his first WSOP bracelet, he claimed the first-place prize of $777,777. This win today surpasses his lifetime WSOP cashes which totaled $734,611 until now, which includes two WSOP Circuit ring wins on WSOP.com.
Finishing in second place, Julien Montois also exceeds his previous largest prize and even his total live earnings as he returns home with $400,777.
Event #77: $777 Lucky 7's Final Table Results
| Place | Player | Country | Prize |
| --- | --- | --- | --- |
| 1 | Shawn Daniels | United States | $777,777 |
| 2 | Julien Montois | France | $400,777 |
| 3 | Istvan Briski | Hungary | $226,777 |
| 4 | Anthony Scarborough | United States | $168,777 |
| 5 | Charles La Boissonniere | Canada | $125,777 |
| 6 | Alexander Cole-Gardner | United States | $95,777 |
| 7 | Yizhou Huang | United States | $72,777 |
Sadly for Daniels, in the seconds after he secured his win, his mind was far from the poker table. "I recently lost my fiancé so it's been a tough summer," he confessed. "I just wish she was here to celebrate it also. But it is what it is, it's nice to get it done."
Even with this feeling, Daniels "enjoyed it and played well" saying that the moment felt "pretty unreal."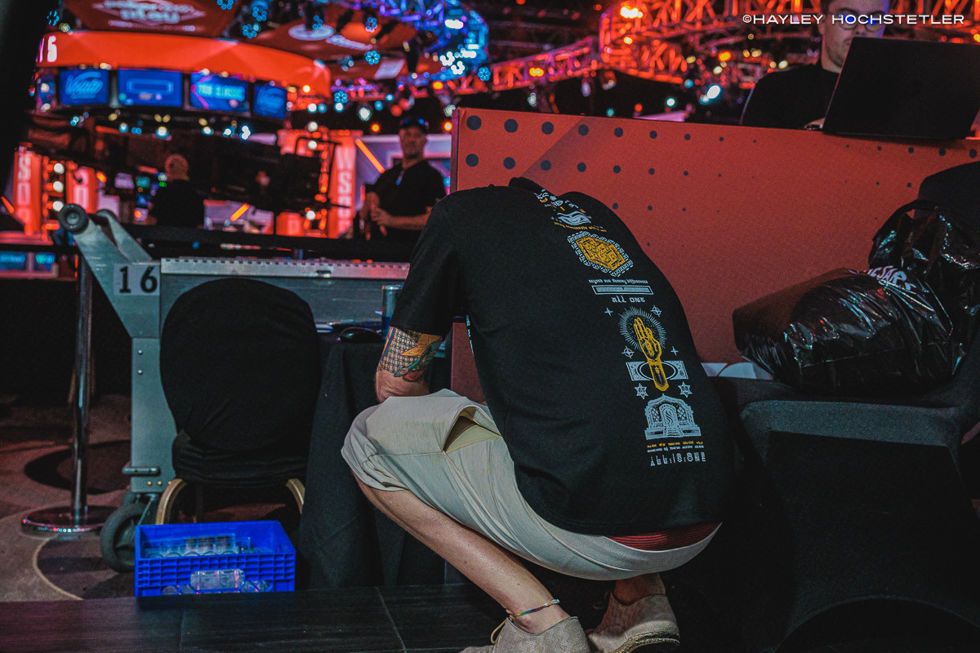 "I ran really well," Daniels admitted. "On Day 1, I bagged almost the chip lead [second with 2,945,000 chips] so I was pretty comfortable. I got short on Day 2, and back to the chip lead, so it was swinging. I had a couple of three-outers on the river, so no complaints," he said.
He arrived at the final table with 47,000,000 chips, the third-largest stack among the five remaining players. "But there weren't many chips in play at the final table, around 100 big blinds in total," Daniels explained. "So all the hands had a significant impact."
In the end, he was the one who collected all the chips and won the tournament.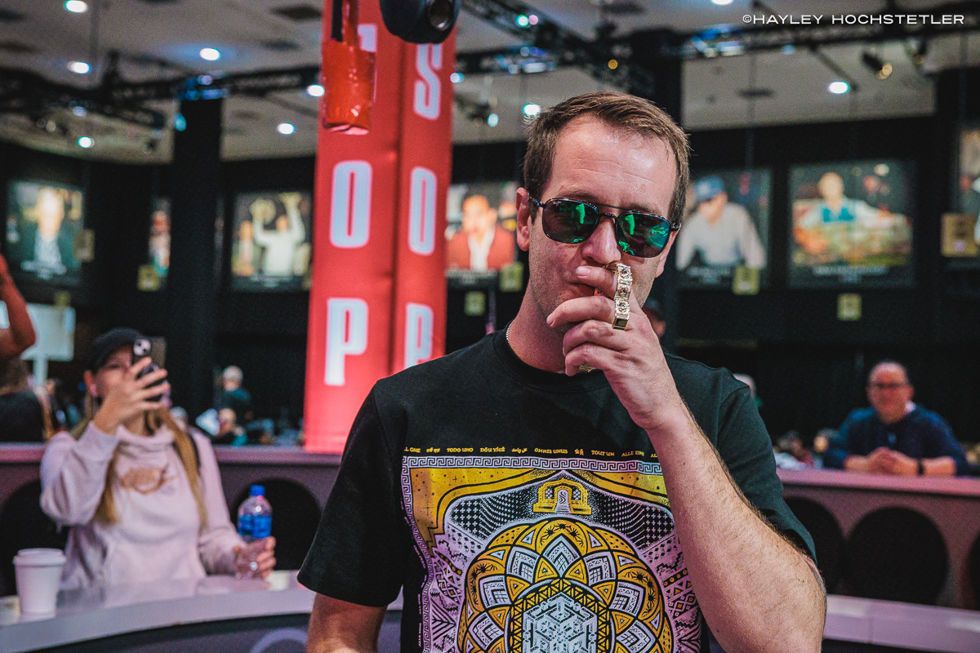 Final Table Action
There were only 5 players remaining on Day 3 of the Lucky 7's. At the start of the final table, Anthony Scarborough was in the lead with twice the stack of Julien Montois, who was second in chips. However, in the first few hands, Scarborough experienced a descent into hell as he lost almost all of his hands.
Istvan Briski doubled through him, as did Charles La Boissonniere. But it wasn't enough for La Boissonniere, who was the first player to be eliminated (finishing in fifth place for $125,777).
After La Boissonniere's elimination, it was Shawn Daniels' turn to double up against Scarborough, leaving him short-stacked. Then, from being the chip leader at the start of the day, Scarborough finished in fourth place ($168,777), eliminated by Briski.
Conversely, Briski had an amazing start as he took the lead and further increased it in the first level. With three players remaining, he held 50% of the chips in play. However, like Scarborough before him, Briski couldn't maintain his chip lead, as Daniels closed the gap. Eventually, it was Daniels who eliminated Briski with two pair against Briski's single pair and the ace-kicker. Briski finished in third place, winning $226,777.
In heads-up play, Daniels had twice the stack of Montois. Just before the break, the French player made a comeback and took the lead. After the restart, Daniels won a few big pots to regain the top spot, but this time, he kept the lead until the end, calling Montois' all-in bet on the river.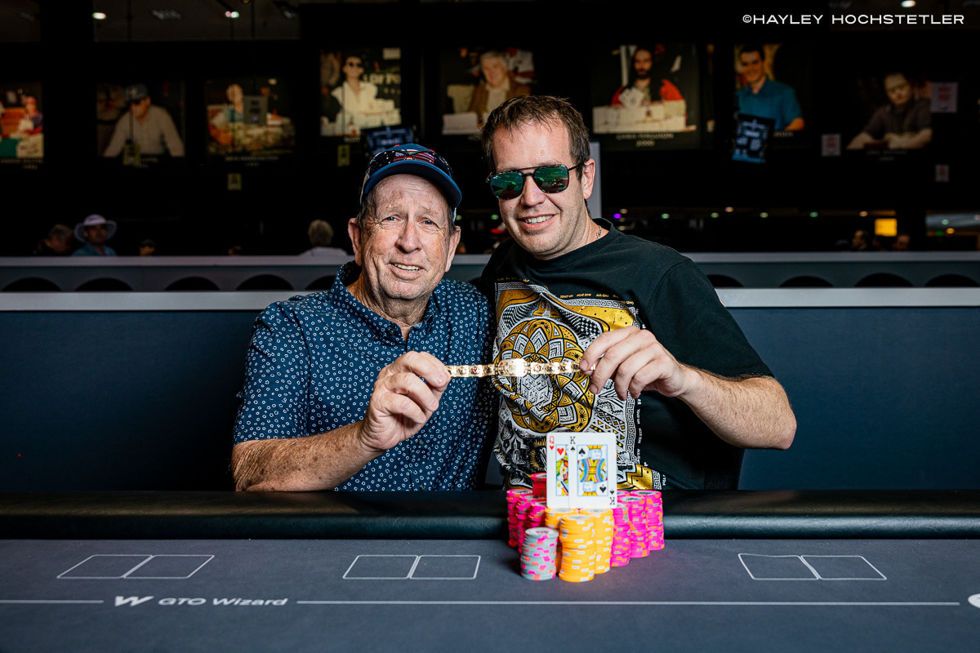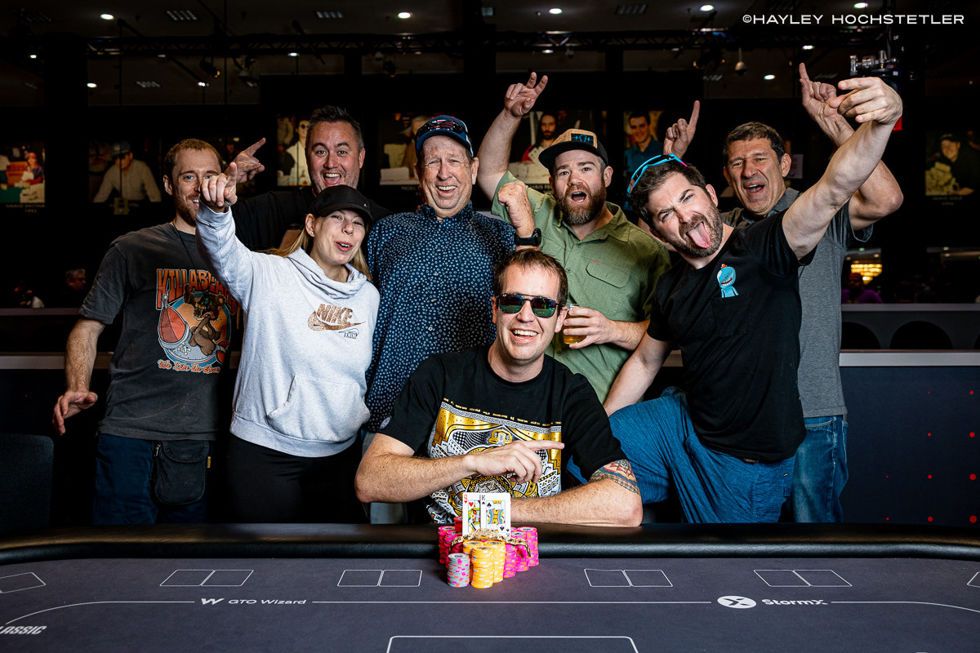 Nível 43 : Blinds 2,000,000/4,000,000, 4,000,000 ante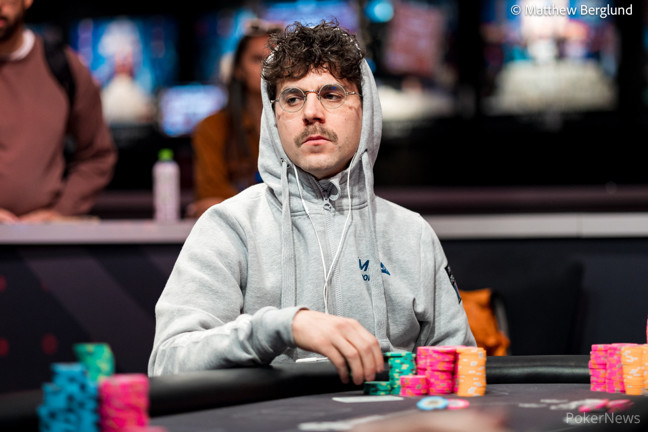 Shawn Daniels limped on the button, and Julien Montois raised it up to 14,000,000 for Daniels to come along.
The flop came 8♦J♠Q♥, Montois bet 12,000,000 for Daniels to call.
The turn was the 4♦, and Montois fired a bet of 25,000,000 out. Daniels confirmed the amount before making the call.
The 4♥ completed the board, and Montois shoved for around 83,000,000. Daniels contemplated it for a bit before putting in a stack of chips for the call. Montois revealed the 10♣3♠ for the missed straight draw for Daniels to jump up and show the K♥Q♠ for two pair, queens and fours.
Montois was eliminated as the runner-up for $400,777 while Daniels got $777,777 and his first WSOP bracelet, to go with his two WSOP Circuit rings.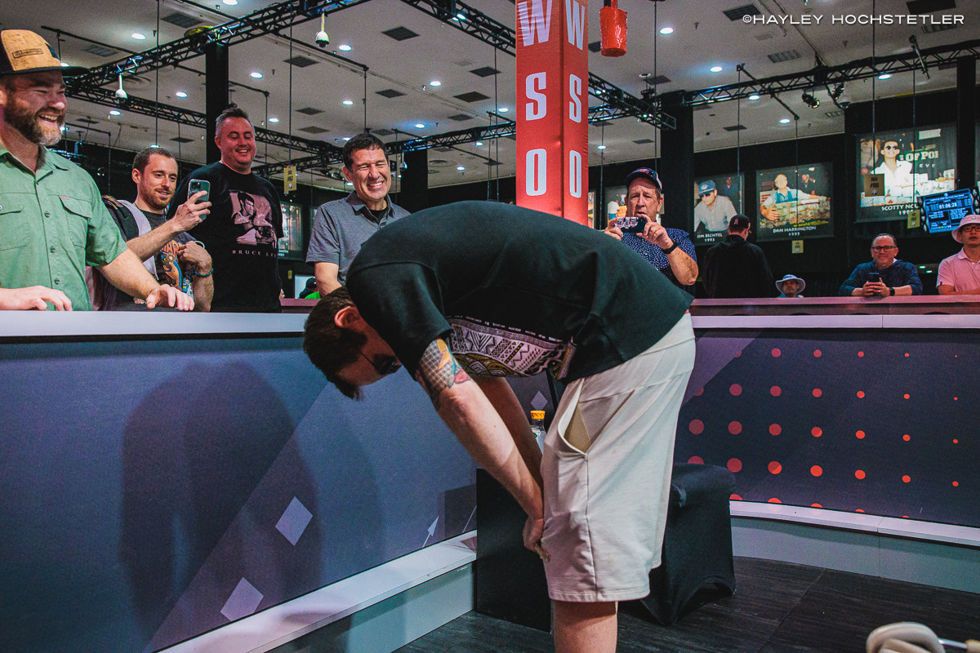 His rail erupted, some cried, and his dad threw out some expletives in amazement before they hugged.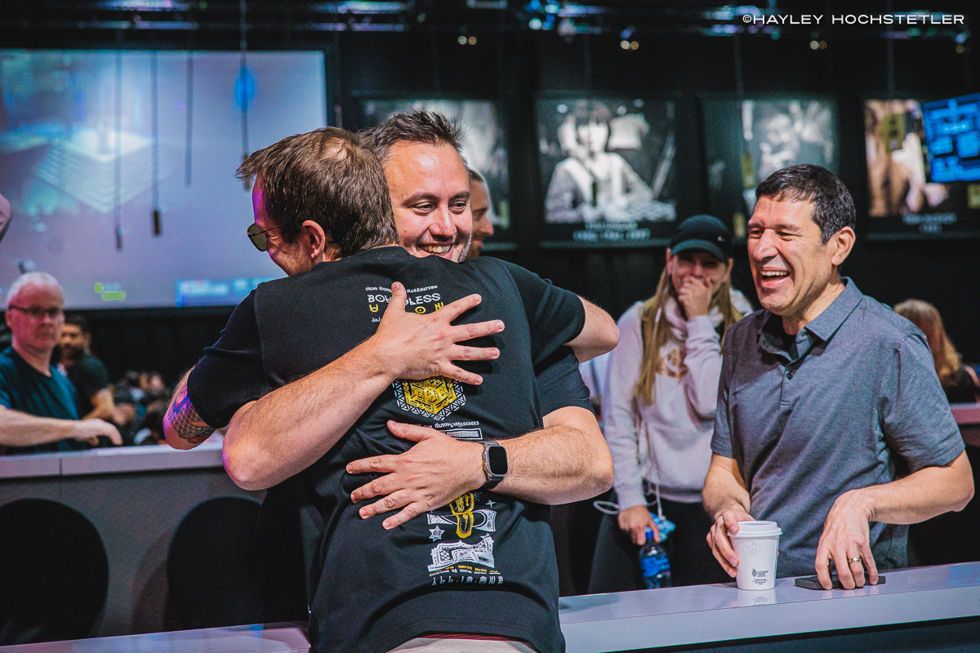 Nível 43 : Blinds 2,000,000/4,000,000, 4,000,000 ante
Right after the break, Shawn Daniels on the button and Julien Montois in the big blind discovered a J♣6♥2♣ flop.
After a check by Montois, Daniels bet 5,000,000 and was called a first time. Then he was called a second time when he fired out a second barrel of 8,000,000 on the turn K♠.
On the river 8♠, Daniels sized it up to 29,000,000. Montois took a few seconds, and called. But he could only muck his cards when Daniels flipped 8♥6♣ for two pair.
Nível: 43
Blinds: 2,000,000/4,000,000
Ante: 4,000,000

Nível 42 : Blinds 1,500,000/3,000,000, 3,000,000 ante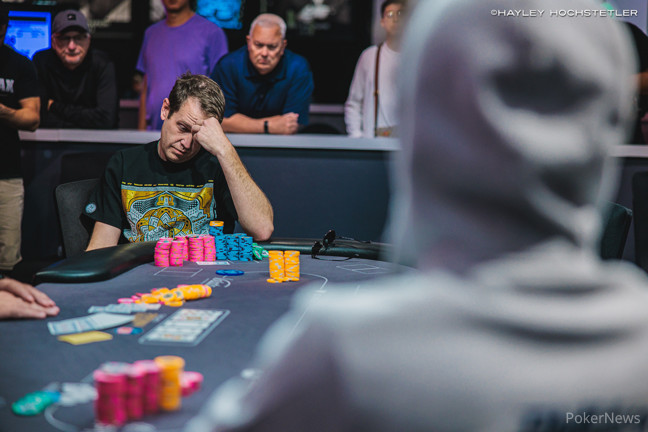 Shawn Daniels raised to 6,000,000 from the button and Julien Montois defended.
The flop came 10♠Q♥2♠, Montois check-called the 8,000,000 continuation-bet of Daniels.
The turn was the 3♣ and Montois checked again. This time, Daniels fired out a bet of 17,500,000. Montois called.
The Q♠ completed the board on the river and Montois checked for the final time. Daniels barreled a bet of 43,000,000 over the line and Montois responded with a shove. Daniels asked for a count and the dealer confirmed Montois had 71,275,000 in front of him. Daniels looked pained and dove into the tank.
"I wasn't planning on bet-folding," Daniels commented. He then cut out calling chips before adding: "You looked so sad, and then you jammed!"
He took some more time before reluctantly pushing his cards over the line for the fold. Montois' rail cheered loudly before the two players decided to take a 15-minute break.

Nível 42 : Blinds 1,500,000/3,000,000, 3,000,000 ante
Julien Montois limped from the button and Shawn Daniels in the big blind only had to check to see the flop 6♠Q♦8♣.
Both players checked so they moved directly to the turn 9♠, where Daniels bet 10,000,000. Montois called and the 7♠ landed on the river.
Daniels fired out a bet of 34,000,000 chips. This move put Montois in the tank. And after a minute, he folded.

Nível 42 : Blinds 1,500,000/3,000,000, 3,000,000 ante
Shawn Daniels opened from the button to 6,000,000 and Julien Montois called in the big blind.
On 3♠5♦7♠, Daniels bet 8,000,000 and Montois check-called.
Montois checked again on the turn 4♥ and Daniels checked back. There was no more action on the river A♣, as both players checked once more.
When he had to show his cards, Montois revealed 8♣7♥ for a pair of sevens and won the pot, as Daniels mucked.

Nível 42 : Blinds 1,500,000/3,000,000, 3,000,000 ante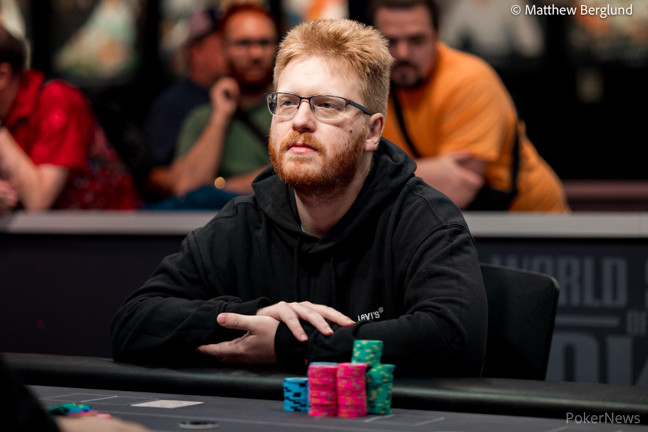 Istvan Briski raised to 6,000,000 from the button and Shawn Daniels defended his big blind.
They both checked through the 9♥5♥7♦ on the flop to the 4♣ on the turn. Daniels fired out a bet of 16,500,000 for Briski to quickly call.
The river completed the board with the 4♦ and Daniels shoved with the bigger stack. Briski jumped into the tank.
"Against anyone else, I would call," Briski muttered. "I have a shit blocker!" he added.
After a while, he called. Daniels revealed the K♦9♣ for two pair, nines and fours. Briski got up from his chair, all defeated and shook Daniels's hand. Daniels prompted the dealer to reveal Briski's hand which was the A♣J♥ for the pair of fours on the board and the ace-kicker in his hand.
Heads-up play continued immediately.

Nível 42 : Blinds 1,500,000/3,000,000, 3,000,000 ante
After a limp by Shawn Daniels in the small blind, Istvan Briski three-bet to 10,500,000 from the big blind.
Daniels called and a 2♣4♣3♥ flop landed on the table. Briski made a continuation bet of 8,000,000 and Daniels check-called.
No more action occurred on the turn 7♣, as both players checked.
Then, on the river J♠, Daniels took the lead and bet 6,700,000. After some time, Briski decided to fold, giving the chip lead to Daniels.
Jogador
Fichas
Oscilação

Shawn Daniels

107,000,000

17,000,000

Istvan Briski

91,000,000

-21,000,000

Julien Montois

72,000,000

17,000,000