Event #56: $500 Salute to Warriors
Dias: 3
Event #56: $500 Salute to Warriors
Dia 3 Concluído
Nível 39 : Blinds 800,000/1,600,000, 1,600,000 ante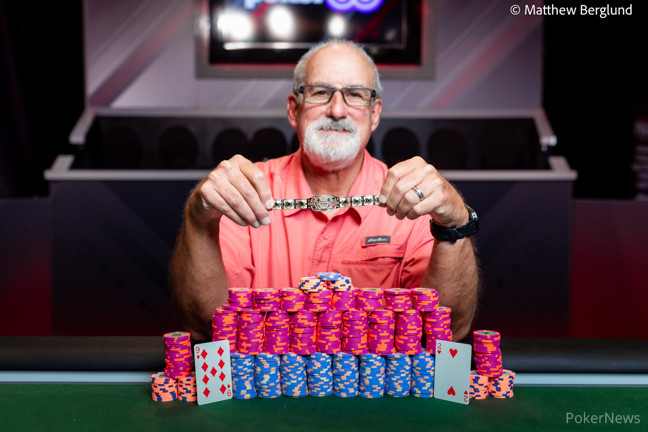 The 2023 World Series of Poker (WSOP) Event #56: $500 Salute to Warriors No-Limit Hold'em started the final day with 14 players chasing poker's most sought-after trophy, but by day's end, Steven Genovese stood alone atop the 4,303-entry field to take home the $217,921 first-place prize and his first WSOP gold bracelet.
The money bubble was reached just a couple of levels into Day 2 with 646 of the 661 returning players going home with a payday, but through the rest of the day, fast-paced action condensed the field down to the two seven-handed tables that would return for Day 3 to crown a champion.
The fast pace continued on Day 3 with the field going from 14 to a final table of nine before the end of the first 40-minute level and the wild hands and bust outs certainly wouldn't end there as players made a push to be the last man standing.
2023 WSOP Salute to Warriors Final Table Payouts
| Place | Player | Country | Prize |
| --- | --- | --- | --- |
| 1 | Steven Genovese | United States | $217,921 |
| 2 | Kelly Gall | Canada | $134,643 |
| 3 | William Butcher | United States | $99,961 |
| 4 | Ali Alawadhi | United States | $74,819 |
| 5 | Ryan Stephens | United States | $56,464 |
| 6 | David Elisofon | United States | $42,966 |
| 7 | Raffaello Locatelli | Italy | $32,969 |
| 8 | Youssef Hicham | Morocco | $25,512 |
| 9 | Dejuante Alexander | United States | $19,910 |
Final Table Action
The only bracelet winner that returned for the final day of the tournament would fall in ninth place when Dejuante Alexander ran into aces to end his run at a second bracelet. Just one level later, the tournament would find it's eighth-place finisher in Youssef Hicham when he couldn't win a flip versus Kelly Gall.
Raffaello Locatelli would soon follow in seventh-place when he remained unimproved through the river in a pot with then chip leader Ryan Stephens. Falling in the same level to take home sixth-place money would be David Elisofon when he also couldn't find the help he needed to win a flip before heading to the exit.
Ryan Stephens found the door in fifth place after being on the wrong side of a suck-out to send him looking for the payout desk with Ali Alawadhi following just behind him in fourth-place due to a blind versus blind confrontation that saw him get his money in good as well but still come up second best.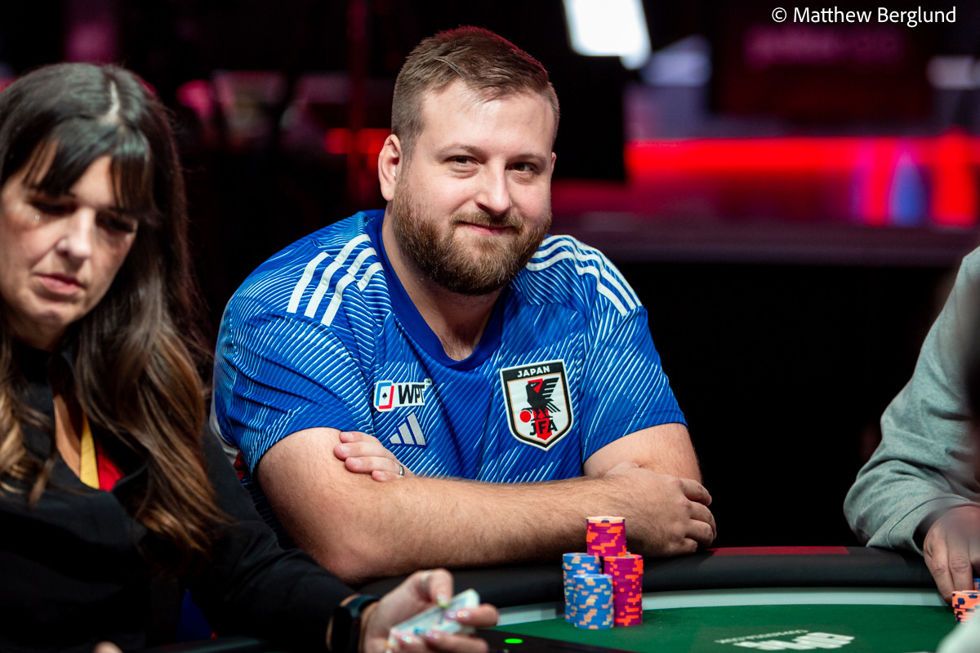 Three-handed play was short-lived as William Butcher was ousted in a massive three-way all-in confrontation that sent him to the exit in third place and left Kelly Gall with just three big blinds to hang his hope of a comeback on.
Heads-up play lasted only two hands as Gall was able to find one double before ultimately getting his short stack in good before Genovese was able to make trips to send Gall to the exit and leave himself standing alone as the champion.
Winner's Reaction
PokerNews was able to catch up with an elated Genovese after his victory to get his feelings on everything that had just transpired. On the run that helped him top a 4,303-entry field, Genovese said, "It feels amazing! I was pinching myself the whole time!"
Genovese acknowledged how good you've got to run to take down an event of this size and was over the moon to have been the one to pull it off having survived some key all-ins on Day 2 from behind that ultimately served in catapulting him into the winner's circle. During his winner's photos, he could even be heard saying that he was going to be, "smiling for days".
Genovese is a long-time poker player, having played and loved the game since his early teenage years and when asked how it felt to have won the most coveted trophy the game has to offer with the people he loves railing him on, his voice got very sincere and even emotional in saying, "Everything," in a way that made the gratitude and gravity of the moment for the retired fireman crystal clear.
His parting words to PokerNews and the poker community at large were a message of inspiration and hope, saying simply, "You can do it, too. If I can do it, you can do it."
In a tournament that raised close to $200,000 for Veterans, it's hard to imagine a more deserving champion than a man who spent his life running into dangerous situations to save the lives of others. And with that, we bring a close to this event from Horseshoe and Paris Las Vegas with a very deserving champion taking home poker's most coveted prize.
Stay tuned to PokerNews for the rest of the summer for up-to-date coverage of all remaining events here at the 2023 World Series of Poker!

Nível 39 : Blinds 800,000/1,600,000, 1,600,000 ante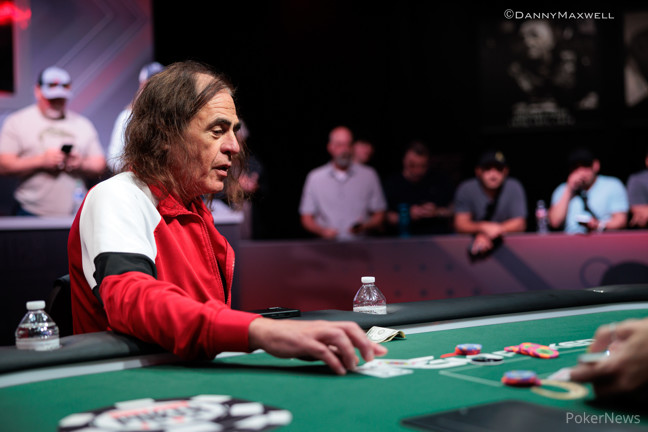 Left decimated after the enormous clash in the previous hand, Kelly Gall got it in with J♥4♣ against K♠Q♦ in the next hand and doubled up. He received a walk before the chips went in the middle again.
Kelly Gall: Q♦8♠
Steven Genovese: 9♦2♥
The dealer fanned out A♦K♥2♠2♣7♦ and Genovese's rail erupted as their friend was officially crowned the 2023 World Series of Poker $500 Salute to Warriors winner. Gall left the stage in second place and received $134,643 for his efforts.
Nível 39 : Blinds 800,000/1,600,000, 1,600,000 ante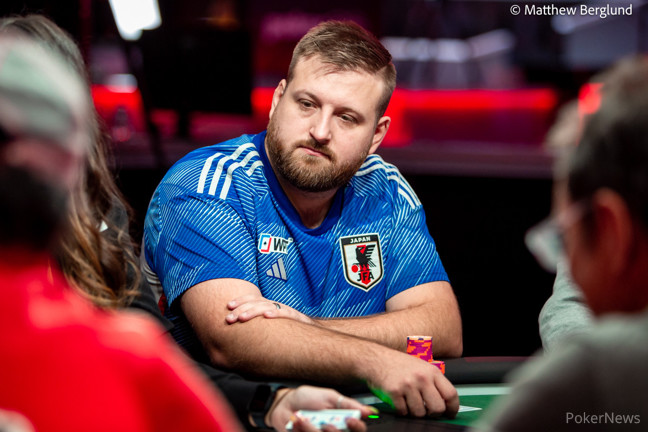 William Butcher raised to 5,000,000 on the button. Kelly Gall jammed in the small blind and Steven Genovese quickly called from the big blind.
Butched briefly entered the tank with a big decision to make. Eventually he called, setting up a massive three-way all in with almost every chip in play in the middle and all three players with their cards face up and headed to a runout.
William Butcher: A♠K♣
Kelly Gall: A♣10♦
Steven Genovese: Q♦Q♠
With the entire tournament basically on the line, the board ran out 9♠J♠Q♣6♣J♣, securing Genovese an absolutely massive pot that leaves Gall with just three big blinds and sends Butcher to the rail in third place for $99,961.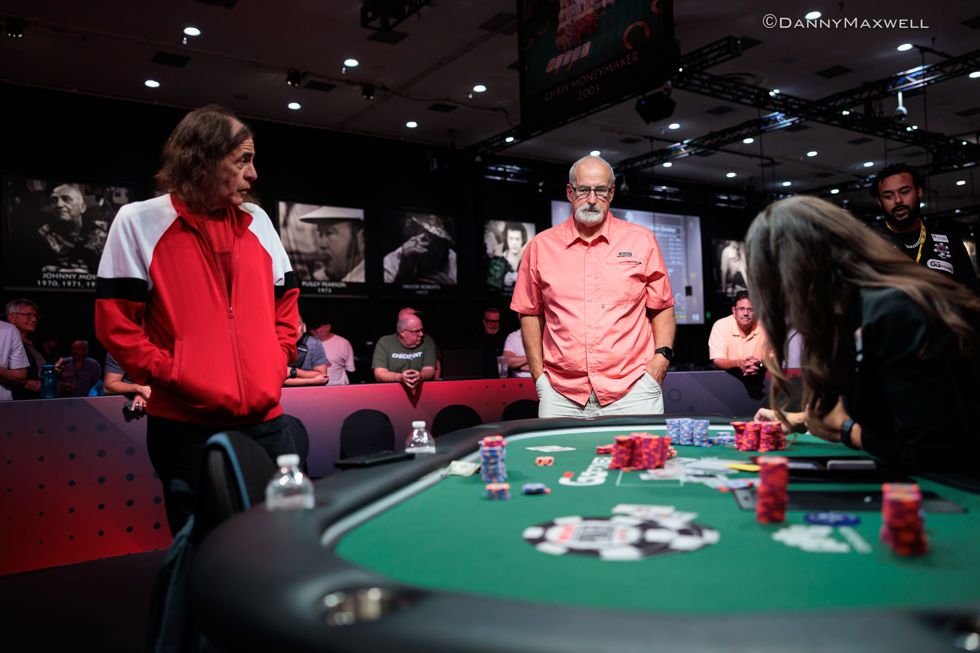 Nível 39 : Blinds 800,000/1,600,000, 1,600,000 ante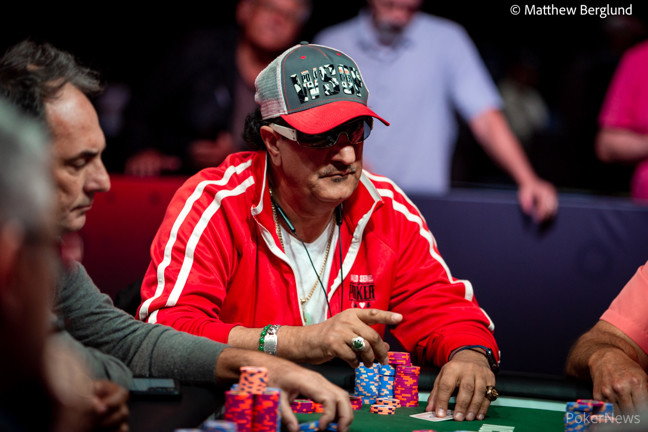 Action folded to Kelly Gall in the small blind who open-jammed into Ali Alawadhi's big blind. Alawadhi quickly called, putting himself at risk and sending the pair to a runout.
Ali Alawadhi: A♦4♦
Kelly Gall: Q♥J♣
Alawadhi was in good shape to double up, but the J♦9♠10♣ flop quickly changed that and swung the equity in Gall's favor.
The turn brought the 8♣, leaving Alawadhi drawing dead and sealing his fate as he was sent to the rail in fourth place for $74,819.
Nível 39 : Blinds 800,000/1,600,000, 1,600,000 ante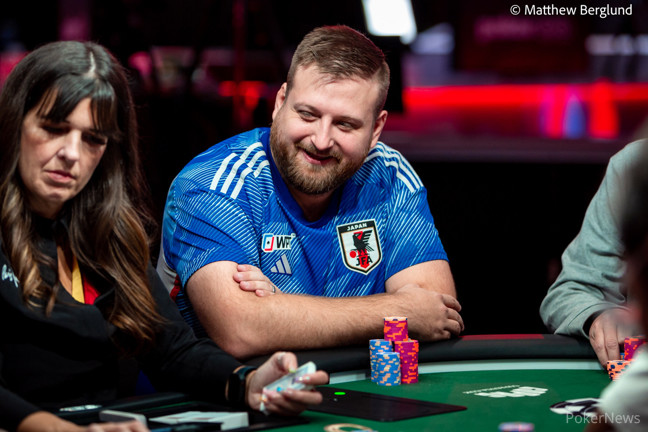 William Butcher jammed 30,200,000 from the cutoff. Kelly Gall quickly called from the button and the blinds folded to send the duo to a runout with Butcher at risk.
William Butcher: K♦K♣
Kelly Gall: 8♦8♣
The board of 3♣3♠A♦3♥4♣ ran out safe for Butcher whose kings held, securing him a full double.

Nível 39 : Blinds 800,000/1,600,000, 1,600,000 ante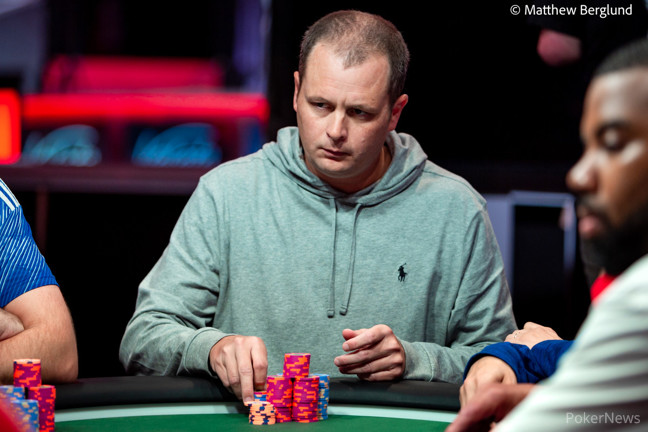 Kelly Gall raised to 4,000,000 from under the gun and Steven Genovese three-bet to 11,000,000 on the button. Ryan Stephens four-bet shoved around 38,000,000 from the big blind and Gall reluctantly gave up his hand.
Back on Genovese, he gave it around a minute of thought before committing a large part of his stack as well.
Ryan Stephens: A♣K♣
Steven Genovese: A♠J♣
Like the previous hand, Genovese held ace-jack but was dominated in by far the largest pot of the tournament thus far. His rail exploded when the dealer fanned out a J♦8♣2♥ for some old-fashioned reverse domination.
It was Stephens needing help now but the kings remained hidden on the 9♠ turn and 9♦ river.

Nível 39 : Blinds 800,000/1,600,000, 1,600,000 ante
Ali Alawadhi raised to 3,800,000 on the button, Steven Genovese three-bet shoved 21,800,000 from the small blind, and Alawadhi called it off.
Steven Genovese: A♦J♣
Ali Alawadhi: K♣Q♣
Genovese's rail erupted upon seeing a jack and four blanks appear on a J♠9♠7♥5♦8♠ board for the firefighter to double up.
Nível: 39
Blinds: 800,000/1,600,000
Ante: 1,600,000

Nível 38 : Blinds 600,000/1,200,000, 1,200,000 ante
The remaining five players are on a 15-minute break.
Jogador
Fichas
Oscilação

Kelly Gall

68,000,000

3,000,000

Ali Alawadhi

57,000,000

-1,000,000

Ryan Stephens

40,000,000

-6,500,000

William Butcher

31,000,000

-1,600,000

Steven Genovese

25,000,000

-4,000,000