Event #58: $1,500 Pot-Limit Omaha Hi-Lo 8 or Better
Dias: 3
Event #58: $1,500 Pot-Limit Omaha Hi-Lo 8 or Better
Dia 3 Concluído
Nível 36 : 300,000/600,000, 600,000 ante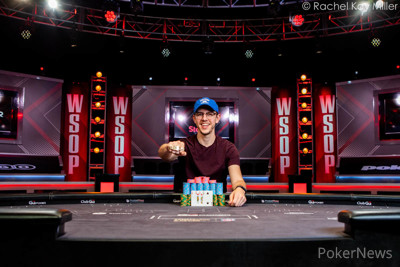 A total of 14 players returned for the third day of Event #58: $1,500 Pot-Limit Omaha Eight Or Better at Bally's and Paris Las Vegas. At the end of the 13-hour-long day, it was Lawrence Brandt collecting his first WSOP bracelet and a career-best score of $289,610.
"It honestly was the best tournament I've ever played," the new bracelet holder said, "I haven't played too many PLO8 tournaments, and obviously luck plays a factor, but I was really happy with my performance."
The Texas resident says he primarily focuses on cash games and mostly No-Limit Hold'em. This is his third cash this WSOP and is his biggest lifetime. According to Brandt's Hendon Mob profile, his earnings totaled $192,721 before this victory. Brandt's rail was a rowdy and supportive one containing over 20 people on it, and all embraced him as he took down his biggest tournament score.
Final Table Results
| | | | |
| --- | --- | --- | --- |
| Place | Player | Country | Payout |
| 1st | Lawrence Brandt | United States | $289,610 |
| 2nd | Corey Wade | United States | $179,010 |
| 3rd | Robert Tanita | United States | $129,924 |
| 4th | Richard Crooks | United States | $95,400 |
| 5th | Jared Jaffee | United States | $70,877 |
| 6th | Jacob Ferro | United States | $53,288 |
| 7th | Peter Neff | United States | $40,550 |
| 8th | Jerry Odeen | Sweden | $31,234 |
Start Of Day Action
The start of day saw Frank Salese (14th - $12,458), Benjamin Miner (13th-$15,380), Jason Adams (12th - $15,380), and bracelet winner Joey Couden (11th - $19,233) all fall prior to the final table. The final player to fall before the unofficial final table was reached was Stuart Easton who after falling down to the tournament short stack, got in his remaining chips up against Jared Jaffee's and Brandt's aces with just king high. Jaffee ended up scooping the whole pot with a flush and Easton would have to settle for a tenth place for $19,233.
Final Table Action
The final table saw the shortest stack Alexander Orlov double up on the first hand. It was not to last though as he did see his ace-king get in against the ace-wheel combination hand of Jaffee. On a flop with two aces, Jaffee hit a low on the turn, and he filled up on the river to send Orlov out of the tournament in ninth place for $24,357.
Jerry Odeen received a death by a thousand cuts as multiple times he was all-in and quartered, leaving himself as the shortest stack eight-handed. Corey Wade moved him all-in with a jack-high double-suited hand and Odeen called with ace-jack and a low card. No help came as Wade turned a full house and no low came home to send Odeen out in eighth place for $31,234.
After that, some time passed before Peter Neff became the next casualty of the final table. Nothing seemed to go Neff's way at the final table, and eventually, he was all-in with king-queen and sevens against Jacob Ferro's double-suited aces. Ferro turned him dead with a full house and Neff left the tournament area in seventh place for $40,550.
Ferro's run would come to an end, however, as his stack got short after doubling up Jaffee. Ferro would end up getting his short stack in with queen-jack and low cards, in against Brandt's aces and finding no improvement, busting in sixth place for $53,288.
Jaffee ended up getting his chips all in with a suited ace-queen against Robert Tanita's suited ace-ten. A rivered Broadway gave Tanita the best hand and the last remaining bracelet winner exited the tournament in fifth place for $70,877.
After that, Tanita found himself knocking out Richard Crooks when Crooks got in his wrap Broadway draw against Tanita's pair of sixes and low draw. The board run-out was not favorable for Crooks and he ended his run in fourth place for $95,400.
The three-handed endeavor became a long battle where each player rose to the chip lead and each fell to a short stack multiple times. In the end, it was Tanita who got his remaining chips in with king-jack double suited against Wade's ace-high low card combination. A pair for Wade and a made low, spelled the end for Tanita who ended his run in third place for $129,924.
Wade started the heads up with a 2:1 lead, but a few fortunate runouts for Brandt saw the lead flip. It ended when Wade called with his ace-nine and low cards against the ace-king high of Brandt. The river brought both players a straight but it was Brandt's that was Broadway and Wade shook his hand and collected $179,010 for his impressive second-place finish.
Congratulations to Brandt on winning his first WSOP bracelet. Thank you to all who entered and thank you for reading along. Stay tuned to PokerNews for all updates regarding the WSOP.
Nível 36 : 300,000/600,000, 600,000 ante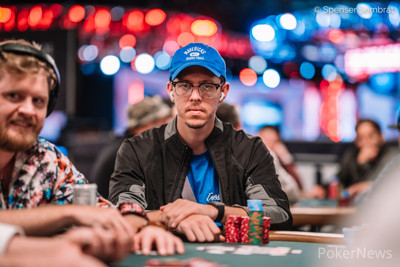 There is a new champion in town, Lawrence Brandt ! He won $289,610 and WSOP Gold Bracelet.
Stay connected to Pokernews, as a full recap of this final table is coming soon.
Nível 36 : 300,000/600,000, 600,000 ante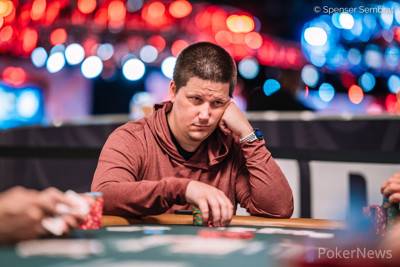 Lawrence Brandt raised to 2,100,000 and Corey Wade made it to 4,500,000. Action was back on Brandt and he pushed Wade all in.
Wade thought for a long time about that hand, talked to himself a lot out loud, without knowing what was the right solution:
"The math tells me to call, but I really don't have a very good hand..."
Wade finally made the call, and both hands were turned over.
Corey Wade:

Lawrence Brandt:
The dealer put a
board which gave a straight to Lawrence Brandt. Corey Wade is eliminated in second place, and Lawrence Brandt is a new WSOP Gold Bracelet winner !
Nível 36 : 300,000/600,000, 600,000 ante
Both players called to see a flop of
, with both players checking to the turn
that saw Lawrence Brandt bet 800,000 which Corey Wade called.
The river rolled off
and Wade called a bet of 1,100,000 from Brandt, only for Brandt to turn over
for kings full to take down the pot.
Nível 36 : 300,000/600,000, 600,000 ante
Corey Wade limped and Lawrence Brandt checked.
On a
flop, Brandt checked and Wade bet 1,600,000. Brandt raised all in for a total of 7,250,000 and after a quick hesitation, Wade finally called.
Lawrence Brandt:

Corey Wade:
Both players had the flush draw, but Wade had the nut flush one. Brandt was looking for a low, and if the
turn didn't change anything, the
on the river changed everything : with just a pair of four, hit on the river, and the best lo with 3-2, Brandt scooped that pot to double up.
For the first time of this heads up match, Lawrence Brandt is ahead.
Nível 36 : 300,000/600,000, 600,000 ante
Corey Wade raised to 1,500,000 on the button and was called by Lawrence Brandt.
The flop came out
and players checked through to the
turn that saw Wade bet pot to 3,600,000 and Brandt folded.
Wade turned over
for a queen-high flush as well as the nut low draw as he extended his lead.
Nível 36 : 300,000/600,000, 600,000 ante
The day should be done already, but two players are still remaining.
The tournament director asked both players if they wanted to bag and come back tomorrow, or if they prefered to finish it tonight. They immediately answered they were going to play tonight, to a winner.
One more hour of poker on the program.
Nível: 36
Blinds: 300,000/600,000
Ante: 600,000
Nível 35 : 250,000/500,000, 500,000 ante
From the button, Lawrence Brandt raise to 1,100,000 and Corey Wade raised to 4,500,000. Brandt called.
A
flop came on the table and after a bet to 1,000,000 from Wade, Brandt announced a raise, "pot", which engaged him for all of his chips. Wade was totally excited and called in a second.
Lawrence Brandt:

Corey Wade:
Wade was pretty disappointed when he discovered Brandt hand, and after a
turn and a
river, both players splitted that pot.