Event #17: $2,500 Mixed Triple Draw Lowball
Dias: 3
Event #17: $2,500 Mixed Triple Draw Lowball
Dia 3 Concluído
Nível 29 : 150,000/300,000, 0 ante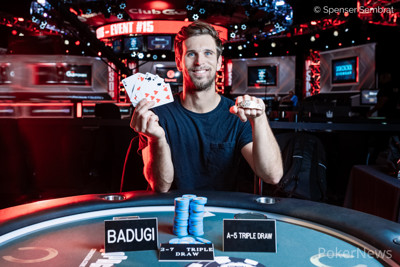 The 2022 World Series of Poker (WSOP) Event #17: $2,500 Mixed Triple Draw attracted 309 runners, which created a $687,525 prize pool. On Friday, just 17 players returned to action looking to capture the bracelet and $164,243 first-place prize.
After 10 hours of play, 29-year-old Dominick Sarle of Long Beach, New York defeated poker pro Jerry Wong in heads-up play to win the tournament for $164,243 and his first gold bracelet.
It was a bit of redemption for Sarle, who last summer lost a 6:1 chip lead in the 2021 WSOP.com Online Bracelet Event #26: $500 NLH The Big 500 ENCORE. He ultimately finished runner-up to Eric "8Bracelets" Van Auken in a field of 1,118 entries.
"This one was kind of giving me a little panic," Sarle admitted. "I thought I would have to quit the game forever if I lost a 45:1 chip lead … I'm going to be around for a while. I love poker. I would play every day for free if they let me, so the fact that I get to play for money and win, I'll be here for as long as I'm able to be."
Prior to the victory, Sarle had just $52,328 in live tournament earnings dating back to 2016 according to The Hendon Mob.
"I didn't play many bracelet events or live events during that time," explained Sarle, who was taught poker by his brother, then friends (shout out to Ricky Pine and Aaron Kupin), and eventually learned Mixed Games online. "I started playing a little bit more during the WSOP in 2019, then online, and then last year played a full schedule I didn't play a lot of tournaments over the last six years, mostly online cash games."
It's online that Sarle plays under the moniker "Flow Cold," which he adopted after a high school friend's brother wrote a song with that title. Sarle liked it so much that he made it his online handle across all platforms.
Event #17: $2,500 Mixed Triple Draw Final Table Results
| Place | Player | Country | Prize |
| --- | --- | --- | --- |
| 1 | Dominick Sarle | USA | $164,243 |
| 2 | Jerry Wong | USA | $101,514 |
| 3 | Daniel Strelitz | USA | $67,820 |
| 4 | John Monnette | USA | $46,294 |
| 5 | Matthew Schreiber | USA | $32,033 |
| 6 | Alex Epstein | USA | $23,052 |
| 7 | Philip Eisman | USA | $16,833 |
At the start of Day 3, Bariscan Betil sat with the big stack. Unfortunately for him, his luck turned and he exited in 11th place for $9,638. Others to cash but fall short of the final table were Alejandro Torres (8th - $12,584), Andrew Brown (9th - $12,584), Frank Kassela (10th - $9,638), Maury Barrett (12th - $7,565), Yehuda Buchalter (13th - $7,565), bracelet winners Ralph Perry (14th - $7,565) and Galen Hall (15th - $7,565), John Torrez (16th - $7,565), and the "Bald Eagle" himself, Steve Zolotow (17th - $7,565).
Final Table Action
Philip Eisman began the final table as the extreme short stack with just over one big bet, so it was no surprise to see him exit early in a hand of Badugi. The remaining six players had deeper stacks and got to play for a bit before bracelet winners Alex Epstein and Matthew Schreiber followed him out the door in sixth and fifth place, respectively.
Four-handed play proved to be both an extended and back-and-forth affair, but eventually, it was four-time bracelet winner John Monnette growing short and bowing out after a couple of rough hands of 2-7 triple draw.
Not long after, the last bracelet winner in the field, Daniel Strelitz, took his leave in third place after losing his stack in a round of Ace-5 triple draw, which ensured a first-time bracelet winner would be crowned.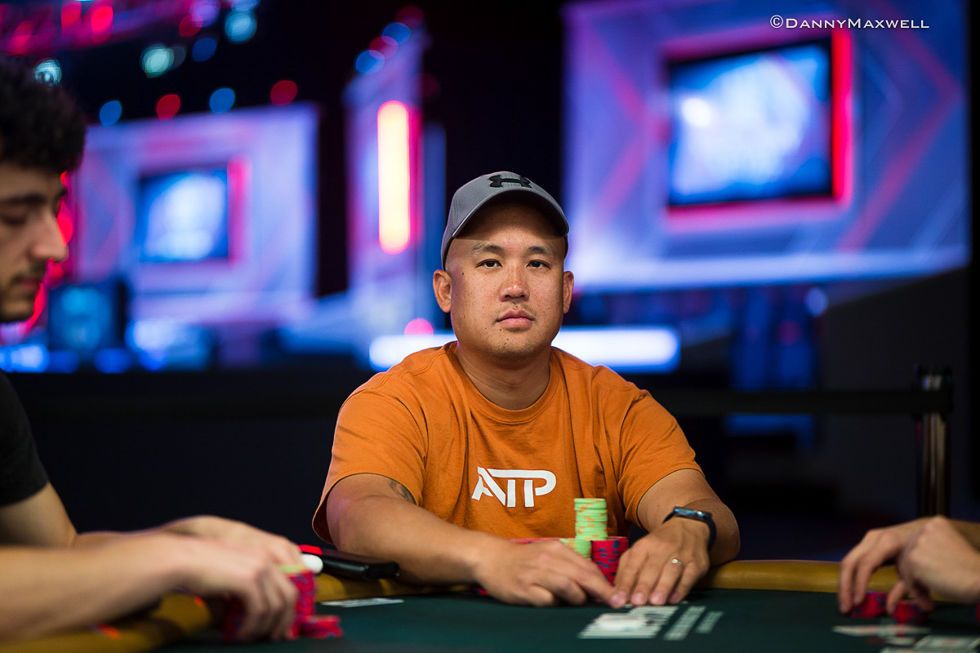 Wong began heads-up play with a 2:1 chip lead, but it didn't take Sarle long to battle his way into the chip lead after making a wheel in ace-to-five. Sarle whittled away at Wong, who put up a strong fight doubling numerous times when all in. However, the final hand came in Ace-5 Triple Draw when Wong had a nine-seven and Sarle drew to a seven-six.
"A little bit of relief. I was able to build a pretty big chip lead once I got heads up," Sarle said after the win. "I ran really well to get the chip lead. He was able to fight and claw his way back to a pretty reasonable stack, so it was nice to go on the break, come back, and close it out."
Wong, considered as one of the best players without a bracelet, had to settle for a runner-up finish for the second year in a row after doing so in the 2021 WSOP Event #74: $2,500 Mixed Big Bet. He also has a third, two fourths, a fifth, two sixths, and a pair of eighth-place finishes in WSOP events.
Congratulations to Dominick Sarle on winning the 2022 WSOP Event #17: $2,500 Mixed Triple Draw for his first gold bracelet!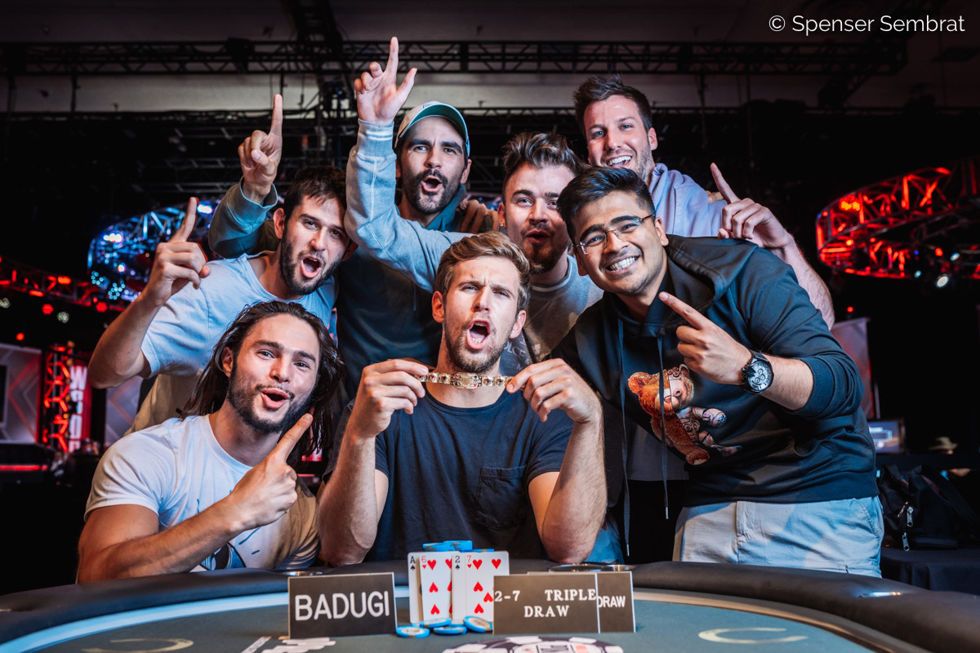 Nível 29 : 150,000/300,000, 0 ante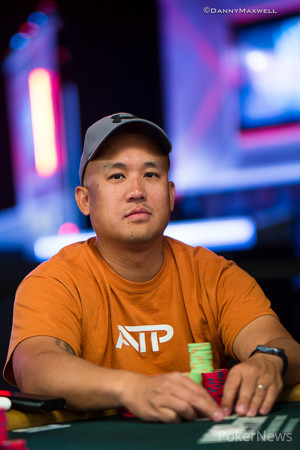 Ace-5 Triple Draw
Jerry Wong raised and Dominick Sarle called as both players drew two.
Sarle led out and Wong called. Both players each took one, Sarle bet, Wong went all in for his last 500,000, and Sarle called.
Sarle took one on the last draw while Wong turned over 9-7-6-5-4. Sarle had 6-5-2-A.
"Let's go," Sarle yelled as he flipped over the
to make a seven-low and finally eliminate Wong in second place.
"Honestly, I would've quit poker if I lost that," the new WSOP bracelet winner said to his rail.
Jogador
Fichas
Oscilação

Dominick Sarle

10,815,000

1,600,000

Jerry Wong

Eliminado
Nível 29 : 150,000/300,000, 0 ante
2-7 Triple Draw
After taking another hit to drop below the seven-figure mark, Jerry Wong was looking for a spot. He found a little one when Dominick Sarle limped the button and Wong checked his option.
Wong drew four while Sarle took three.
Wong checked, Sarle bet, and Wong check-raised. The two got it all in with Wong at risk for 775,000.
Wong stood pat on the next two draws while Sarle took two then one.
Wong showed
and Sarle was drawing to a
. The
on the final card was no help to Sarle and Wong shipped another double.
Jogador
Fichas
Oscilação

Dominick Sarle

9,215,000

-825,000

Jerry Wong

1,600,000

825,000
Nível 29 : 150,000/300,000, 0 ante
Badugi
Dominick Sarle bet after the first draw before Jerry Wong raised. Sarle then three-bet and Wong came along.
Both players stood pat as Sarle called a bet. Sarle patted again but Wong took one this time, then folded to a bet.
The next hand, Wong bet after both players took two and Sarle called. Sarle led into Wong on the second draw and was called as both players checked the third draw.
Sarle showed a queen Badugi and Wong mucked for the second hand in a row.
Jogador
Fichas
Oscilação

Dominick Sarle

9,015,000

1,700,000

Jerry Wong

1,800,000

-1,700,000
Nível: 29
Blinds: 75,000-150,000
Limits: 150,000-300,000
Nível 28 : 120,000/240,000, 0 ante
Badugi
Dominick Sarle three-bet and Jerry Wong called as both players drew one. Wong called a bet on both the first and second draws. After both players took one again, Sarle bet and Wong raised.
Sarle quickly called as Wong turned over
for a Badugi.
Sarle and Wong went off on a 15-minute break after the hand.
Jogador
Fichas
Oscilação

Dominick Sarle

7,315,000

-2,400,000

Jerry Wong

3,500,000

2,400,000
Nível 28 : 120,000/240,000, 0 ante
A-5 Triple Draw
Dominick Sarle called a three-bet and drew three, while Jerry Wong took one and bet out.
Sarle called and took two on the second draw. Wong took pat and got the rest of his 340,000 in the middle. He patted, while Sarle took one.
Wong had 7-5-4-3-2, while Sarle was showing 7-5-2-A. One card from the bracelet, he instead paired his five and Wong doubled up yet again.
The next hand, Sarle called after the first two draws before both players took one on the third. Sarle led out this time and Wong quickly folded.
Jogador
Fichas
Oscilação

Dominick Sarle

9,715,000

-200,000

Jerry Wong

1,100,000

200,000
Nível 28 : 120,000/240,000, 0 ante
Nível 28 : 120,000/240,000, 0 ante
2-7 Triple Draw
Dominick Sarle raised the button to 240,000 and Jerry Wong called. The former drew two and the latter three.
Wong checked, Sarle bet, and Wong check-raised all in for 200,000. Sarle called and then drew two after Wong took one.
On the last draw, Wong stood pat and Sarle drew two.
Wong showed
for a ten-seven and Sarle was drawing live with
. His first card was a
which was great for him, and Wong asked to sweat the last card.
Sarle sent it over, Wong squeezed it out and said, "It's paint." Indeed, it was a
and Wong survived another all in.
Jogador
Fichas
Oscilação

Dominick Sarle

9,915,000

-300,000

Jerry Wong

900,000

300,000