Event #11: $600 No-Limit Hold'em Deepstack
Dias: 1
Event #11: $600 No-Limit Hold'em Deepstack
Dia 1 Iniciado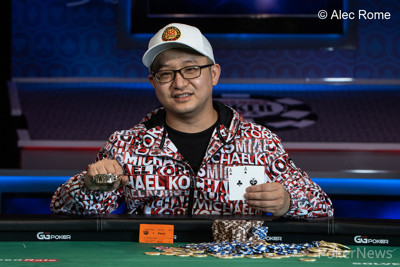 The 2022 World Series of Poker at Bally's and Paris Las Vegas kicks off today at 11 a.m. PDT. with Event #11: $600 No-Limit Hold'em.
The 2021 version of this event attracted an unbelievable 4,527 entrants to create a $2,309,280 prize pool. Emerging as the winner was Zhi Wu of Boston, Massachusetts, who won $281,604 and the gold bracelet for the victory, which was Wu's first-career WSOP cash.
680 players were paid for their efforts, though just 216 players bagged chips in order to play Day 2.
It's worth remembering that 6,150 players competed in the 2019 version of the tournament. If the beginning of the 2022 WSOP is any indication, the field could reach 7,000 runners or more.
What to Expect
The players will start off with a massive stack equal to 300 big blinds, with 22 30-minute levels scheduled for Day 1 and 20-minute breaks slotted in after every four levels. The players will be given a 75-minute dinner break at the end of level 15.
The event will allow players to rebuy just once, and the field will begin with 30,000 chips with late registration open until level 12.
The remaining players will come back at noon on Tuesday and play down to a winner. Each level will remain at 30 minutes but this time the players will only have a 15-minute breaks every four levels, with a hour-long dinner break at level 34.
Action kicks off at 11 a.m. local time in the Paris Ballroom and the PokerNews live reporting team will have all the action from this and every event from the WSOP's new home at Bally's and Paris Las Vegas.

Players are just now taking their seats and play will begin shortly.
The board currently reads 2,931 players to start the day.

Play has begun, there are now more than 3,000 entries to start the day.
Nível: 1
Blinds: 100/100
Ante: 100

Nível 1 : 100/100, 100 ante
Only 10 minutes into the tournament, Marc Carriere earned a full double-up.
On a
board, Carriere's opponent went virtually all-in, leaving only 1,000 chips behind.
Carriere called and showed
and scooped the huge early pot.

Nível 1 : 100/100, 100 ante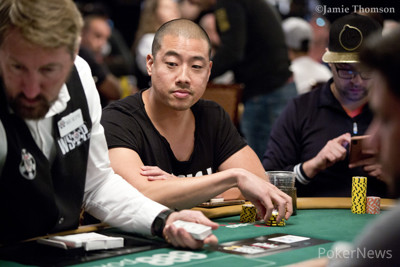 WSOP bracelet winner Ben Moon has joined the event.
Moon won his bracelet back in 2018 in the first-ever big blind ante event at the WSOP.
He has more than a half-million in record career tournament earnings.

Nível 1 : 100/100, 100 ante
With nearly 8,000 already in the pot, Wei Qiang put out a bet of 6,800 from the hijack into his two opponents on a
board.
Qiang was called by the button, while the third player, who initially checked, tossed his cards into the muck.
Qiang said "I got lucky" as he turned over his
for trips to take down a healthy early pot.
Jogador
Fichas
Oscilação

Wei Qiang

49,000

49,000
Nível: 2
Blinds: 100/200
Ante: 200

Nível 2 : 100/200, 200 ante
Three players were involved on the
turn when Ken Beckers bet out 2,000 and was called by both players.
On the river
, Beckers checked and the last player to act fired out 3,000. Beckers went into the tank for a minute before announcing a raise to 10,000. The middle position player folded and the bettor quickly called the extra 7,000.
Becker tabled
for the queen-high flush, while his opponent showed
the jack-high flush before mucking.