Event #52: $1,000 Seniors Championship
Dias: 3
Event #52: $1,000 Seniors Championship
Dia 3 Iniciado
| Room | Table | Seat | Player | Country | Chips | Big Blinds |
| --- | --- | --- | --- | --- | --- | --- |
| Amazon | 449 | 1 | Matthew Coloma | United States | 580,000 | 19 |
| Amazon | 449 | 2 | David Kluchman | United States | 2,745,000 | 92 |
| Amazon | 449 | 3 | Nicholas Dileo | United States | 1,150,000 | 38 |
| Amazon | 449 | 4 | Brian Roberts | United States | 585,000 | 20 |
| Amazon | 449 | 5 | James Brooking | United States | 470,000 | 16 |
| Amazon | 449 | 6 | Steven Powers | United States | 1,115,000 | 37 |
| Amazon | 449 | 7 | Marc Wolfe | United States | 300,000 | 10 |
| Amazon | 449 | 8 | Thomas Gibbons | United States | 590,000 | 20 |
| Amazon | 449 | 9 | Louis Galasso | United States | 805,000 | 27 |
| | | | | | | |
| Amazon | 450 | 1 | Antonio Payne | United States | 500,000 | 17 |
| Amazon | 450 | 2 | Arie Kliper | Israel | 565,000 | 19 |
| Amazon | 450 | 3 | David Yu | United States | 655,000 | 22 |
| Amazon | 450 | 4 | Gregory Bateman | United States | 1,075,000 | 36 |
| Amazon | 450 | 5 | Jaime Sanchez | United States | 130,000 | 4 |
| Amazon | 450 | 6 | Michael Palazzolo | United States | 285,000 | 10 |
| Amazon | 450 | 7 | Joseph Gourley | United States | 375,000 | 13 |
| Amazon | 450 | 8 | DID NOT REPORT 2 | United States | 1,021,000 | 34 |
| Amazon | 450 | 9 | Kenneth Wroblewski | United States | 370,000 | 12 |
| | | | | | | |
| Amazon | 451 | 1 | Myles German | United States | 690,000 | 23 |
| Amazon | 451 | 2 | Theodore Corey | United States | 320,000 | 11 |
| Amazon | 451 | 3 | Morgan Davies | Canada | 450,000 | 15 |
| Amazon | 451 | 4 | David Meredith | United States | 370,000 | 12 |
| Amazon | 451 | 5 | Donald Matusow | United States | 695,000 | 23 |
| Amazon | 451 | 6 | John Cavanaugh | United States | 550,000 | 18 |
| Amazon | 451 | 7 | Rex Smith | United States | 385,000 | 13 |
| Amazon | 451 | 8 | Michael Wade | United States | 330,000 | 11 |
| Amazon | 451 | 9 | Ronald West | United States | 535,000 | 18 |
| | | | | | | |
| Amazon | 452 | 1 | Larry Wagner | United States | 440,000 | 15 |
| Amazon | 452 | 2 | Ira Friedman | United States | 510,000 | 17 |
| Amazon | 452 | 3 | Matthew Shihadeh | United States | 1,010,000 | 34 |
| Amazon | 452 | 4 | Mark Lillge | United States | 685,000 | 23 |
| Amazon | 452 | 5 | Rafael Jarufe Farah | Peru | 430,000 | 14 |
| Amazon | 452 | 6 | Dennis Jensen | United States | 495,000 | 17 |
| Amazon | 452 | 7 | Cesar Claudio | United States | 680,000 | 23 |
| Amazon | 452 | 8 | Dan Dumont | United States | 345,000 | 12 |
| Amazon | 452 | 9 | Terry Wilkins | United States | 960,000 | 32 |
| | | | | | | |
| Amazon | 453 | 1 | Kevin Morrison | United States | 480,000 | 16 |
| Amazon | 453 | 2 | Mitch Schock | United States | 310,000 | 10 |
| Amazon | 453 | 3 | Allan Boudreau | United States | 450,000 | 15 |
| Amazon | 453 | 4 | DID NOT REPORT 3 | United States | 745,000 | 25 |
| Amazon | 453 | 5 | Jeffrey Meyers | United States | 430,000 | 14 |
| Amazon | 453 | 6 | Daniel Lujano | United States | 1,100,900 | 37 |
| Amazon | 453 | 7 | Carlo Darelli | United States | 980,000 | 33 |
| Amazon | 453 | 8 | Michael Brown | United States | 420,000 | 14 |
| Amazon | 453 | 9 | Chris Wa | United States | 1,390,000 | 46 |
| | | | | | | |
| Amazon | 454 | 1 | Mike Ruter | United States | 305,000 | 10 |
| Amazon | 454 | 3 | John Thornton | United States | 680,000 | 23 |
| Amazon | 454 | 4 | Timothy Little | United States | 833,500 | 28 |
| Amazon | 454 | 5 | Todd Hansen | United States | 795,000 | 27 |
| Amazon | 454 | 6 | Stuart Taylor | Canada | 690,000 | 23 |
| Amazon | 454 | 7 | Bruno Lopes | France | 1,380,000 | 46 |
| Amazon | 454 | 8 | Arthur Harb | United States | 250,000 | 8 |
| Amazon | 454 | 9 | David Slaughter | United States | 1,545,000 | 52 |
| | | | | | | |
| Amazon | 455 | 1 | Thomas Burri | United States | 545,000 | 18 |
| Amazon | 455 | 2 | David Cohodes | United States | 1 | 0 |
| Amazon | 455 | 3 | Robert Nilsson | Canada | 858,000 | 29 |
| Amazon | 455 | 4 | Kevin Nathan | United States | 975,000 | 33 |
| Amazon | 455 | 5 | Dwayne Sullivan | United States | 920,000 | 31 |
| Amazon | 455 | 6 | Michael Esposito | United States | 1,030,000 | 34 |
| Amazon | 455 | 7 | Kyle Brown | United States | 225,000 | 8 |
| Amazon | 455 | 8 | Ken Coplon | United States | 785,000 | 26 |
| Amazon | 455 | 9 | Ali Pabarja | United States | 830,000 | 28 |
| | | | | | | |
| Amazon | 456 | 1 | David Gutfreund | United States | 1,320,000 | 44 |
| Amazon | 456 | 2 | Adrian Moreno | United States | 530,000 | 18 |
| Amazon | 456 | 3 | Scott Epstein | United States | 1,140,000 | 38 |
| Amazon | 456 | 4 | Ross Lecavalier | United States | 180,000 | 6 |
| Amazon | 456 | 5 | Robert Sun | United States | 1,615,000 | 54 |
| Amazon | 456 | 6 | Eric Sunde | United States | 1,345,000 | 45 |
| Amazon | 456 | 7 | Sean Moore | United States | 1,445,000 | 48 |
| Amazon | 456 | 8 | Doyle Elliott | United States | 1,300,000 | 43 |
| Amazon | 456 | 9 | Clyde Reed | United States | 1,600,000 | 53 |
| | | | | | | |
| Amazon | 457 | 1 | Christopher Garland | United States | 210,000 | 7 |
| Amazon | 457 | 2 | John Macnaughton | Canada | 910,000 | 30 |
| Amazon | 457 | 3 | William Collins | United States | 925,000 | 31 |
| Amazon | 457 | 4 | Christopher Cummings | United States | 1,155,000 | 39 |
| Amazon | 457 | 5 | Antonin Teisseire | France | 470,000 | 16 |
| Amazon | 457 | 6 | Tony Ma | United States | 255,000 | 9 |
| Amazon | 457 | 7 | Barry Seidman | United States | 820,000 | 27 |
| Amazon | 457 | 8 | Jeevan Nomula | United States | 590,000 | 20 |
| Amazon | 457 | 9 | Peter Dykes | Australia | 1,350,000 | 45 |
| | | | | | | |
| Amazon | 458 | 1 | Dana Katzenmeier | United States | 290,000 | 10 |
| Amazon | 458 | 2 | Jim Karambinis | United States | 440,000 | 15 |
| Amazon | 458 | 3 | Donya Monroe | United States | 865,000 | 29 |
| Amazon | 458 | 4 | Pat Lyons | United States | 745,000 | 25 |
| Amazon | 458 | 5 | Brian Niekerk | United States | 535,000 | 18 |
| Amazon | 458 | 6 | Robert Davis | United States | 1,210,000 | 40 |
| Amazon | 458 | 7 | Joel Manson | United States | 215,000 | 7 |
| Amazon | 458 | 8 | Ronald Rindone | United States | 300,000 | 10 |
| | | | | | | |
| Amazon | 459 | 1 | Paul Beltrami | United States | 280,000 | 9 |
| Amazon | 459 | 2 | Angela Jordison | United States | 1,040,000 | 35 |
| Amazon | 459 | 3 | Jeff Norman | United States | 405,000 | 14 |
| Amazon | 459 | 4 | Barry Greenstein | United States | 810,000 | 27 |
| Amazon | 459 | 5 | Jim Woods | United States | 520,000 | 17 |
| Amazon | 459 | 6 | Jack Deutsch | United States | 435,000 | 15 |
| Amazon | 459 | 7 | Philippe Culot | France | 600,000 | 20 |
| Amazon | 459 | 8 | William Patten | United States | 330,000 | 11 |
| Amazon | 459 | 9 | Jefferson Morrill | United States | 665,000 | 22 |
| | | | | | | |
| Amazon | 460 | 1 | Ernie Galliani | United States | 305,000 | 10 |
| Amazon | 460 | 2 | Rae Sines | United States | 310,000 | 10 |
| Amazon | 460 | 3 | Edward Zidd | United States | 740,000 | 25 |
| Amazon | 460 | 4 | Dennis Mckelvey | United States | 1,415,000 | 47 |
| Amazon | 460 | 5 | Steve Friedlander | United States | 595,000 | 20 |
| Amazon | 460 | 6 | Joe Brandenburg | United States | 615,000 | 21 |
| Amazon | 460 | 7 | Robert Mcmillan | United States | 1,100,000 | 37 |
| Amazon | 460 | 8 | Rhonda Shepek | Canada | 1,000,050 | 33 |
| Amazon | 460 | 9 | Mark Tekavec | United States | 730,000 | 24 |
| | | | | | | |
| Amazon | 461 | 1 | Thomas Corder | United States | 445,000 | 15 |
| Amazon | 461 | 2 | DID NOT REPORT 1 | US | 1,065,000 | 36 |
| Amazon | 461 | 3 | Jonathan Ingalls | United States | 740,000 | 25 |
| Amazon | 461 | 4 | Louis Cheffy | United States | 635,000 | 21 |
| Amazon | 461 | 5 | Ross Novak | United States | 370,000 | 12 |
| Amazon | 461 | 6 | Eli Elezra | Israel | 1,515,000 | 51 |
| Amazon | 461 | 7 | John Dexter | United States | 795,000 | 27 |
| Amazon | 461 | 8 | Paul Nguyen | United States | 360,000 | 12 |
| Amazon | 461 | 9 | Hyon Chun | United States | 285,000 | 10 |
| | | | | | | |
| Amazon | 462 | 1 | Jose Paz-Gutierrez | Bolivia | 144,500 | 5 |
| Amazon | 462 | 2 | Samuel Coen | Canada | 1,065,000 | 36 |
| Amazon | 462 | 3 | Lisa Xie | United States | 635,000 | 21 |
| Amazon | 462 | 4 | Greg Strong | United States | 780,000 | 26 |
| Amazon | 462 | 6 | Marc Walter | United States | 1,675,000 | 56 |
| Amazon | 462 | 7 | Danny Loomis | United States | 595,000 | 20 |
| Amazon | 462 | 8 | Denis Bilodeau | United States | 215,000 | 7 |
| Amazon | 462 | 9 | John Sacha | United States | 1,005,000 | 34 |
| | | | | | | |
| Amazon | 463 | 1 | Daniel Stebbins | United States | 515,000 | 17 |
| Amazon | 463 | 2 | Alexander Hill | United States | 975,000 | 33 |
| Amazon | 463 | 3 | Peter Bigelow | United States | 1,000,095 | 33 |
| Amazon | 463 | 4 | Timothy Kramp | United States | 455,000 | 15 |
| Amazon | 463 | 6 | Allan Rosen | United States | 340,000 | 11 |
| Amazon | 463 | 7 | Roger Hendren | United States | 190,000 | 6 |
| Amazon | 463 | 8 | Armen Lalikian | United States | 645,000 | 22 |
| Amazon | 463 | 9 | Mark Manesh | United States | 575,000 | 19 |
| | | | | | | |
| Amazon | 464 | 1 | Ronald Neal | United States | 340,000 | 11 |
| Amazon | 464 | 2 | Felipe Quijano | United States | 520,000 | 17 |
| Amazon | 464 | 3 | Allen Kessler | United States | 325,000 | 11 |
| Amazon | 464 | 4 | Alfred Guevarra | United States | 515,000 | 17 |
| Amazon | 464 | 6 | John Michalak | United States | 920,000 | 31 |
| Amazon | 464 | 7 | Andy Finkelberg | United States | 1,115,000 | 37 |
| Amazon | 464 | 8 | April Facey | Canada | 2,330,000 | 78 |
| Amazon | 464 | 9 | Billy Sewell | United States | 815,000 | 27 |
| | | | | | | |
| Amazon | 465 | 1 | Rickie Merritt | United States | 1,145,000 | 38 |
| Amazon | 465 | 2 | Barbara Cardin | United States | 670,000 | 22 |
| Amazon | 465 | 3 | David Matsumoto | United States | 470,000 | 16 |
| Amazon | 465 | 4 | Stephen Darr | United States | 315,000 | 11 |
| Amazon | 465 | 5 | Alexander Scott | United States | 355,000 | 12 |
| Amazon | 465 | 6 | Randy Marker | United States | 890,000 | 30 |
| Amazon | 465 | 7 | Stuart Hosen | United States | 1,000,000 | 33 |
| Amazon | 465 | 8 | James Kennedy | United States | 645,000 | 22 |
| Amazon | 465 | 9 | Brian Orrico | United States | 425,000 | 14 |
| Room | Table | Seat | Player | Country | Chips | Big Blinds |
| --- | --- | --- | --- | --- | --- | --- |
| Amazon | 449 | 1 | Matthew Coloma | United States | 580,000 | 19 |
| Amazon | 449 | 2 | David Kluchman | United States | 2,745,000 | 92 |
| Amazon | 449 | 3 | Nicholas Dileo | United States | 1,150,000 | 38 |
| Amazon | 449 | 4 | Brian Roberts | United States | 585,000 | 20 |
| Amazon | 449 | 5 | James Brooking | United States | 470,000 | 16 |
| Amazon | 449 | 6 | Steven Powers | United States | 1,115,000 | 37 |
| Amazon | 449 | 7 | Marc Wolfe | United States | 300,000 | 10 |
| Amazon | 449 | 8 | Thomas Gibbons | United States | 590,000 | 20 |
| Amazon | 449 | 9 | Louis Galasso | United States | 805,000 | 27 |
| | | | | | | |
| Amazon | 450 | 1 | Antonio Payne | United States | 500,000 | 17 |
| Amazon | 450 | 2 | Arie Kliper | Israel | 565,000 | 19 |
| Amazon | 450 | 3 | David Yu | United States | 655,000 | 22 |
| Amazon | 450 | 4 | Gregory Bateman | United States | 1,075,000 | 36 |
| Amazon | 450 | 5 | Jaime Sanchez | United States | 130,000 | 4 |
| Amazon | 450 | 6 | Michael Palazzolo | United States | 285,000 | 10 |
| Amazon | 450 | 7 | Joseph Gourley | United States | 375,000 | 13 |
| Amazon | 450 | 8 | DID NOT REPORT 2 | United States | 1,021,000 | 34 |
| Amazon | 450 | 9 | Kenneth Wroblewski | United States | 370,000 | 12 |
| | | | | | | |
| Amazon | 451 | 1 | Myles German | United States | 690,000 | 23 |
| Amazon | 451 | 2 | Theodore Corey | United States | 320,000 | 11 |
| Amazon | 451 | 3 | Morgan Davies | Canada | 450,000 | 15 |
| Amazon | 451 | 4 | David Meredith | United States | 370,000 | 12 |
| Amazon | 451 | 5 | Donald Matusow | United States | 695,000 | 23 |
| Amazon | 451 | 6 | John Cavanaugh | United States | 550,000 | 18 |
| Amazon | 451 | 7 | Rex Smith | United States | 385,000 | 13 |
| Amazon | 451 | 8 | Michael Wade | United States | 330,000 | 11 |
| Amazon | 451 | 9 | Ronald West | United States | 535,000 | 18 |
| | | | | | | |
| Amazon | 452 | 1 | Larry Wagner | United States | 440,000 | 15 |
| Amazon | 452 | 2 | Ira Friedman | United States | 510,000 | 17 |
| Amazon | 452 | 3 | Matthew Shihadeh | United States | 1,010,000 | 34 |
| Amazon | 452 | 4 | Mark Lillge | United States | 685,000 | 23 |
| Amazon | 452 | 5 | Rafael Jarufe Farah | Peru | 430,000 | 14 |
| Amazon | 452 | 6 | Dennis Jensen | United States | 495,000 | 17 |
| Amazon | 452 | 7 | Cesar Claudio | United States | 680,000 | 23 |
| Amazon | 452 | 8 | Dan Dumont | United States | 345,000 | 12 |
| Amazon | 452 | 9 | Terry Wilkins | United States | 960,000 | 32 |
| | | | | | | |
| Amazon | 453 | 1 | Kevin Morrison | United States | 480,000 | 16 |
| Amazon | 453 | 2 | Mitch Schock | United States | 310,000 | 10 |
| Amazon | 453 | 3 | Allan Boudreau | United States | 450,000 | 15 |
| Amazon | 453 | 4 | DID NOT REPORT 3 | United States | 745,000 | 25 |
| Amazon | 453 | 5 | Jeffrey Meyers | United States | 430,000 | 14 |
| Amazon | 453 | 6 | Daniel Lujano | United States | 1,100,900 | 37 |
| Amazon | 453 | 7 | Carlo Darelli | United States | 980,000 | 33 |
| Amazon | 453 | 8 | Michael Brown | United States | 420,000 | 14 |
| Amazon | 453 | 9 | Chris Wa | United States | 1,390,000 | 46 |
| | | | | | | |
| Amazon | 454 | 1 | Mike Ruter | United States | 305,000 | 10 |
| Amazon | 454 | 3 | John Thornton | United States | 680,000 | 23 |
| Amazon | 454 | 4 | Timothy Little | United States | 833,500 | 28 |
| Amazon | 454 | 5 | Todd Hansen | United States | 795,000 | 27 |
| Amazon | 454 | 6 | Stuart Taylor | Canada | 690,000 | 23 |
| Amazon | 454 | 7 | Bruno Lopes | France | 1,380,000 | 46 |
| Amazon | 454 | 8 | Arthur Harb | United States | 250,000 | 8 |
| Amazon | 454 | 9 | David Slaughter | United States | 1,545,000 | 52 |
| | | | | | | |
| Amazon | 455 | 1 | Thomas Burri | United States | 545,000 | 18 |
| Amazon | 455 | 2 | David Cohodes | United States | 1 | 0 |
| Amazon | 455 | 3 | Robert Nilsson | Canada | 858,000 | 29 |
| Amazon | 455 | 4 | Kevin Nathan | United States | 975,000 | 33 |
| Amazon | 455 | 5 | Dwayne Sullivan | United States | 920,000 | 31 |
| Amazon | 455 | 6 | Michael Esposito | United States | 1,030,000 | 34 |
| Amazon | 455 | 7 | Kyle Brown | United States | 225,000 | 8 |
| Amazon | 455 | 8 | Ken Coplon | United States | 785,000 | 26 |
| Amazon | 455 | 9 | Ali Pabarja | United States | 830,000 | 28 |
| | | | | | | |
| Amazon | 456 | 1 | David Gutfreund | United States | 1,320,000 | 44 |
| Amazon | 456 | 2 | Adrian Moreno | United States | 530,000 | 18 |
| Amazon | 456 | 3 | Scott Epstein | United States | 1,140,000 | 38 |
| Amazon | 456 | 4 | Ross Lecavalier | United States | 180,000 | 6 |
| Amazon | 456 | 5 | Robert Sun | United States | 1,615,000 | 54 |
| Amazon | 456 | 6 | Eric Sunde | United States | 1,345,000 | 45 |
| Amazon | 456 | 7 | Sean Moore | United States | 1,445,000 | 48 |
| Amazon | 456 | 8 | Doyle Elliott | United States | 1,300,000 | 43 |
| Amazon | 456 | 9 | Clyde Reed | United States | 1,600,000 | 53 |
| | | | | | | |
| Amazon | 457 | 1 | Christopher Garland | United States | 210,000 | 7 |
| Amazon | 457 | 2 | John Macnaughton | Canada | 910,000 | 30 |
| Amazon | 457 | 3 | William Collins | United States | 925,000 | 31 |
| Amazon | 457 | 4 | Christopher Cummings | United States | 1,155,000 | 39 |
| Amazon | 457 | 5 | Antonin Teisseire | France | 470,000 | 16 |
| Amazon | 457 | 6 | Tony Ma | United States | 255,000 | 9 |
| Amazon | 457 | 7 | Barry Seidman | United States | 820,000 | 27 |
| Amazon | 457 | 8 | Jeevan Nomula | United States | 590,000 | 20 |
| Amazon | 457 | 9 | Peter Dykes | Australia | 1,350,000 | 45 |
| | | | | | | |
| Amazon | 458 | 1 | Dana Katzenmeier | United States | 290,000 | 10 |
| Amazon | 458 | 2 | Jim Karambinis | United States | 440,000 | 15 |
| Amazon | 458 | 3 | Donya Monroe | United States | 865,000 | 29 |
| Amazon | 458 | 4 | Pat Lyons | United States | 745,000 | 25 |
| Amazon | 458 | 5 | Brian Niekerk | United States | 535,000 | 18 |
| Amazon | 458 | 6 | Robert Davis | United States | 1,210,000 | 40 |
| Amazon | 458 | 7 | Joel Manson | United States | 215,000 | 7 |
| Amazon | 458 | 8 | Ronald Rindone | United States | 300,000 | 10 |
| | | | | | | |
| Amazon | 459 | 1 | Paul Beltrami | United States | 280,000 | 9 |
| Amazon | 459 | 2 | Angela Jordison | United States | 1,040,000 | 35 |
| Amazon | 459 | 3 | Jeff Norman | United States | 405,000 | 14 |
| Amazon | 459 | 4 | Barry Greenstein | United States | 810,000 | 27 |
| Amazon | 459 | 5 | Jim Woods | United States | 520,000 | 17 |
| Amazon | 459 | 6 | Jack Deutsch | United States | 435,000 | 15 |
| Amazon | 459 | 7 | Philippe Culot | France | 600,000 | 20 |
| Amazon | 459 | 8 | William Patten | United States | 330,000 | 11 |
| Amazon | 459 | 9 | Jefferson Morrill | United States | 665,000 | 22 |
| | | | | | | |
| Amazon | 460 | 1 | Ernie Galliani | United States | 305,000 | 10 |
| Amazon | 460 | 2 | Rae Sines | United States | 310,000 | 10 |
| Amazon | 460 | 3 | Edward Zidd | United States | 740,000 | 25 |
| Amazon | 460 | 4 | Dennis Mckelvey | United States | 1,415,000 | 47 |
| Amazon | 460 | 5 | Steve Friedlander | United States | 595,000 | 20 |
| Amazon | 460 | 6 | Joe Brandenburg | United States | 615,000 | 21 |
| Amazon | 460 | 7 | Robert Mcmillan | United States | 1,100,000 | 37 |
| Amazon | 460 | 8 | Rhonda Shepek | Canada | 1,000,050 | 33 |
| Amazon | 460 | 9 | Mark Tekavec | United States | 730,000 | 24 |
| | | | | | | |
| Amazon | 461 | 1 | Thomas Corder | United States | 445,000 | 15 |
| Amazon | 461 | 2 | DID NOT REPORT 1 | US | 1,065,000 | 36 |
| Amazon | 461 | 3 | Jonathan Ingalls | United States | 740,000 | 25 |
| Amazon | 461 | 4 | Louis Cheffy | United States | 635,000 | 21 |
| Amazon | 461 | 5 | Ross Novak | United States | 370,000 | 12 |
| Amazon | 461 | 6 | Eli Elezra | Israel | 1,515,000 | 51 |
| Amazon | 461 | 7 | John Dexter | United States | 795,000 | 27 |
| Amazon | 461 | 8 | Paul Nguyen | United States | 360,000 | 12 |
| Amazon | 461 | 9 | Hyon Chun | United States | 285,000 | 10 |
| | | | | | | |
| Amazon | 462 | 1 | Jose Paz-Gutierrez | Bolivia | 144,500 | 5 |
| Amazon | 462 | 2 | Samuel Coen | Canada | 1,065,000 | 36 |
| Amazon | 462 | 3 | Lisa Xie | United States | 635,000 | 21 |
| Amazon | 462 | 4 | Greg Strong | United States | 780,000 | 26 |
| Amazon | 462 | 6 | Marc Walter | United States | 1,675,000 | 56 |
| Amazon | 462 | 7 | Danny Loomis | United States | 595,000 | 20 |
| Amazon | 462 | 8 | Denis Bilodeau | United States | 215,000 | 7 |
| Amazon | 462 | 9 | John Sacha | United States | 1,005,000 | 34 |
| | | | | | | |
| Amazon | 463 | 1 | Daniel Stebbins | United States | 515,000 | 17 |
| Amazon | 463 | 2 | Alexander Hill | United States | 975,000 | 33 |
| Amazon | 463 | 3 | Peter Bigelow | United States | 1,000,095 | 33 |
| Amazon | 463 | 4 | Timothy Kramp | United States | 455,000 | 15 |
| Amazon | 463 | 6 | Allan Rosen | United States | 340,000 | 11 |
| Amazon | 463 | 7 | Roger Hendren | United States | 190,000 | 6 |
| Amazon | 463 | 8 | Armen Lalikian | United States | 645,000 | 22 |
| Amazon | 463 | 9 | Mark Manesh | United States | 575,000 | 19 |
| | | | | | | |
| Amazon | 464 | 1 | Ronald Neal | United States | 340,000 | 11 |
| Amazon | 464 | 2 | Felipe Quijano | United States | 520,000 | 17 |
| Amazon | 464 | 3 | Allen Kessler | United States | 325,000 | 11 |
| Amazon | 464 | 4 | Alfred Guevarra | United States | 515,000 | 17 |
| Amazon | 464 | 6 | John Michalak | United States | 920,000 | 31 |
| Amazon | 464 | 7 | Andy Finkelberg | United States | 1,115,000 | 37 |
| Amazon | 464 | 8 | April Facey | Canada | 2,330,000 | 78 |
| Amazon | 464 | 9 | Billy Sewell | United States | 815,000 | 27 |
| | | | | | | |
| Amazon | 465 | 1 | Rickie Merritt | United States | 1,145,000 | 38 |
| Amazon | 465 | 2 | Barbara Cardin | United States | 670,000 | 22 |
| Amazon | 465 | 3 | David Matsumoto | United States | 470,000 | 16 |
| Amazon | 465 | 4 | Stephen Darr | United States | 315,000 | 11 |
| Amazon | 465 | 5 | Alexander Scott | United States | 355,000 | 12 |
| Amazon | 465 | 6 | Randy Marker | United States | 890,000 | 30 |
| Amazon | 465 | 7 | Stuart Hosen | United States | 1,000,000 | 33 |
| Amazon | 465 | 8 | James Kennedy | United States | 645,000 | 22 |
| Amazon | 465 | 9 | Brian Orrico | United States | 425,000 | 14 |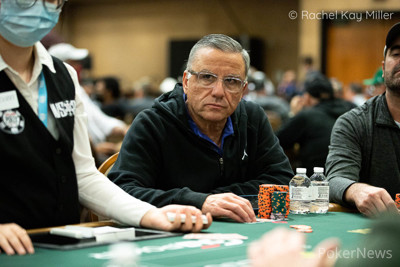 After two starting flights and a 10-hour Day 2, just 148 out of a field of 5,404 players have made it here to Day 3 of Event #52: $1,000 Seniors Championship.
The player in the best position heading into the day is David Kluchman, who built up a massive stack of 2,745,000. Only April Facey with 2,330,000 is within one million of Kluchman's chip lead.
Among the pack that will try to catch Kluchman today are Eli Elezra (1,515,000) and Barry Greenstein (810,000). Others still with a chance on Day 3 include Allen Kessler (325,000) and bracelet winners Pat Lyons (745,000), Adrian Moreno (530,000), and Antonin Teisseire (470,000).
The final 148 players will resume play at 10 a.m. PST in the Amazon Room. Day 3 will consist of 10 hour-long levels, with a 60-minute dinner break following Level 29 around 7 p.m.
They've already survived a massive starting field to get this far. By the end of the day, the 50-and-over club will be that much closer to winning the WSOP bracelet and $662,594 first prize.
PokerNews will be on hand throughout the day as 148 players inch their way closer to the final table.
Nível: 22
Blinds: 15,000/30,000
Ante: 30,000
Nível 22 : 15,000/30,000, 30,000 ante
The players have taken their seats and have begun to play.
Nível 22 : 15,000/30,000, 30,000 ante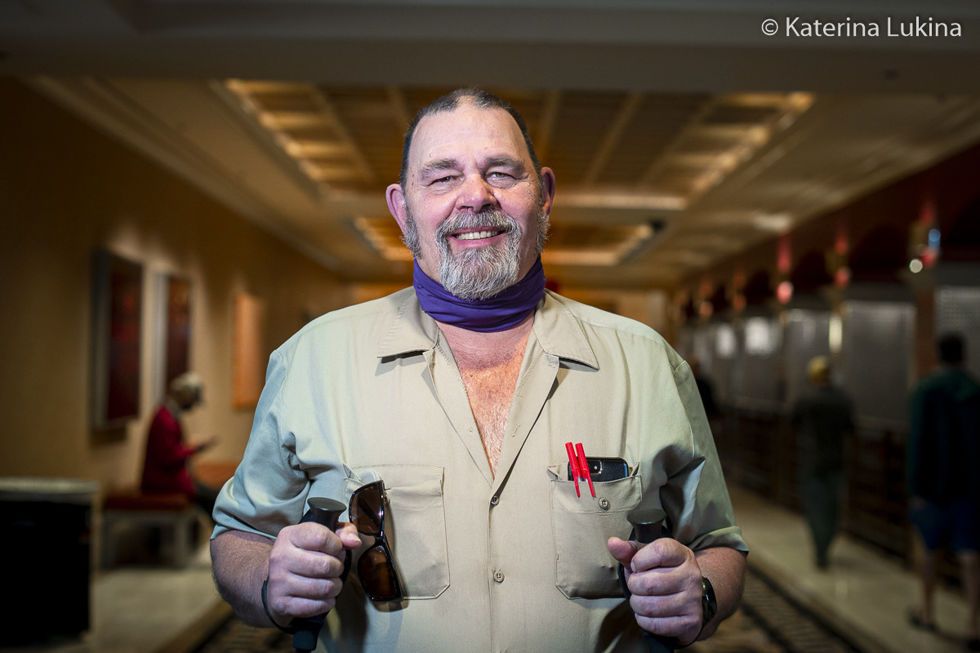 Poker pro Craig Varnell came up with a cool gift idea for his father, Kevin Varnell, who was diagnosed with brain cancer last year — a seat in WSOP Event #52: $1,000 Seniors Championship.
The elder Varnell isn't much of a poker player, unlike his son who has over $2.5 million in live tournament cashes, but he enjoys the game recreationally and was thrilled to receive such a generous offer.
Varnell, who lives in Denver, Colorado, is a 65-year-old retired United Airlines mechanic. Last summer, he went to the doctor where he discovered some uneasy news.
"They did an MRI and found a tumor the size of a golf ball in my brain," he told PokerNews moments after his elimination from the Seniors event.
Nível 22 : 15,000/30,000, 30,000 ante
On one of the first hands of the day, April Facey raised pre-flop and called the all-in shove of Alfred Guevarra for 490,000.
Alfred Guevarra:

April Facey:
Guevarra flopped an ace on a board of
, and Facey's big stack took a dent early on Day 3.
Nível 22 : 15,000/30,000, 30,000 ante
William Patten went all-in from the cutoff for 250,000. Action folded to Paul Beltrami in the small blind who asked for a count and then called while the big blind folded.
William Patten:

Paul Beltrami:
The flop came out
leaving Patten drawing dead to any outs and so the turn
and river
were inconsequential before they were even dealt. Beltrami nearly doubled his stack.
Nível 22 : 15,000/30,000, 30,000 ante
John Sacha in middle position and Samuel Coen from the cutoff went heads-up to a
flop. Sacha checked over to Coen who put out a big bet, then called when Sacha moved all in.
Sacha had flopped top set with
, but Coen had the nut flush draw with
. The
turn and river ran out clean for Sacha and he doubled for 715,000.
"That's a good start," Sacha said as he stacked his new chips.