Event #52: $1,000 Seniors Championship
Dias: 1a
Event #52: $1,000 Seniors Championship
Dia 1a Iniciado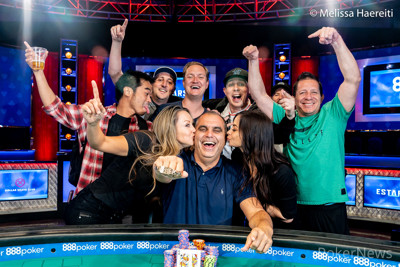 The five-day Event #52: $1,000 Seniors No-Limit Hold'em Championship begins today at 10 a.m. Every year, thousands of players convene in Las Vegas for this over 50's event.
Day 1a will start at 10:00 a.m. and there will be 11 levels of 60 minutes each with a starting stack of 20,000. Late registration is allowed till the end of level 8 approximately 8:15 p.m. One re-entry is allowed and there will be a 75-minute break after level 8 approximately at 7:00 p.m.
The defending 2019 champion Howard Mash saw off international competition from a 5,916-strong field to take the Seniors' bracelet and $662,594. Mash, a financial advisor from Florida, had taken the chip lead all the way back in Day 2, and kept a vice-like grip on it that only slipped briefly during the mid-stages of play to take down his first WSOP bracelet.
As George Bernard Shaw - and Doyle Brunson - famously said, "We don't stop playing because we grow old. We grow old because we stop playing," and no one can accuse Senior runners of the latter.
As always the PokerNews team will be on hand to report all the action from when the first card is dealt until the last card hits the felt.
Nível: 1
Blinds: 100/100
Ante: 100
Nível 1 : 100/100, 100 ante
Following a welcome message from WSOP Vice-President Jack Effel, the massive field of players has begun play between the Brasilia and Pavilion rooms.
Nível 1 : 100/100, 100 ante
This tournament has a different kind of feel to it, with the players seemingly enjoying themselves more than expected, even for the senior's event.
From the helpful tip from one player to another regarding the big blind ante, to the wife on the rail who is ".... trying to send positive vibes to my husband from here." The atmosphere has more of a team-like feel to it, rather than thousands of individuals each vying for one single first-place prize.
What a breath of fresh air to an already spectacular event.
Nível 1 : 100/100, 100 ante
Russ Beyer earned a quick double up in the tournament after he got his stack in preflop with
versus his opponent's
.
Beyer's aces held on the
runout and a quick boost to his stack has started his tournament on the right foot.
Jogador
Fichas
Oscilação

Russ Beyer

35,200
Nível 1 : 100/100, 100 ante
The tournament clock currently has the number of entrants listed at 2,088 players. Look for that number to continue to increase as registration is open for the first eight levels each day. (~8:15 p.m.)
Nível 1 : 100/100, 100 ante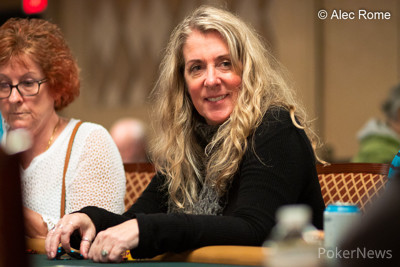 The action was picked up preflop when a player in early position bet 400 and it folded around to April Facey.
Facey made the call from the small blind to see the flop which was
and Facey checked.
The original bettor checked behind, and the turn was the
. Facey bet 600 and was called by the original raiser.
The river was the
and both players checked. Lacey showed the
for a straight.
The original raiser showed
before he mucked the hand and Facey scooped in the pot.
Nível 1 : 100/100, 100 ante
Jogador
Fichas
Oscilação

Allen Kessler

20,000

20,000

Everett Carlton

20,000

20,000

Marsha Wolak

20,000

20,000

Howard Mash

20,000

-1,000

Robert Varkonyi

20,000

20,000

Jack McClelland

20,000

20,000

Neil Blumenfield

20,000

20,000

Kathy Liebert

20,000

20,000

Ken Aldridge

20,000

20,000

Bill Klein

20,000

20,000

Mark Fraser

20,000

20,000

April Facey

20,000

-4,000

Linda Johnson

20,000

20,000

Dieter Dechant

20,000

-1,600

Rep Porter

20,000

20,000

Vasyl Zabrodskyy

20,000

20,000

Barry Greenstein

20,000

20,000

Brendan Shiller

20,000

20,000

Dan Heimiller

20,000

20,000

Mark Kroon

20,000

20,000

Lee Markholt

20,000

20,000

Tom McEvoy

20,000
Nível: 2
Blinds: 100/200
Ante: 200