Event #31: $1,500 No-Limit 2-7 Lowball Draw
Dias: 3
Event #31: $1,500 No-Limit 2-7 Lowball Draw
Dia 3 Concluído

Nível 27 : 40,000/80,000, 120,000 ante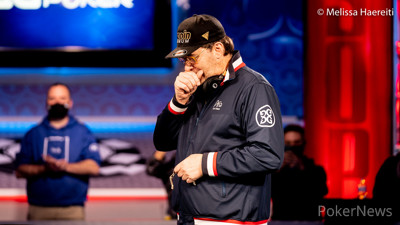 After four final tables and a lot of frustration at the 2021 World Series of Poker, Phil Hellmuth finally won bracelet #16 in Event #31: $1,500 No-Limit 2-7 Lowball Draw. The win marks the sixteenth WSOP title for Hellmuth, whose incredible WSOP career includes 157 cashes and a breakout victory in the 1989 Main Event that made him the youngest champion in history at the time.
This is Hellmuth's first WSOP gold bracelet in a deuce-to-seven poker game and his third in a non-Hold'em variation. The popular lowball variant drew a star-laden field of 272 runners and generated a prize pool of $363,120 that paid $84,851 to Hellmuth for the win.
The victory represents a breakthrough in the frustration that has followed Hellmuth in his pursuit of a 16th bracelet. He has reached seven final tables since his last win in 2018, four of which have come at the 2021 WSOP in $25,000 H.O.R.S.E. (6th), $10,000 Omaha Hi-Lo 8 or Better (5th), and the $10,000 Seven Card Stud event (4th.)
Hellmuth's tournament run was not without problems, and he found himself on the brink of elimination at several points throughout Day 1. The nature of no-limit 2-7 lowball draw lends itself to a lot of swings, and Hellmuth weathered them to finish Day 1 with a healthy chip stack.
The turning point came on Day 2 as Hellmuth continued to weather the breaks in the early going. The low point came early in Day 2 when Rok Gostisa turned over a nine-eight that left Hellmuth steaming with a handful of big blinds. The tide soon turned and Hellmuth dominated the later stages of Day 2, going on a red-hot run to bag over a million chips and the second biggest chip stack of the final ten players for the Day 3 finale.
Final Table Results
| Place | Name | Country | Prize |
| --- | --- | --- | --- |
| 1 | Phil Hellmuth | United States | $84,851 |
| 2 | Jake Schwartz | United States | $52,502 |
| 3 | Chris Vitch | United States | $36,387 |
| 4 | Rep Porter | United States | $25,661 |
| 5 | Joshua Faris | United States | $18,421 |
| 6 | Dario Sammartino | Italy | $13,463 |
| 7 | Jason Lipiner | United States | $10,023 |
| 8 | Kevin Gerhart | United States | $7,602 |
Winner's Reaction
"What did I tell you, honey? I've always wanted a deuce-to-seven bracelet," Hellmuth said to his wife Katherine shortly after shaking Schwartz's hand.
She was by his side for the big win after missing out on two of his final table runs earlier in the series.
"My wife has been at a spa for two weeks, so she missed my tirade and two of my final tables. She never misses my final tables because we have an agreement. We have been married for 31 years and she has to be at all my final tables. But she was at a health spa and she deserves a break."
This particular victory is a culmination of years of preparation for the 16-time champ, who wins his first WSOP gold bracelet in the popular lowball variation.
"I've wanted a deuce-to-seven bracelet ever since the 1980's because it was the coolest bracelet to win. It's the one tournament that Chip, Doyle, and all the big named poker players showed up for.
"I've been fighting so hard for this bracelet for so long, and my game has gotten better and better. I've worked really hard at it and I know all these tricks because I've been playing since the eighties. It feels really good."
It's a long time coming for the 16-time champion, who came into the 2021 WSOP at peak preparation. The no-limit lowball format allowed him to showcase his best skills in reading people and situations.
"I felt like I was unlucky at three final tables after putting myself in a great position and I think there is more skill in deuce-to-seven. If you have great reads you can do things that no one else does. You can make calls that no one else makes. I just seemed to understand what everyone had every hand, and that reading ability translated well for me."
The victory is a relief after a tumultuous week that saw Hellmuth fall into some of his old "Poker Brat" behavior after luck didn't go his way.
"I've studied these games my whole life, so I have all the knowledge. What's been killing me is that I get tired and I blow it. Or I get tilted and I blow it. I'll be down here at the Rio and it's one in the morning and I'm so tired. And I just play a bunch of bad hands and I'm out."
Hellmuth was much more calm and well-rested today than in previous finales at the 2021 WSOP.
"I keep getting down there (to the final table.) Today I told myself no swearing tirades and no threats. I swore a little bit and I am sure the cameras caught it, but I was a lot more mellow, probably because I went too far the other day."
Hellmuth isn't done by any stretch, and he thinks he can run his gold bracelet total up to at least 24, all while adding more mixed game bracelets to cement his legacy.
"There is a lot of skill in these tournaments. It's harder to win the mixed games. If I can win four or five mixed bracelets, I think it will say a lot about my legacy. I think I am playing a bunch of games at a world-class level now."
In the meantime, the champion has some much-needed rest in store.
"I'm probably going to give myself two days off. There might be a big tournament I want to play on Monday or Tuesday, but I'm going to give myself the day off."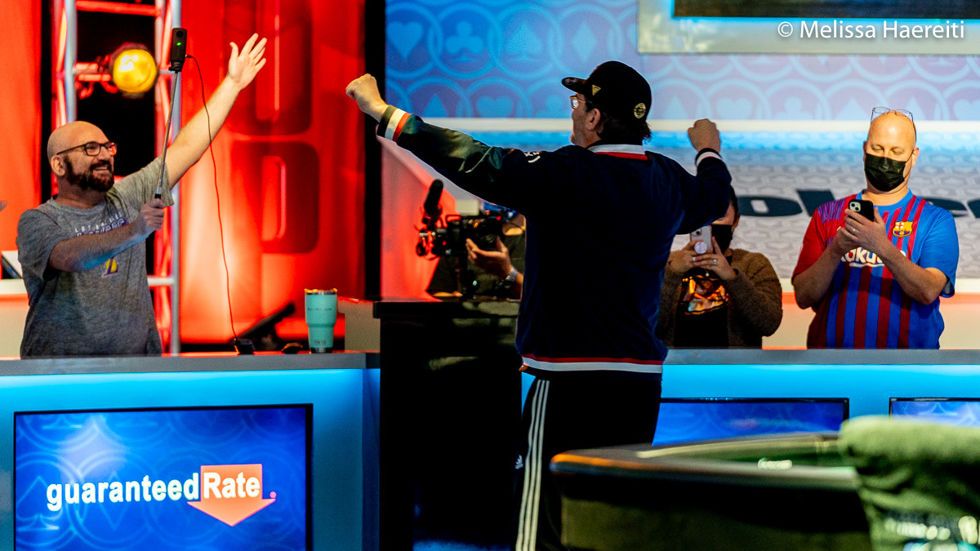 Final Table Action
The final eight players combined on the main stage table quickly after Jason Papastavrou was eliminated in 10th place and Ryan Riess bowed out in ninth. Dario Sammartino had the chip lead going into the final table action and Kevin Gerhart was the short stack.
Gerhart quickly fell to Rep Porter's eight-six when he drew to a seven-six but came up with a ten. Jason Lipiner wasn't far behind in seventh after calling down an eight-seven from Joshua Faris before being eliminated by and his seven-five just a few hands later.
Sammartino could not convert his final table chip lead into his first bracelet, and he finished in sixth place after he shoved and ran into Porter's perfect wheel.
Faris looked like he was gaining momentum during five-handed play when he took a pot from Hellmuth that had the then-15-time WSOP champion steamed. Hellmuth came right back and took it back before Faris was ousted when his ten-nine fell to the ten-eight of Chris Vitch.
Porter came into Day 3 as the chip leader but his run ended in fourth place when he made a pair of fives and was outdrawn by Jake Schwartz. Vitch went out in third a short time after, having won a few big pots at the final table but not enough to get through the nine-eight of Hellmuth.
Hellmuth faltered early in heads-up play when he called down a big bet from Schwartz, who turned over nine-eight to beat Hellmuth's ten-high. The now 16-time champion fought back and flipped the chip counts when Schwartz bet big and then folded to Hellmuth's post-draw shove.
Hellmuth went to work and kept the pressure on Schwartz, pulling in pots of all sizes until he had the young pro on the ropes. The big moment came when Hellmuth shoved and Schwartz called. Hellmuth made a nine-eight to beat Schwartz's pair of fours.
Phil Hellmuth's WSOP Bracelet Wins
| Year | Event | Prize |
| --- | --- | --- |
| 1989 | $10,000 WSOP Main Event | $755,000 |
| 1992 | Event #8: $5,000 Limit Hold'em | $188,000 |
| 1993 | Event #7: $2,500 No-Limit Hold'em | $173,000 |
| 1993 | Event #8: $1,500 No-Limit Hold'em | $161,400 |
| 1993 | Event #9: $5,000 Limit Hold'em | $138,000 |
| 1997 | Event #15: $3,000 Pot-Limit Hold'em | $204,000 |
| 2001 | Event #3: $2,000 No-Limit Hold'em | $316,550 |
| 2003 | Event #12: $2,500 Limit Hold'em | $171,400 |
| 2003 | Event #32: $3,000 No-Limit Hold'em | $410,860 |
| 2006 | Event #34: $1,000 No-Limit Hold'em | $631,863 |
| 2007 | Event #15: $1,500 No Limit Hold'em | $637,25 |
| 2012 | Event #18: $2,500 Seven Card Razz | $182,793 |
| 2012 | WSOPE €10,000 Main Event | €1,022,376 ($1,333,841) |
| 2015 | Event #17: $10,000 Razz Championship | $271,105 |
| 2018 | Event #71: $5,000 No Limit Hold'em | $485,082 |
| 2021 | Event #31: $1,500 No-Limit 2-7 Lowball Draw | $84,851 |
Nível 27 : 40,000/80,000, 120,000 ante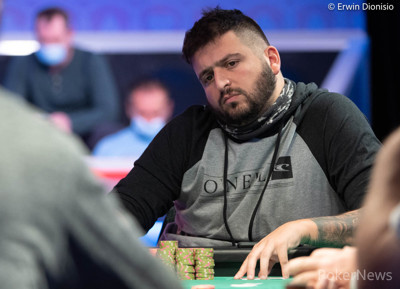 In what would be the final hand of the tournament, Phil Hellmuth shoved on the button and Jake Schwartz called off for his remaining chips.
Jake Schwartz drew one and Hellmuth took two.
Jake Schwartz:
/

Phil Hellmuth:
/
They decided to let Hellmuth peel first. The first card was a
, and the second was a
— sealing the deal and leaving Schwartz drawing dead.
Schwartz dutifully revealed a
— pairing his four and officially ending the tournament.
And with that, Hellmuth has won his 16th WSOP gold bracelet.
Stay tuned for a recap of this historical moment in poker history.
Nível: 27
Blinds: 40,000/80,000
Ante: 120,000
Nível 26 : 30,000/60,000, 90,000 ante
Jake Schwartz and Phil Hellmuth have agreed to take a 45-minute break.
Action will resume at approximately 9:45 p.m. local time.
Nível 26 : 30,000/60,000, 90,000 ante
Phil Hellmuth has taken down several small pots as of late — most of them without a showdown.
Jake Schwartz is down to his last 1.1 million in chips.
Nível 26 : 30,000/60,000, 90,000 ante
For the last several hands, Jake Schwartz and Phil Hellmuth have been exchanging blows in small pots.
Neither side has gained much momentum as of late, but Hellmuth still enjoys a more than 2:1 chip advantage.
Nível 26 : 30,000/60,000, 90,000 ante
Jake Schwartz raised to 130,000 and Phil Hellmuth three-bet to 450,000. Schwartz called.
Hellmuth stood pat and Schwartz took one off.
Both players checked and Hellmuth revealed
, which was good as Schwartz mucked.
Nível 26 : 30,000/60,000, 90,000 ante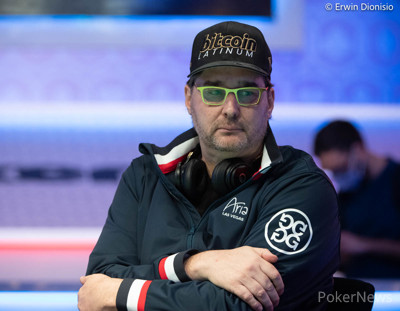 Jake Schwartz opened to 140,000 and Phil Hellmuth three-bet to 350,000. Schwartz called.
Schwartz drew one and Hellmuth drew two.
Schwartz then led out for a hefty 850,000 bet. Hellmuth counted out his stack before announcing he was all in.
Schwartz let his hand go and with that pot — Hellmuth is now out in front.

Nível 26 : 30,000/60,000, 90,000 ante
Phil Hellmuth raised to 150,000 and Jake Schwartz called.
Schwartz took two cards and Hellmuth took one.
Hellmuth bet 240,000 after the draw and Schwartz raised to 600,000. Hellmuth thought it over and called.
Schwartz turned over
and Hellmuth tossed the losing hand into the muck.