Ensan Remains Commanding Chip Leader With Three Remaining; Livingston and Sammartino Advance to Final Day

Nível 40 : 1,000,000/2,000,000, 2,000,000 ante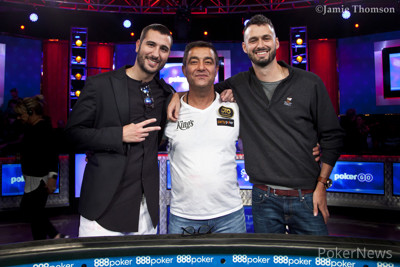 The 2019 World Series of Poker $10,000 Main Event is just one day away from crowning a champion as the final trio remains out of a field of 8,569 entries with a clear odds-on favorite to claim the most-prestigious poker title of the year, the WSOP Main Event bracelet and the payday of $10,000,000 that comes along with it.
Hossein Ensan finished Day 7 and 8 at the top of the leaderboard and made it three in a row by establishing a commanding lead at the end of Day 9. Ensan increased his stack by more than 50% on the day and bagged up 326,800,000.
That's nearly two times as many chips as Alex Livingston (120,400,000) and Dario Sammartino (67,600,000) have combined at their disposal, and Livingston was the other big mover on the penultimate tournament day after going from second-bottom stack to second in chips when it came to bagging and tagging for the night.
There is 1:32:05 remaining in Level 40 (1,000,000/2,000,000, with a 2,000,000-big blind ante).
With all bags wrapped up and plenty of pictures taken, Ensan's focus was already on the next day and how to approach it.
"I have to prepare for tomorrow. There are three left and I think I will continue my same game. I have respect for all the players, but I have chips. When I lose one pot, I don't like it, but it can happen."
When asked if he considers Sammartino or Livingston as the more dangerous player, Ensan immediately said "both." and added the following right after.
"I have more chips than both players and this is my advantage. Playing deep is easier than as a short stack. Dario is a big name, for sure, and Alex has played very good. We have three left and anything can happen. Garry [Gates] was second chip leader and now he is out. In poker, anything can happen."
Livingston already showcased his talent in the Main Event with a 13th place in 2013, and he has locked up at least $4,000,000 for his efforts so far, moving up the ranks by claiming a lot of pots on Day 9.
"When I'm playing the tournament, I'm as confident as ever. I've always wanted to compete on the highest stage. I don't play a lot of no-limit hold'em these days because I don't like the tanking, I don't like the headphones and I don't like all of that stuff. But, the Main Event's an exciting event. It's filled with amateurs and obviously a lot of tough pros. It just brings me back to the old days of playing live cash and just looking at people and making reads. That's what I like to do."
One of those spot-on reads saw Livingston take a big pot off eventual fourth-place finisher Garry Gates with ace-jack suited on a four-card straight board, in which he rivered top pair, and he had the following to say about his thought process.
"That one was interesting. He's a fairly tight player preflop. I thought he played really solid, by the way. But I don't think he defends many hands that have a six in them. When he bets that size on the river, I don't think he goes thin with two pair. So, I think that's very polarized to a six, which he doesn't have that many combos of... I didn't expect to see king-jack but I expect to see nine-ten, ten-jack and jack-nine."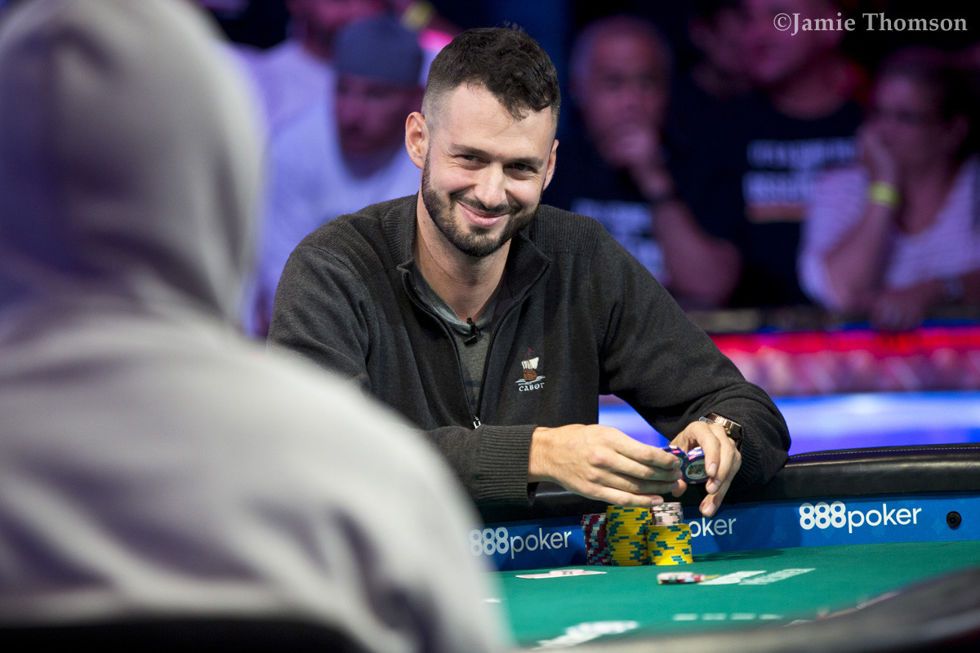 It is still a mountain to climb for Livingston, who will enter the final day with 60 big blinds, while Sammartino follows with 33 big blinds on the biggest stage of poker. Livingston is not too worried about his chip deficit, however, and expects a tough battle on the final day.
"Just to make the last day of the Main Event is pretty cool. As for my chip position, I have tons of big blinds to work with. So, I don't really care how many chips Hossein has. He has a ton of chips which is great for him. But, it's gonna be a long day tomorrow because we're all pretty deep. Today obviously went about as well as I could have asked for," Livingston added.
For Gates, an amazing Main Event run ended in 4th place when he jammed his last 14 big blinds with sixes and Livingston snap-called with pocket queens. No miracle six or straight appeared and the final three bagged up right after. While they were still busy on the main feature table, a very emotional Gates was accompanied out of the room by an enormous rail, which chanted his name for the entire Amazon room to hear.
The rail of Kevin Maahs was as loud when it came to supporting their favorite and Maahs' run came to an end in fifth place half an hour prior to the departure of Gates. In a classic flip, Maahs failed to connect with ace-ten suited against the pocket nines of Ensan, who cemented his status as the runaway chip leader throughout the day.
How did they get the final three there?
| Day | Hossein Ensan | Alex Livingston | Dario Sammartino |
| --- | --- | --- | --- |
| 1 | 180,000 | 159,000 | 121,000 |
| 2 | 209,000 | 360,600 | 522,700 |
| 3 | 336,000 | 681,000 | 552,000 |
| 4 | 3,250,000 | 660,000 | 2,302,000 |
| 5 | 7,100,000 | 3,935,000 | 860,000 |
| 6 | 34,500,000 | 2,800,000 | 19,850,000 |
| 7 | 177,000,000 | 37,800,000 | 33,400,000 |
| 8 | 207,700,000 | 45,800,000 | 23,100,000 |
| 9 | 326,800,000 | 120,400,000 | 67,600,000 |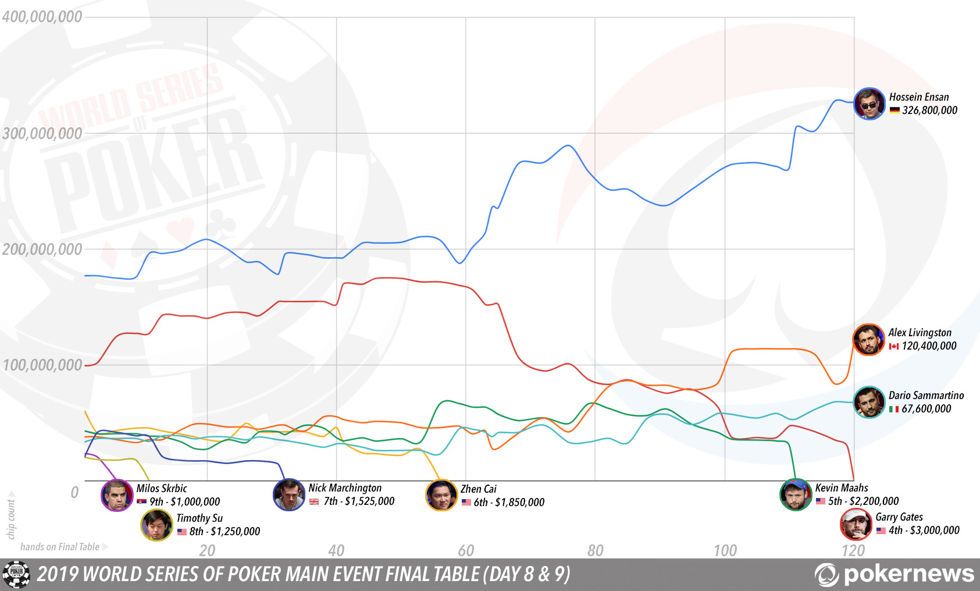 The final three will return to the feature table of the Rio All-Suite Hotel and Casino at 5.30 p.m. local time on Tuesday, July 16th, 2019, to play down to a champion. PokerNews will provide hand-for-hand updates from start-to-finish and you can also watch the action on ESPN on a 30-minute delay.
Results and Remaining Payouts
| Place | Winner | Country | Prize (USD) |
| --- | --- | --- | --- |
| 1 | | | $10,000,000 |
| 2 | | | $6,000,000 |
| 3 | | | $4,000,000 |
| 4 | Garry Gates | United States | $3,000,000 |
| 5 | Kevin Maahs | United States | $2,200,000 |
| 6 | Zhen Cai | United States | $1,850,000 |
| 7 | Nick Marchington | United Kingdom | $1,525,000 |
| 8 | Timothy Su | United States | $1,250,000 |
| 9 | Milos Skrbic | Serbia | $1,000,000 |