Hossein Ensan Still on Top But Garry Gates Closes In With Five Left in Main Event
Nível 38 : 600,000/1,200,000, 1,200,000 ante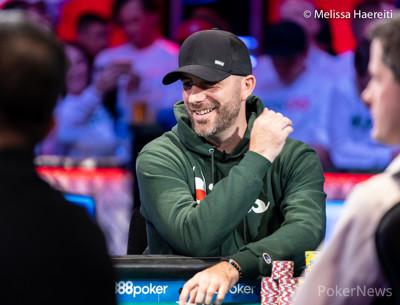 The 2019 World Series of Poker Main Event final table began on Sunday evening with nine players remaining from the second largest Main Event field ever of 8,569 players. Hossein Ensan started well out in front with a sizeable chip lead and Garry Gates was comfortably in second place.
After a tad more than three hours of play tonight, Ensan remains chip leader. Gates is still in second but made the biggest move today. He won 11 of the 56 hands today, tied with Ensan. While Ensan only added about 31,000,000 to his chip-leading stack, Gates increased his stack by about 73% with the 72,400,000 he accumulated today. Between the two of them, they hold about 75% of the chips in play.
"It's a crazy dynamic," said Gates of the final table. "I'm staring at the chip counts now and to think Hossein and I have what we have, the bottom three guys are kind of strapped in that way.
"I'm excited to go back and watch the show but it felt like everyone played pretty snug for the most part. I didn't see anyone get out of line and that was probably partially due to the top two stacks being as big as they are. I think the dynamic should, in theory, stay the same early on tomorrow. But anything can happen."
Gates shook off some early nerves before finding his comfort zone when the final table began.
"It was crazy, just crazy. I felt comfortable when we were lined up. When Jack (Effel) was doing the announcements, I did feel some nerves early on. Handling my chips, initially, I could feel my hands [shaking]. After about half an hour, I settled in and I feel comfortable out there.
"It also helps when you're just making hands left and right. I jokingly called this the World Series of having it because I've had it and if you're gonna run good in a poker tournament, this is the one. I feel like today was a very successful day."
Here is how the players stack up after the first 56 hands of the final table:
| Seat | Player | Country | Chip Count | Big Blinds |
| --- | --- | --- | --- | --- |
| 1 | Hossein Ensan | Germany | 207,700,000 | 173 |
| 2 | Dario Sammartino | Italy | 23,100,000 | 19 |
| 3 | Kevin Maahs | United States | 66,500,000 | 55 |
| 4 | Garry Gates | United States | 171,700,000 | 143 |
| 5 | Alex Livingston | Canada | 45,800,000 | 38 |
There is 28:08 remaining in Level 38 (600,000/1,200,000, with a 1,200,000-big blind ante).
The first to depart from the final table was Milos Skrbic. On the sixth hand of the night, and sitting eighth in chips at the time, Skrbic was in the big blind and when Gates set him all in from the small blind, Skrbic called all in for 17 big blinds with ace-jack. While he usually would be ahead in this spot, he was actually dominated by Gates' ace-queen. No help came for Skrbic and the Serbian was out in ninth place for $1,000,000.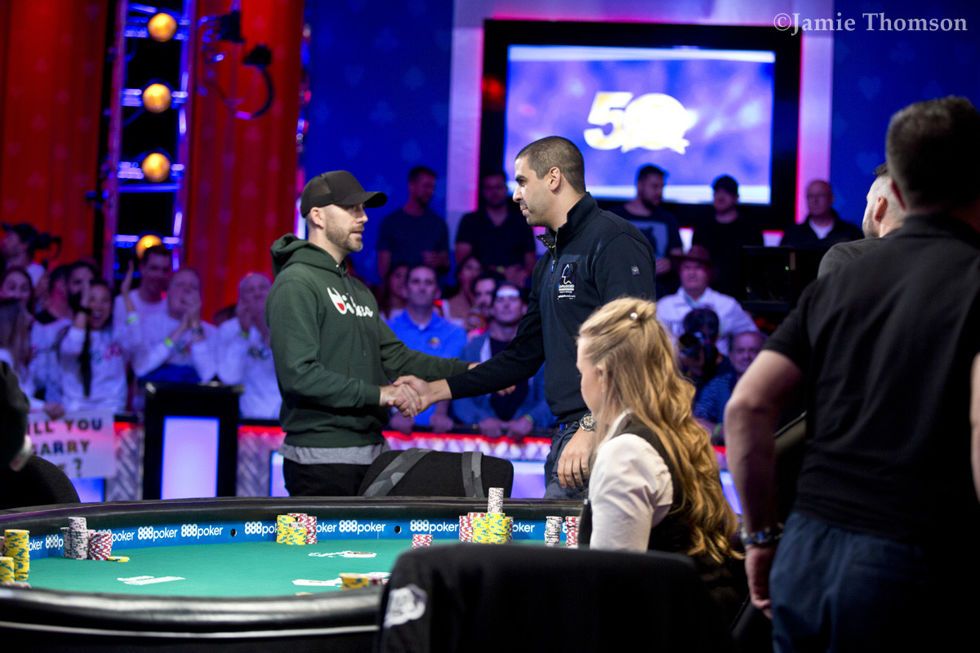 Just a few hands later, Timothy Su raised all in from under the gun for about 18 big blinds and Ensan looked him with ace-jack. Su was slightly ahead with pocket threes, but the runout gave Ensan jacks full of fives to end Su's Main Event in eighth place for $1,250,000.
The next elimination was also scored by Ensan. One the 32nd hand of the night, Ensan min-raised from the cutoff and the English player Nick Marchington made a stand for his remaining 12 big blinds with ace-seven. Ensan had the goods with pocket kings and held up, ending Marchington's run in seventh place for $1,525,000.
Play was initially scheduled to end for the night when six players was reached, but the decision was made to keep it going a little while longer.
Zhen Cai, who began the final table third in chips, was very active in his attempt to chip up, but ultimately was eliminated in sixth place. With a raise and a call before him, Cai picked up ace-king in the big blind and committed his stack of about 24 big blinds. Ensan had opened the pot and folded, but Kevin Maahs called with pocket nines. Cai flopped a Broadway draw but couldn't get there, finishing in sixth place for $1,850,000.
Results and Remaining Payouts
| Place | Winner | Country | Prize (USD) |
| --- | --- | --- | --- |
| 1st | | | $10,000,000 |
| 2nd | | | $6,000,000 |
| 3rd | | | $4,000,000 |
| 4th | | | $3,000,000 |
| 5th | | | $2,200,000 |
| 6th | Zhen Cai | United States | $1,850,000 |
| 7th | Nick Marchington | United Kingdom | $1,525,000 |
| 8th | Timothy Su | United States | $1,250,000 |
| 9th | Milos Skrbic | Serbia | $1,000,000 |
There were several interesting hands among the 56 played today, but perhaps the most debated was Hand #45. Alex Livingston opened with a raise from under the gun and Dario Sammartino called from the cutoff. Gates was in the big blind and put in a large three-bet with pocket tens. Both opponents folded, but Livingston threw two queens into the muck, much to the surprise of the TV-watching audience, and to Gates when he learned of it later.
"I think having a hand every single time, you get that kind of respect I guess. I'm fortunate in that spot. You need those kinds of hands to work in your favor to get through this thing. I felt fortunate hearing he folded queens there."
At this stage, just five candidates remain in contention for a $10 million prize. They'll continue to play Monday at 6:30 p.m. local time with just over 28 minutes remaining at 600,000/1,200,000/1,200,000. The original plan called for playing down to three players, but that will likely change with just five returning.
Whatever winds up happening, Gates said he isn't worried. Even if he's next out, he said it's already a win and a dream come true.
"I've been picking my spots right now and I feel like I've been playing some of the best poker I've played," he said. "So, let's see what happens."
PokerNews will make sure that you rejoin the action and follow it through to the next day's conclusion whatever happens as we bring live and complete coverage of the 2019 World Series of Poker.