Event #9: $600 No-Limit Hold'em Deepstack
Dias: 2
Nível 21 : 8,000/16,000, 16,000 ante
Shuffle up and deal, cards are in the air.
Nível: 21
Blinds: 8,000/16,000
Ante: 16,000
Millions of chips are currently being unbagged, stacked, re-counted, riffled and twiddled as every player large Day 2 field is ID verified and settled. We expect to be under way shortly.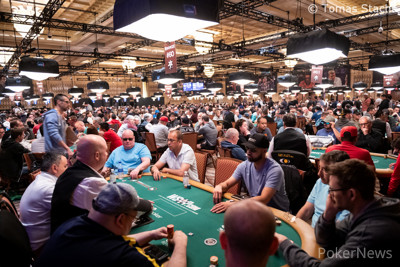 Welcome back to Event #9: $600 No-Limit Hold'em Deepstack. Today was originally scheduled to award a WSOP bracelet to one of the 582 players who made it through yesterday's 20 levels of play, but due to the huge turnout, a third and final day has been scheduled for tomorrow, June 5th. The eventual winner will receive $398,281 in prize money – a huge return on a $600 investment.
All players return in the money but face a long run to the finish line ahead of them. In pole position chip-wise is experienced Canadian player Paul Dhaliwal whose 1,612,000 chips provide considerable room to maneuver as the starting blinds will be 8,000/16,000 with a 16,000 big blind ante.
Still in the field with slightly more modest stacks are the likes of Daniel Negreanu, Scott Davies, and Erik Seidel, mixed in with a competitive and international field of pros and amateurs – survivors from the bumper 6,150-strong starting field.
Live reporting commences with today's "shuffle up and deal" at noon.

| Room | Table | Seat | Player | Country | Chip Count | Big Blinds |
| --- | --- | --- | --- | --- | --- | --- |
| Amazon | 413 | 1 | Ryan Van Sanford | United States | 665,000 | 42 |
| Amazon | 413 | 2 | Sascha Seyler | Germany | 431,000 | 27 |
| Amazon | 413 | 3 | Phil Hernz | United States | 155,000 | 10 |
| Amazon | 413 | 4 | Catherine Jaffe | United States | 259,000 | 16 |
| Amazon | 413 | 5 | Christopher Tham | United States | 440,000 | 28 |
| Amazon | 413 | 6 | Nathan Daharsh | United States | 352,000 | 22 |
| Amazon | 413 | 7 | Moshe Kramer | United States | 821,000 | 51 |
| Amazon | 413 | 8 | James Barnett | United States | 406,000 | 25 |
| Amazon | 413 | 9 | John Taylor | United States | 132,000 | 8 |
| | | | | | | |
| Amazon | 414 | 1 | Steven Manllo | Mexico | 272,000 | 17 |
| Amazon | 414 | 2 | Chad Hanely | United States | 157,000 | 10 |
| Amazon | 414 | 3 | Alexander Haro | United States | 117,000 | 7 |
| Amazon | 414 | 4 | Zachary Vankeuren | United States | 1,032,000 | 65 |
| Amazon | 414 | 5 | Roman Kroupa | Germany | 893,000 | 56 |
| Amazon | 414 | 6 | David Mc Dermott | United States | 261,000 | 16 |
| Amazon | 414 | 7 | Anh Tran | United States | 299,000 | 19 |
| Amazon | 414 | 8 | Robert Kasawdish | United States | 471,000 | 29 |
| Amazon | 414 | 9 | Robert Mowrer | United States | 327,000 | 20 |
| | | | | | | |
| Amazon | 415 | 1 | Andrew Cha | United States | 188,000 | 12 |
| Amazon | 415 | 2 | Joshua Janis | United States | 192,000 | 12 |
| Amazon | 415 | 3 | Sergio Osorio | United States | 289,000 | 18 |
| Amazon | 415 | 4 | Jeremy Pekarek | United States | 286,000 | 18 |
| Amazon | 415 | 5 | Ryan Daneliuk | United States | 605,000 | 38 |
| Amazon | 415 | 6 | Jamil Jutha | Canada | 421,000 | 26 |
| Amazon | 415 | 7 | Bryden Baxter | United States | 119,000 | 7 |
| Amazon | 415 | 8 | Chris Johnson | United States | 180,000 | 11 |
| Amazon | 415 | 9 | Novica Miskovic | Canada | 494,000 | 31 |
| | | | | | | |
| Amazon | 416 | 1 | Jason Shinbaum | United States | 331,000 | 21 |
| Amazon | 416 | 2 | Eddie Blumenthal | United States | 190,000 | 12 |
| Amazon | 416 | 3 | Andy Lysene | United States | 185,000 | 12 |
| Amazon | 416 | 4 | Richard Behling | Germany | 146,000 | 9 |
| Amazon | 416 | 5 | Aditya Sushant | India | 679,000 | 42 |
| Amazon | 416 | 7 | Mark Ioli | United States | 335,000 | 21 |
| Amazon | 416 | 8 | Larry Thomson | United States | 140,000 | 9 |
| Amazon | 416 | 9 | Vitor Coelho | United States | 300,000 | 19 |
| | | | | | | |
| Amazon | 417 | 1 | Tiep Bui | United States | 330,000 | 21 |
| Amazon | 417 | 2 | Anton Perkovic | United States | 187,000 | 12 |
| Amazon | 417 | 3 | Antonio Ferreira | Portugal | 450,000 | 28 |
| Amazon | 417 | 4 | David Crenshaw | United States | 208,000 | 13 |
| Amazon | 417 | 5 | Michael Musella | United States | 197,000 | 12 |
| Amazon | 417 | 6 | Tim Farrelly | Ireland | 520,000 | 33 |
| Amazon | 417 | 7 | Jason Brauda | United States | 202,000 | 13 |
| Amazon | 417 | 8 | Kyle Dover | United States | 951,000 | 59 |
| Amazon | 417 | 9 | John Ohradzansky | United States | 132,000 | 8 |
| | | | | | | |
| Amazon | 418 | 1 | Javier Figueroa | United States | 246,000 | 15 |
| Amazon | 418 | 2 | Sachin Joshi | United States | 361,000 | 23 |
| Amazon | 418 | 3 | Jesus Capuz | United States | 390,000 | 24 |
| Amazon | 418 | 4 | Nicholas Gomez | United States | 251,000 | 16 |
| Amazon | 418 | 5 | Brian Gorman | United States | 258,000 | 16 |
| Amazon | 418 | 6 | David Shmuel | United States | 474,000 | 30 |
| Amazon | 418 | 7 | Dawn Mougel | United States | 345,000 | 22 |
| Amazon | 418 | 8 | Marek Jaros | United States | 135,000 | 8 |
| Amazon | 418 | 9 | Kelt Davies | Canada | 226,000 | 14 |
| | | | | | | |
| Amazon | 419 | 1 | Richard Thomas | United States | 322,000 | 20 |
| Amazon | 419 | 2 | Joshua Meenach | United States | 221,000 | 14 |
| Amazon | 419 | 3 | Bart Lybaert | Belgium | 680,000 | 43 |
| Amazon | 419 | 4 | Jacob Naumann | United States | 517,000 | 32 |
| Amazon | 419 | 5 | David Kimbrell | United States | 225,000 | 14 |
| Amazon | 419 | 6 | Ryan Mccormick | United States | 223,000 | 14 |
| Amazon | 419 | 7 | Weiyi Mo | United States | 288,000 | 18 |
| Amazon | 419 | 8 | Sarkis Karapetian | United States | 359,000 | 22 |
| Amazon | 419 | 9 | James J Villas | United States | 615,000 | 38 |
| | | | | | | |
| Amazon | 421 | 1 | Marlon Pagharion | United States | 219,000 | 14 |
| Amazon | 421 | 2 | Alicia Mora | United States | 351,000 | 22 |
| Amazon | 421 | 3 | Thomas Wall | United States | 197,000 | 12 |
| Amazon | 421 | 4 | David Marlow | United States | 354,000 | 22 |
| Amazon | 421 | 5 | Daniel Lacey | United States | 192,000 | 12 |
| Amazon | 421 | 6 | Nathan Russler | United States | 116,000 | 7 |
| Amazon | 421 | 7 | Noomis Jones | United States | 520,000 | 33 |
| Amazon | 421 | 8 | Calin Trif | United Kingdom | 313,000 | 20 |
| Amazon | 421 | 9 | Craig Chait | United States | 850,000 | 53 |
| | | | | | | |
| Amazon | 422 | 1 | Erik Seidel | United States | 290,000 | 18 |
| Amazon | 422 | 2 | Matthew Graham | United States | 156,000 | 10 |
| Amazon | 422 | 3 | Salim Majlaton | United States | 26,000 | 2 |
| Amazon | 422 | 4 | Jamie Geraghty | United Kingdom | 158,000 | 10 |
| Amazon | 422 | 5 | Navil Desai | United States | 203,000 | 13 |
| Amazon | 422 | 6 | Jordan Holt | United States | 402,000 | 25 |
| Amazon | 422 | 7 | Jerry Moore | United States | 228,000 | 14 |
| Amazon | 422 | 8 | Nathaen Blankenship | United States | 584,000 | 37 |
| Amazon | 422 | 9 | Tarun Ravi | United States | 296,000 | 19 |
| | | | | | | |
| Amazon | 423 | 1 | Nizar Anafal | France | 351,000 | 22 |
| Amazon | 423 | 2 | Tomy Simoniankordolia | Canada | 156,000 | 10 |
| Amazon | 423 | 3 | Robert Galbraith | United States | 192,000 | 12 |
| Amazon | 423 | 4 | Wayne Whittinghill | United States | 230,000 | 14 |
| Amazon | 423 | 5 | John Hernandez | United States | 252,000 | 16 |
| Amazon | 423 | 6 | Alexander Greenblatt | United States | 257,000 | 16 |
| Amazon | 423 | 7 | Arash Asadabadi | United States | 509,000 | 32 |
| Amazon | 423 | 8 | Michael Kaczmarek | United States | 145,000 | 9 |
| Amazon | 423 | 9 | Bobby Keohavong | United States | 335,000 | 21 |
| | | | | | | |
| Amazon | 424 | 1 | Hugh Bartlett | United States | 263,000 | 16 |
| Amazon | 424 | 2 | Alexander Ziskin | United States | 598,000 | 37 |
| Amazon | 424 | 3 | Aaron Ang | United States | 669,000 | 42 |
| Amazon | 424 | 4 | Michael Capener | United States | 230,000 | 14 |
| Amazon | 424 | 5 | Joshua Sepulveda | United States | 97,000 | 6 |
| Amazon | 424 | 6 | Jay Weil | United States | 174,000 | 11 |
| Amazon | 424 | 7 | Kenny Nguyen | United States | 662,000 | 41 |
| Amazon | 424 | 8 | Mark Sanchez | United States | 131,000 | 8 |
| Amazon | 424 | 9 | Nam Le | United States | 164,000 | 10 |
| | | | | | | |
| Amazon | 425 | 1 | Jen-Yue Chiang | United States | 173,000 | 11 |
| Amazon | 425 | 2 | Thanh Vu | China | 415,000 | 26 |
| Amazon | 425 | 3 | Walter Treccarichi | Italy | 558,000 | 35 |
| Amazon | 425 | 4 | Timothy Chung | United States | 192,000 | 12 |
| Amazon | 425 | 5 | Uriel Remi Levy | United States | 271,000 | 17 |
| Amazon | 425 | 6 | James Mackey | United States | 530,000 | 33 |
| Amazon | 425 | 7 | James Neville | United States | 215,000 | 13 |
| Amazon | 425 | 8 | Tan Nguyen | United States | 137,000 | 9 |
| Amazon | 425 | 9 | Keith Correll | United States | 129,000 | 8 |
| | | | | | | |
| Amazon | 426 | 1 | Diego Soto Martin | Cuba | 207,000 | 13 |
| Amazon | 426 | 2 | Nicolas Atchinak | United States | 174,000 | 11 |
| Amazon | 426 | 3 | Le Guan | United States | 488,000 | 31 |
| Amazon | 426 | 4 | Brett Mcnary | United States | 505,000 | 32 |
| Amazon | 426 | 5 | Richard Moss | United States | 353,000 | 22 |
| Amazon | 426 | 6 | Nasser Lahouti | United States | 284,000 | 18 |
| Amazon | 426 | 7 | Myung Kil | United States | 350,000 | 22 |
| Amazon | 426 | 8 | David Byer | United States | 356,000 | 22 |
| Amazon | 426 | 9 | Justin Harvell | United States | 130,000 | 8 |
| | | | | | | |
| Amazon | 427 | 1 | Cache Bouren | United States | 271,000 | 17 |
| Amazon | 427 | 2 | David Elet | United States | 1,255,000 | 78 |
| Amazon | 427 | 3 | Alejandro Pachecos-Rojas | United States | 377,000 | 24 |
| Amazon | 427 | 4 | Charles Odenz | United States | 246,000 | 15 |
| Amazon | 427 | 5 | Serj Markarian | United States | 99,000 | 6 |
| Amazon | 427 | 6 | Alexander Jagodik | United States | 295,000 | 18 |
| Amazon | 427 | 7 | Nicholas Lanzi | United States | 156,000 | 10 |
| Amazon | 427 | 8 | Benjamin Underwood | Canada | 723,000 | 45 |
| Amazon | 427 | 9 | Stephen Schornstein | United States | 100,000 | 6 |
| | | | | | | |
| Amazon | 430 | 1 | Gregory Nerenberg | United States | 280,000 | 18 |
| Amazon | 430 | 2 | Brad Sailor | United States | 235,000 | 15 |
| Amazon | 430 | 3 | Greg Himmelbrand | United States | 402,000 | 25 |
| Amazon | 430 | 4 | Blaz Zerjav | Slovenia | 567,000 | 35 |
| Amazon | 430 | 5 | Damon Musgrave | Argentina | 322,000 | 20 |
| Amazon | 430 | 6 | Philip Barrett | United States | 218,000 | 14 |
| Amazon | 430 | 7 | Paul Gutierrez | United States | 68,000 | 4 |
| Amazon | 430 | 8 | Richard Rossi | United States | 125,000 | 8 |
| Amazon | 430 | 9 | Michael Oldfather | United States | 305,000 | 19 |
| | | | | | | |
| Amazon | 431 | 1 | Daniel Sauve | Canada | 315,000 | 20 |
| Amazon | 431 | 2 | Christian Ahl | Germany | 154,000 | 10 |
| Amazon | 431 | 3 | Michael Shelton | United States | 411,000 | 26 |
| Amazon | 431 | 4 | James Romero | United States | 325,000 | 20 |
| Amazon | 431 | 5 | Mark Dufner | United States | 114,000 | 7 |
| Amazon | 431 | 6 | Babken Vardanyan | United States | 110,000 | 7 |
| Amazon | 431 | 7 | John Allan Hinds | United States | 266,000 | 17 |
| Amazon | 431 | 8 | Marcus Newbury | United States | 182,000 | 11 |
| Amazon | 431 | 9 | Knute Lentz | United States | 333,000 | 21 |
| | | | | | | |
| Amazon | 432 | 1 | Nissim Gozlan | United States | 119,000 | 7 |
| Amazon | 432 | 2 | Michael Nichols | United States | 658,000 | 41 |
| Amazon | 432 | 3 | Miguel Hernandez | United States | 388,000 | 24 |
| Amazon | 432 | 4 | [Removed:321] Saadeghvazri | United States | 1,215,000 | 76 |
| Amazon | 432 | 5 | Andrew Komanetsky | United States | 216,000 | 14 |
| Amazon | 432 | 6 | Matt Stout | United States | 524,000 | 33 |
| Amazon | 432 | 7 | Dan Kuntzman | United States | 750,000 | 47 |
| Amazon | 432 | 8 | Larry Latham | United States | 531,000 | 33 |
| Amazon | 432 | 9 | Mearl Wisehart | United States | 76,000 | 5 |
| | | | | | | |
| Amazon | 433 | 1 | John Larose | United States | 18,000 | 1 |
| Amazon | 433 | 2 | Cobi Cobian | United States | 255,000 | 16 |
| Amazon | 433 | 3 | Jose Burgues | Argentina | 648,000 | 41 |
| Amazon | 433 | 4 | Weston Broad | United States | 235,000 | 15 |
| Amazon | 433 | 5 | Jason Mirza | United States | 522,000 | 33 |
| Amazon | 433 | 6 | John Newmerzhycky | United States | 215,000 | 13 |
| Amazon | 433 | 7 | Juan Magana | Mexico | 434,000 | 27 |
| Amazon | 433 | 8 | Giancarlo Santolin | Canada | 316,000 | 20 |
| Amazon | 433 | 9 | Henrieto Acain | United States | 451,000 | 28 |
| | | | | | | |
| Amazon | 434 | 1 | Joseph Parys | United States | 183,000 | 11 |
| Amazon | 434 | 2 | Victor Suarez | Mexico | 415,000 | 26 |
| Amazon | 434 | 3 | Florian Duta | United Kingdom | 222,000 | 14 |
| Amazon | 434 | 4 | Hana Cho | United States | 331,000 | 21 |
| Amazon | 434 | 5 | Tanya Kirk | United States | 306,000 | 19 |
| Amazon | 434 | 6 | Michael Aparicio | United States | 200,000 | 13 |
| Amazon | 434 | 7 | Nicholas Gerrity | United States | 868,000 | 54 |
| Amazon | 434 | 8 | Norman Rodriguez | United States | 501,000 | 31 |
| Amazon | 434 | 9 | Dominick Giovanniello | United States | 185,000 | 12 |
| | | | | | | |
| Amazon | 435 | 1 | Jeffrey Ostrom | United States | 205,000 | 13 |
| Amazon | 435 | 2 | Omar Diaz | United States | 78,000 | 5 |
| Amazon | 435 | 3 | X Surapaneni | United States | 700,000 | 44 |
| Amazon | 435 | 4 | Kyle Rosenkrance | United States | 224,000 | 14 |
| Amazon | 435 | 5 | Joey Weissman | United States | 120,000 | 8 |
| Amazon | 435 | 6 | Austin Ogden | United States | 219,000 | 14 |
| Amazon | 435 | 7 | Reben Rivera Aguilar | United States | 127,000 | 8 |
| Amazon | 435 | 8 | William Derrick | United States | 121,000 | 8 |
| Amazon | 435 | 9 | James Sievers | United States | 331,000 | 21 |
| | | | | | | |
| Amazon | 478 | 1 | Louis Defalco | United States | 110,000 | 7 |
| Amazon | 478 | 2 | Nissar Quraishi | United States | 332,000 | 21 |
| Amazon | 478 | 3 | Sean Yu | United States | 335,000 | 21 |
| Amazon | 478 | 4 | Eric Christensen | United States | 254,000 | 16 |
| Amazon | 478 | 5 | Brandon Bergin | United States | 350,000 | 22 |
| Amazon | 478 | 6 | Michael Schoen | United States | 328,000 | 21 |
| Amazon | 478 | 7 | Daniel Jones | United States | 267,000 | 17 |
| Amazon | 478 | 8 | Ryan Chamberlain | United States | 440,000 | 28 |
| Amazon | 478 | 9 | Janelle Rettig | United States | 48,000 | 3 |
| | | | | | | |
| Amazon | 479 | 1 | Kary Richardson | United States | 825,000 | 52 |
| Amazon | 479 | 2 | Kum Dollison | United States | 222,000 | 14 |
| Amazon | 479 | 3 | Xiaochun Chen | Hong Kong | 164,000 | 10 |
| Amazon | 479 | 4 | Anthony Dalpra | CanadaCanada | 138,000 | 9 |
| Amazon | 479 | 5 | Orion Gallagher | United States | 274,000 | 17 |
| Amazon | 479 | 6 | Alan Carty | United States | 512,000 | 32 |
| Amazon | 479 | 7 | Kaied Barkho | United States | 528,000 | 33 |
| Amazon | 479 | 8 | Jeffrey Plattner | United States | 208,000 | 13 |
| Amazon | 479 | 9 | Sebastian Dornbracht | Germany | 138,000 | 9 |
| | | | | | | |
| Amazon | 480 | 1 | Neal Corcoran | United States | 547,000 | 34 |
| Amazon | 480 | 2 | Corey Hochman | United States | 146,000 | 9 |
| Amazon | 480 | 3 | Michael Miller | United States | 245,000 | 15 |
| Amazon | 480 | 4 | Ronit Chamami | South Africa | 289,000 | 18 |
| Amazon | 480 | 5 | Gregory Geller | United States | 879,000 | 55 |
| Amazon | 480 | 6 | Casey Cavanaugh | United States | 134,000 | 8 |
| Amazon | 480 | 7 | Daniel Colby | United States | 307,000 | 19 |
| Amazon | 480 | 8 | Aaron Campbell | United States | 229,000 | 14 |
| Amazon | 480 | 9 | Nina Tran | United States | 398,000 | 25 |

| Room | Table | Seat | Player | Country | Chip Count | Big Blinds |
| --- | --- | --- | --- | --- | --- | --- |
| Amazon | 481 | 1 | Christopher Tallman | Canada | 251,000 | 16 |
| Amazon | 481 | 2 | Michael Beattie | United States | 386,000 | 24 |
| Amazon | 481 | 3 | Georgene Farmer | United States | 141,000 | 9 |
| Amazon | 481 | 4 | Joshua Zapanta | United States | 439,000 | 27 |
| Amazon | 481 | 5 | Brian Jordan | United States | 355,000 | 22 |
| Amazon | 481 | 6 | Alexander Fernandez | United States | 488,000 | 31 |
| Amazon | 481 | 7 | Namasilvayam Karmeham | United States | 580,000 | 36 |
| Amazon | 481 | 8 | Alan Gendelman | United States | 372,000 | 23 |
| Amazon | 481 | 9 | Richard Hasnip | United Kingdom | 100,026 | 6 |
| | | | | | | |
| Amazon | 482 | 1 | Robert Brown | United States | 243,000 | 15 |
| Amazon | 482 | 2 | Michael Sarabi | United States | 210,000 | 13 |
| Amazon | 482 | 3 | Enjun Peng | China | 170,000 | 11 |
| Amazon | 482 | 4 | Jeremy Schoenberg | United States | 158,000 | 10 |
| Amazon | 482 | 5 | Blake Cahail | United States | 267,000 | 17 |
| Amazon | 482 | 6 | Ronald McGinnity | United States | 114,000 | 7 |
| Amazon | 482 | 7 | Mark Eddleman | United States | 522,000 | 33 |
| Amazon | 482 | 8 | Jonathan Horowitz | United States | 344,000 | 22 |
| Amazon | 482 | 9 | Austin Fowler | United States | 210,000 | 13 |
| | | | | | | |
| Amazon | 483 | 1 | Yosuke Takagi | United States | 432,000 | 27 |
| Amazon | 483 | 2 | Gilberto Taveras | United States | 601,000 | 38 |
| Amazon | 483 | 3 | Wim Ben Verhaegen | Bolivia | 640,000 | 40 |
| Amazon | 483 | 4 | Aaron Thomas | United States | 206,000 | 13 |
| Amazon | 483 | 5 | Johnykutty Sam | United States | 325,000 | 20 |
| Amazon | 483 | 6 | Paul Kelly | United States | 348,000 | 22 |
| Amazon | 483 | 7 | Keith Oakley | United States | 234,000 | 15 |
| Amazon | 483 | 8 | Thomas Tran | United States | 347,000 | 22 |
| Amazon | 483 | 9 | Scott Davies | Canada | 300,000 | 19 |
| | | | | | | |
| Amazon | 484 | 1 | Peng Cheng | United States | 147,000 | 9 |
| Amazon | 484 | 2 | Alan Schein | United States | 400,000 | 25 |
| Amazon | 484 | 3 | Cameron Lemmons | United States | 133,000 | 8 |
| Amazon | 484 | 4 | Jeffrey Keller | United States | 96,000 | 6 |
| Amazon | 484 | 5 | Steven Costa | United States | 186,000 | 12 |
| Amazon | 484 | 6 | Eric Ward | United States | 325,000 | 20 |
| Amazon | 484 | 7 | Joseph Alban | United States | 427,000 | 27 |
| Amazon | 484 | 8 | David Taylor | United States | 220,000 | 14 |
| Amazon | 484 | 9 | Sylvain Naets | Belgium | 186,000 | 12 |
| | | | | | | |
| Amazon | 485 | 1 | Yonatan Basin | Israel | 246,000 | 15 |
| Amazon | 485 | 2 | Pat Lyons | United States | 252,000 | 16 |
| Amazon | 485 | 3 | Joseph Piatek | United States | 465,000 | 29 |
| Amazon | 485 | 4 | Justin Hendrickson | United States | 78,000 | 5 |
| Amazon | 485 | 5 | Mark Romelli | United States | 310,000 | 19 |
| Amazon | 485 | 6 | Matthew Frank Sesso | United States | 742,000 | 46 |
| Amazon | 485 | 7 | David McHone | United States | 806,000 | 50 |
| Amazon | 485 | 8 | Rolando Quinones | United States | 437,000 | 27 |
| Amazon | 485 | 9 | Brendan Terrana | United States | 323,000 | 20 |
| | | | | | | |
| Amazon | 486 | 1 | Freddy Granados | Costa Rica | 178,000 | 11 |
| Amazon | 486 | 2 | Jeremy Sanders | United States | 105,000 | 7 |
| Amazon | 486 | 3 | Yoon Kim | United States | 167,000 | 10 |
| Amazon | 486 | 4 | Paul Kim | United States | 404,000 | 25 |
| Amazon | 486 | 5 | Kendall Gennick | United States | 227,000 | 14 |
| Amazon | 486 | 6 | Gregoire Boissenot | France | 462,000 | 29 |
| Amazon | 486 | 7 | Jason Scott | United States | 149,000 | 9 |
| Amazon | 486 | 8 | George Grabe | United States | 563,000 | 35 |
| Amazon | 486 | 9 | Kevin Chan | United States | 728,000 | 46 |
| | | | | | | |
| Amazon | 487 | 1 | Ning Janney | United States | 324,000 | 20 |
| Amazon | 487 | 2 | April Floyd | United States | 179,000 | 11 |
| Amazon | 487 | 3 | Barry Steinzaig | United States | 162,000 | 10 |
| Amazon | 487 | 4 | Craig Disalvo | United States | 634,000 | 40 |
| Amazon | 487 | 6 | Justin Liberto | United States | 588,000 | 37 |
| Amazon | 487 | 7 | Carlos Hey | Brazil | 372,000 | 23 |
| Amazon | 487 | 8 | Gina Bacon | United States | 38,000 | 2 |
| Amazon | 487 | 9 | James James | United States | 46,000 | 3 |
| | | | | | | |
| Amazon | 488 | 1 | Jan Jansma | Netherlands | 111,000 | 7 |
| Amazon | 488 | 2 | Curtis Cook | United States | 382,000 | 24 |
| Amazon | 488 | 3 | Pedro Fernandez | Mexico | 210,000 | 13 |
| Amazon | 488 | 4 | Lawrence Kiang | United States | 245,000 | 15 |
| Amazon | 488 | 5 | Nolan Wilson | United States | 164,000 | 10 |
| Amazon | 488 | 6 | Guy Mckay | United States | 438,000 | 27 |
| Amazon | 488 | 7 | Shawn Bowen | United States | 104,000 | 7 |
| Amazon | 488 | 8 | Scott Fawcett | United States | 565,000 | 35 |
| Amazon | 488 | 9 | Matthew Higgins | United States | 254,000 | 16 |
| | | | | | | |
| Amazon | 489 | 1 | Allan Cheng | Canada | 161,000 | 10 |
| Amazon | 489 | 2 | Walter Marinko | United States | 56,000 | 4 |
| Amazon | 489 | 3 | Brian Rainone | United States | 187,000 | 12 |
| Amazon | 489 | 4 | Eric Holt | United States | 622,000 | 39 |
| Amazon | 489 | 5 | Raghuram Jonnalagedda | United States | 339,000 | 21 |
| Amazon | 489 | 6 | Kevin McColgan | United States | 243,000 | 15 |
| Amazon | 489 | 7 | Mark Scacewater | United States | 160,000 | 10 |
| Amazon | 489 | 8 | Shane Appa | United States | 754,000 | 47 |
| Amazon | 489 | 9 | Chad Layne | United States | 432,000 | 27 |
| | | | | | | |
| Amazon | 490 | 1 | Ryan Belz | United States | 328,000 | 21 |
| Amazon | 490 | 2 | Hitesh Patel | United States | 380,000 | 24 |
| Amazon | 490 | 3 | Daniel Cristin | Mexico | 186,000 | 12 |
| Amazon | 490 | 4 | Chun Kwok | United States | 189,000 | 12 |
| Amazon | 490 | 5 | Audley Rainford | Canada | 439,000 | 27 |
| Amazon | 490 | 6 | David Peay | United States | 88,000 | 6 |
| Amazon | 490 | 7 | Vi Do | United States | 306,000 | 19 |
| Amazon | 490 | 8 | Sergio Martus | United States | 152,000 | 10 |
| Amazon | 490 | 9 | Richard Sheriff | Canada | 100,000 | 6 |
| | | | | | | |
| Amazon | 491 | 1 | Bryan Roeben | United States | 148,000 | 9 |
| Amazon | 491 | 2 | Anthony Denove | United States | 530,000 | 33 |
| Amazon | 491 | 3 | William Valladares | United States | 340,000 | 21 |
| Amazon | 491 | 4 | Nelson Chew | United States | 356,000 | 22 |
| Amazon | 491 | 5 | Chad Summers | United States | 376,000 | 24 |
| Amazon | 491 | 6 | Paawan Bansal | India | 464,000 | 29 |
| Amazon | 491 | 7 | John Skrovan | United States | 315,000 | 20 |
| Amazon | 491 | 8 | Buchan Love | Singapore | 310,000 | 19 |
| Amazon | 491 | 9 | DID NOT REPORT 2 | United States | 192,000 | 12 |
| | | | | | | |
| Amazon | 492 | 1 | Raphael Duval | Canada | 511,000 | 32 |
| Amazon | 492 | 2 | Young Shin | United States | 427,000 | 27 |
| Amazon | 492 | 3 | James Stilloe | United States | 297,000 | 19 |
| Amazon | 492 | 4 | Ramon Ramil | United States | 102,000 | 6 |
| Amazon | 492 | 5 | Constantine Vianos | United States | 158,000 | 10 |
| Amazon | 492 | 6 | Gregory Beckmann | United States | 346,000 | 22 |
| Amazon | 492 | 7 | Irina Gumennik | United States | 156,000 | 10 |
| Amazon | 492 | 8 | Julian Pineda | Colombia | 210,000 | 13 |
| Amazon | 492 | 9 | James St [Removed:361] | United States | 502,000 | 31 |
| | | | | | | |
| Amazon | 493 | 1 | Niel Mittelman | United States | 238,000 | 15 |
| Amazon | 493 | 2 | Jeffrey Fielder | United States | 230,000 | 14 |
| Amazon | 493 | 3 | Christopher Battenfield | United States | 1,190,000 | 74 |
| Amazon | 493 | 4 | Mandeep Sah | United States | 206,000 | 13 |
| Amazon | 493 | 5 | Eun Jun Jung | South Korea | 115,000 | 7 |
| Amazon | 493 | 6 | Kristopher Tate | United States | 445,000 | 28 |
| Amazon | 493 | 7 | Jason Oloughlin | United States | 139,000 | 9 |
| Amazon | 493 | 8 | Ryan Laplante | United States | 314,000 | 20 |
| Amazon | 493 | 9 | Tobias Peters | Netherlands | 357,000 | 22 |
| | | | | | | |
| Amazon | 494 | 1 | Ronald Matsuura | United States | 183,000 | 11 |
| Amazon | 494 | 2 | Thomas Gugerbauer | Austria | 125,000 | 8 |
| Amazon | 494 | 3 | Tony Dong | United States | 109,000 | 7 |
| Amazon | 494 | 4 | Michael Lane | United States | 497,000 | 31 |
| Amazon | 494 | 5 | Rocco Valdes | United States | 471,000 | 29 |
| Amazon | 494 | 6 | Michael Wong | United States | 336,000 | 21 |
| Amazon | 494 | 7 | Mike Depasquale | United States | 243,000 | 15 |
| Amazon | 494 | 8 | Edgar Contreras | United States | 138,000 | 9 |
| Amazon | 494 | 9 | Nicola Basile | Canada | 231,000 | 14 |
| | | | | | | |
| Amazon | 495 | 1 | Adam Kowalski | United States | 168,000 | 11 |
| Amazon | 495 | 2 | Hugo Meyer | Belgium | 115,000 | 7 |
| Amazon | 495 | 3 | Howard Mazer | United States | 183,000 | 11 |
| Amazon | 495 | 4 | Casey Campbell | United States | 853,000 | 53 |
| Amazon | 495 | 5 | Luis Tejada | Chili | 146,000 | 9 |
| Amazon | 495 | 6 | Thomas Joaquin | United States | 466,000 | 29 |
| Amazon | 495 | 7 | Christopher Grove | United States | 548,000 | 34 |
| Amazon | 495 | 8 | Megan Moore | United States | 478,000 | 30 |
| Amazon | 495 | 9 | Chen-Yu Hung | China | 159,000 | 10 |
| | | | | | | |
| Amazon | 496 | 1 | Mann Luk | United States | 344,000 | 22 |
| Amazon | 496 | 2 | Jason Dong | United States | 290,000 | 18 |
| Amazon | 496 | 3 | Behrooz Hadgimaleki | United States | 204,000 | 13 |
| Amazon | 496 | 4 | George Alex | United States | 120,000 | 8 |
| Amazon | 496 | 5 | David Chen | United States | 361,000 | 23 |
| Amazon | 496 | 6 | Francis Monaco | United States | 255,000 | 16 |
| Amazon | 496 | 7 | A,J, Allee | United States | 1 | 0 |
| Amazon | 496 | 8 | Troy Clavel | United States | 99,000 | 6 |
| Amazon | 496 | 9 | Sebastien Coq | France | 405,000 | 25 |
| | | | | | | |
| Amazon | 497 | 1 | Michael Clements | United States | 631,000 | 39 |
| Amazon | 497 | 2 | Shirey Szalay | United States | 395,000 | 25 |
| Amazon | 497 | 3 | Nikol Nikolaeva | Bulgaria | 231,000 | 14 |
| Amazon | 497 | 4 | Ricardo Barros | Portugal | 143,000 | 9 |
| Amazon | 497 | 5 | Chuang Chan | United States | 205,000 | 13 |
| Amazon | 497 | 6 | David Butler | United States | 90,000 | 6 |
| Amazon | 497 | 7 | Paulo Villena | United States | 480,000 | 30 |
| Amazon | 497 | 8 | David Kelley | Canada | 373,000 | 23 |
| Amazon | 497 | 9 | Nikhil Gera | United States | 367,000 | 23 |
| | | | | | | |
| Amazon | 498 | 1 | Erik Frew | United States | 135,000 | 8 |
| Amazon | 498 | 2 | Paolo Brumat | Italy | 99,000 | 6 |
| Amazon | 498 | 3 | Gigi Ghezea | Romania | 247,000 | 15 |
| Amazon | 498 | 4 | Arutyun Demirchyan | United States | 283,000 | 18 |
| Amazon | 498 | 5 | Weituoxin Wu | Canada | 132,000 | 8 |
| Amazon | 498 | 6 | Edgar Sanchez | United States | 377,000 | 24 |
| Amazon | 498 | 7 | Christopher May | United States | 237,000 | 15 |
| Amazon | 498 | 8 | Mike Le | United States | 170,000 | 11 |
| Amazon | 498 | 9 | Mike Chang | United States | 558,000 | 35 |
| | | | | | | |
| Amazon | 499 | 1 | Patrick Kelly | United States | 291,000 | 18 |
| Amazon | 499 | 2 | Kenneth Baime | United States | 412,000 | 26 |
| Amazon | 499 | 3 | Brian Jennings | United States | 316,000 | 20 |
| Amazon | 499 | 4 | Michael Loncar | United States | 178,000 | 11 |
| Amazon | 499 | 5 | Michael Brain | United States | 360 | 0 |
| Amazon | 499 | 6 | Vitaly Lunkin | Russia | 163,000 | 10 |
| Amazon | 499 | 7 | Earl Morris | United States | 402,000 | 25 |
| Amazon | 499 | 8 | Brandon Smith | United States | 278,000 | 17 |
| Amazon | 499 | 9 | Monty Berger | United States | 843,000 | 53 |
| | | | | | | |
| Amazon | 500 | 1 | Foo Yong Cheong | Singapore | 108,000 | 7 |
| Amazon | 500 | 2 | Martin Kuba | Russia | 279,000 | 17 |
| Amazon | 500 | 3 | Matheus Xavier | Brazil | 367,000 | 23 |
| Amazon | 500 | 4 | Aldo Longoria | United States | 231,000 | 14 |
| Amazon | 500 | 5 | DID NOT REPORT 1 | United States | 480,000 | 30 |
| Amazon | 500 | 6 | Willy Murgoloflora | United States | 173,000 | 11 |
| Amazon | 500 | 7 | Evgeny Urubkov | United States | 156,000 | 10 |
| Amazon | 500 | 8 | Peter Bozek | United States | 83,000 | 5 |
| Amazon | 500 | 9 | Daniel Enlow | United States | 260,000 | 16 |
| | | | | | | |
| Amazon | 501 | 1 | Uri Kadosh | United States | 305,000 | 19 |
| Amazon | 501 | 2 | Michael Fuchs | United States | 182,000 | 11 |
| Amazon | 501 | 3 | David Rafferty | United States | 321,000 | 20 |
| Amazon | 501 | 4 | Jiyoung Im | United States | 161,000 | 10 |
| Amazon | 501 | 5 | Jake Schwartz | United States | 712,000 | 45 |
| Amazon | 501 | 6 | Mark Scott | Canada | 174,000 | 11 |
| Amazon | 501 | 7 | Jared Jones | United States | 163,000 | 10 |
| Amazon | 501 | 8 | Zachary Hatcher | United States | 281,000 | 18 |
| Amazon | 501 | 9 | Dale Michael | United States | 84,000 | 5 |
| | | | | | | |
| Amazon | 502 | 1 | Steven Westberg | United States | 584,000 | 37 |
| Amazon | 502 | 2 | Caleb King | United States | 559,000 | 35 |
| Amazon | 502 | 3 | Daniel Negreanu | Canada | 601,000 | 38 |
| Amazon | 502 | 4 | Sebastien Chamorro | France | 318,000 | 20 |
| Amazon | 502 | 5 | Jaime Sanchez | United States | 326,000 | 20 |
| Amazon | 502 | 6 | Dang Toan Nguyen | Netherlands | 267,000 | 17 |
| Amazon | 502 | 7 | Marcus Laffen | United States | 471,000 | 29 |
| Amazon | 502 | 8 | Kenneth Tana | United States | 37,000 | 2 |
| Amazon | 502 | 9 | Antuan Bunkley | United States | 603,000 | 38 |
| | | | | | | |
| Amazon | 503 | 1 | Boulos Estafanous | United States | 420,000 | 26 |
| Amazon | 503 | 2 | Wael Ammori | United States | 249,000 | 16 |
| Amazon | 503 | 3 | Ryan Metcalfe | United States | 356,000 | 22 |
| Amazon | 503 | 4 | Dejan Ristovski | CanadaCanada | 161,000 | 10 |
| Amazon | 503 | 5 | Jason Morman | United States | 310,000 | 19 |
| Amazon | 503 | 6 | Michael Huber | Austria | 254,000 | 16 |
| Amazon | 503 | 7 | Robert Manley | United States | 121,000 | 8 |
| Amazon | 503 | 8 | Gabriel Jansen Falcao Bal | United States | 575,000 | 36 |
| Amazon | 503 | 9 | Frederico Dabus | Brazil | 291,000 | 18 |
| | | | | | | |
| Amazon | 504 | 1 | Leif Force | United States | 568,000 | 36 |
| Amazon | 504 | 2 | Vadim Yevdokimov | United States | 52,000 | 3 |
| Amazon | 504 | 3 | Joby Bragg | United States | 185,000 | 12 |
| Amazon | 504 | 4 | Eric Polirer | United States | 175,000 | 11 |
| Amazon | 504 | 5 | James Callanan | United States | 98,000 | 6 |
| Amazon | 504 | 6 | Giuseppe Beltrami | United States | 368,000 | 23 |
| Amazon | 504 | 7 | Alan Hager | United States | 182,000 | 11 |
| Amazon | 504 | 8 | Zachary Guerin | United States | 177,000 | 11 |
| Amazon | 504 | 9 | Ylon Schwartz | United States | 342,000 | 21 |
| | | | | | | |
| Amazon | 505 | 1 | Patrick Rabouin | Canada | 169,000 | 11 |
| Amazon | 505 | 2 | Peter Lynn | United States | 141,000 | 9 |
| Amazon | 505 | 3 | Lee Markholt | United States | 130,000 | 8 |
| Amazon | 505 | 4 | Shane Mog | United States | 249,000 | 16 |
| Amazon | 505 | 5 | Brian McKinney | United States | 126,000 | 8 |
| Amazon | 505 | 6 | Erik Gomez | Mexico | 268,000 | 17 |
| Amazon | 505 | 7 | Michael Santmyer | United States | 363,000 | 23 |
| Amazon | 505 | 8 | Karim Abuzar | United States | 262,000 | 16 |
| Amazon | 505 | 9 | Kiryl Radzivonau | Belarus | 175,000 | 11 |
| | | | | | | |
| Amazon | 506 | 1 | Jose Preciado | Mexico | 320,000 | 20 |
| Amazon | 506 | 2 | Daniel Orgil | United States | 113,000 | 7 |
| Amazon | 506 | 3 | Nathan Anderson | United States | 405,000 | 25 |
| Amazon | 506 | 4 | Dave Alfa | United States | 782,000 | 49 |
| Amazon | 506 | 5 | Jeffrey Thornhill | United States | 239,000 | 15 |
| Amazon | 506 | 6 | Kenji Saito | United States | 349,000 | 22 |
| Amazon | 506 | 7 | Robert Greeson | United States | 96,000 | 6 |
| Amazon | 506 | 8 | Ardit Bitincka | Canada | 104,000 | 7 |
| Amazon | 506 | 9 | Robert Logan | United States | 324,000 | 20 |
| | | | | | | |
| Amazon | 507 | 1 | Derrick Hansen | United States | 704,000 | 44 |
| Amazon | 507 | 2 | Nicholas Glassman | United States | 478,000 | 30 |
| Amazon | 507 | 3 | Beau Wansbrough | Canada | 225,000 | 14 |
| Amazon | 507 | 4 | Charles Wilt | United States | 318,000 | 20 |
| Amazon | 507 | 5 | Uwe Matthias | Germany | 151,000 | 9 |
| Amazon | 507 | 6 | Dale Garrett | United States | 412,000 | 26 |
| Amazon | 507 | 7 | Mark Junek | United States | 190,000 | 12 |
| Amazon | 507 | 8 | Joseph Giampietro | United States | 190,000 | 12 |
| Amazon | 507 | 9 | Henry Klitzner | Germany | 249,000 | 16 |
| | | | | | | |
| Amazon | 508 | 1 | Brendan Sheehan | United States | 142,000 | 9 |
| Amazon | 508 | 2 | Jaret Gordon | United States | 300,000 | 19 |
| Amazon | 508 | 3 | Todd Hoffman | United States | 438,000 | 27 |
| Amazon | 508 | 4 | Ryan Hunsinger | United States | 238,000 | 15 |
| Amazon | 508 | 5 | David Stearns | United States | 124,000 | 8 |
| Amazon | 508 | 6 | Craig Jones | United States | 424,000 | 27 |
| Amazon | 508 | 7 | Andrew Zhu | United States | 320,000 | 20 |
| Amazon | 508 | 8 | Karl Pirkopf | United States | 71,000 | 4 |
| Amazon | 508 | 9 | Arsenio Perez | United States | 163,000 | 10 |
| | | | | | | |
| Amazon | 509 | 1 | David Twible | United States | 192,000 | 12 |
| Amazon | 509 | 2 | Martin Lethuillier | United States | 188,000 | 12 |
| Amazon | 509 | 3 | Ke Chen | China | 321,000 | 20 |
| Amazon | 509 | 4 | Ryan Berndt | United States | 193,000 | 12 |
| Amazon | 509 | 5 | Byron Toth | United States | 212,000 | 13 |
| Amazon | 509 | 6 | Terry Wheeler | United States | 111,000 | 7 |
| Amazon | 509 | 8 | Zackahriah Jones | United States | 213,000 | 13 |
| Amazon | 509 | 9 | Ryan Messick | United States | 580,000 | 36 |
| | | | | | | |
| Amazon | 510 | 1 | Stephen Song | United States | 633,000 | 40 |
| Amazon | 510 | 2 | Fabien Blanc | France | 359,000 | 22 |
| Amazon | 510 | 3 | Kenneth Espinoza | United States | 187,000 | 12 |
| Amazon | 510 | 4 | Eric Waldron | United States | 142,000 | 9 |
| Amazon | 510 | 5 | Corey Ireland | United States | 129,000 | 8 |
| Amazon | 510 | 6 | James Henderson | United States | 842,000 | 53 |
| Amazon | 510 | 7 | Lifu Zhang | United States | 329,000 | 21 |
| Amazon | 510 | 8 | Todd Rosenthal | United States | 485,000 | 30 |
| Amazon | 510 | 9 | Robbie Betancourt | United States | 94,000 | 6 |
| | | | | | | |
| Amazon | 511 | 1 | Hung Truong | United States | 482,000 | 30 |
| Amazon | 511 | 2 | Paul Dhaliwal | Canada | 1,612,000 | 101 |
| Amazon | 511 | 3 | Gregory Seebach | United States | 1 | 0 |
| Amazon | 511 | 4 | Richard Smith | United States | 922,000 | 58 |
| Amazon | 511 | 5 | Adrian Turner | United States | 286,000 | 18 |
| Amazon | 511 | 6 | Christopher Mackenzie | United States | 402,000 | 25 |
| Amazon | 511 | 7 | Alfie Poetra | United States | 454,000 | 28 |
| Amazon | 511 | 8 | Tony Truong | United States | 84,000 | 5 |
| Amazon | 511 | 9 | Peter Mugar | United States | 258,000 | 16 |
| | | | | | | |
| Amazon | 512 | 1 | Daniel Fisher | United States | 50,000 | 3 |
| Amazon | 512 | 2 | Lawrence Hawkinson | United States | 185,000 | 12 |
| Amazon | 512 | 3 | Jason Sullivan | Canada | 229,000 | 14 |
| Amazon | 512 | 4 | Gerald Heath | United States | 326,000 | 20 |
| Amazon | 512 | 5 | Michael Morhaime | United States | 1,275,000 | 80 |
| Amazon | 512 | 6 | Gregory Orlick | United States | 415,000 | 26 |
| Amazon | 512 | 7 | Michael Marder | United States | 68,000 | 4 |
| Amazon | 512 | 8 | Yakaiah Bommishetti | United States | 306,000 | 19 |
| Amazon | 512 | 9 | Kyle Montgomery | United States | 207,000 | 13 |
| | | | | | | |
| Amazon | 513 | 1 | Ryan Kelley | United States | 432,000 | 27 |
| Amazon | 513 | 2 | Andrew Gilmore | United States | 574,000 | 36 |
| Amazon | 513 | 3 | Edward McAfoose | United States | 131,000 | 8 |
| Amazon | 513 | 4 | Dan Natarelli | United States | 178,000 | 11 |
| Amazon | 513 | 5 | Jon Letzkus | United States | 90,000 | 6 |
| Amazon | 513 | 6 | Addam Smith | United States | 514,000 | 32 |
| Amazon | 513 | 7 | Christopher Din | United States | 160,000 | 10 |
| Amazon | 513 | 8 | Andrew Hills | United Kingdom | 195,000 | 12 |
| Amazon | 513 | 9 | Philippe Culot | France | 168,000 | 11 |
| | | | | | | |
| Amazon | 514 | 1 | Jon Beadles | United States | 187,000 | 12 |
| Amazon | 514 | 2 | Christopher Brewington | United States | 537,000 | 34 |
| Amazon | 514 | 3 | Adam Croffut | United States | 417,000 | 26 |
| Amazon | 514 | 4 | Thomas Difrancesco | United States | 228,000 | 14 |
| Amazon | 514 | 5 | John Huening | United States | 194,000 | 12 |
| Amazon | 514 | 6 | Jan Van Dyk | United States | 674,000 | 42 |
| Amazon | 514 | 7 | Justin Zaki | United States | 185,000 | 12 |
| Amazon | 514 | 8 | Kfir Nahum | United States | 817,000 | 51 |
| Amazon | 514 | 9 | Jerry Lockwood | United States | 95,000 | 6 |
| | | | | | | |
| Amazon | 515 | 1 | Danny Elmore | United States | 403,000 | 25 |
| Amazon | 515 | 3 | David Sill | United States | 240,000 | 15 |
| Amazon | 515 | 4 | Lynnore Goldfarb | United States | 1 | 0 |
| Amazon | 515 | 5 | Jeremy Dresch | United States | 187,000 | 12 |
| Amazon | 515 | 6 | Francois Zayas | United States | 125,000 | 8 |
| Amazon | 515 | 7 | Ronnie Lamb | United States | 607,000 | 38 |
| Amazon | 515 | 8 | Matthew Zimmerman | United States | 86,000 | 5 |
| Amazon | 515 | 9 | Frank Marasco | United States | 265,000 | 17 |
| | | | | | | |
| Amazon | 516 | 1 | Sherrie Hathaway | United States | 246,000 | 15 |
| Amazon | 516 | 2 | Hunter Ritchie | United States | 198,000 | 12 |
| Amazon | 516 | 3 | Alireza Hajjafar | United States | 691,000 | 43 |
| Amazon | 516 | 4 | Cong Le | United States | 264,000 | 17 |
| Amazon | 516 | 5 | Christopher Brown | United States | 234,000 | 15 |
| Amazon | 516 | 6 | Ryan Anderson | United States | 284,000 | 18 |
| Amazon | 516 | 7 | Seymour Ogeare | United States | 771,000 | 48 |
| Amazon | 516 | 8 | Chenry Chan | United States | 144,000 | 9 |
| Amazon | 516 | 9 | Sylvain Solfrini | France | 315,000 | 20 |
| | | | | | | |
| Amazon | 517 | 1 | Brian Brenneke | United States | 213,000 | 13 |
| Amazon | 517 | 2 | Rene Nezhoda | United States | 264,000 | 17 |
| Amazon | 517 | 3 | Ilian Li | United States | 281,000 | 18 |
| Amazon | 517 | 4 | Smith Collins | United States | 418,000 | 26 |
| Amazon | 517 | 5 | Jesse Solano | United States | 312,000 | 20 |
| Amazon | 517 | 6 | Thomas Reynolds | United States | 237,000 | 15 |
| Amazon | 517 | 7 | Hamid Yasini | United States | 101,000 | 6 |
| Amazon | 517 | 8 | Ernest Bush | United States | 202,000 | 13 |
| Amazon | 517 | 9 | Cesar Torres | United States | 292,000 | 18 |
| | | | | | | |
| Amazon | 518 | 1 | Paul Snead | United States | 460,000 | 29 |
| Amazon | 518 | 2 | Andualem Mequnint | United States | 239,000 | 15 |
| Amazon | 518 | 3 | Adam Wloszek | United States | 182,000 | 11 |
| Amazon | 518 | 4 | Phillip Phan | United States | 266,000 | 17 |
| Amazon | 518 | 5 | Pierre Neuville | Belgium | 230,000 | 14 |
| Amazon | 518 | 6 | Justin Heilman | United States | 427,000 | 27 |
| Amazon | 518 | 7 | William Davis | United States | 189,000 | 12 |
| Amazon | 518 | 8 | Gab Kim | South Korea | 144,000 | 9 |
| Amazon | 518 | 9 | Tesh Sharma | United States | 175,000 | 11 |
| | | | | | | |
| Amazon | 519 | 1 | Craig Saunders | United States | 55,000 | 3 |
| Amazon | 519 | 2 | Darrell Busse | United States | 454,000 | 28 |
| Amazon | 519 | 3 | Daniel Le | Canada | 216,000 | 14 |
| Amazon | 519 | 4 | Paul Jain | United States | 343,000 | 21 |
| Amazon | 519 | 5 | James Mckinnon | United States | 345,000 | 22 |
| Amazon | 519 | 6 | Brian England | United States | 493,000 | 31 |
| Amazon | 519 | 7 | John Sons | United States | 46,000 | 3 |
| Amazon | 519 | 8 | Jonathan Look | United States | 228,000 | 14 |
| Amazon | 519 | 9 | Robert Peacock | United States | 316,000 | 20 |
| | | | | | | |
| Amazon | 520 | 1 | Phillip Hui | United States | 135,000 | 8 |
| Amazon | 520 | 2 | Alek Johnson Kandis | United States | 538,000 | 34 |
| Amazon | 520 | 3 | David Mann | United States | 393,000 | 25 |
| Amazon | 520 | 4 | Joseph Rothway | United States | 279,000 | 17 |
| Amazon | 520 | 5 | Maurice Hawkins | United States | 566,000 | 35 |
| Amazon | 520 | 6 | Derek Crooks | United States | 173,000 | 11 |
| Amazon | 520 | 7 | Ryan Brown | United States | 270,000 | 17 |
| Amazon | 520 | 8 | Paul Havens | United States | 172,000 | 11 |
| Amazon | 520 | 9 | Alain Thepault | France | 30,000 | 2 |
| | | | | | | |
| Amazon | 521 | 1 | Jean-Francoi Dion | Canada | 82,000 | 5 |
| Amazon | 521 | 2 | Edvinas Gruzdas | Ireland | 896,000 | 56 |
| Amazon | 521 | 3 | Nathan Blair | United States | 116,000 | 7 |
| Amazon | 521 | 4 | Mitch Merritt | United States | 107,000 | 7 |
| Amazon | 521 | 5 | Hector Martin | United States | 446,000 | 28 |
| Amazon | 521 | 6 | Mark Bloomberg | United States | 589,000 | 37 |
| Amazon | 521 | 7 | Charles Mitchell | United States | 92,000 | 6 |
| Amazon | 521 | 8 | Fabrizio Zucca | Italy | 144,000 | 9 |
| Amazon | 521 | 9 | Edwin Rustrian | United States | 158,000 | 10 |
| | | | | | | |
| Amazon | 522 | 1 | Nicholas Tamburo | United States | 232,000 | 15 |
| Amazon | 522 | 2 | Jesse Rivera | United States | 177,000 | 11 |
| Amazon | 522 | 3 | Michael Youngman | United States | 174,000 | 11 |
| Amazon | 522 | 4 | Robert Cowen | United Kingdom | 655,000 | 41 |
| Amazon | 522 | 5 | Daniel Nguyen | United States | 500,000 | 31 |
| Amazon | 522 | 6 | Kevin Berthelsen | United States | 427,000 | 27 |
| Amazon | 522 | 7 | Robert Difruscio | United States | 241,000 | 15 |
| Amazon | 522 | 8 | Gary Burrell | United States | 289,000 | 18 |
| Amazon | 522 | 9 | Joshua Thibodaux | United States | 563,000 | 35 |
Event #9: $600 No-Limit Hold'em Deepstack
Dia 2 Iniciado