Nível 36 : 250,000-500,000, 500,000 ante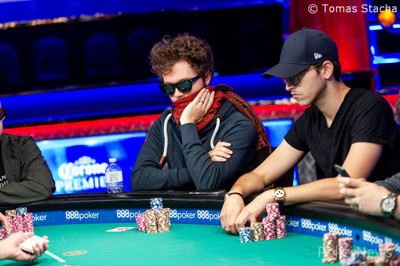 Hand #36: Axel Hallay raised to 1,000,000 on the button and Robert Mitchell defended the big blind. The flop was
and Mitchell decided to lead out for 1,200,000. Hallay raised to 3,500,000 and Mitchell folded.
Hand #37: Hallay raised to 1,200,000 from the cutoff and Benjamin Underwood defended from a 12 big blind stack. The flop was
and went check/check. The turn
got checked as well. The river was the
and Underwood bet 1,200,000. Hallay gave it up.
Hand #38: Mitchell raised to 1,000,000 on the button and Marco Bognanni bought a flop from the big blind. The dealer spread out
and Bognanni check-called 800,000 from Mitchell. The turn
and saw both players check.
The river was the
and again two checks. Bognanni's
high hand was good enough to win.
Hand #39: Bognanni completed the small blind and Hallay checked. On the
flop Bognanni check-called 500,000 from Hallay. The turn paired the board with the
and brought two checks. Another pair on the
river brought two more checks, and Bognanni revealed a deceptively played
to win.
Hand #40: Mitchell made it 1,200,000 from under the gun and Francois Evard called the big blind. The
flop saw two checks. Turn
, two more checks. River
, another two checks. Mitchell won it with
.
Jogador
Fichas
Oscilação

Robert Mitchell

37,100,000

-2,900,000

Axel Hallay

35,600,000

Marco Bognanni

20,500,000

3,600,000

Francois Evard

12,000,000

-2,000,000

Benjamin Underwood

7,300,000

1,200,000