Event #37: $800 No-Limit Hold'em Deepstack
Dias: 3
Nível: 32
Blinds: 100,000/200,000
Ante: 200,000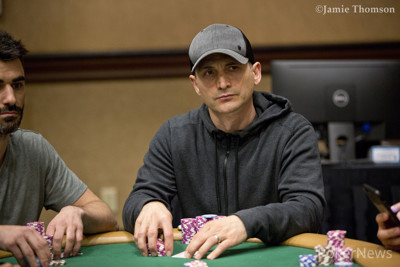 Over the course of two days, a field of 2,808 entries in Event #37: $800 No-Limit Hold'em Deepstack has been whittled down to just 26 hopefuls. Dividing a prize pool just shy of $2 million, the big prizes are up for grabs today including the first-place prize of $297,537, as well as the accompanying WSOP gold bracelet.
All remaining players can already look back on a great tournament and have parlayed their initial investment of $800 into $9,789 already. Hamid Feiz will start the day from pole position, coming back with 12,000,000 in chips, or 60 big blinds when the players return at noon local time in Level 32 with blinds at 100,000/200,000 and a big blind ante of 200,000.
Bracelet winner Nick Jivkov, who won his maiden bracelet back in 2012 in a $1,500 Pot-Limit Hold'em event, returns in second place with 9,625,000 in chips. Kevin Song is the other player in the field who knows what it's like to win gold, and he'll continue his second bid from 5,500,000 chips, as is last year's $1,500 NLHE champ Benjamin Moon, who will resume with 3,425,000.
Live stream coverage of this event will pick up from 3 p.m. onwards on CBS All Access (PokerGO outside US/CA/AU) or when the final six has been reached. The PokerNews team will be on the floor wire-to-wire to bring the latest from the Rio All-Suite Hotel and Casino as another WSOP bracelet winner is crowned today!
| Room | Table | Seat | Player | Country | Chip Count | Big Blinds |
| --- | --- | --- | --- | --- | --- | --- |
| Amazon | 1 | 1 | Terry Carpenter | United States | 2.050.000 | 13 |
| Amazon | 1 | 2 | Christopher Csik | United States | 3.100.000 | 19 |
| Amazon | 1 | 3 | Donald Maloney | United States | 1.800.000 | 11 |
| Amazon | 1 | 4 | Kamel Mokhammad | Ukraine | 2.850.000 | 18 |
| Amazon | 1 | 5 | Joshua Boulton | United Kingdom | 8.000.000 | 50 |
| Amazon | 1 | 6 | Jose Andrade | Portugal | 2.375.000 | 15 |
| Amazon | 1 | 8 | Nick Jivkov | Bulgaria | 9.625.000 | 60 |
| Amazon | 1 | 9 | Zachary Mullennix | United States | 4.650.000 | 29 |
| | | | | | | |
| Amazon | 2 | 1 | Benjamin Moon | United States | 3.425.000 | 21 |
| Amazon | 2 | 2 | Francois Evard | Switzerland | 5.800.000 | 36 |
| Amazon | 2 | 3 | Aubrey Murnaghan | Ireland | 4.450.000 | 28 |
| Amazon | 2 | 4 | Axel Hallay | France | 7.425.000 | 46 |
| Amazon | 2 | 5 | Jan Nakladal | Czech Republic | 2.075.000 | 13 |
| Amazon | 2 | 6 | Marco Bognanni | Malta | 4.950.000 | 31 |
| Amazon | 2 | 7 | Mike Sowers | United States | 2.550.000 | 16 |
| Amazon | 2 | 8 | Robert Mitchell | United States | 4.000.000 | 25 |
| Amazon | 2 | 9 | Carlos Vasconcelos | Brazil | 1.900.000 | 12 |
| | | | | | | |
| Amazon | 3 | 1 | Jonathan Tamayo | United States | 1.925.000 | 12 |
| Amazon | 3 | 2 | Kevin Song | United States | 5.550.000 | 35 |
| Amazon | 3 | 3 | Benjamin Underwood | Canada | 6.175.000 | 39 |
| Amazon | 3 | 4 | Ben Gilbert | United States | 1.550.000 | 10 |
| Amazon | 3 | 5 | Danny Ghobrial | Canada | 3.800.000 | 24 |
| Amazon | 3 | 6 | Tim Finne | United States | 1.950.000 | 12 |
| Amazon | 3 | 7 | Alberto Ortiz Such | United States | 4.975.000 | 31 |
| Amazon | 3 | 8 | Casey Campbell | United States | 3.275.000 | 20 |
| Amazon | 3 | 9 | Hamid Feiz | United States | 12.000.000 | 75 |
Event #37: $800 No-Limit Hold'em Deepstack
Dia 3 Iniciado