Event #3: BIG 50 - $500 No-Limit Hold'em
Dias: 2b
Event #3: BIG 50 - $500 No-Limit Hold'em
Dia 2b Concluído

Nível 20 : 10,000-25,000, 25,000 ante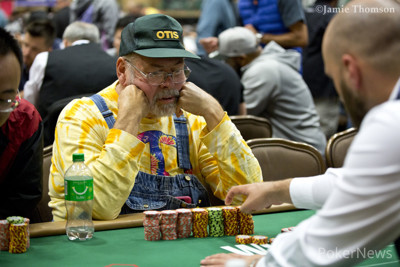 Day 2b of Event #3: BIG 50 - $500 No-Limit Hold'em is in the books after seven levels of play. Out of 5,972 entries, 1,580 returned to the felt today to battle it out with two goals in mind, making it into the money and bagging up at the end of the day for Day 3, which wil take place on Wednesday, June 5th. When the final chip was bagged, 321 players reached that goal and will return in a few days after some well-deserved rest.
Claiming the chip lead is veteran Jerald Williamson with 4,105,000 in chips. Williamson climbed the ranks slowly during the tournament but scooped a huge pot at the end of the day to take over the chip lead from Azad Azram who did the opposite. Azram lost a pot which caused him to bag 3,030,000 instead of the 3,700,000 he had a bit earlier during the night.
Also bagging an above average stack are players like David Towson, Jason Wheeler, Ludovic Geilich, bracelet winners Justin Liberto and Scott Davies, Stoyan Obreshkov, and Cosmin Joldis. Other familiar names to find a bag for Day 3 are more bracelet winners like Kyle Julius, Bryan Piccioli, and Chris Ferguson.
Not everyone was fortunate enough to make it through, some of the players who failed to win their final all-in include Viliyan Petleshkov, Jamie Kerstetter, Matt Affleck, Pierre Neuville, Jordan Young, Aaron Duczak, Jake Schwartz, and many more.
The bubble was again a short-lived affair, similar to what had happened on Day 2a. When the clock was paused and all action was completed on all tables, all open seats were counted and there were 892 players left in the field with 896 getting paid. Four players were eliminated during the process but one of them had left the tournament area already. The three others, David Scatchard, Stefan Williams, and Matthew Clark all collected $750 for their efforts over the past two days.
The 321 remaining players will join the 316 who survived Day 2a and whoever else will survive Day 2c and 2d on Wednesday at 11 a.m. for Day 3. All the remaining prize pools will then be combined into one where they will all compete for their share. Day 1d starts at 10 a.m. Sunday, June 2, which has been sold out. Late registrations and re-entries will be accepted from Level 3 onwards which is at 12 noon local time.
The PokerNews live reporting team will be on hand to bring you all the action from this special anniversary tournament which looks to be breaking all the records so make sure to return when action continues here in the Rio All-Suite Hotel and Casino.

Nível 20 : 10,000-25,000, 25,000 ante
Jogador
Fichas
Oscilação

Jerald Williamson

4,105,000

605,000

Daniel Hughes

3,200,000

2,860,000

Azad Arazm

3,030,000

-670,000

Michael Kamran

2,800,000

2,224,000

David Towson

2,540,000

2,197,000

Duane Gerleman

2,450,000

1,759,000

David Yach

2,350,000

2,066,000

Jason Baldridge

2,320,000

1,698,000

Justin Liberto

2,235,000

1,740,000

Jerimiah Booher

2,235,000

2,108,000

Sarkis Paronyan

2,150,000

1,540,000

Jerry Hamilton

2,125,000

1,629,400

Glenn Swanlund

2,085,000

1,216,000

Jason Wheeler

2,070,000

220,000

Daniel Barrett

2,065,000

1,838,000

Haecheol Jang

2,015,000

-670,000

Santos Caminiti

2,015,000

1,868,000

Domingos Fernandes

2,000,050

1,865,050

Adrian Curry

2,000,030

200,030

Kevork Kozakjian

1,975,000

1,855,000

Nathanael Kogel

1,965,000

Joel Smith

1,945,000

1,181,000

Mindaugas Kerbelis

1,900,500

1,673,500

Cristian Linse

1,805,000

-95,000

Joakim Beaupre

1,800,000

1,314,000

Nível 20 : 10,000-25,000, 25,000 ante
Play has ended for today. A selection of chip counts of a recap of today's action is to follow.
Nível 20 : 10,000-25,000, 25,000 ante
It was a three way limp around to the button Adam Dunkle and he moved all in for his remaining 205,000. The small blind also moved all in and after a long tank the player in middle position got the clock called on him but did make the call as well.
Adam Dunkle:

Opponent:

Opponent:
The board ran
and Adam triples up right before the end of the night.

Nível 20 : 10,000-25,000, 25,000 ante
The tournament clock has been paused. Three more hands need to be played before the remaining players can bag and tag their chips for Day 3.

Nível 20 : 10,000-25,000, 25,000 ante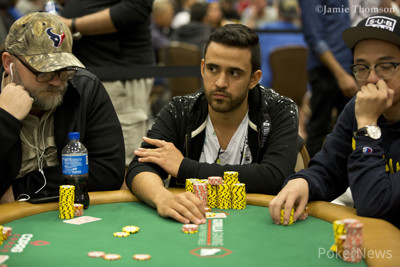 The flop read
with almost 200,000 in the middle.
Both Stoyan Obreshkov in the big blind and William Hosseini in mid-position checked.
They did the same on the
on the turn to see the
complete the board on the river. Obreshkov now bet 60,000 and Hosseini raised. Obreshkov asked how much the raise was for and the dealer confirmed it was 235,000. Obreshkov tanked while talking through all the options until the clock was called on him. The floor gave him 30 seconds to make a decision and when the floor gave him the 5-second warning, Obreshkov opted to let his hand go.

Nível 20 : 10,000-25,000, 25,000 ante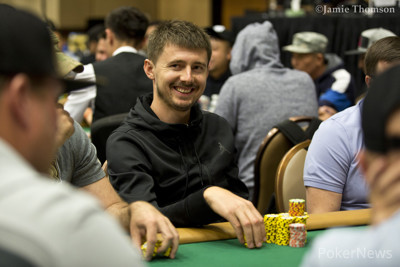 With 435,000 in the middle already, the flop read
.
Both Cosmin Joldis (under the gun) and Kathy Holz (early position) checked. Haecheol Jang bet 150,000 from the hijack and only Joldis made the call.
The turn was the
, Joldis now check-called the 300,000 continuation-bet of Jang.
The river completed the board with the
and Joldis checked for the last time. Jang counted out his own stack and then fired another bet over the line, now for 600,000. Joldis glanced at his cards once more, looked at Jang, and then opted to fold.
Jogador
Fichas
Oscilação

Haecheol Jang

2,685,000

2,108,000

Kathy Holz

1,450,000

-250,000

Kostas Kalathakis

600,000

-105,000

Cosmin Joldis

485,000

-515,000
Nível 20 : 10,000-25,000, 25,000 ante
Jogador
Fichas
Oscilação

Azad Arazm

3,100,000

2,150,000

Cristian Linse

1,900,000

1,821,000

Steve Barton

1,600,000

1,600,000

Chris Ferguson

720,000

-130,000
Nível: 20
Blinds: 10,000/25,000
Ante: 25,000