Nível 46 : 5,000,000-10,000,000, 10,000,000 ante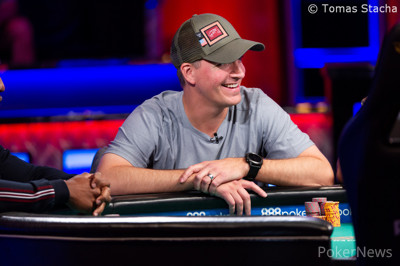 Hand #79: Nick Chow completed his small blind and Femi Fashakin opted to check. They checked through the
on the flop to the
on the turn and the
on the river. Chow bet for Fashakin to quickly fold.
Hand #80: Fashakin raised to 30,000,000 from the small blind and Paul Cullen folded in the big blind.
Hand #81: Chow raised to 23,000,000 from the cutoff, both Paul Cullen and Walter Atwood called in the blinds. The flop came
, Cullen checked and so did Atwood. Chow continued with a bet of 26,000,000 and Cullen shoved fro 74,000,000. Atwood called and Chow folded.
Paul Cullen:

Walter Atwood:
Cullen held the overpair while Atwood had flopped a pair of jacks.
The rest of the board was completed with the
on the turn and the
on the river for Cullen to double up.
Hand #82: Chow raised to 23,000,000 from under the gun and Fashakin three-bet to 50,000,000 in the cutoff. Action folded back to Chow who called. The flop came
, Chow checked and Fashakin continued with a bet of 35,000,000. Chow considered his options for a while and decided to raise to 80,000,000. Fashakin dived into the tank and opted to fold in the end.
Hand #83: Atwood raised to 25,000,000 on the button and picked up the blinds and ante.
Jogador
Fichas
Oscilação

Femi Fashakin

416,000,000

-105,000,000

Nicholas Chow

395,000,000

56,000,000

Paul Cullen

253,000,000

136,000,000

Walter Atwood

210,000,000

-87,000,000

Rafi Elharar

149,000,000

-25,000,000