Event #10: $1,500 Dealers Choice
Dias: 2
Event #10: $1,500 Dealers Choice
Dia 2 Concluído
Nível 20 : 8,000/16,000, 0 ante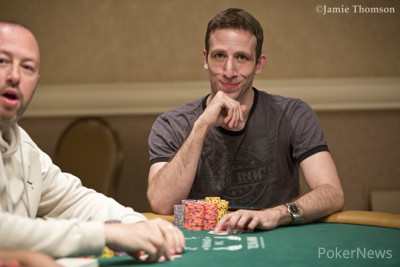 Day 2 of Event #10: $1,500 Dealer's Choice has wrapped up, and 21 players go through to Day 3. Three-time WSOP bracelet winner Benny Glaser finished the day as the chip leader with a stack of 489,500 and he'll be in contention for a possible fourth bracelet when play resumes Wednesday at 2 p.m local time.
Other big stacks in the room include Rob Campbell (454,500), Michael Chow (443,000), and WSOP bracelet winners Frankie O'Dell (342,000) and "Miami" John Cernuto. The tournament will play to a winner Wednesday, with the first-place prize of $144,957 on the line.
The money bubble burst on Day 2, with 71 players assuring themselves of at least the min-cash of $2,250. Notable players finishing in the money included WSOP bracelet winners Ben Yu ($2,383), David "ODB" Baker ($2,871), Tom Franklin ($2,871), Frank Kassela ($3,299), Greg Mueller ($3,299), Andrew Barber ($3,299) and Dan Matsuzuki ($3,904).
The tournament will play down to an 18-player redraw on Wednesday and those players will compete until the bracelet winner has been decided.
Glaser went on a surge at the end of Day 2, making an extraordinary hero call and winning a massive pot at the expense of fellow O'Dell on the very last hand of the night in limit hold'em
O'Dell and the rest of the table were in disbelief, as Glaser called O'Dell's river bet with just king-high, and the call was correct as O'Dell was forced to table a failed ten-high bluff.
Follow all of the Day 3 action with the PokerNews live reporting team as the $1,500 Dealers Choice crowns a bracelet winner Wednesday!
Nível 20 : 8,000/16,000, 0 ante
Jogador
Fichas
Oscilação

Benny Glaser

489,500

25,500

Rob Campbell

454,500

-5,500

Michael Chow

443,000

103,000

Frankie O'Dell

342,000

42,000

Wes Self

324,000

-61,000

John Cernuto

300,000

147,000

Tim McDermott

289,500

-20,500

Scott Clements

270,500

40,500

Jim Collopy

203,500

27,500

Naoya Kihara

202,000

-93,000

Mike Ross

194,000

52,000

James Pritchard

154,000

73,000

Jesse Martin

153,000

-42,000

John Monnette

149,500

-122,500

Scott Horowitz

141,000

88,500

Robert Mizrachi

140,500

-49,500

Josh Arieh

134,500

6,000

Mike Watson

126,500

-18,500

Andrey Zhigalov

114,500

-72,500

Tamon Nakamura

63,000

-21,000

Jack Rice

35,000

-215,000
Nível 20 : 8,000/16,000, 0 ante
Limit Hold'em
Benny Glaser was in the small blind and check-called Frankie O'Dell, betting in the cutoff on
. The river was a
and Glaser checked. O'Dell bet and Glaser went deep into the tank. He thought for about a minute and called.
"Good call," O'Dell said with a sigh, showing
.
Glaser showed
for just king-high.
"Benny da champ!" exclaimed Mike Ross. "Look at Benny da champ. That one's gonna get written up."
"They can write how bad he played it," O'Dell grumbled.
Glaser smiled and said something back softly that we couldn't hear.
Nível 20 : 8,000/16,000, 0 ante
2-7 Single Draw
After the draw, James Pritchard checked and John Monnette bet 23,000 into about 40,000. Naoya Kihara called on the button and James Pritchard thought a bit and called in the big blind.
"Nine-seven," Monnette said, showing
.
Pritchard mucked what looked like a nine-eight, following Kihara in conceding.
"Nice hand," Pritchard said.
"I didn't know if I liked it when you overcalled," Monnette admitted.
Nível 20 : 8,000/16,000, 0 ante
Stud Hi-Lo
Mike Ross just lost a heap with aces up, scooped by Benny Glaser, who had
up and
in the hole for a straight and a low.
At another table, a short-stack Nick Marisco went bust in a stud hi-lo regular pot chopped by Jesse Martin and Jim Collopy
Nível 20 : 8,000/16,000, 0 ante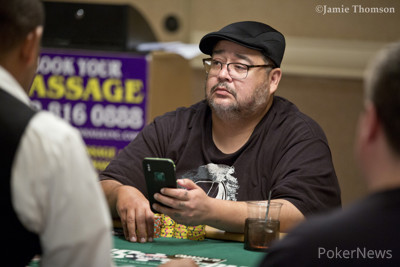 No-Limit Hold'em
Mike Watson opened to 9,000 on the button, and Frankie O'Dell three-bet to 25,000 in the small blind. Watson called, and the flop came
.
O'Dell put in the continuation bet for 40,000, Watson reraised to put O'Dell at risk, and O'Dell called.
O'Dell:

Watson:
The board ran out
, and O'Dell's pair of eights held up.
Nível 20 : 8,000/16,000, 0 ante
Stud Hi-Lo
Peter Kelly had paired his first up-card on sixth, but he was facing a bet from Benny Glaser, who made open nines.
Peter Kelly:
/

Benny Glaser:
/
Kelly thought awhile and folded, leaving himself just a few bets.
Nível 20 : 8,000/16,000, 0 ante
Omaha Hi-Lo
After a check, Josh Arieh bet from the big blind on
. Wes Self raised a couple of seats over, driving out the small blind. Arieh peeled and the turn was a
. Arieh checked and folded with a shake of the head when Self bet.
Self has dramatically increased his stack and is in contention for the chip lead after grinding short for much of the day.
Nível: 20
Limit Flop / Draw: 4,000/8,000
Stud Games: 2,000-ante, 2,000 bring-in, 8,000 completion
No-Limit & Pot-Limit: 2,000/4,000/4,000-big blind ante/ 6,000-ante