Event #10: $1,500 Dealers Choice
Dias: 1
Event #10: $1,500 Dealers Choice
Dia 1 Concluído
Nível 10 : 800/1,600, 0 ante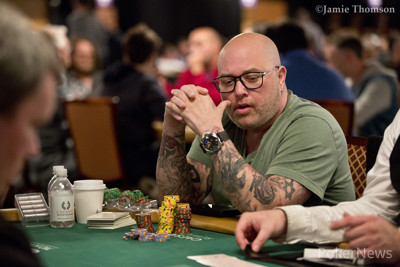 Day 1 of Event #10: $1,500 Dealers Choice has concluded after 10 one-hour levels of exciting mixed game action. In its fifth year on the schedule, this tournament has become one for some of the biggest names to try their hand in a spread of 20 total games and today was no exception with a record-setting field of 470 entrants.
Danny Noam was a player to watch throughout the entire day, having been seen with the chip lead from an early point in the tournament. By the second break, he already had around 70,000 in his stack and built it up to 81,100 before it was time to bag for the night.
Other players to bag large stacks included Al Barbieri (65,800), Ryan Leng (62,800), Frankie O'Dell (51,500), Chris Ferguson (46,600), and Greg Mueller (45,300).
There were many more notable players to advance to Day 2, such as Dzmitry Urbanovich (33,700), Benny Glaser (27,200), David Benyamine (23,700), Barry Greenstein (21,600), and Mike Matusow (21,400). Many other players including Greg Raymer, Shaun Deeb, James Obst, and Brandon Shack-Harris did not advance.
Day 2 will resume Tuesday at 2 p.m. local time with another 10 levels scheduled, each for one hour. Seventy-one players will make it in the money, with a min-cash of $2,250 guaranteed. The winner of the tournament will receive a WSOP gold bracelet and the first place prize of $144,957.
When play resumes tomorrow, limit flop and draw games will return to levels of 500/1,000. Stud games will have a 200 ante, 300 bring-in, and 1,000 completion. No Limit and Pot Limit games will be played at 300/500 with a 500 big blind ante, with draw games having an 800 big blind ante. There will be 15-minute breaks after every two levels and a one-hour dinner break after Level 16. Come back for all the action as the PokerNews team will be bringing updates from the floor every step of the way.
Nível 10 : 800/1,600, 0 ante
Jogador
Fichas
Oscilação

Jim Collopy

84,300

84,300

Danny Noam

81,100

4,000

Jason Stockfish

79,500

79,500

Al Barbieri

65,800

Nikolai Yakovenko

63,600

63,600

Ryan Leng

62,800

29,300

Tamon Nakamura

61,100

61,100

Cole Jackson

56,800

56,800

Rob Campbell

56,400

56,400

Todd Barlow

54,900

54,900

Mikhail Semin

52,900

52,900

Christopher Claassen

52,400

52,400

Frankie O'Dell

51,500

29,500

Robert Mizrachi

50,900

50,900

Dan Shak

50,800

50,800

Hieu Luu

50,700

50,700

Scott Horowitz

50,400

50,400

David Mccaw

50,200

50,200

Marcelo Costa

49,900

49,900

Wes Self

47,900

47,900

Valentin Vornicu

47,300

47,300

Kyle Miaso

47,000

47,000

Chris Ferguson

46,600

3,100

Andrey Zhigalov

46,400

46,400

Keith Kiyomura

45,500

-1,000
Nível 10 : 800/1,600, 0 ante
The tournament director has announced three more hands are to be played at each table before play will conclude for the night and players will bag their chips up.
Nível 10 : 800/1,600, 0 ante
No Limit 2-7 Single Draw
According to a player at the table, Kathy Fleck was down to her final 3,000 or so when it was her turn to choose the game and said she needed a game with some gamble in it. She decided to choose No Limit 2-7 Single Draw and found herself in the big blind a couple hands later with around one-third of her chips in play between her blind and big blind ante.
A player in the hijack put in a raise and Fleck committed the rest of her chips. Her opponent called and she got to fulfill her word on the gamble as she released all five cards to draw a fresh slate of cards. Her opponent took two and proceeded to flip over all five of his cards, having drawn to a pair of fives. One by one, Fleck turned over a
and drew her way to a double up.
Jogador
Fichas
Oscilação

Kathy Fleck

5,500
Nível 10 : 800/1,600, 0 ante
Pot Limit 2-7 Triple Draw
Chris Ferguson was under the gun with a bet of 8,400 in front of him. His opponent was in the hijack with a decision to make, facing a raise from the 3,000 he had in the pot. After some deliberation, he shoved for around 16,000 and Ferguson quickly made the call.
Ferguson stood pat on all three streets while his opponent drew one.
Chris Ferguson:

Opponent:
After the nine cards were exposed between the two of them, Ferguson's opponent turned over an
and he was unable to improve.
Nível 10 : 800/1,600, 0 ante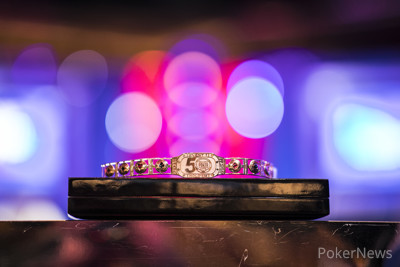 Registration has closed for Event #10 and there are officially a record-setting 470 entrants. The total prize pool came out to $634,500 and the first place prize is $144,957. A total of 71 players will make it in the money, with a min-cash of $2,250. Full information is available in the Payouts tab above.
Nível: 10
Limit Flop / Draw: 400/800
Stud Games: 200-ante, 200 bring-in, 800 completion
No-Limit & Pot-Limit: 200/400/400-big blind ante/ 600-ante
Nível 9 : 600/1,200, 0 ante
No Limit 2-7 Single Draw
Action folded to Daniel Ospina in the small blind and he raised to 750. Al Barbieri called from the big blind and each player drew one card. Ospina checked and Barbieri bet 2,500. Ospina shoved all in for 10,000 and Barbieri relinquished his hand.
After getting his opponent to fold, Ospina tabled
to show the bluff.
Nível 9 : 600/1,200, 0 ante
Greg Mueller was one of the later arrivals to the tournament, finding his way over from the cash games during the last level of the night, and has already chipped up to around 46,000