Event #12: $1,500 Dealer's Choice 6-Handed
Dias: 3
Event #12: $1,500 Dealer's Choice 6-Handed
Dia 3 Iniciado
| Room | Section | Table | Seat | Player | Country | Chip Count |
| --- | --- | --- | --- | --- | --- | --- |
| Amazon | Tan | 424 | 1 | Frankie O'Dell | United States | 373,000 |
| Amazon | Tan | 424 | 2 | Chris Vitch | United States | 143,500 |
| Amazon | Tan | 424 | 3 | -- empty -- | -- | -- |
| Amazon | Tan | 424 | 4 | Curtis Phelps | United States | 14,500 |
| Amazon | Tan | 424 | 5 | Scott Abrams | United States | 207,500 |
| Amazon | Tan | 424 | 6 | Anthony Arvidson | United States | 88,000 |
| | | | | | | |
| Amazon | Tan | 425 | 1 | John Hennigan | United States | 169,000 |
| Amazon | Tan | 425 | 2 | -- empty -- | -- | -- |
| Amazon | Tan | 425 | 3 | Jeff Lisandro | Australia | 137,000 |
| Amazon | Tan | 425 | 4 | Chris Klodnicki | United States | 136,000 |
| Amazon | Tan | 425 | 5 | Jeremy Harkin | United States | 502,500 |
| Amazon | Tan | 425 | 6 | Mike Leah | Canada | 227,000 |
| | | | | | | |
| Amazon | Tan | 426 | 1 | James Woods | United States | 170,500 |
| Amazon | Tan | 426 | 2 | -- empty -- | -- | -- |
| Amazon | Tan | 426 | 3 | George Trigeorgis | United States | 313,000 |
| Amazon | Tan | 426 | 4 | Jimmy Fricke | United States | 118,500 |
| Amazon | Tan | 426 | 5 | Chris Bolek | United States | 122,500 |
| Amazon | Tan | 426 | 6 | Brayden Gazlay | United States | 323,500 |
Note: Table 424 is playing Stud Hi-Lo Regular, Table 425 is playing Badugi, Table 426 is playing Badeucey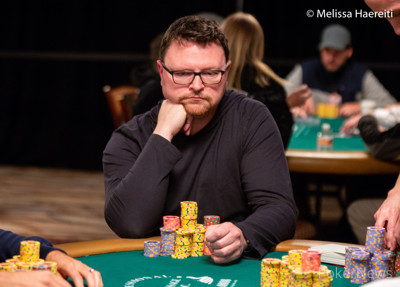 Welcome back to the Rio All-Suite Hotel and Casino and the 2018 World Series of Poker for Day 3 of Event #12: $1,500 Dealer's Choice!
Two days ago, 406 entrants took a seat in this event to set the record for total players mainly due to the new allowance of one re-entry. Previous champions David Bach, Carol Fuchs, and Lawrence Berg all fell to the rail on Day 1 as just 112 would survive the day's play.
Returning on Day 2, the action would play at an intense rate with the money reached fairly early before Aaron Steury (61st), Allen Kessler (60th), Martin Staszko (58th), Richard Ashby (47th), John Monnette (46th), Brandon Cantu (44th), Justin Young (40th), David Prociak (36th), Ben Yu (29th), Tony Cousineau (28th), Layne Flack (25th), Josh Arieh (23rd), and Tommy Hang (17th) all exited shy of Day 3.
Leading the remaining 15 players is Jeremy Harkin who roared to the top of the leaderboard following a double in the pot-limit Omaha rotation against Chris Klodnicki. Harkin held a wrap on the flop against Klodnicki's set, and when the straight filled on the turn, Harkin faded clubs and the board pairing to double into the chip lead before bagging 502,500.
Two-time WSOP bracelet winner Frankie O'Dell (373,000), Brayden Gazlay (323,500), and George Trigeorgis (313,000) are the only other players over the 300,000-chip mark. Multiple WSOP bracelet winners still remain with Mike Leah (227,000), John Hennigan (169,000), Chris Vitch (143,500), Jeff Lisandro (137,000), Klodnicki (136,000), and Chris Bolek (122,500) all still in contention, along with actor James Woods (170,500).
Players are currently guaranteed $5,238 while an appearance at the final table of six will earn them $16,589. However it is the $129,882 first prize that everyone has their eyes on, along with the coveted WSOP gold bracelet and title of Event #12 Champion.
Play is set to resume at 2:00 p.m. (PDT) with the final 15 playing down until the Event #12 Champion is crowned. The PokerNews Live Reporting Team will be on the floor providing continuous live updates of all the Event #12 action, so stay tuned right here to PokerNews so you don't miss any action from this event, and the rest of the 2018 WSOP!
Nível: 21
Limit Flop / Draw: 5,000/10,000
Stud Games: 2,000-ante, 3,000 bring-in, 10,000 completion
No-Limit & Pot-Limit: 2,500/5,000/1,500-ante
Nível 21 : 10,000/20,000, 0 ante
The cards are now in the air for Day 3.
Nível 21 : 10,000/20,000, 0 ante
Stud Hi-Lo Regular
Catching the action on fifth street, Frankie O'Dell bet out and Chris Vitch called as Anthony Arvidson folded.
Both players checked sixth street, and being dealt their last cards their boards read as follows:
O'Dell:
/
/

Vitch:
/
/
On seventh, O'Dell bet and Vitch called. O'Dell tabled his
for a straight and a low, and Vitch mucked.

Nível 21 : 10,000/20,000, 0 ante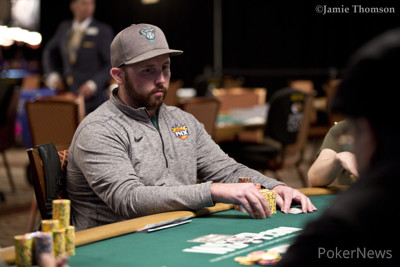 Pot-Limit Omaha
From hijack, Curtis Phelps moved all in for his last 7,500. Anthony Arvidson raised pot on the button and players in the blinds folded.
Curtis Phelps:

Anthony Arvidson:
The board ran
and Phelps left the tournament in 15th place.

Nível 21 : 10,000/20,000, 0 ante
Pot-Limit Omaha
Anthony Arvidson and Frankie O'Dell got all their chips in the middle on the flop of
.
Anthony Arvidson:

Frankie O'Dell:
Both players flopped top two, but Arvidson also had a flush draw. The runout
and
didn't complete the draw, however, and they chopped the pot.
Nível 21 : 10,000/20,000, 0 ante
Razz
Frankie O'Dell completed and Scott Abrams called. Both players checked fourth and fifth, and on sixth, O'Dell bet out 20,000.
O'Dell:
/

Abrams:
/
Abrams flashed a
in the hole for a pair, and mucked his hand.
Nível 21 : 10,000/20,000, 0 ante
Omaha Hi-Lo
Mike Leah raised under the gun to 20,000 and John Hennigan called next to act.
Both players checked down the
board. Leah showed his
and Hennigan mucked.
Jogador
Fichas
Oscilação

Mike Leah

295,000

68,000

John Hennigan

215,000

46,000