Event #65: $10,000 Main Event
Dias: 7
Event #65: $10,000 Main Event
Dia 7 Iniciado
| Table | Seat | Player | Country | Chip Count |
| --- | --- | --- | --- | --- |
| Feature Table | 1 | Martin Jacobson | Sweden | 22,335,000 |
| Feature Table | 2 | Brian Roberts | USA | 1,365,000 |
| Feature Table | 3 | Andrey Zaichenko | Russia | 7,335,000 |
| Feature Table | 4 | Felix Stephensen | Norway | 7,740,000 |
| Feature Table | 5 | Eddy Sabat | USA | 4,670,000 |
| Feature Table | 6 | Sean Dempsey | USA | 3,145,000 |
| Feature Table | 7 | Mark Newhouse | USA | 6,820,000 |
| Feature Table | 8 | Bruno Politano | Brazil | 11,625,000 |
| Feature Table | 9 | Kyle Keranen | USA | 4,465,000 |
| | | | | |
| Table 2 | 1 | William Pappaconstantinou | USA | 14,640,000 |
| Table 2 | 2 | Jorryt van Hoof | Netherlands | 5,395,000 |
| Table 2 | 3 | William Tonking | USA | 5,870,000 |
| Table 2 | 4 | Luis Velador | USA | 16,600,000 |
| Table 2 | 5 | Maximilian Senft | Austria | 3,920,000 |
| Table 2 | 6 | Bryan Devonshire | USA | 5,765,000 |
| Table 2 | 7 | Dan Smith | USA | 10,335,000 |
| Table 2 | 8 | Scott Palmer | USA | 760,000 |
| Table 2 | 9 | Scott Mahin | USA | 1,460,000 |
| | | | | |
| Table 3 | 1 | Yorane Kerignard | France | 2,885,000 |
| Table 3 | 2 | Andoni Larrabe | Spain | 15,280,000 |
| Table 3 | 3 | Leif Force | USA | 4,035,000 |
| Table 3 | 4 | Christopher Greaves | USA | 3,935,000 |
| Table 3 | 5 | Oscar Kemps | Netherlands | 3,910,000 |
| Table 3 | 6 | Craig McCorkell | UK | 8,765,000 |
| Table 3 | 7 | Thomas Sarra Jr | USA | 6,510,000 |
| Table 3 | 8 | Dan Sindelar | USA | 16,345,000 |
| Table 3 | 9 | Iaron Lightbourne | UK | 3,875,000 |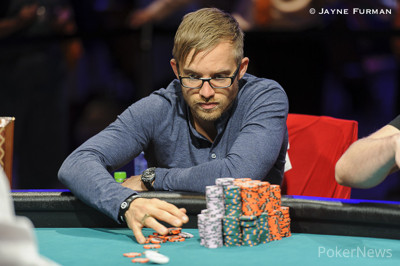 Welcome back to the Rio All-Suite Hotel & Casino and the 2014 World Series of Poker for Day 7 of the Main Event, the final day until the November Nine return in 119 days to play down until we have a new World Champion!
After nine days of grueling and intense tournament poker, the 6,683-player field — the third largest of all time — has now been reduced to just a final 27 who will all have their eyes on reaching the elusive November Nine and a guaranteed $730,725 payday.
Sweden's Martin Jacobson has been trending his chip count upwards ever since he bagged the Day 1a chip lead. On Day 2a/b he ended in 21st, on Day 3 he sat 29th and Day 4 he rose to 18th before finishing Day 5 in 14th overall. Today will see him return on top after bagging a very impressive 22,335,000 in chips — good for a 47-big-blind lead against the next best. That next best, however, isn't one to ignore as it is two-time WSOP bracelet winner Luis Velador who bagged 16,600,000 in chips to end slightly ahead of Dan Sindelar (16,345,000), Andoni Larrabe (15,280,000), and nine-time World Foosball Champion William Pappaconstantinou (14,640,000).
Several players remaining are very accustomed to the pressure associated with a deep Main Event run, and no one can look past Mark Newhouse who is on the verge of making one of the greatest runs in Main Event history. Newhouse rode a roller coaster of a Day 7 in 2013 after starting the day 15th in chips before reaching the November Nine second-to-last in chips before eventually exiting in 9th. This year he starts the day 11th in chips, and if he can go back-to-back in reaching the November Nine, he will be the first player to do so since Dan Harrington in 2003 and 2004. This basically means that over the past two years, Newhouse has already outlasted 12,999 Main Event players heading into today.
Like Newhouse, several other players still alive know what a deep run in the Main Event feels like. In 2011, Bryan Devonshire finished 12th for $607,882 while Leif Force collected a massive $1,154,527 in 2006 for his 11th-place finish. In total, 10 of the remaining players have reached the money in the Main Event, with Force making the fourth Main Event cash of his career.
Although only a few WSOP bracelet winners remain, the field is still incredibly strong with Dan Smith (10,335,000) looking to add to his plethora of titles that include a win in the Bellagio $100K Summer Super High Roller a few weeks ago, an Aussie Millions $100,000 Challenge victory, and WPT and HPT titles. Russian Andrey Zaichenko has a couple of WSOP final tables from his 22 WSOP cashes but the current guaranteed payout of $286,900 is his biggest to date. Dutch players Jorryt van Hoof and Oscar Kemps are hoping to follow in the footsteps of Michiel Brummelhuis who took 7th last year, while perennial nice guy Eddy Sabat will hope his 19th WSOP cash turns into his fourth final table and first WSOP bracelet.
The PokerNews Live Reporting Team will be providing hand-for-hand extensive live updates of all the Day 7 action once play resumes at 12:00 p.m. (PDT), so make sure to stay tuned right here to PokerNews.com as we write the next exciting chapter of the 2014 WSOP Main Event story.
While waiting for the action to begin, take a look at yesterday's Chad Brown Memorial & Charity Poker Tournament that took place at Binion's Gambling Hall & Hotel where many from the poker world got together for a good cause and to remember a dear friend:
Nível: 30
Blinds: 60,000/120,000
Ante: 15,000
Nível 30 : 60,000/120,000, 15,000 ante
Hand #1: On the first hand of the seventh day of play it was Iaron Lightbourne who raised from the button to 250,000 and Andoni Larrabe called from the big blind.
The flop came down
and both players checked. On the turn the
popped up and Larrabe led out for 300,000. Lightbourne made the call and the river was the
.
On the river Larrabe bet another 750,000 and Lightbourne called right away. Larrabe confidently turned over
, but his hand was no good against Lightbourne's
.
Nível 30 : 60,000/120,000, 15,000 ante
Hand #1: From under the gun, William Tonking opened to 250,000 and Luis Velador three-bet next to act to 800,000. Tonking made the call and the flop fell
with both players checking.
The
turn and
river were checked by both players, then Tonking revealed his
. However, it would be Velador's
that would see him scoop the pot.
Hand #2: From the small blind, Jorryt van Hoof opened to 360,000 and William Tonking defended his big blind to see a
flop. Van Hoof continued for 425,000 and Tonking made the call before the
and
was checked down.
Van Hoof tabled his
to scoop the pot and move to 6.25 million while Tonking slipped to 4.26 million in chips.
Hand #3: From the button, Jorryt van Hoof opened to 275,000 and Luis Velador called in the big blind.
Velador checked the
flop as van Hoof bet out 425,000. Velador check-called as the
landed on the turn and the two-time WSOP bracelet winner checked again. Van Hoof bet out 925,000 and Velador chose to toss his cards into the muck.
Van Hoof is now up to 7.2 million while Velador slips to about what he started the day with — 16.5 million in chips.
Jogador
Fichas
Oscilação

Luis Velador

16,500,000

-100,000

Jorryt van Hoof

7,200,000

1,805,000

William Tonking

4,260,000

-1,610,000
Nível 30 : 60,000/120,000, 15,000 ante
Hand #2: Action folded around to Androni Larrabe in the small blind and he raised the action to 285,000. Leif Force called from the big blind and the flop came down
. Larrabe continued out only to have Force raised the action to 725,000. Larrabe called.
The turn was the
and Larrabe checked to the aggressor. Force fired 950,000 and Larrabe stuck around once more. The
rivered and the action went check-check. Larrabe showed
but they were no good against Force's
for a set of deuces. He took down the pot and brought his stack up to about 6.1 million.
Hand #3: Craig McCorkell raised from early position and the table folded.
Hand #4: Dan Sindelar opened to 250,000 from middle position and Iaron Lightbourne was his only caller. The flop came down
, Sindelar continued for 325,000, and Lightbourne let his hand go.
Jogador
Fichas
Oscilação

Dan Sindelar

16,600,000

255,000

Andoni Larrabe

12,020,000

-1,930,000

Leif Force

6,100,000

2,065,000

Iaron Lightbourne

5,000,000

-250,000
Nível 30 : 60,000/120,000, 15,000 ante
Hand #1: Bruno Politano raised to 265,000 from the cutoff and Brian Roberts called from the big blind to see a flop of
. Roberts checked, Politano bet 315,000, and Roberts let it go. First blood to the Brazilian.
Hand #2: Action folded to Roberts in the small blind and he moved all in for 1.085 million and Andrey Zaichenko folded from the big blind.
Hand #3: Kyle Keranan raised to 250,000 from the hijack, Felix Stephensen defended his big blind, and the flop came down
. Stephensen checked, Keranan bet 295,000, and Stephensen made the call to see the
turn. Both players checked, and the
completed the board on the river. Stephensen led out for 575,000, and Keranan thought long and hard before making the call. Stephensen tabled
for a flopped set of sevens, and it was good as Keranan sent his cards to the muck.
Hand #4: Mark Newhouse raised to 240,000 from early position and took down the blinds and antes.
Nível 30 : 60,000/120,000, 15,000 ante
Feature Table
Hand #5: Mark Newhouse raised to 240,000 under the gun and Sean Dempsey called from the big blind to see the
flop. Dempsey checked and then called when Newhouse bet 260,000, which brought about the
on the turn.
Both players checked, the
completed the board on the river, and Dempsey led out for 550,000. Newhouse responded by raising to 2.8 million total, and Dempsey called off his remaining chips. Newhouse tabled the
for a flush, and it was good as Dempsey mucked. It wasn't immediately clear that Dempsey was all in, so the dealer had pulled his cards into the muck before they could be exposed, as they should have been in an all-in situation.
Dempsey exited the feature table to a nice round of applause and will take home $286,900 for his 27th-place finish. Dempsey added this score to his already-successful summer, as he won Event #39: $3,000 No-Limit Hold'em for $548,460.
Jogador
Fichas
Oscilação

Martin Jacobson

22,200,000

-135,000

Bruno Politano

12,010,000

385,000

Mark Newhouse

10,320,000

3,500,000

Felix Stephensen

8,925,000

1,185,000

Andrey Zaichenko

7,080,000

-255,000

Eddy Sabat

4,415,000

-255,000

Kyle Keranen

3,265,000

-1,200,000

Brian Roberts

1,280,000

-85,000

Sean Dempsey

Eliminado
Nível 30 : 60,000/120,000, 15,000 ante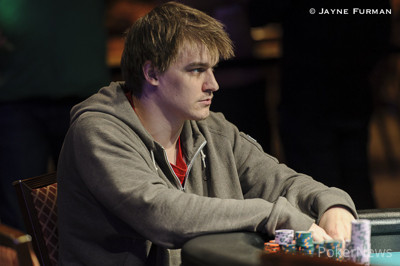 Hand #4: From the button, William Tonking opened for a min-raise to 240,000 and Maximilian Senft called from the big blind to see a
flop.
Senft checked and Tonking bet out 300,000 which was enough for him to collect the pot.
Hand #5: From under the gun, Dan Smith opened to 270,000 and Scott Palmer moved all in for 685,000 from the next seat over. With the action on William Pappaconstantinou a few seats over, he called along with Smith.
The dealer spread a
flop and both active players checked. The turn brought the
and Smith bet 750,000. Pappaconstantinou folded and the remaining players' cards were tabled.
Smith:

Palmer:
With Palmer in bad shape and needing to spike an ace to stay alive, the dealer delivered the
on the river to grant Palmer's wish of a much needed triple to 2.37 million.
Jogador
Fichas
Oscilação

Billy Pappas

13,750,000

-890,000

Dan Smith

9,780,000

-555,000

Scott Palmer

2,370,000

1,610,000