Event #65: $10,000 Main Event
Dias: 6
Event #65: $10,000 Main Event
Dia 6 Iniciado
| Table | Seat | Player | Chips |
| --- | --- | --- | --- |
| 373 | 1 | Vitaly Lunkin | 1,080,000 |
| 373 | 2 | Clayton Maguire | 2,400,000 |
| 373 | 3 | Scott Mahin | 1,095,000 |
| 373 | 4 | Mark Newhouse | 7,400,000 |
| 373 | 5 | Anh Van Nguyen | 650,000 |
| 373 | 6 | Chris Odle | 455,000 |
| 373 | 7 | Benjamin Gold | 560,000 |
| 373 | 8 | Christopher Greaves | 2,800,000 |
| 373 | 9 | Matthew Haugen | 760,000 |
| | | | |
| 374 | 1 | Michael Stembera | 1,090,000 |
| 374 | 2 | Brian Roberts | 2,165,000 |
| 374 | 3 | Aaron Kaiser | 1,015,000 |
| 374 | 4 | Oscar Kemps | 2,435,000 |
| 374 | 5 | Jason Weber | 4,130,000 |
| 374 | 6 | Andrey Zaichenko | 3,565,000 |
| 374 | 7 | Clayton Hamm | 2,250,000 |
| 374 | 8 | Iaron Lightbourne | 4,975,000 |
| 374 | 9 | Brian Hastings | 2,945,000 |
| | | | |
| 375 | 1 | Andoni Larrabe | 5,470,000 |
| 375 | 2 | Stuart Rutter | 1,070,000 |
| 375 | 3 | --empty-- | -- |
| 375 | 4 | Henrik Hecklen | 1,670,000 |
| 375 | 5 | William Pappaconstantinou | 3,370,000 |
| 375 | 6 | Pfizer Jordan | 965,000 |
| 375 | 7 | Alexios Zervos | 1,380,000 |
| 375 | 8 | Scott Palmer | 6,595,000 |
| 375 | 9 | Chanracy Khun | 1,445,000 |
| | | | |
| 377 | 1 | Vadzim Markushevski | 1,360,000 |
| 377 | 2 | Paul Senter | 1,350,000 |
| 377 | 3 | Michael Finstein | 2,025,000 |
| 377 | 4 | Ryan Fair | 3,500,000 |
| 377 | 5 | David Tuthill | 970,000 |
| 377 | 6 | Martin Jacobson | 3,925,000 |
| 377 | 7 | Isaac Baron | 3,000,000 |
| 377 | 8 | Daniel Wilson | 1,645,000 |
| 377 | 9 | William Cole | 2,055,000 |
| | | | |
| 378 | 1 | Chad Eveslage | 2,115,000 |
| 378 | 2 | Kyung Cha | 2,720,000 |
| 378 | 3 | Peter Placey | 3,415,000 |
| 378 | 4 | Yorane Kerignard | 1,750,000 |
| 378 | 5 | William Tonking | 1,295,000 |
| 378 | 6 | Dong Guo | 3,800,000 |
| 378 | 7 | Nathan Goldstein | 500,000 |
| 378 | 8 | David Yingling | 820,000 |
| 378 | 9 | Dan Sindelar | 5,240,000 |
| | | | |
| 379 | 1 | Jason Leifer | 1,620,000 |
| 379 | 2 | Thomas Sarra Jr | 3,005,000 |
| 379 | 3 | Kyle Bowker | 920,000 |
| 379 | 4 | Dan Smith | 5,360,000 |
| 379 | 5 | Gal Erlichman | 1,650,000 |
| 379 | 6 | Maximilian Senft | 1,765,000 |
| 379 | 7 | Shahen Martirosian | 3,565,000 |
| 379 | 8 | Bruno Politano | 5,475,000 |
| 379 | 9 | Bryan Devonshire | 3,830,000 |
| | | | |
| 380 | 1 | Michael Kamran | 2,600,000 |
| 380 | 2 | Leif Force | 4,745,000 |
| 380 | 3 | Craig McCorkell | 4,355,000 |
| 380 | 4 | Maria Ho | 435,000 |
| 380 | 5 | Trevor Martin | 1,730,000 |
| 380 | 6 | Robert Park | 4,275,000 |
| 380 | 7 | Jeffrey Loiacono | 2,585,000 |
| 380 | 8 | Zachary Hirst | 1,820,000 |
| 380 | 9 | Garrett Greer | 1,135,000 |
| | | | |
| 384 | 1 | Chris Johnson | 700,000 |
| 384 | 2 | Jorryt van Hoof | 3,900,000 |
| 384 | 3 | Gabe Paul | 1,105,000 |
| 384 | 4 | Matt Waxman | 3,125,000 |
| 384 | 5 | Felix Stephensen | 1,355,000 |
| 384 | 6 | Luis Velador | 3,780,000 |
| 384 | 7 | Sean Dempsey | 1,960,000 |
| 384 | 8 | Steven Bennett | 1,280,000 |
| 384 | 9 | Kyle Keranen | 6,670,000 |
| | | | |
| 385 | 1 | Tony Ruberto | 5,235,000 |
| 385 | 2 | Eddy Sabat | 2,215,000 |
| 385 | 3 | Luis Assuncao | 2,785,000 |
| 385 | 4 | Zachary Walker | 485,000 |
| 385 | 5 | Jason Johnson | 3,470,000 |
| 385 | 6 | --empty-- | -- |
| 385 | 7 | Vladimir Bozinovic | 2,910,000 |
| 385 | 8 | Adam Lamphere | 470,000 |
| 385 | 9 | Robert Campbell | 3,215,000 |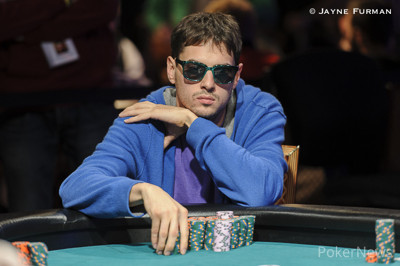 Welcome back to the 2014 World Series of Poker Main Event! What began with 6,683 players is now down to the final 79 players, and the man leading the pack is a familiar face in Mark Newhouse. One year ago, Newhouse made the November Nine with 7.3 million, and now, 70 players away from the final table, he actually has more chips now with 7.4 million. Newhouse is looking to become the first player to make the November Nine twice — and first player to make back-to-back final tables since Dan Harrington did it in 2003 and 2004 — and he's put himself in a good position to do it.
Newhouse has plenty of tough company toward the top of the counts. Players chasing him include Kyle Keranen (6.67 million), who finished as the Day 5 chip leader in the 2012 WSOP Main Event; online legend Scott Palmer (6.595 million); Brazilian Bruno Politano (5.475 million); accomplished high-stakes player "King" Dan Smith (5.36 million); Iaron Lightbourne (4.975 million), who eliminated Jerry Yang earlier this tournament; 2006 Main Event 11th-place finisher and bracelet winner Leif Force (4.745 million); and one of Britain's best in Craig McCorkell (4.355 million).
Several other notable players didn't bag quite as much but are still in contention including Martin Jacobson (3.925 million), Bryan Devonshire (3.83 million), Andrey Zaichenko (3.565 million), Matt Waxman (3.125 million), Isaac Baron (3 million), and Brian Hastings (2.945 million). Maria Ho, meanwhile, outlasted every other woman who entered the tournament after Mikiyo Aoki fell in one of the last hands of Day 5. Impressively, Ho pulled off the same feat in 2007, when she cashed 38th for $237,865. Ho will begin Day 6 with a short stack of 435,000.
Cards will be back in the air at 12 p.m. local time, which is less than an hour from now. The PokerNews Live Reporting team will be on hand to deliver all of the action and the field looks to play down to the final 24 players. Be sure to stay tuned for all the action and eliminations from Day 6 of the 2014 WSOP Main Event from the Rio All-Suite Casino in Las Vegas, Nevada!
While you wait, check out this video where Ho talks with Remko Rinkema about attempting to better her 38th-place finish from 2007:
Nível: 25
Blinds: 20,000/40,000
Ante: 5,000
Nível 25 : 20,000/40,000, 5,000 ante
Vladimir Bozinovic opened to 80,000 from late position and Luis Assuncao called from the big blind to see a
flop. Assuncao checked, Bozinovic continued for 90,000, and Assuncao called.
The
landed on the turn. Assuncao checked, Bozinovic tossed in 200,000, and Assuncao folded to slip to 2.6 million.
Nível 25 : 20,000/40,000, 5,000 ante
Michael Kamran made it 90,000 to go from late position and Craig McCorkell called from the button. The rest of the table folded, allowing the duo to see
hit the felt. Kamran checked over to McCorkell who fired 125,000.
Kamran thought for a moment before releasing his cards. McCorkell picked up the pot and now has 4.66 million in chips.
Nível 25 : 20,000/40,000, 5,000 ante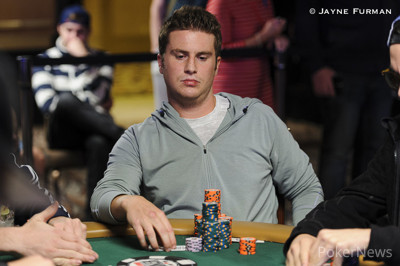 With three players involved the flop showed
when Paul Senter checked from the big blind. Isaac Baron, in the hijack, bet 160,000 and the action was now on William Cole on the button.
"Raise," Cole announced after 30 seconds and he put in 375,000.
Senter folded right away and Baron paused for about a minute before announcing a reraise to 1,000,000.
"Oh god, you sure know how to give an old man some tension," Cole sighed.
After a minute Cole folded and Baron raked in one of the first big pots of the day at this table.
"He gives young guys tension, too," Ryan Fair said with a smile after the hand was over.
Baron smiled as well, and he's up to around 3.66 million after just a few hands.
Nível 25 : 20,000/40,000, 5,000 ante
Adam Lamphere began the day as the third shortest stack, and it didn't take him long to get it in. The Michigan man moved all in from middle position and Luis Assuncao shoved all in over the top from the small blind, which inspired Zachary Walker to fold from the big.
Lamphere:

Assuncao:
It was the most classic of races, but Lamphere needed to improve to keep his 2014 WSOP Main Event hopes alive. He didn't do it on the
flop, and the
turn actually improved Assuncao to trips. That meant Lamphere needed a ten and a ten only to survive, and wouldn't you know it, the
spiked on the river to give him Broadway!
Nível 25 : 20,000/40,000, 5,000 ante
Michael Kamran opened to 90,000 from middle position, Leif Force called from the next seat over, and the rest of the table kicked their cards in.
The two players took a
flop and Kamran came out swinging for 110,000. Force called and the
paired the board on fourth street. Kamran slowed with a check, prompting a bet of 155,000 from Force. Kamran folded and Force picked up the pot.
Nível 25 : 20,000/40,000, 5,000 ante
From under the gun, Chris Odle raised all in for 435,000. Action folded over to Clayton Maguire in the cutoff seat, and he made the call. Everyone else folded, and it was Maguire's
that had Odle and his
on the ropes.
The flop, turn, and river ran out
, and Odle earned the double-up to nearly one million.