Event #10: $10,000 Limit Omaha Hi-Low Championship
Dias: 1
Event #10: $10,000 Limit Omaha Hi-Low Championship
Dia 1 Concluído
Nível 10 : 500-1,000, 0 ante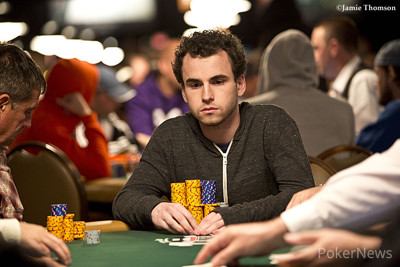 After playing into the wee hours of the morning, the first day of Event #10: $10,000 Limit Omaha Hi-Low Championship has come to a close! Ten full levels of play are in the books and by the end of the day it was World Series of Poker bracelet winner Dan Kelly who bagged up the largest stack. Kelly will return as the Day 2 chip lead with 146,700 in chips.
Kelly was a steady climber throughout the day and really hit his stride during the last few levels. While he bagged up the biggest stack in the room, other notable players are right on his heels and ready to compete heading into Day 2. Jeff "yellowsub" Williams bagged up what looked to be the second largest stack with 144,700 - just 2,000 chips less than Kelly. Late in the day we found Williams play a pot against Michael Mizrachi and Phil Hui where he rivered the nut flush to scoop and add a significant amount to his stack. Rounding out the top three is Abdyl Konjuhi who bagged up 137,1000.
The day began with 178 players putting up $10,000 with the hope of winning the next WSOP Championship event. By the end of the day, just 111 players remained in contention for that title. As expected, the field is stack to the brim with poker's elite. Just some of the players returning for Day 2 include Ismael Bojang (135,100), Eli Elezra (123,100), Marco Johnson (113,000), Richard Ashby (112,000), Daniel Negreanu (99,100), Nick Schulman (90,200), Matthew Ashton (64,600), Alexandre Luneau (63,700), Stephen Chidwick (50,700), Chris George (50,500), recent Event #2: $25,000 Mixed Max No-Limit Hold'em bracelet winner Vanessa Selbst (33,200), and Frank Kassela (23,800).
While all of the aforementioned players advanced onto Day 2, others were not so fortunate. Mike Matusow, Max Pescatori, Phil Ivey, Dan Shak, Matt Glantz, Chris Tryba, Alex Kravchenko, Jeff Madsen, George Danzer, and David Benyamine are just a handful of the players to hit the rail before bagging and tagging.
Play resumes on Monday at 2 p.m. in the Amazon room where the field will attempt to play down to the final table. Be sure to return to PokerNews for all of the latest updates from this tournament and all others throughout the 2014 WSOP. Until tomorrow!
The Day 2 table and seat draw can be found here.
Nível 10 : 500-1,000, 0 ante
Jogador
Fichas
Oscilação

Dan Kelly

146,700

36,700

Jeff Williams

144,700

19,700

Abdyl Konjuhi

137,100

137,100

Ismael Bojang

135,100

43,100

Eli Elezra

123,100

3,100

Douglas Polk (Doug Polk)

116,400

116,400

Marco Johnson

113,000

54,000

Richard Ashby

112,000

65,000

Melissa Burr

110,700

5,700

Perry Friedman

100,300

68,300

Daniel Negreanu

99,100

39,100

Larry Wright

95,600

10,600

Andrew Brown

90,300

11,300

Nick Schulman

90,200

41,200

Robert Slezak

90,100

90,100

William Oneil

85,300

85,300

Scott Clements

83,800

9,800

Elie Doft

80,700

15,700

Don Nguyen

76,500

26,500

Shirley Rosario

75,000

18,000

Tom Schneider

74,300

34,300

Viatcheslav Ortynskiy

71,900

71,900

Erik Seidel

65,200

37,200

Matthew Ashton

64,600

14,600

Alexandre Luneau

63,700

-7,300
Nível 10 : 500-1,000, 0 ante
Tournament staff has announced six more hands before bagging and tagging for the evening.
Nível 10 : 500-1,000, 0 ante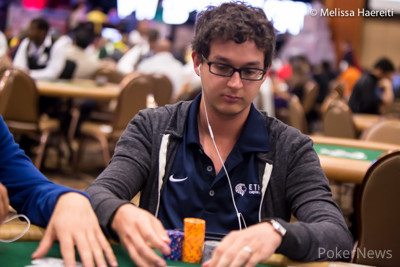 Jeff Williams opened the action with an under-the-gun raise and Michael Mizrachi called from middle position. It folded around to Phil Hui in the big blind and he tagged along as well.
The flop fell
. Hui checked, Williams continued, and Mizrachi called. Hui came over the top with a raise and both players called. The
hit the turn and Hui fired out a bet. Both of his opponents called and the
finished off the board. Hui slowed down and tapped the table. Williams tossed out a bet and Mizrachi called. Hui let out a sigh and dropped his cards into the muck.
Williams fanned
for the nut flush. Mizrachi showed
for a Broadway straight before his cards were picked up and dropped into the muck. Williams raked the pot and now sits on about 125,000 in chips.
Nível 10 : 500-1,000, 0 ante
After a series of raises before the flop, Randy Ohel was all in for his last 3,800 against the still active Jon Turner and Larry Wright. The flop came down
and Turner led out into the side pot. Wright called and the
dropped down on the turn. Turner bet again and this time Wright opted to kick in his cards. Turner picked up the side pot and his and Ohel's hands were tabled.
Ohel:

Turner:
The board completed with the
, allowing Ohel's two pair of kings and queens to earn him the scoop. He's now sitting on 9,400. Turner, on the other hand, has dropped to 34,000.
Nível: 10
Blinds: 500/1,000
Ante: 0
Nível 9 : 500-1,000, 0 ante
Jogador
Fichas
Oscilação

Dan Kelly

110,000

12,000

Ismael Bojang

92,000

-8,000

Andrew Brown

79,000

-21,000

Alexandre Luneau

71,000

3,000

Andy Frankenberger

55,000

17,000

Jeff Lisandro

55,000

12,000

Abe Mosseri

52,000

-11,000

Don Nguyen

50,000

5,000

Matthew Ashton

50,000

12,000

Robert Mizrachi

48,000

19,000

Mike Leah

44,000

-13,000

David Steicke

43,000

-7,000

Mike Wattel

42,000

7,000

Daniel Alaei

41,000

10,000

Barry Greenstein

41,000

-1,000

Phil Galfond

36,000

20,000

Jason Mercier

34,000

Calvin Anderson

33,000

-8,000

Todd Brunson

31,000

-13,000

Shaun Deeb

30,000

2,000

Owais Ahmed

29,000

-6,000

David Baker

27,000

-13,000

Frank Kassela

22,000

-16,000

Mark Gregorich

10,000

-21,000

Alex Kravchenko

Eliminado
Nível 9 : 500-1,000, 0 ante
Elie Doft raised from under the gun and middle position player made it three bets to go. Phil Laak four-bet from the next seat over and both Doft and the middle position player called.
The trio took a monotone flop of
and action checked around to the short-stacked Laak. He led out and Doft instantly raised the action. The middle position player called, Laak three-bet, Doft four-bet, and was called by both players. Laak called all in heading to the turn.
The turn was the
and Doft led out. His opponent called in a side pot and the
finished the board. Doft bet and his opponent called once more.
Doft rolled over
which was good enough to win him the high with a club flush. The middle position player showed
for the nut low and Laak tabled
for the same low. Doft took the high and his two opponents chopped the low.
Doft now has about 65,000 while Laak is still representing the short stack with 6,300 in chips.