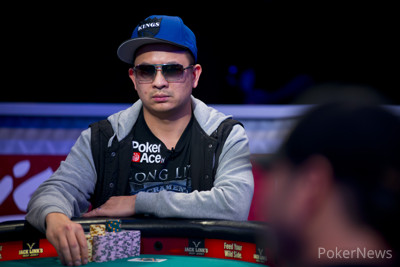 Prior to his run at the 2013 World Series of Poker Main Event, JC Tran amassed roughly $8.3 million in live tournament winnings with cashes dating back as far as 2003. A first-place finish at this year's final table could almost exactly double that number.
Tran is the odds on favorite heading into the final table as he holds the chip lead with 38 million (95 blinds), which is a whopping 8.3 million ahead of Amir Lehavot, who sits in the second chip position.
"I'm in a very, very good spot with the chip lead," Tran commented to PokerNews. "But as far as chip count wise, everyone is pretty close besides a couple of the short stacks, and everyone can play. So I can't count myself as a huge favorite or anything, I just feel like I need to go out there and respect these guys and play some real, real serious poker and bring my best to have a shot of winning. "
Playing serious poker seems to be one of Tran's strong suits, as he is clearly the most decorated player at the final table. Tran is a two-time WSOP bracelet winner, winning jewelry in both 2008 in Event #49: $1,500 No-Limit Hold'em and 2009 in Event #30: $2,500 Pot-Limit Omaha. Bracelets aren't the only piece of WSOP-related jewelry that he owns, though, as Tran also won a WSOP Circuit ring at the Rio Las Vegas Poker Festival back in 2005.
While Tran has scored much success at the WSOP, an even greater sum of his lifetime winnings come from his exploits on the World Poker Tour. Tran won his first WPT title at the World Poker Challenge in 2007. He also has two second-place finishes on his résumé, one of which accounts for $1.17 million of his lifetime tournament winnings.
In the time since the Main Event went on hiatus in July, Tran continued to make his dominating presence known in the poker world. In late August, Tran was one of the 21 entries into the inaugural WPT Alpha8 Florida, which is a $100,000 buy-in tournament that plays eight-handed. Tran battled through a stacked field of his peers and fell just short of adding another trophy to his name. Despite finishing runner-up to Steven Silverman, Tran was still able to pocket $526,890 for a very sound return on investment.
Other than his big splash at Alpha8, Tran spent a solid majority of his time after the summer with his family. Tran, the youngest of eight children in his own family, emphasized to PokerNews the importance of family in his life.
"The next few months for me is going to be all, all family time," Tran said. "I want to go home. I want to be a father. I want to be a husband and just enjoy life and relax."
Despite his calm and relaxed demeanor toward the final table, Tran is a true competitor and desires nothing more than to win. He will approach the final table searching to solidify his position as one of the most successful tournament poker players in history.
"Everything that I've accomplished in the past decade for my poker career can have a nice exclamation mark right at the end of it with a win here. "