Event #23: $2,500 Seven-Card Stud
Dias: 2
Event #23: $2,500 Seven-Card Stud
Dia 2 Iniciado
| Table | Seat | Player | Chips |
| --- | --- | --- | --- |
| 432 | 1 | Andrey Zaichenko | 28,300 |
| 432 | 2 | Matthew Ashton | 30,900 |
| 432 | 3 | George Danzer | 7,200 |
| 432 | 4 | Dario Sammartino | 20,600 |
| 432 | 5 | Barbara Lewis | 12,500 |
| 432 | 6 | Michael Gathy | 18,800 |
| 432 | 7 | Huu Vinh | 2,600 |
| 432 | 8 | --empty-- | N/A |
| | | | |
| 433 | 1 | --empty-- | N/A |
| 433 | 2 | Bryan Micon | 17,700 |
| 433 | 3 | Allen Kessler | 3,200 |
| 433 | 4 | Joseph Esposito | 13,500 |
| 433 | 5 | Alex Kravchenko | 22,600 |
| 433 | 6 | Bill Chen | 18,700 |
| 433 | 7 | Freddie Ellis | 32,000 |
| 433 | 8 | Scott Seiver | 24,400 |
| | | | |
| 434 | 1 | Andre Akkari | 16,200 |
| 434 | 2 | --empty-- | N/A |
| 434 | 3 | Helmut Koch | 23,700 |
| 434 | 4 | Brandon Shack-Harris | 12,100 |
| 434 | 5 | Scott Clements | 20,000 |
| 434 | 6 | Michael Prinzbach | 11,000 |
| 434 | 7 | Chip Jett | 6,000 |
| 434 | 8 | Rex Clinkscales | 33,400 |
| | | | |
| 435 | 1 | Gary Benson | 33,000 |
| 435 | 2 | Laurence Kantor | 9,900 |
| 435 | 3 | --empty-- | N/A |
| 435 | 4 | Francis Mariani | 10,800 |
| 435 | 5 | Fabrice Soulier | 23,100 |
| 435 | 6 | Jean Gaspard | 23,100 |
| 435 | 7 | Eric Brooks | 19,700 |
| 435 | 8 | Jameson Painter | 3,600 |
| | | | |
| 436 | 1 | DID NOT REPORT | 7,800 |
| 436 | 2 | Mickey Seagle | 27,200 |
| 436 | 3 | Holger Lindemann | 14,400 |
| 436 | 4 | Jesse Martin | 6,700 |
| 436 | 5 | Calvin Anderson | 23,400 |
| 436 | 6 | Devin Sembaluk | 35,800 |
| 436 | 7 | Bob Rose | 3,800 |
| 436 | 8 | --empty-- | N/A |
| | | | |
| 437 | 1 | Michael Mizrachi | 36,000 |
| 437 | 2 | Stephen Weiss | 14,000 |
| 437 | 3 | Bryn Kenney | 5,100 |
| 437 | 4 | Eric Drache | 1,900 |
| 437 | 5 | Peter Schneider | 4,500 |
| 437 | 6 | Becki Vincent | 10,600 |
| 437 | 7 | --empty-- | N/A |
| 437 | 8 | Ashly Butler | 12,800 |
| | | | |
| 438 | 1 | Daniel Negreanu | 10,500 |
| 438 | 2 | Marco Liesy | 23,100 |
| 438 | 3 | --empty-- | N/A |
| 438 | 4 | John D'Agostino | 15,900 |
| 438 | 5 | Levon Torosyan | 22,500 |
| 438 | 6 | Michael Rocco | 13,800 |
| 438 | 7 | Charles Balistreri | 33,400 |
| 438 | 8 | Cyndy Violette | 16,000 |
| | | | |
| 439 | 1 | Alexander Meidinger | 5,900 |
| 439 | 2 | Mitchell Putterman | 26,000 |
| 439 | 3 | Jon Turner | 24,500 |
| 439 | 4 | Andrew Kelsall | 20,200 |
| 439 | 5 | Alan Myerson | 6,300 |
| 439 | 6 | Frances Bigley | 4,100 |
| 439 | 7 | --empty-- | N/A |
| 439 | 8 | John Richardson | 5,900 |
| | | | |
| 440 | 1 | Dutch Boyd | 5,700 |
| 440 | 2 | Ashton Griffin | 11,200 |
| 440 | 3 | David Bach | 14,500 |
| 440 | 4 | Perry Friedman | 13,700 |
| 440 | 5 | Nesbitt Coburn | 6,200 |
| 440 | 6 | Mike Sexton | 19,100 |
| 440 | 7 | Owais Ahmed | 29,000 |
| 440 | 8 | Jason Deyoung | 17,100 |
| | | | |
| 441 | 1 | John Monnette | 19,900 |
| 441 | 2 | Frank Kassela | 6,800 |
| 441 | 3 | Farshad Ben Cohen | 16,400 |
| 441 | 4 | Roland Israelashvili | 22,200 |
| 441 | 5 | Chad Brown | 8,600 |
| 441 | 6 | David Lieberman | 36,100 |
| 441 | 7 | Ryan Tepen | 14,400 |
| 441 | 8 | Terrence Hastoo | 34,700 |
| | | | |
| 442 | 1 | Dario Alioto | 35,100 |
| 442 | 2 | Karle Wilson | 4,700 |
| 442 | 3 | Ivan Schertzer | 17,800 |
| 442 | 4 | Denise Molloy | 9,500 |
| 442 | 5 | Marco Traniello | 28,000 |
| 442 | 6 | Brandon Guss | 11,800 |
| 442 | 7 | Deon Bowes | 13,100 |
| 442 | 8 | Lavonne Joyce | 15,300 |
| | | | |
| 443 | 1 | Dallas Elwell | 12,400 |
| 443 | 2 | Michael Huguenot | 11,200 |
| 443 | 3 | William Munley | 4,000 |
| 443 | 4 | Joseph Cappello | 24,500 |
| 443 | 5 | Charles Marty | 8,300 |
| 443 | 6 | Adam Friedman | 48,300 |
| 443 | 7 | Eric Crain | 17,700 |
| 443 | 8 | Bertrand Grospellier | 30,900 |
| | | | |
| 444 | 1 | James Nelson | 19,400 |
| 444 | 2 | Gregory Raymer | 12,300 |
| 444 | 3 | Rocco Bucci | 20,100 |
| 444 | 4 | Brian Lee | 15,800 |
| 444 | 5 | David Moskowitz | 27,200 |
| 444 | 6 | Kenn Wittock | 48,900 |
| 444 | 7 | David Chiu | 32,100 |
| 444 | 8 | Mark Vronskii | 33,400 |
| | | | |
| 445 | 1 | Jonathan Tamayo | 21,900 |
| 445 | 2 | Robin Rightmire | 12,200 |
| 445 | 3 | Rudolf Zintel | 23,800 |
| 445 | 4 | Grant Guevrmont | 11,500 |
| 445 | 5 | Shawn Buchanan | 12,300 |
| 445 | 6 | Mike Leah | 32,400 |
| 445 | 7 | Konstantin Puchkov | 10,800 |
| 445 | 8 | Charles Townsend | 19,400 |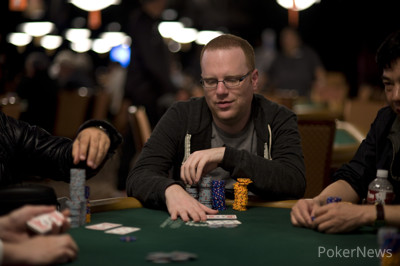 Welcome back to the Rio All-Suite Hotel and Casino and the 2013 World Series of Poker for Day 2 of Event 23: $2,500 Seven Card Stud.
Yesterday saw 246 players take to the felt to play in the only Stud event of the series; and consequently the Stud Championship for the year. Previous winners such as John Monnette, Bertrand Grospellier and Freddie Ellis all took a seat, but unfortunately one notable Stud lover was missing following the recent passing of Jerry Buss. However the WSOP did a great job of honoring the man that has been a constant here at the WSOP for many years.
Once the action kicked off, multiple bracelet winners, online gurus and cash game specialists all battled hard until just 106 players were left to bag and tag for the night. Although leading the field for the majority of the day, Seven Card Stud Hi-Lo bracelet winner Adam Friedman (48,300) would be pipped in the final few hands by Kenn Wittock (48,900) as he claimed the chip leader.
Michael Mizrachi (36,000), Dario Alioto (35,100) and Rex Clickscales (33,400) round out the top ten while the likes of Mike Leah, Owais Ahmed, Scott Clements, John Monnette and Daniel Negreanu all survived the day.
Play is set to commence at 2:00 p.m. local time with the players aiming to survive into the money-paying top 32 before mounting a charge at claiming the Event 23 bracelet and $145,520 first prize. Make sure to stay tuned to PokerNews and our Live Reporting Team as we provide continuous live updates of all the Day 2 action.
Nível: 9
Limites: 200/600
Ante: 100
Nível 9 : 200/600, 100 ante
The cards are now in the air for Day 2 of Event 23.
Although there are lofty expectations of reaching the final table of eight today, a more realistic goal is probably the final two tables.
Players will be enduring ten 60-minute levels with a 60-minute dinner break at roughly 8:40 p.m. local time.
Nível 9 : 200/600, 100 ante
Daniel Negreanu completed only to have John D'Agostino raise it up. Negreanu called, and then called a bet on fourth before leading out on fifth.
Negreanu:
/

D'Agostino:
/
D'Agostino folded and Negreanu flashed his
in the hole and stated, "he's trying to pretend to have what I have!"
D'Agostino commented he had a pocket pair and conceded the pot to Negreanu.
Nível 9 : 200/600, 100 ante
"I'll make it 200!" announced Daniel Negreanu as he had the bring in. One player completed and Negreanu made the call before raising his opponent's bet on fourth.
Negreanu:
/

Opponent:
/
"I have two spades here and there are more spades left for me to make my flush!" added Negreanu.
"Ok you got it." quipped Negreanu's opponent before Negreanu flashed his
in the hole for two pair.
Nível 9 : 200/600, 100 ante
After a complete, Scott Clements raised it up to 1,200 from a few seats over and his opponent made the call.
Clements then called a bet on fourth before folding to a 1,200-chip bet on fifth with his opponent displaying a fairly scary board.
Clements:
/

Opponent:
/
Clements however still has 16,700 in chips.
Nível 9 : 200/600, 100 ante
Allen Kessler:
/
/

Freddie Ellis:
/
/

Scott Seiver:
/
/
We arrived on sixth street, where Kessler was all in. Seiver check-called a bet from Ellis, then check-folded on seventh. Ellis showed
for aces and threes.
"I just have kings," Kessler said, opening up
.
He sweat his last card, but it wasn't the case king that he needed, rather it was the
. After the hand, Seiver told Kessler that he had the
.
Kessler hit the rail, and there have been several other eliminations, including Poker Hall of Famer Eric Drache and George Danzer.
Nível 9 : 200/600, 100 ante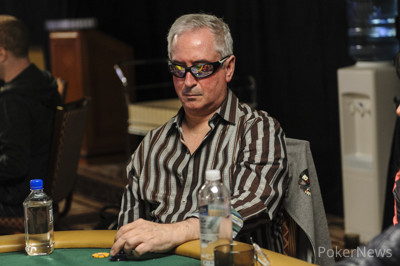 A major issue has developed here early in the Stud Championship with Ivan Schertzer playing the wrong seat and stack.
Schertzer was supposed to be seated on table 442 seat 3 actually took a seat on 432 seat 3. Two issues arose with this. Firstly that seat was actually the vacant seat of George Danzer, and when Schertzer sat down he started playing Dario Sammartino's stack (who had yet to arrive) who was located in seat 4.
Once Sammartino arrived, attention was brought to the Tournament Director on duty, but the major problem was that Schertzer had dwindled Sammartino's 20,600-starting stack down to 12,400. Tournament Director Charlie Ciresi decided that firstly Schertzer would be moved back to his original seat and have his stack reduced to what he roughly lost from Sammartino's stack.
Those chips were then added to Sammartino's stack to bring him up to approximately what he began the day with. However since that table had played roughly 9 hands and Sammartino was forced with a bring-in, he would forfeit chips amounting to 1,200 and the dealer would add 200 to each subsequent hand to balance out what was missing.