Event #23: $2,500 Seven-Card Stud
Dias: 1
Event #23: $2,500 Seven-Card Stud
Dia 1 Iniciado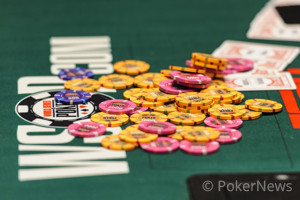 Welcome back to the Rio All-Suite Hotel & Casino and the 2013 World Series of Poker for Day 1 of the Event 23: $2,500 Seven-Card Stud. Last year's World Series didn't feature this buy-in for seven-card stud, but did have a $1,500 and $5,000 version which saw Andy Bloch better Barry Greenstein for $126,363 in the former, and John Monnette captured $190,826 for beating Huu Vinh in the latter. Vinh also also managed a fifth place in the one Bloch won.
The likes of David Williams, Stephen Su, Timothy Finne, Perry Friedman, Jeffrey Lisandro and Bryn Kenney each made the final of one of those events, and these players — as well as many other notable pros and amateurs — are expected to take to the felt later today.
With a total of four events running today, the three that already have cards in the air will more than likely feature a plethora of players that will be planning on playing Event 23. You can expect a continuous influx of competitors until registration closes at 9:40 p.m. as we are down to the final day of Event 20: $1,500 Omaha Hi-Low 8-or-Better, the penultimate day of the Event 21: $3,000 Six-Handed and the start of Event 22: $1,500 Pot Limit Omaha.
Event 23 is set to kick off at 5:00 p.m. local time with the PokerNews Live Reporting Team providing continuous live updates throughout the day of every split pair, rolled up aces and lucky seventh street, so stay tuned!
Nível: 1
Limites: 25/75
Ante: 25
Nível 1 : 25/75, 25 ante
Before the cards hit the air, WSOP Tournament Director Jack Effel made an announcement regarding the late Jerry Buss.
For Buss, Seven Card Stud was one of his favorite games to play whether it be here at the WSOP or in his loyal cash games in Los Angeles. After Effel uttered a few kind words, he handed the microphone to Chad Brown who shared a story about Buss when they were playing $400-800 Stud back in the early nineties and how they both helped each other through their health battles.
Effel then directed everyone's attention to the screen where Kobe Bryant had recorded a video message.
"Tonight lets honor the late, great Dr Jerry Buss. Player's shuffle up and deal!"
And with that the cards were in the air!
Nível 1 : 25/75, 25 ante
The plan for tonight's tournament is that the players will endure 8 levels lasting 60-minutes each before they bag and tag for the night.
Each player is starting with 7,500 in chips and so far there are 25 tables in use with another few set up for the long list of late registrations that we are expecting.
Nível 1 : 25/75, 25 ante
With the tournament located snuggly in the back corner of the Amazon room, here is the first round of players that have been spotted.
Jogador
Fichas
Oscilação

Mel Judah

7,500

7,500

Scott Fischman

7,500

7,500

Chip Jett

7,500

7,500

Owais Ahmed

7,500

7,500

Cory Zeidman

7,500

7,500

Freddie Ellis

7,500

7,500

George Danzer

7,500

7,500

Jeffrey Lisandro

7,500

7,500

Mike Leah

7,500

7,500

Gary Benson

7,500

7,500

Daniel Negreanu

7,500

7,500

Ted Forrest

7,500

7,500
Nível 1 : 25/75, 25 ante
And the notables continue to be spotted throughout the orange section here in the Amazon room.
Jogador
Fichas
Oscilação

Dutch Boyd

7,500

Barry Greenstein

7,500

Cyndy Violette

7,500

Dario Minieri

7,500

Martin Staszko

7,500

Al Barbieri

7,500

Yuval Bronshtein

7,500

John Hennigan

7,500

John Cernuto

7,500

David Bach

7,500

Perry Friedman

7,500

Phil Ivey

7,500

Aaron Steury

7,500

Nacho Barbero

7,500

Chad Brown

7,500

Allen Kessler

7,500

Abe Mosseri

7,500
Nível 1 : 25/75, 25 ante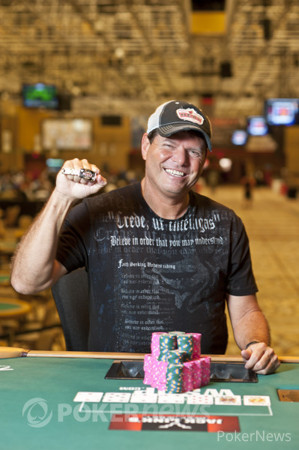 Cory Zeidman completed with the
and found one caller.
Zeidman caught a low card and bet again before cheekily uttering, "we're playing stud hi-lo right?"
His table mate Cyndy Violette laughed as Zeidman was obviously referencing to his bracelet win in Event 4: $1,500 Seven Card Stud Hi-Lo last year for $201,559.
Nível 1 : 25/75, 25 ante
Jogador
Fichas
Oscilação

Scott Seiver

7,500

Frank Kassela

7,500

Konstantin Puchkov

7,500

Mori Eskandani

7,500

Rex Clinkscales

7,500

Chris Tryba

7,500

Andre Akkari

7,500

Sam Grizzle

7,500

Eugene Katchalov

7,500

Bryan Micon

7,500

David Levi

7,500

David Singer

7,500

Adam Friedman

7,500
Nível 1 : 25/75, 25 ante
Daniel Negreanu completed before a new arrival at the table on his immediate left bumped it up. Negreanu just called, before calling a bet on fourth before he bet out on fifth. His opponent raised, Negreanu made it 450 and was called before his lone bet on sixth was called as both player's boards read as follows.
Negreanu:
/
/

Opponent:
/
/
On seventh Negreanu bet out 150, his opponent made it two bets, Negreanu responded with a three-bet before it eventually got capped.
"Had it the whole time!" stated Negreanu as he rolled over his
/
for quad nines.
His opponent shook her head and tabled her
/
for a full house.
"Welcome to the World Series!" Negreanu added as her opponent sat there in disbelief.