€500 Main Event
Dia 1b Concluído

Nível 20 : 3,000/6,000, 6,000 ante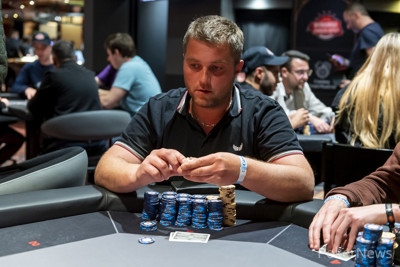 The second starting day of the 2022 Winamax Poker Open €500 Main Event has concluded and it was a busy day at the tables in the Casino Gran Madrid in Torreledones, situated in the outskirts of the Spanish capital
After a strong start on Day 1a, another 533 entries emerged to increase the total attendance so far to 902 entries. Another two starting days remain and that puts the popular live poker tour on the verge of aiming for a new record.
That one thus far stands at 1,389 entries and was set back in 2019 when the French online poker and sports betting operator headed to Dublin.
Upon completion of level 20, the field was thinned down significantly and 83 survivors emerged. In a very close race for the top spot, Julien Robert claimed 768,000 to his name. That put him narrowly ahead of Jean-Charles Remaud (762,000) and Hayg Badem (748,000). Other notables such as Omar Del Pino (666,000), Victor Salinier (663,000), Alexandre Dana (635,000), and Franck Carpentier (630,000) follow not far behind.
Mikael "ShiShi" Busto from ClubPoker radio also made it through with a decent stack as well as he advanced with 574,000 in chips. Set to host a show this weekend, Busto may have to postpone the plans for the time being if he makes it all the way to the final day on Sunday, May 15, 2022.
None of the big stacks came close to topping Day 1a chip leader Pierre Calamusa, who remains the only contenders thus far with a seven-figure stack. Calamusa's fellow Winamax sponsored pros were all on board for Day 1b but none of them made it through. Mustapha Kanit, Davidi Kitai, Romain Lewis, Guillaume Diaz, François Pirault, Adrian Mateos and Gaelle Baumann all came up short. The same also applied for Alejandro Romero, who delivered the shuffle up and deal on home soil.
Once the live stream action started in level 13, Romain Lewis was on the main feature table while several other brand ambassadors were also moving over to the Mandalay Room as well. Diaz flirted with the lead and accumulated plenty of chips but it all came to a crashing end when Jean-Charles Remaud had the best of it on multiple occasions. Likewise, Lopes, known under his moniker of "Kool Shen" was sent to the rail as the last Winamax Pro when his move with a pair was ahead but didn't prevail in a clash with Mehdi Violleau.
The last two levels of the night certainly belonged to Julien Robert, however, who went on a rush from a middling stack to top spot in quick succession. He first knocked out Nicolas Millaud, then doubled through Aurelien Villesuzanne in a preflop contest before spiking a flush on the river to knock out Villesuzanne. Robert also won a large pot off fellow big stack Ionut-Gabriel Andrei to cement his status as one of the chip leaders.
With more than two thirds of the field filled gone featuring plenty of Winamax online qualifiers, Red Diamond status players and recreational poker enthusiasts from Spain and France, another busy day can be expected on Friday, May 13, 2022. Two chances remain for players to take a shot at the 2022 WPO Madrid €500 Main Event as Day 1c is scheduled for noon and the turbo heat 1d with 15-minute levels follows as of 9pm local time.
The entertainment program by Winamax contained the popular Beer Pong Open, which has become one of the most popular activities ever since the live poker tour existed. In the afternoon, the Team Winamax Master Class follows and will involve Adrian Mateos and Leo Margets as the hosts for a high-quality poker workshop. The day is then rounded up by the Friday the 13th party with two themes: luck (or the lack of it), and fear.

Nível 20 : 3,000/6,000, 6,000 ante
Jogador
Fichas
Oscilação

Julien Robert

768,000

-82,000

Jean-Charles Remaud

762,000

137,000

Hayg Badem

748,000

178,000

Omar Del Pino

666,000

306,000

Victor Salinier

663,000

-57,000

Javier Ortiz

646,000

646,000

Alexandre Dana

635,000

520,000

Franck Charpentier

630,000

313,000

Henry Dupont

600,000

55,000

Simon Wiciak

600,000

600,000

Mikael Busto

574,000

-36,000

Abilil Mohamadov

558,000

558,000

Giovanni Renna

537,000

-73,000

Pablo Herrera Medina

527,000

107,000

Mathieu Courty

485,000

380,000

Inaki Aguirre

481,000

481,000

Julien Da Silva

472,000

472,000

Nils Mallon

450,000

450,000

Ionut-Gabriel Andrei

447,000

87,000

Nuno Andrade

440,000

200,000

Juan Ocampo

440,000

220,000

Luis Manuel Cabello

418,000

-32,000

Erikas Laugzemys

416,000

416,000

Nicolas Merceron

408,000

408,000

Aymeric Dole

396,000

396,000

Nível 20 : 3,000/6,000, 6,000 ante
After racing off the T-500 chips, all players bagged up their chips and they will return in two days at noon local time for Day 2. Assorted counts and a recap of today's action are to follow.

Nível 20 : 3,000/6,000, 6,000 ante
On a completed board of
, Julien Robert faced the push by Valentine Devooght for 151,500 and tank-folded to forfeit a portion of his bigger stack.
However, he came back with a vengeance after that to win a very large pot without showdown against Ionut-Gabriel Andrei and then drag in another very healthy pot as he suddenly leaped to the top spot.

Nível 20 : 3,000/6,000, 6,000 ante
The clock has been stopped and the final hands were drawn for the night. Only four of them are to be played and the T.500 chips will then be raced off before all those with chips at their disposal get to bag and tag the chips. Surrendering the stack is also possible but that would result in an automatic rentry on either Day 1c or 1d without having a seat locked up.

Nível 20 : 3,000/6,000, 6,000 ante
The Day 1b field may have dipped just below 100 hopefuls as several players bowed out in the final level of the night. That included Yann Monnier and Emmanuel Da Silva, among others.
Jogador
Fichas
Oscilação

Eitan Michelland

Eliminado

Sofiane Trigiune

Eliminado

Yann Monnier

Eliminado

Francois Colly

Eliminado

Ramion Torrecillas Reig

Eliminado

Emmanuel Da Silva

Eliminado

Pablo Manuel Garcia Garay

Eliminado

Nível 20 : 3,000/6,000, 6,000 ante
The cards were already on their backs when Aurelien Villesuzanne had exposed the
for the flopped top two pair while Julien Robert turned over
for the top pair and flush draw on
. It had gone in after a single-raised four-way pot in which Robert check-raised and snap-called the shove by Villesuzanne.
While the
turn was a blank, the
river improved Robert to a flush.
Ionut-Gabriel Andrei can now also be found on the table and he asked how many chips the biggest stack in the room had. Once the local resident discovered that his big stack was not enough for the lead, he promised to get to work immediately.
Jogador
Fichas
Oscilação

Ionut-Gabriel Andrei

700,000

90,000

Julien Robert

620,000

270,000

Aurelien Villesuzanne

Eliminado

Nível 20 : 3,000/6,000, 6,000 ante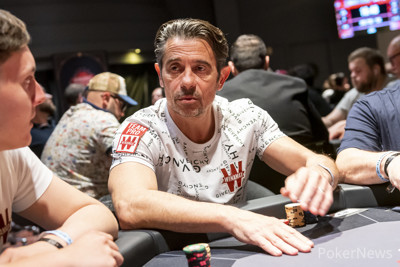 It appears that the last Team Winamax sponsored player has been sent to the rail. Over in the Mandalay Room, he defended in a battle of the blinds against Mehdi Violleau and called a bet worth 12,500 on the
flop.
After the
turn, Violleau faced the shove for 130,000 by Lopes and made the call to unlock the following showdown.
Bruno Lopes:

Mehdi Violleau:
The
river completed the flush for Violleau and it was a violent end for Team Winamax on Day 1b.
Nível: 20
Blinds: 3,000/6,000
Ante: 6,000