Main Event
Dia 3 Concluído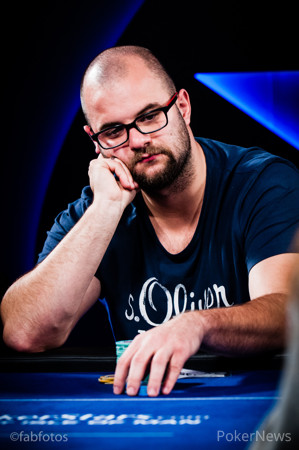 Josef Snejberg, a professional poker player from the Czech Republic, finished Day 3 as the chip leader with 1,561,000 here at the UKIPT Isle of Man. IJosh Hart from the United Kingdom is second with 1,167,000 and Ireland's Fintan Gavin stands third with 1,148,000 after nine hours of play at the home of PokerStars.
Play resumed at noon today with 40 players taking their seats. The plan was to play down to the official final table of eight and for the first few levels the bust-outs came thick and fast.
One of the early departures was Team PokerStars Pro and two-times EPT Champion Victoria Coren Mitchell. She had three-bet on the button holding queens and was called by Frank Longinotti who decided to see a flop holding ace-king. All the chips went in on the jack-high flop but it wasn't until the turn that an ace came to eliminate Coren Mitchell.
PokerStars SportStar Fatima Moreira de Melo was eliminated shortly after when her shove with
got a call from PokerStars Head of Communications Lee Jones. It was looking good until the river of a board reading
and de Melo would not get the chance to improve on her second place finish here last year.
Simon Deadman lost a big pot to David Hill and was probably lucky not to go broke as Hill just called a river bet from Deadman with a final board showing
. Deaman had flopped a full-house with
but Hill got him on the river with his
. A short while later Deadman shoved with
and Josef Snejberg took the last of his chips holding
.
The story of the day though has to be local celebrity chef Darren Woods who began the day with a monster stack of 907,500 while the average stack was 201,000. He had got those chips by playing practically every hand yesterday while sinking pints of beer and downing Sambuca shots. The question was would he change his strategy now he was in sight of a big pay day and faced tougher opponents? The answer was that he did not.
After two levels Woods had lost over half his chips and was back in the pack while Geilich was one of the players benefiting from his largesse. The end for Woods came not long after as his stack had dwindled even further, he made a fairly big shove in the big blind with
for 194,000 over an open from Andre Wagner who snapped him off with
. The final board was
and Woods was out in 30th place collecting £2,340 for his efforts.
The re-draw for the final 24 players came soon after when seven more players fell before the end of level 19. At that stage it was Isle of Man resident David Hill who led the way followed by Gavin with Geilich lurking in fourth and Full Tilt Poker Ambassador Martins Adeniya holding steady in sixth.
With short-handed play across the three tables Geilich took full advantage of the less experienced and shorter stacks at his table and began raising practically every hand. With no one prepared to stand up to him Geilich began to grow his stack but it was Gavin who grabbed the lead from David Hill just before the tournament went down to two tables.
Linus Sweeney was eliminated in 17th place when his
couldn't hold against the
of Josef Snejberg. The board ran out
and it was the end of short-handed play as two tables of eight were formed.
Jones was knocked out in 14th place with
against the
of Josh Hart but unlike Snejberg he failed to hit on the final
board.
Geilic briefly took the lead when his aggressive reputation paid full dividends eventually knocking out Matthew Baker who check-called every street, eventually calling off his stack on the river of a board reading
. Bakers
was behind all the way to Geilich's
.
PokerStars Team Online Player Adrienne Rowsome fell in 12th place when her three-bet shove with
was called by Snejberg holding
. There wasn't even a sweat and Snejberg, who had been playing a patient game all day, began to get back into contention. Indeed it wasn't too long before Snejberg called a preflop three-bet from Geilich holding
and ended up making a full house on a final board of
to give him close to a million chips for the first time in the tournament.
After Isle of Man resident Christopher Corkhill was eliminated in 10th place for (£5,360) the unofficial final table of nine was set and Geilich and Snejberg would soon be clashing again. It was Snejberg who opened the action and after a series of raises it would be Snejberg who had the final say when he six-bet shoved and Geilich tank-folded.
Adeniya started the day second in chips and played a patient aggressive game all tournament long, but the Full Tilt Poker Ambassador was to be the unlucky final table bubble boy. David Hill four-bet shoved on Adeniya holding
and Adeniya snapped him off with
. The cards ran out
with Hill's two pair cracking Adeniya's kings.
The final table of eight with hole cards will be streamed on a one hour delay tomorrow starting at 1 p.m. so be sure to join the PokerNews Live Reporting Team as we bring you exclusive hand for hand coverage of all the action as we play down to a winner who will walk away with £ 65,900 and the title of UKIPT Champion Isle of Man 2014.
| Seat | Name | Chip Count |
| --- | --- | --- |
| Seat 1 | Marc Radgen | 743,000 |
| Seat 2 | David Hill | 1,029,000 |
| Seat 3 | Josh Hart | 1,167,000 |
| Seat 4 | Josef Snejberg | 1,561,000 |
| Seat 5 | Ludovic Geilich | 1,063,000 |
| Seat 6 | Fintan Gavin | 1,148,000 |
| Seat 7 | Ciaran Heaney | 589,000 |
| Seat 8 | Thomas Ward | 544,000 |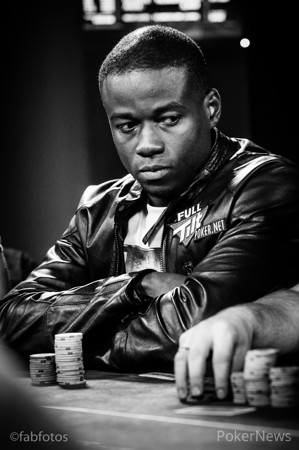 David Hill opened to 55,000 before Full Tilt Ambassador Martins Adeniya made it 125,000 to go. Hill moved all and Adeniya called instantly.
Hill:

Adeniya:
The flop came
giving Hill top pair, the
on the turn was a miracle card for Hill and he got out of jail on the
river.
Adeniya was crippled and was all-in in the next hand which was a pot played out by Radgen, Geilich and Gavin. The
flop saw Radgen bet 55,000 before Geilich made it 140,000 and Radgen folded.
Geilich showed
, picking up the dead money. Adeniya's
was ahead though in the main pot. The
on the turn gave the Scot the lead and Adeniya was eliminated on the
river.
A full chip count/seat draw and recap will follow shortly.
| | | | | | |
| --- | --- | --- | --- | --- | --- |
| David Hill | | | | 930,000 | 680,000 |
| Martins Adeniya | | | | Eliminado | |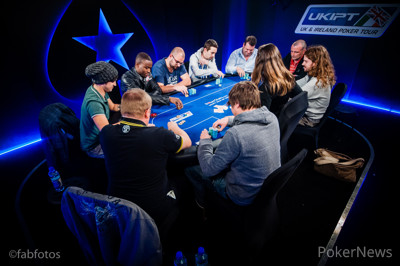 Josef Snejberg raised to 40,000 preflop, Ludovic Geilich made it 60,000 and Snejberg snap four-bet to 175,000. Geilich came back over the top with a five-bet to 290,000 and Snejberg instantly moved all in.
Geilich tanked for a couple of minutes and then folded.
| | | | | | |
| --- | --- | --- | --- | --- | --- |
| Josef Snejberg | | | | 1,600,000 | 642,000 |
| Ludovic Geilich | | | | 1,100,000 | -194,000 |
In the first hand of the final table, Fintan Gavin opened to 45,000 with
and David Hill shoved for about 250,000 with
. Gavin made a quick call and the players tabled their cards.
The board came
and Hill doubled up to 550,000.
| | | | | | |
| --- | --- | --- | --- | --- | --- |
| Fintan Gavin | | | | 1,000,000 | -260,000 |
| David Hill | | | | 550,000 | -100,000 |
Feature Table
| Seat | Name | Chip Count |
| --- | --- | --- |
| Seat 1 | Marc Radgen | 982,000 |
| Seat 2 | David Hill | 250,000 |
| Seat 3 | Josh Hart | 1,040,000 |
| Seat 4 | Martins Adeniya | 585,000 |
| Seat 5 | Josef Snejberg | 958,000 |
| Seat 6 | Ludovic Geilich | 1,294,000 |
| Seat 7 | Fintan Gavin | 1,470,000 |
| Seat 8 | Ciaran Heaney | 644,000 |
| Seat 9 | Thomas Ward | 616,000 |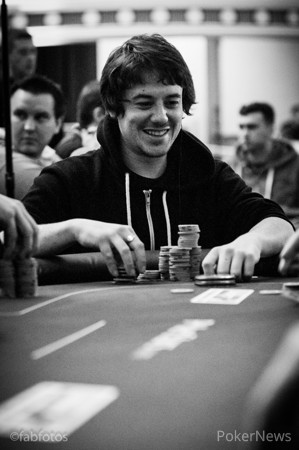 Christopher Corkhill was all in preflop in a four-way pot but on the
flop Fintan Gavin bet the other two players out of the pot.
Corkhill:

Gavin:
The turn was the
which gave Corkhill a gutshot but the
on the river made Gavin two pair leaving us with an unofficial final table.
Chip counts and a seat draw will follow shortly.
| | | | | | |
| --- | --- | --- | --- | --- | --- |
| Fintan Gavin | | | | 1,260,000 | 160,000 |
| Christopher Corkhill | | | | Eliminado | |
On a flop of
, Christopher Corkhill raised Fintan Gavin's 45,000 bet to 190,000 and the Irishman made a quick call. The turn was the
and Corkhill moved all in. Gavin tanked for a minute then made the call.
Corkhill:
for the nut straight with a club redraw.
Gavin:
for top pair with a flush draw.
The river was the
making Gavin a flush and he doubled through. Corkhill was crippled as a result.
| | | | | | |
| --- | --- | --- | --- | --- | --- |
| Fintan Gavin | | | | 1,100,000 | 100,000 |
| Christopher Corkhill | | | | 50,000 | -397,000 |
Nível:

22
Blinds:

10,000/20,000
Ante:

3,000