High Roller
Dia 1 Concluído
Nível 10 : 800-1,600, 200 ante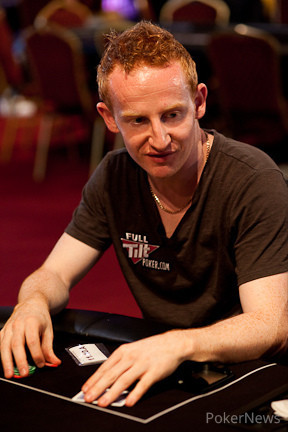 After a glorious day in sunny Galway, what could be better that settling down to play the €2,000 + €200 No-Limit Hold'em UKIPT High Roller Championship, an eight-handed event with the option for a single re-entry. Initially just 12 players had sat down for the event but given the tournament had a 6 p.m. start time, the players quickly flooded in after having a no doubt delicious dinner at one of Galway's fine restaurants (Note: the PokerNews Live Reporting Team can vouch for this).
There were 35 players who entered the tournament with a single re-entry but after nine levels of action, the Day was done, Chris Day that was. The man from the UK rocketed up to the top of the leaderboard early on in the day and never looked back. With around 12 players left, Day won a huge pot to eliminate the Lithuanian Anaras Alekberovas. This put him on 250,000 in chips, more than a third of the chips in play, with the blinds at only 600/1,200/200 and the average stack a mere 80,000 – a pretty healthy position indeed. He finished the day as chip leader with 250,200.
After nine levels, the players had reached the unofficial final table of nine players, but given that only six people were being paid the players agreed to continue through the money bubble. After playing a short stack for several hours, it was Team PokerStars Pro Jake Cody who ultimately bubbled, losing with the best hand to end proceedings for the night.
With Gus Hansen, Martins Adeniya and Ben Jenkins taking part in the charity event and Sinem Melin involved in the six-max event, it fell on Irishman Dermot Blain to represent Full Tilt Poker in this €2,000 event. He was one of several big names to enter the field which included Jake Cody and former UKIPT London winner Sergio Aido Espina. Blain suffered an early setback when he lost nearly a third of his chips getting double check-raised on the flop and turn against Ian Cordts. Blain managed to double up not once, but twice later on to make the (un)official final table.
Poker in Ireland is traditionally fast (but not so much furious, everyone is here to enjoy the craic) and the point was quickly proved as cold five-bets were appearing in the very first level on tables only containing six players! Spaniard Guilabert Bernabeu was the first exit of the day, turning trips in a three-bet pot only to run into a full house. Other players who failed to survive included Ben Warrington as well as Ian Cordts (twice) – the latter the only player who bought in a second time fell first to Blane and second to Cody.
One stack that seemed to be blinding into oblivion was that of Trevor Dinneen, but the Irishman had a valid excuse. He was heads up in the Irish Poker Championships against Steve O'Dwyer! Eventually, having won that event, Dinneen came over to shove his last few big blinds in the middle with J-8 but ran into Blain's A-J which quickly finished him off.
A couple more exits later, including Cody's, and we had our final table:
| Seat | Player | Country | Count |
| --- | --- | --- | --- |
| 1 | Niall Farrell | UK | 44,400 |
| 2 | Kyle Maguire | UK | 197,800 |
| 3 | Dermot Blain | Ireland | 64,100 |
| 4 | Sergio Aido | Spain | 99,700 |
| 5 | Jan Przysucha | Poland | 65,300 |
| 6 | Chris Day | UK | 250,200 |
Nível 10 : 800-1,600, 200 ante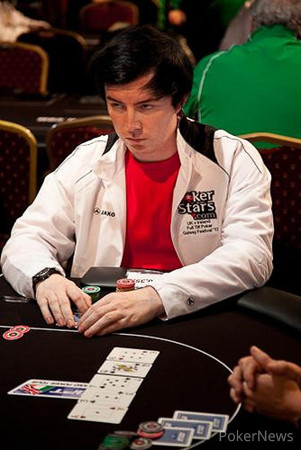 Kyle Maguire raised to 4,000 from middle position and Jake Cody moved all in for about 20,000 on the button. The blinds folded and Maguire made a crying call.
Cody:

Maguire:
"Good luck," said someone to Cody.
The flop came
.
"I hate 'good lucks'," replied Cody good-naturedly.
The
turn and
couldn't help the Team PokerStars Pro out of his spot and he busted out on the bubble. But not before wishing everyone else 'good luck' for the final.
Nível 10 : 800-1,600, 200 ante
No one seems to want to take a gamble to eliminate Cody as we are one away from the money and he is using all his short stack skills to boss the table around. It really is something to see.
We've seen him min-raise under the gun for most of his stack, shove in the small blind and get a walk in the big blind. They all add up and the more it goes on the more he will grow in confidence.
Can he creep in to the money, will he finally run into a big hand, or can he spin it up even more?
Stay tuned to find out.
Nível 10 : 800-1,600, 200 ante
Oh dear, poor old Jake Cody.
The Team PokerStars Pro saw action passed to him in the small blind but he looked at his cards and folded
face up to Sergio Aido in the big blind. Aido showed him
.
Will Cody perhaps regret looking at his cards?
Nível 10 : 800-1,600, 200 ante
Chris Day opened preflop to 3,700 and Kyle Maguire made the call on the button. Day unloaded the clip, firing barrels of 4,100, 9,100 and 17,400 on the flop, turn and river of the
board before announcing "King-high" when he was called on the river. Maguire showed
and quickly scooped the pot.
Nível: 10
Blinds: 800/1,600
Ante: 200
Nível 9 : 600-1,200, 200 ante
The remaining seven players have agreed to play through the money bubble. Since Level 9 has expired, they will take a ten-minute break and then return to play. We're guessing it won't take too terribly long.
Jogador
Fichas
Oscilação

Chris Day

270,000

24,000

Kyle Maguire

130,000

62,000

Sergio Aido

100,000

15,000

Jan Przysucha

77,500

2,500

Dermot Blain

60,000

-7,000

Niall Farrell

53,000

-4,000

Jake Cody

13,400

-8,200
Nível 9 : 600-1,200, 200 ante
Chris Day found another victim in Marcin Kreft.
Kreft shoved over the top of Day's raise and was quickly called. It was Kreft's pocket
versus Day's pocket
.
When the board ran out
it was all over for Kreft and Day cruised on.
Nível 9 : 600-1,200, 200 ante
Niall Farell opened in first position and was raised by Kyle Maguire, sitting next to him, to 5,200. Charlie Combes decided to shove all-in and while Farell folded, Maguire made a confident call.
Combes tabled
but Maguire had him crushed with
The final board was
Maguire's quads sealing the deal for Combes