HK $250,000 6-Max Event
Dias: 2
HK $250,000 6-Max Event
Dia 2 Concluído
Nível 23 : 15,000/30,000, 5,000 ante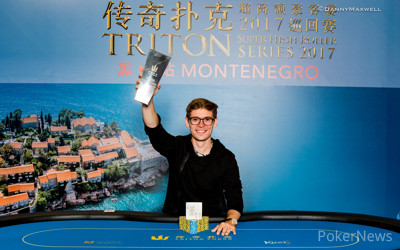 It took almost ten-and-a-half-hours of play on Day 2 of the 2017 Triton Super High Roller Series Montenegro HK$250,000 (~$32,000) 6-Max Event to crown a champion.
It was the aptly named Fedor 'CrownUpGuy' Holz who emerged victorious after a gruelling two-hour heads-up battle against China's Su Hao that saw the chip lead change hands multiple times.
Down to his last 400,000 in chips at one point, Holz dug deep into his bag of tournament tricks and waited patiently for the perfect spot to double up, getting his last 445,000 in with top pair on a queen-high board holding queen-six offsuit against the ace-high gutshot straight draw of Hao to bring the stacks back to nearly even.
The German's patience paid off and sensing that the tide had turned Holz then began to apply the pressure and got Hao to pay him off after flopping two pair with king-three suited to reduce the Chinese player down to just over 7 big blinds.
This found its way into the middle of the table shortly afterwards when Hao moved the last of his chips in from the button with five-six offsuit and Holz woke up with pocket eights in the big blind. The Chinese player found himself drawing dead by the turn, standing up to shake Holz by the hand and congratulating his opponent on a game well played.
Holz earned an impressive HK$ 3,472,200 ($444,893) for his first place finish, in addition to the title and trophy. Already sitting at number one on the German All Time Money List with over $22,900,000 in total live tournament earnings before the tournament began, Holz edges even closer to Phil Ivey on the hallowed All Time Money List. The German wunderkind now boasts $23,354,884 in career tournament winnings, just $501,150 less than Ivey.
Hao will also not be disappointed with his performance however, and while it is tough to come so close to winning your first major title only to fall at the final hurdle there is no shame in losing to a player of Holz' calibre.
The Chinese player took down his largest career score to date for his HK$ 2,218,000 ($284,192) runner-up finish, with his previous best coming in April's PokerStars Championship Macau HK$40,000 Main Event where he finished 42nd for a HK$101,000 ($12,995) payday.
"Hao played pretty well' said Holz after posing for the winner's photo. "Someone told me that he has not played much but I thought that he played very well and it took quite a long time to finish him off, I was positively surprised."
A total of 25 players returned for Day 2, and with the last minute entries of Paul Phua, David Peters and the re-entry of Jaimie Kaplan this increased to 28 when play began at 1pm CET on Monday 17 July to bring the total number of entries up to 41 and bring the prize pool up to a mouth-watering HK$ 9,643,200 (~$1,235,820).
It took four hours and six levels to whittle the field down to the final 12, and then just a single 40-minute level to bring play to the bubble with Germany's Manig Loeser, China's Cheok Ieng Cheong, the United Kingdom's Sam Trickett and the USA's Benjamin Wu all departing in a flurry of cards and chips.
Holz was one of the larger stacks by the time the bubble approached and play went hand for hand, and it was the German who set up the seven-handed final table after moving all-in from the small blind with the speculative ten-deuce suited and China's Zuo Wang called all-in for his tournament life from the big blind with ace-queen offsuit. Unfortunately for Wang, Holz paired his deuce on the flop and Wang found no help on the turn or river and departed empty handed.
Holz went into the final table with a sizable lead, which he did not relinquish until play reached three-handed. The first casualty of the final table was the unfortunate Xuan Tan who got the last of his chips in pre-flop from the small blind with pocket kings, only to run into the pocket aces of Montenegro's Predrag Lekovic.
Richard Yong and Gabe Patgorski followed Tan to the rail in quick succession, falling at the hands of Holz and Hao respectively to take play four-handed though it was another 45 minutes before four became three, with Alan Sass losing a race with Ace-King against the pocket sevens of Predrag Lekovic.
Hao then won a huge pot from Holz, cracking the German's pocket aces with a flopped two pair but it took a further two-and-a-half hours before Lekovic fell at the hands of Holz. The Montenegrin got the last of his chips in with king-jack suited over the top of a Holz button raise, only to run into the German's ace-king offsuit to take play heads-up.
Final Result 6-Max Event
| Place | Winner | Country | Prize in HK$ | Prize in USD |
| --- | --- | --- | --- | --- |
| 1 | Fedor Holz | Germany | 3,472,200 | 444,893 |
| 2 | Su Hao | China | 2,218,000 | 284,192 |
| 3 | Predrag Lekovic | Montenegro | 1,398,000 | 179,160 |
| 4 | Alan Sass | USA | 964,000 | 123,537 |
| 5 | Gabe Patgorski | USA | 675,000 | 86,501 |
| 6 | Richard Yong | Malaysia | 530,000 | 67,920 |
| 7 | Xuan Tan | China | 386,000 | 49,466 |
While that concludes the 6-Max Event, that does not end the action for the Series with the HK$ 1,000,000 ($128,150) Main Event starting at 1pm CET on Tuesday July 18 so join us then.
Nível 23 : 15,000/30,000, 5,000 ante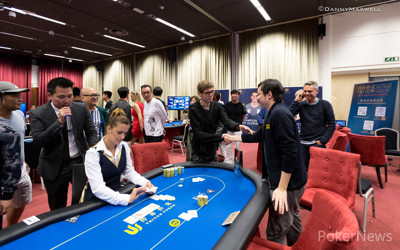 While Su Hao still held a narrow lead following Fedor Holz' double up the momentum was with the German wunderkind and sensing that the tide may have turned he began turning the screws.
We missed a hand while writing up Holz' earlier double-up but it appeared that the German had edged in front and was holding the chip lead once again and when we returned we caught the pair in action on the turn on a board reading
just as Hao, sitting in the big blind, checked the action over to Holz.
There was already over 400,000 in the pot and Holz – sitting on a stack of 1,065,000 – slid out a chunky bet of 165,000, leaving himself 900,000 behind. Hao likes taking his time over his decisions and this was no exception, with the Chinese player hitting the think tank for a good two minutes before making the call to bring the action to the
river.
Hao checked the action over to Holz, who eyed up the Chinese player's stack calculatingly (he had 625,000 behind) before deciding the right amount to bet was 325,000.
This time Hao tanked for nearly five minutes while Holz looked on impassively before the Chinese player grudgingly dropped down the call. Holz tabled
for a flopped two pair and Hao folded instantly, dropping down to 225,000 while Holz climbed to 1.825 million.
Two hands later it was all over. Down to his last 180,000 in chips, China's Su Hao moved all-in from the button and Fedor Holz called immediately and the cards were turned over.
Su Hao:

Fedor Holz:
Hao was in bad shape and the
flop provided no succor for the Chinese player. The
river left Hao drawing dead and he got up to shake Holz' hand as the dealer peeled off the
river to bring the HK$250,000 Triton Super High Roller 6-Max to a close.
"Good game," said Hao gracefully, and he certainly ran Holz close, having the German on the ropes on several occasions, but was unable to close it out. Full write up to follow so watch this space…
Nível 23 : 15,000/30,000, 5,000 ante
Both players have been extremely patient and as the shorter stack Holz had started limping the button and seemingly eager to engineer a spot where he can take advantage of this Hao has been letting this trend continue and it appears to have been working out as he had whittled Holz down to his last 400,000 or so in chips following the break.
However, just as things were looking dicey for Fedor Holz the German has managed to earn a double up. Down to his last 400,000 Holz shoved on Su Hao twice to climb back up to 540,000 before the two players got all the chips in.
It was Hao who was the initial aggressor, making it 60,000 to go from the button with Holz making the call.
Hao led the
flop for a minimum bet of 30,000 and Holz moved all-in for 445,000 in total, sending Hao deep into the tank. Eventually he decideded that the chance to finish things was too good to pass up on and he slid in the call and the cards were turned over.
Fedor Holz:

Su Hao:
While Holz had top pair he was the at risk player and the watching crowd gathered around to see whether it would be boom or bust for the German. It was boom, with the
turn keeping Holz in the lead, with the
river completing the hand and doubling him up to 900,000.
Nível: 23
Blinds: 15,000/30,000
Ante: 5,000
Nível 22 : 12,000/24,000, 4,000 ante
This is turning into an epic heads up battle with Hao seizing the lead once again and applying the pressure to Holz, whittling the German down to 30 big blinds to the Chinese player's 56 big blinds. Both players are mixing it up with a combination of pre and post flop play and neither player seems to be able to remain in front for long.
At one point Holz had whittled Hao down to a little over 500,000, the majority of the hands failing to make it to showdown, before the Chinese player switched gears and began to re-raise Holz in three back-to-back hands, shoving the river in several, with Holz giving it up on all three occassions.
There were chopped pots in two of the hands that made it to showdown before we got to see a rare showdown that was not a chop, with Hao rivering a flush holding
on a
board with Holz mucking as soon as Hao turned his hand over.
Nível: 22
Blinds: 12,000/24,000
Ante: 4,000
Nível 22 : 12,000/24,000, 4,000 ante
Heads-up has been a fairly torrid affair so far and both Su Hao and Fedor Holz are taking it in turns to swap the chip lead and are playing at a rapid pace.
Holz started on the button and the first hand of heads up went raise, fold before Hao seized the lead on the second hand.
The Chinese player made it 45,000 to go on the button and Holz called quite quickly before checking the
flop over to Hao, who bet 80,000.
The German called quickly and it was off to the
turn, which Holz checked for a second time and Hao hit the think tank for a minute or so before reaching for a hefty stack of chips, making it 128,000 to go, which Holz called to swell the pot to over 500,000.
The
river saw Holz check it over to Hao once more and the Chinese player fired out a chunky third barrel, making it 266,000 to go, leaving himself 381,000 behind. Holz tanked for quite some time before electing to let it go with a wry smile.
"You can pick one," said Hao as he raked in the hefty pot to climb up to 1.2 million and seize back the lead.
Holz picked the right hand card, which was the
.
"Nice bluff" he quipped good-naturedly before proceeding to win the next three hands in a row to seize back the chip lead with some aggressive pre and pot flop play to win without showdown on all three occasions with the hands making it to the river all three times.
By the end of the level the chip lead had changed hands on at least four separate occasions but it was Holz who finished as the man in the driving seat with a stack of 1.25 million to Hao's 800,000.

Nível 21 : 10,000/20,000, 3,000 ante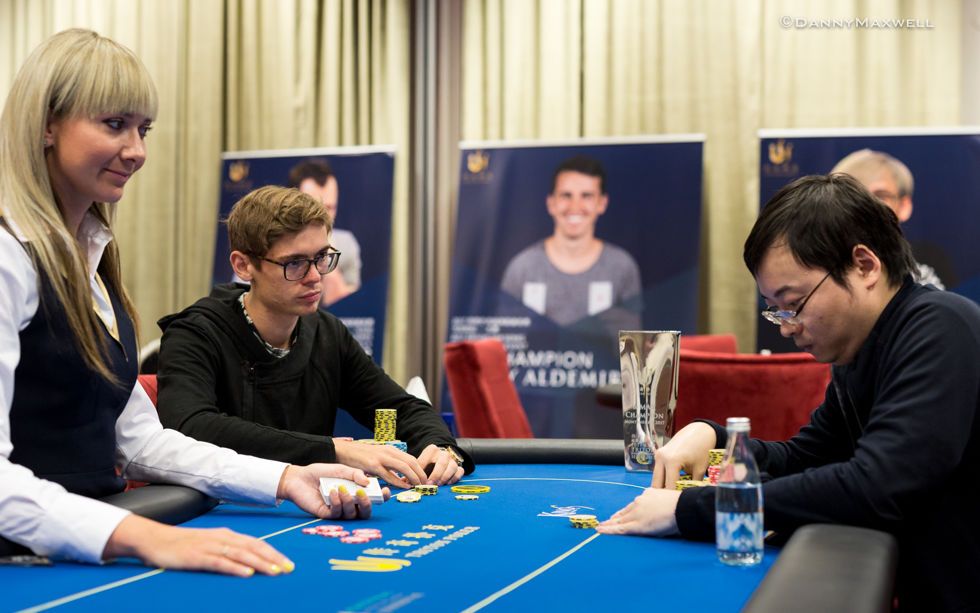 Nível: 21
Blinds: 10,000/20,000
Ante: 3,000