$10,000,000 Guarantee Championship
Dias: 3
$10,000,000 Guarantee Championship
Dia 3 Iniciado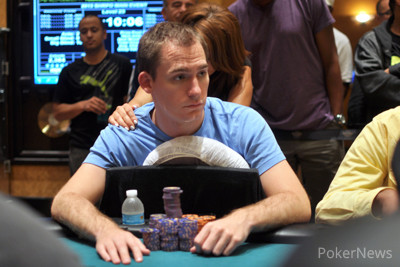 Day 3 of the Seminole Hard Rock Poker Showdown $10 Million Guarantee Championship Event is set to start in a few minutes, and leading the remaining 100 players is Justin Bonomo. Bonomo, who is in search of his second career seven-figure score, bagged 2.722 million chips, and was the only player with more than 1.7 million. After firing five bullets in this event, the professional needs to finish 63rd or higher just to profit.
Also bagging big stacks were Ravi Raghavan (1,652,000), Matt Giannetti (1,264,000), and November Niner Amir Lehavot (1,171,000).
Day 3 will feature five 90-minute levels, and play is scheduled to conclude around 8:30 p.m. EDT.
While PokerNews is not offering live updates from this event, the participating players will be able to utilize the MyStack App. You can download the app for iPhone or Android now to get started. Then, create a new PokerNews account or update your current one to start updating your status immediately. Your followers can see all the live action that you're involved in.
Along with the player updates, PokerNews will be providing you with feature pieces and interviews straight from the tournament floor.
The cards will be in the air shortly, so be sure to come back and check the Player Updates page powered by the MyStack App.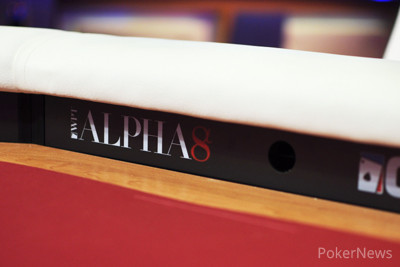 Hard Rock Live is a 5,500-seat arena on the Seminole Hard Rock property in Hollywood, Fla. In 2013, the following artists have or are scheduled to perform there: Kid Rock, Wllie Nelson, Eric Clapton, The Beach Boys, Matchbox Twenty, Kenny G, Hall & Oates, Alabama, Kiss, Lionel Richie, Barenaked Ladies, and Alice Cooper.
The venue has also hosted comedians Bill Cosby, Cedric The Entertainer, and Al Pacino this year.
Today, the eight-year old arena is playing host to the first ever World Poker Tour Alpha-8 event. Through the entrance, past the box office, and into the seating area there is a massive stage enclosed by tall white sheets. From the outside, you can see the stage and floor lights shining neon colors off of the sheets, but once you pull open the entrance the carnival of color hits you right in the face.
For a brief moment, it feels like you're in swanky club in the heart of Miami – sans the absence of a live Latin jazz band, of course.
Beyond the neon lights, which really morph the white sheets surrounding the area into an interesting and visually appealing backdrop, the main stage is gorgeous. Sitting atop white tiles is a large table with white railing, and the eight seats around the table are white as well. The only thing it's missing is Tony Montana in an all-white suit.
"Who put this thing together? Me, that's who! Who do I trust? Me!
Behind the feature table are two red leather seats for the wonderful Lynn Gilmartin to conduct interviews or two people to hang out. There's also a table set up for Ali Nejad and Olivier Busquet to call the action. Perhaps they will serve drinks from there as well – there are several cocktail waitresses available.
The only problem with this beautiful, pristine set is that it's fairly empty.
"The set's pretty cool," Jason Mercier, who was one of the 12 players seated at the time, told us on a break. "I just wish there were more players here. But it's set up great for a normal $100,000 event – which should have 30 or 40 entries."
Among the dozen players seated were the aforementioned Mercier, Jeff Gross Isaac Haxton, Jason Koon, Daniel Alaei, Erik Seidel, Brandon Steven, Steven Silverman, Daniel Perper, Andrew Lichtenberger, Tom Hall, and November Niner JC Tran.
Despite the low turnout thus far, Koon is still optimistic about this event and future ones as well.
"The set's beautiful, and the staff is one of my favorite poker staffs," Koon told us. "I think that once people get that it's going to be on a major network, it will grow. Right now it's smaller than we expected, but it will grow. I mean, it is a $100,000 buy in."
Koon thinks that 25 entries would be a successful number for this event, and believes that they will hit that number.
"I saw a couple guys that were just getting out of bed," Koon said. "Noon's a pretty early start [laughs]. Maybe that's something they could've changed, because they don't have to worry about clearing out 500 to 600 players in a day."
"I think that there's four or five guys still in the Main that were wanting to play, so it might be ideal for them to put the $100,000 buy-in – or whatever the big event is – on Day 4 of the Main," Mercier added.
For Lichtenberger and Silverman, a beautiful set is nice, but location and timing are paramount.
"I like how this [Alpha-8] coincided with the other big tournament," Silverman said. "So if they schedule it with other good stops I'd certainly look to play."
"[Playing] is dependent upon where I'm at," Lichtenberger added.
With the impressive set, the bright lights, and the studio cameras all around, the ambiance at the two poker tables is a bit different from most super high rollers. There was very little talking going on when I arrived, and the silence was finally broken when Tran took his seat. Mercier offered a joke, followed by his signature laugh, and the rest of the table chuckled as well.
The atmosphere is sure to be more entertaining soon, however, as Bill Perkins and Dan Shak both took their seats while this article was being published.
Perkins would've arrived earlier, but his flight was delayed due to an electrical issue.
Of course my United flight has electrical problems and flight is delayed.....glad they caught it pre-takeoff!! #betterlatethandead
Follow @bp22
Regardless of the final field size, Koon believes in the brand and will continue to attend Alpha-8 events.
"I'll be at every one if there's any value whatsoever," he said.
Mercier, who estimates that he's played in 15 to 20 tournaments with a $50,000 buy-in or higher, isn't as loyal to the brand per se, but if there's a high rolling scheduled, he'll be there.
"I'm going to play every $50,000-plus buy-in poker tournament there is around the world for the next couple of years," Mercier said.
The WPT Alpha-8 has the major American network, an incredible set, and a handful of committed, willing players. All they have to do is lure a few more grinders on a consistent basis, and they will become a player in the global super high roller market. Until then, there is work to do.
Only time will tell.
Get all the latest PokerNews updates on your social media outlets. Follow us on Twitter and find us on both Facebook and Google+!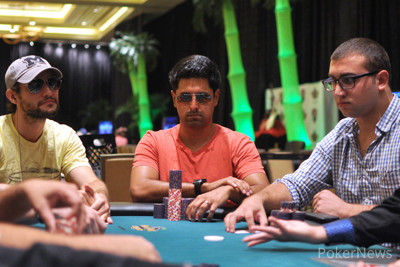 Mukul Pahuja is a professional poker player who grew up in New York and then moved to Florida. At the time this was published he was the chip leader of the Seminole Hard Rock Poker Open $10 Million Guarantee Championship Event, and he discusses poker in Florida, going deep, his brother Vinny, and more.
PokerNews: You grew up in New York then moved to Florida, correct?
Mukul Pahuja: Yes, I've been down here for two and a half years now. I moved down with my now wife and dog into the Fort Lauderdale area. I've just been grinding in this area.
What's it like to have a tournament this big tournament in your home state?
It's amazing to be able to drive home. I live 15-20 minutes away, and I get to sleep in my own bed. This tournament is amazing. You have all of the big names, you have people from all over, making this prize pool amazing. Kudos to Hard Rock, [Matt] Savage, and everyone involved. Twenty-three hundred players is incredible.
When you heard about the guarantee for the first time, did you even think it was possible?
It seemed a little crazy at first, but once I got out to Las Vegas for the World Series [of Poker], and I saw how many people were actually talking about this tournament, I thought it was going to hit it. When Savage came on board and all of the pieces started falling together, I knew it was going to be really big.
Being a new resident you don't necessarily have a home court advantage, but two of your biggest scores have come in Florida. How does this state differ from others when it comes to poker?
It's probably catching up at a rapid pace. People are underestimating how many good players are flooding into the market down here. Even the recreational players are getting a little bit better, but what everyone is referring to when they talk about Florida poker is the law change. Everything was backwards here. Maybe not backwards, but a little delayed.
When I first moved down here a couple of years ago, it felt like 2005 poker, where people were still learning. People were just folding to three-bets with ace-queen and stuff. It was a little crazy how much you could manipulate people who weren't that experienced. More and more good players are coming down here, but at the same time more and more amazing tournaments are popping up each month. Every month there's a great $2,000 and $3,000 main events with $500,000 guarantees. It's nice for someone like me, it's why I came down here. Now I don't have to travel everywhere, I can just stay right near home and go to the big stuff.
Your brother Vinny also plays. Talk about how important it is to have someone close to you who understands the ups and downs and you can talk strategy with.
Oh my god, it's huge. It's everything in this game, because without any kind of a network to bounce ideas off of and talk about tough hands that you've played and strategy, you can't get better. You can just play a lot, but if you're not watching videos or pulling hand histories or anything you're not really putting in the hands to get better. So to have a network — and it's not just my brother, even though he's an amazing player and the reason I got into tournament poker specifically. He had a huge year the first year he started playing tournaments and we both caught the bug. I met so many people through him that made me 10 times better within a year of playing, because I had so many people to go and bounce ideas off of. It's a huge asset, I can't overstate how huge it is.
Talk about Day 3 thus far. You've chipped up, and you won a big flip off of Ryan Welch.
It's been an amazing day. I've played a bunch of medium-sized pots and won like 95 percent of them so far. That flip was kind of crazy. It was the first time I three-bet him. He's been very active — I mean, it's Ryan Welch — and he cut out a four-bet after I three-bet him. And I guess he realized that he didn't want to four-bet call with two fours, so he just kind of rammed it in there. It was a pretty big jam, but I had ace-king, and fortunately I flopped an ace.
Now, my table is breaking, which is great because I had Bryn [Kenney] two to my left, [Justin] Bonomo, who's a terror, Griffin Benger, who just doubled, but there's world-class players at every table. You knew this was going to happen with this kind of structure. With hour-and-a-half levels here on out, you're going to have a lot of play with a lot of world-class players and you just have to bring your A-game and make fantastic decisions throughout. Otherwise, you're not going to win this thing.
We'll just go from there. One hand at a time.
Get all the latest PokerNews updates on your social media outlets. Follow us on Twitter and find us on both Facebook and Google+!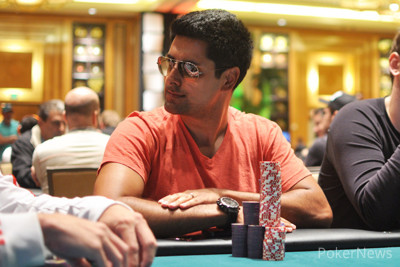 Only 21 players remain after Day 3 of the Seminole Hard Rock Poker Open $10 Million Guarantee Championship Event, and the chip leader is Mukul Pahuja with 8.125 million. Pahuja won a crucial flip against Ryan Welch during Level 25, eliminating the World Series of Poker bracelet winner and taking the chip lead. He then extended his lead by knocking out Cory Drury, Rod Rodrigue, and John Miller during the final two levels of play.
During one of the breaks, Pahuja was kind enough to sit down with PokerNews for an interview. The professional moved to Florida a few years ago with his now wife to grind in the Sunshine state, and is ecstatic that big events like this are starting to run more regularly. For the enter interview, click here.
Atop the leader board are Blair Hinkle, Ryan Olisar, Jeremy Kottler, and Griffin Benger.
Benger won a two-million pot on one of the last hands of the night when Aaron Robbins moved all in with king-deuce off-suit. Benger tank-called with ace-jack, and his ace-high held as the flop, turn, and river all produced bricks.
Also surviving Day 3 were David "Doc" Sands, November Niner Amir Lehavot, Day 2 chip leader Justin Bonomo, and two-time WSOP bracelet winner Mark Radoja.
Lehavot won a crucial pot off of German Philipp Gruissem during Level 26, where Lehavot called a three-bet from Gruissem. Both players checked to a turn on a
board, and Lehavot check-called a bet of 200,000. The river was the
, Lehavot checked, and Gruissem fired out another 400,000. Lehavot called, and took down the pot with
.
Gruissem was later eliminated, along with Day 1a chip leader Aaron Schaaf, Leo Wolpert, Neri Sanchez, Matt Glantz, Adam Levy, Cherish Andrews, and Kyle Bowker.
Schaaf was eliminated by Samuel Guilabert during the final level of play. Schaaf three-bet all in with
, Guilabert called with
, and Schaaf actually took the lead when the flop fell
. Guilabert regained the lead when the
turned, and made a full house when the
completed the board for kicks and giggles.
In Wolpert's bust-out hand, he called a raise in the big blind from Ray Qartomy, who opened from under the gun. Wolpert moved all in after the flop fell
, and Qartomy snap-called with
for a set of sevens. The turn and river both bricked out, and Wolpert hit the rail.
With Andrews' elimination, Krystal Seiling is the last female standing. She doubled up through Guilabert during the left level of play with pocket aces against Guilabert's ace-king, and will enter the fourth and penultimate day with 1.315 million chips.
Day 4 will begin at noon EDT on Tuesday, and conclude when only six players remain.
PokerNews will be on hand for coverage of this massive Championship Event. Players will once again be able to update their status immediately using the PokerNews MyStack App, and you can expect more features and interviews as well.
Get all the latest PokerNews updates on your social media outlets. Follow us on Twitter and find us on both Facebook and Google+!
$10,000,000 Guarantee Championship
Dia 3 Concluído