€10,300 PLO High Roller
Dias: 2
€10,300 PLO High Roller
Dia 2 Concluído
Nível 23 : 15,000/30,000, 0 ante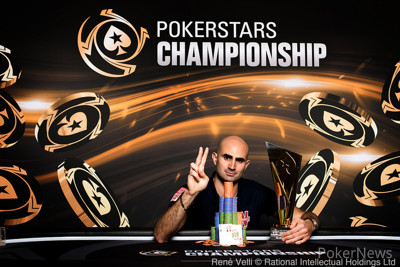 Sylvain Loosli's pot-limit Omaha game appears to be sharp in 2017.
Just a few months after he got third in the €10,300 Pot-Limit Omaha tournament at PokerStars Championship Monte Carlo for €81,500, Sylvain Loosli came out on top of a short heads-up battle after chopping with Pedro Zagalo to win the same tournament here at PokerStars Championship Barcelona in a field of 111 entries.
With the two big finishes this year, along with a second-place finish at a €5,000 PLO at EPT Dublin last year, Loosli has clearly marked himself as a player to watch at future PLO events, if $6 million-plus in tournament cashes didn't already warrant attention.
The French pro, most well known for his November Nine run in the 2013 WSOP Main Event, got €236,400 for his efforts, with Zagalo taking €231,400. Per the terms of the deal, Zagalo had gotten €5,000 more than Loosli with €10,000 and the trophy left to play for.
For most of the final table, it didn't look like there would be any sort of deal besides the dealers simply pitching winners in the direction of Zagalo. He had a dominating stack with over a third of the chips in play when the final table began, and nothing that transpired in the hours afterward made it look like there would be a different winner.
Zagalo busted Eder Campana in eighth and Oliver Weis in sixth, with start-of-day leader Jan Suchanek falling in between them. In both cases, the Portuguese player prevailed in close equity spots. He then got the nut flush draw in against Mandy Calara, who was drawing to a worse flush and a wrap but had no pair. He did pair on the turn, but Zagalo just backdoored a straight as if showing how versatile his winning ways could be.
That gave Zagalo well over half of the chips, but Loosli found the first chink in the armor with a double when he flopped two pair against Zagalo's aces. After Norbert Szecsi and Shyngis Satubayev fell, Loosli went into heads-up play down a little more than 2-1.
The Frenchman would lose some ground early and get down more than 4-1, but the deep stacks — he still had over 50 big blinds — gave him some time to work. He grinded some back then pulled ahead when Zagalo tried bluffing him with a flop check-raise and a big turn barrel before giving up on the river, with Loosli showing down top set on the flop.
Nearly even at that point, the two talked deal. Loosli, who said after the tournament he considers heads-up PLO to be his strongest game, openly admitted during talks that he was looking to reduce variance. He was willing to give up some money despite having a tiny chip lead and the two came to the deal that saw Loosli take a small pay cut.
Loosli would take complete command in short order when play resumed, getting his slightly shorter stack all in on the turn with top two and the nut flush draw against an inferior two pair and a two-way gutshot. The river bricked to give Loosli a huge lead, and Zagalo never got close to making his opponent sweat after that.
Official Final Table Results
| Place | Player | Home Country | Prize |
| --- | --- | --- | --- |
| 1 | Sylvain Loosli | France | €236,400* |
| 2 | Pedro Zagalo | Portugal | €231,400* |
| 3 | Shyngis Satubayev | Kazakhstan | €124,900 |
| 4 | Norbert Szecsi | Hungary | €101,300 |
| 5 | Mandy Calara | USA | €81,300 |
| 6 | Oliver Weis | Germany | €63,500 |
| 7 | Jan Suchanek | Czech Republic | €50,100 |
| 8 | Eder Campana | Brazil | €38,200 |
*reflects heads-up deal
Nível 23 : 15,000/30,000, 0 ante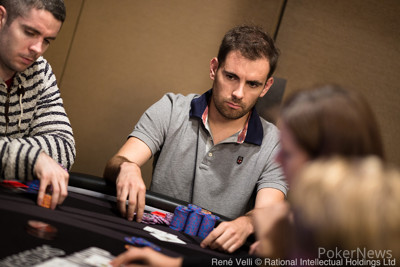 Pedro Zagalo got all the way down to about 250,000 but crawled back to 600,000 or so through the accumulation of small pots.
The two finally played a big pot when Sylvain Loosli limped and called 90,000. The
flop prompted a pot-sized bet and then a shove from Loosli. Zagalo stuck the rest in.
Loosli:

Zagalo:
Zagalo's set was good against top two, but a
hit on the river after the
turn, giving Loosli kings full and the tournament.
Nível: 23
Blinds: 15,000/30,000
Ante: 0
Nível 22 : 12,000/24,000, 0 ante
Sylvain Loosli and Pedro Zagalo checked down a board of
until Loosli bet 150,000 when checked to on the river. Zagalo potted and Loosli snap-called. Zagalo showed
for a flush but Loosli had made a full house with
.
Nível 22 : 12,000/24,000, 0 ante
On a flop of
, Pedro Zagalo pushed all of his chips in and got called by Sylvain Loosli.
Zagalo:

Loosli:
Loosli had flopped top two and would win the event if the board bricked out. However, running
meant Zagalo backdoored a flush to survive. Loosli sent him 515,000.
Nível 22 : 12,000/24,000, 0 ante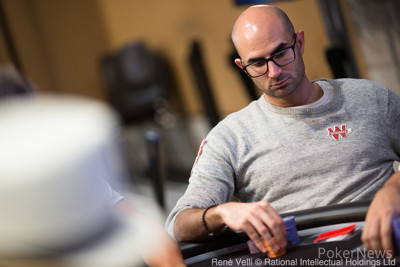 Sylvain Loosli potted on the button and called a repot to 216,000. Pedro Zagalo put in a continuation-bet of 275,000 on the
flop. Loosli called. The turn brought a
and a bet of 982,000, the size of the pot. Loosli immediately jammed for just under 1 million more. Zagalo used a time extension but decided he couldn't fold.
Zagalo:

Loosli:
Loosli had a monster with top two and the nut flush draw. Zagalo had a few outs but the
wasn't one of them. Loosli has nearly all of the chips now after starting well down when heads-up play began.
Nível 22 : 12,000/24,000, 0 ante
Sylvain Loosli and Pedro Zagalo have agreed on a deal. Loosli will get €226,400 and Zagalo will lock up €231,400. They'll play for the remaining €10,000.
Nível 22 : 12,000/24,000, 0 ante
Sylvain Loosli called on the button and called again when Pedro Zagalo potted. Zagalo slowed down with a check on the
flop, and Loosli bet 65,000. Zagalo made it 215,000 and Loosli went nowhere. The turn brought an
and 400,000 from Zagalo. Loosli stayed sticky and both checked the
river.
Zagalo opened
and Loosli showed
for a set. He now has a slight chip lead.
Nível: 22
Blinds: 12,000/24,000
Ante: 0