$25,750 Pot Limit Omaha High Roller
Dias: 1
$25,750 Pot Limit Omaha High Roller
Dia 1 Concluído
Nível 7 : 500/1,000, 0 ante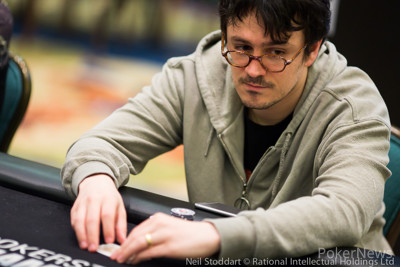 A bit after the aforementioned hand where Isaac Haxton flopped a boat and took the chip lead, he and Ben Tollerene paused the tournament and agreed to chop up the money based on independent chip model (ICM).
Haxton had 105,900 and Tollerene 94,100. As such, the adjusted payouts would be $49,867 for Haxton and $48,133 for Tollerene. Haxton officially won the event.
The original payouts were set to be $63,700 and $34,300.
Originally, the $25K PLO High Roller was set for a 12:30 p.m. start. However, with the Main Event still running and a number of high rollers still playing that, it looked questionable whether the event would even get off the ground. A handful of players mingled about the tournament area as the clock ticked past 12:30, waiting to see if more would show up.
In the end, the tournament director decided to postpone things until 4 p.m. to see if there had been any development. When that time came, four players took seats with 50,000 apiece and got to it: Haxton, Tollerene, Sean Winter, and Lauri Varonen.
Winter served as something of an early punching bag, as other players made huge hands against him a couple of times. He got coolered by Haxton when the latter flopped kings full and Winter turned nines full. Haxton went for a check-raise on the river and got paid. Winter then ran into a boat made by Lauri Varonen and was busto shortly after Level 4 (200/500) began.
A key pot developed between Haxton and Varonen that saw Varonen flop top two and turn a flush draw, while Haxton held top set. They got it in with Haxton holding, which proved to be a major turning point as the Finnish player never got back above the starting stack. Eventually, Varonen got it in good with three pairs — though only top two played — against the bottom two and a straight draw of Tollerene. The American got there, and he took a slightly lead into heads-up play.
That didn't last long, as the two played just a few hands that saw Haxton take the lead before the deal was reached.
Nível 7 : 500/1,000, 0 ante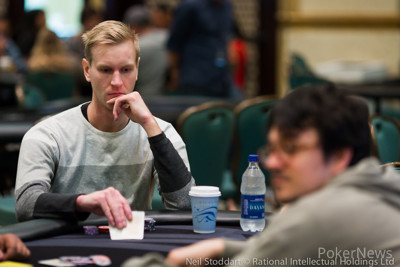 Lauri Varonen called from the small blind and Ben Tollerene raised to 3,000. Varonen called, and the flop fell
. Varonen checked and Tollerene bet 3,000. Varonen made it 15,000, and Tollerene shoved for 30,000 or so effective.
Tollerene:

Varonen:
Varonen held the lead with top two, and the turn was a
, improving neither player. On the river, a
hit, giving Tollerene a straight and knocking Varonen out. He informed the other two players he would not be reentering.
On the first hand of heads-up play, Isaac Haxton flopped top boat with
and got paid off for 10,000 on the river on a board of
. He now has the lead.
Nível 7 : 500/1,000, 0 ante
Ben Tollerene opened to 3,500 first to act and got three-bet to 11,000 by Lauri Varonen. Both checked down the
, and Varonen revealed kings. Tollerene had gotten there on the river:
for two pair.
Nível: 7
Blinds: 500/1,000
Ante: 0
Nível 6 : 400/800, 0 ante
We came upon a big pot between Lauri Varonen (big blind) and Ben Tollerene (button). Varonen had bet 8,100 into a pot of around 12,000 on the end, with
on the felt. Tollerene had raised to what looked like 30,000, and Varonen tanked a couple of minutes and mucked. Tollerene double-checked his cards before dragging the pot, and Varonen chuckled and patted the table.
Nível 6 : 400/800, 0 ante
Lauri Varonen has pulled almost back to the starting stack and is back out of the danger zone.
In one pot, Varonen raised on the button to 2,800 and got action from big blind Isaac Haxton. The board came
. Haxton check-called 4,000 on the flop but folded to a bet near pot on the turn.
Then, Ben Tollerene raised on the button to 2,800 and it was Varonen's turn to defend. Varonen checked the
flop and came out with a raise when Tollerene bet 3,000. The American snap-mucked.
Nível: 6
Blinds: 400/800
Ante: 0
Nível 5 : 300/600, 0 ante
In what looked to be a three-bet pot with about 11,000 in the middle, Isaac Haxton checked a
flop. Lauri Varonen bet 7,000 and Haxton called. The turn was a
and Haxton checked. Varonen bet 20,000, and Haxton thought a bit and put his remaining 42,100 in. Varonen called.
Varonen:

Haxton:
Haxton was in command with a set and needed to dodge a few river cards, namely hearts and threes. The river was a
and Haxton doubled through.
Varonen doubled the next hand through Ben Tollerene in a three-bet pot when
flopped. Varonen got it in with
and held against
.
Nível 5 : 300/600, 0 ante
Ben Tollerene made it 2,100 to go from the button, and Lauri Varonen defended the big blind. Both checked the flop to see a board of
. Varonen checked again and Tollerene bet 2,500. Varonen made it 9,200 and Tollerene called. Varonen fired 22,000 on the
river, and Tollerene tanked a couple of minutes, saying that he thought Varonen might be bluffing. Ultimately, he mucked.
"I thought you might be bluffing, too," Isaac Haxton chimed in.