$250,000 PSPC Super High Roller
Dias: 2
$250,000 PSPC Super High Roller
Dia 2 Iniciado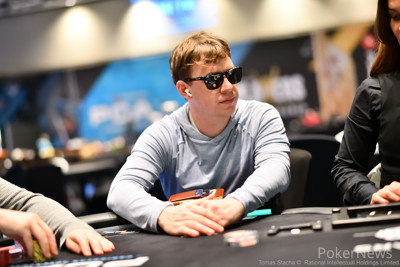 After a brisk four levels of play on Day 1 of the $250,000 PokerStars Players Championship Super High Roller, it was Russia's Artur Martirosian who topped the star-studded field with a stack of 726,000. Next closest was Chris Brewer (547,500) and Henrik Hecklen (465,000) to round out the top three.
A total of 23 unique players joined the action on Day 1 with two needing rebuys to create a massive $6,088,500 prize pool. Late registration and rebuys are still open until the start of Level 9, so that number will be sure to grow.
Many of the best from around the globe took their seat in this prestigious high roller event and some who were fortunate to find a healthy stack include Orpen Kisacikoglu (444,500), Aleksejs Ponakovs (349,500) and recent PokerStars Caribbean Adventure High Roller Champion Isaac Haxton (349,000).
$250,000 PSPC Super High Roller Top 10 Chip Counts
| | RANK | NAME | COUNTRY | CHIPS | BIG BLINDS |
| --- | --- | --- | --- | --- | --- |
| | 1 | Artur Martirosian | Russian Federation | 726,000 | 290 |
| | 2 | Chris Brewer | United States | 547,500 | 219 |
| | 3 | Henrik Hecklen | Denmark | 465,000 | 186 |
| | 4 | Orpen Kisacikoglu | Turkey | 444,500 | 178 |
| | 5 | Aleksejs Ponakovs | Latvia | 349,500 | 140 |
| | 6 | Isaac Haxton | United States | 349,000 | 139 |
| | 7 | Juan Pardo | Spain | 340,000 | 136 |
| | 8 | Stephen Chidwick | United Kingdom | 330,500 | 132 |
| | 9 | Kathy Lehne | United States | 325,000 | 130 |
| | 10 | Seth Davies | United States | 323,500 | 129 |
Day 1 Action
Day 1 started with fireworks in the first couple of hands between Martirosian who found a massive double up off of Andrew Lichtenberger, who held kings. Martirosian rivered the nut-flush with ace-king to leave Lichtenberger with a few big blinds and soon after would hit the exit as the first casualty.
Later in the day Seth Davies would be on the unfortunate end of a bad beat when he called the all in from Kathy Lehne who flopped trip fours holding king-four. Davies had ace-four for the better kicker, but when the river fell the king it was the rivered full house for Lehne that took half of Davies' stack.
Day 2 resumes at 2 p.m. EST with blinds at 1,000/2,500 and a 2,500 big blind ante. There will be ten more one-hour levels played until the remaining players will bag for Day 3 on Thursday, February 2nd at 12:30 p.m.
Be sure to stick with PokerNews to bring you all the up-to-date coverage as we come closer to crowning a new super high roller champion here in The Bahamas.
Nível: 5
Blinds: 1,000/2,500
Ante: 2,500

Nível 5 : Blinds 1,000/2,500, 2,500 ante
Four players boosted the field to 29 entries of which 24 players remain. The late registration remains open for another four levels, however, and the field is expected to increase further.

Nível 5 : Blinds 1,000/2,500, 2,500 ante
Kathy Lehne opened to 6,000 from the cutoff and was called only by Chris Brewer in the big blind. On a flop of
, Brewer check-raised from 6,000 to 20,000 and received a call by Brewer. After the
turn a second flush draw appeared and Brewer checked again.
Lehne made it 30,000 to go and that won the pot without any further resistance.

Nível 5 : Blinds 1,000/2,500, 2,500 ante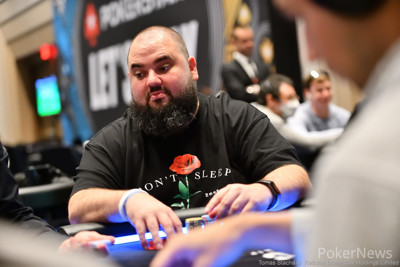 Chris Hunichen had started the day as the far shortest stack and got one open jam through. Artur Martirosian then opened to 5,500 and Orpen Kisacikoglu called in the small blind. Hunichen three-bet jammed for 42,500 in the big blind and Kisacikoglu was the only caller.
Chris Hunichen:

Orpen Kisacikoglu:
On a board of
, the overcards got there on the turn and that spelled the end for Hunichen on the first bullet.
Nível 5 : Blinds 1,000/2,500, 2,500 ante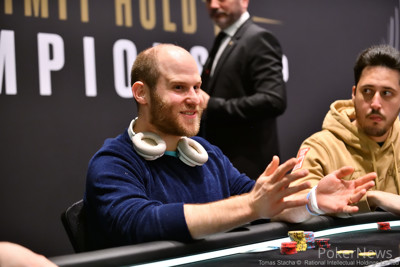 In a heads-up pot with just under 100,000 in the middle on a flop showing
, Sam Greenwood bet out 12,000 from the small blind and was called by David Yan in the cutoff.
On the
turn both players checked their options to the
river. Greenwood took some time before finally checking over to Yan who quickly checked back to a showdown.
Greenwood tabled
for two pair and Yan mucked his hand, sending the early pot to the Canadian.

Nível 5 : Blinds 1,000/2,500, 2,500 ante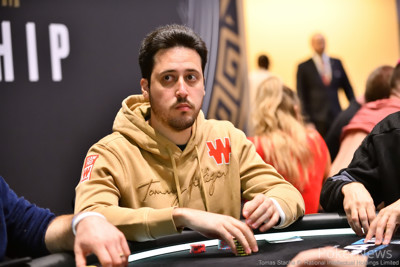 In a battle big blind versus button, Michael Addamo defended against Orpen Kisacikoglu and check-called a small bet on the
flop. Addamo checked again the
turn for Kisacikoglu to bet 21,500 and the Aussie came along.
After the
river, Kisacikoglu fired a third barrel when checked to and made it 64,000 to go. That sent Addamo into the tank while enjoying a massage and he eventually folded.
Artur Martirosian raised to 6,000 from under the gun next and was called by Adrian Mateos in the big blind. Both checked the
flop and Mateos checked the
turn. Martirosian now bet 11,000 for his opponent to call.
On the
river, Mateos checked for the third time and Martirosian upped his sizing to 62,000. More than one time bank was invested by Mateos, who then called and was good with the
as Martirosian had bluffed with the
.
Jogador
Fichas
Oscilação

Artur Martirosian

625,000

-105,000

Orpen Kisacikoglu

540,000

30,000

Adrian Mateos

325,000

118,500

Michael Addamo

212,000

-3,000
Nível 5 : Blinds 1,000/2,500, 2,500 ante
There's never been a better time to find out how to set up a PokerStars Home Games than right now.
PokerStars Home Games allow you to set up a private members club where you can play cash games and tournaments. All games can be for play money and real money, so you don't need to spend anything if you don't want to.
You can invite whoever you want and even keep track of tournament leaderboard standings.
PokerStars Home Games allow you to take the banter of your local home game onto the online felt, even allowing you to play with poker friends from all over the world.
Here is our quick and easy five-step guide to setting up a PokerStars Home Game of your own.
Nível 5 : Blinds 1,000/2,500, 2,500 ante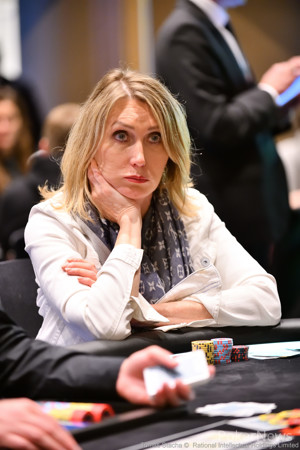 Jean Thorel opened the action from under the gun to 6,000, and both Kathy Lehne in the small blind and Seth Davies in the big blind came along.
The flop fanned out
and both Lehne and Davies checked to Thorel who continued for 6,000. Lehne quickly called and Davies got out of the way.
On the
turn both players checked to the
and after some thought, both checked to a showdown. Lehne rolled over
for ace-high and Thorel tossed his cards into the muck.
On the very next hand, Lehne opened to 10,000 on the button and both Davies and Thorel called from the blinds. The flop came
and play checked to Lehne who sized to 30,000, which only Thorel called.
On the
turn Thorel checked a second time and Lehne put the pressure on with a bet of 75,000. Thorel took a few seconds to weigh his options, but in the end made the fold and another pot was sent to Lehne.