MPO Main Event
Dia 1a Iniciado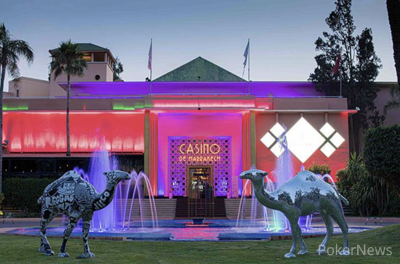 Welcome to the luxurious Casino de Marrakech for the 55th edition of the popular Marrakech Poker Open. For its last edition in September 2022, this event gathered 426 entrants and Spain's Diego Sarmiento was the ultimate player standing up, bringing home MAD1,000,000 Moroccan (€100,000) for his efforts.
The festival got underway earlier this week, and has already seen many famous faces gathering for the first events. The Spanish player "Juan Antonio" started the festivities by winning The Opener for MAD 145,000 (€13, 000), while Mohamed Ali Hossam took down the Warm-Up for MAD 56,000 ( €5,000). The MPO Deepstack attracted 234 participants, and at the end of the night, Wednesday March 15th , it's well known French player Guillaume Darcourt who took the trophy and the MAD 230, 000 prize (22,000).
There are two starting flights in the MPO Main Event, running on March 16 and March 17. Everyone sits down with a generous helping of 30,000 chips and play to a 45-minute clock. Re-entries are permitted on each flight up to the end of the eighth level, which is when late registration slams shut.
The schedule included 27 tournaments with in a wide range of buy-ins, and the players may also get their shot at a trophy thanks to some interesting side events, such as a Monster Stack event, a Mystery Knock Out and a High Roller. The festival will conclude with a Final Showdown and a Super High Roller Event which comes with a buy-in of DH 30,000 ($3,000).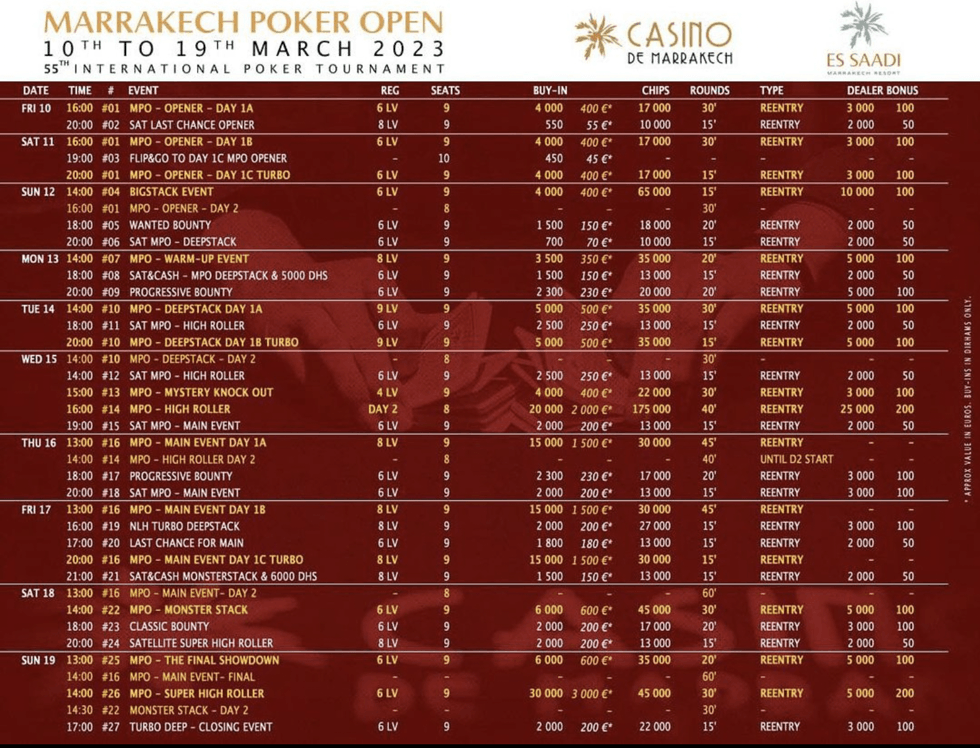 Tournament officials have announced that there will be twelve levels of 45 minutes today with a 20-minute break every three levels. Cards will be in the air at 1 p.m local time and a one hour dinner break will take place around 8.30 p.m, meaning the remaining players can expect to end their day at approximatively midnight.
Stay tuned to PokerNews for all the updates throughout the day under the Moroccan sun!
There are currently five players registered for the tournament and due to the late registration still open for the High Roller, the tournament director is discussing the structure of the day.
The start of the tournament has been delayed to approximately 2:00 p.m.
Nível: 1
Blinds: 100/100
Ante: 0
Nível 1 : Blinds 100/100, 0 ante
The cards are now in the air for Day 1A of the 55th Marrakech Poker Open Main Event from the Es Saadi Casino. There are 17 players to begin the day, and players will be playing twelve 45-minute levels before tagging for Day 2.
Nível 1 : Blinds 100/100, 0 ante
Jogador
Fichas
Oscilação

El Mostafa Belkhayate

30,000

30,000

Rosalie Petit

30,000

30,000

Nicolas Dieu

30,000

30,000

Linda Hamdi

30,000

30,000

Jeremy Thambo

30,000

30,000

Achille Voltolina

30,000

30,000

Karim Lehoussine

30,000

30,000
Nível 1 : Blinds 100/100, 0 ante
In a three-way raised pot, the dealer showed a flop
when the players in the blinds checked to Guillaume Darcout who bet 1,000. Both the small blind and El Mostafa Belkhayate in the big blind called.
The turn revealed a
and this time Belkhayate bet 4,000 after it was checked to him. Only Darcourt called.
A
completed the board on the river and Belkhayate fired 10,000. Darcourt took a minute and eventually made the call. Belkhayate tabled
for a missed flush draw and the French player, who won the Deepstack event last night for MAD 230 000, took down the big pot with
for two pairs.
Nível 1 : Blinds 100/100, 0 ante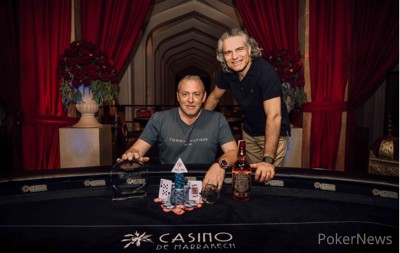 The 55th Marrakech Poker Open continues to fill up, with Day 1a of the Main Event starting today and where many well-known faces are expected. After "Juan Antonio" and Mohamed Houssam Ali, winners of the Opener and Warm-Up respectively, it's the turn of French player Guillaume Darcourt to lift a trophy by winning the Deepstack for 230,000 MAD (€21,000).
The 5,000 MAD buy-in event brought together 234 entrants to create a prize pool of 1,017,900 MAD (€92,500) . After dominating the final table, the former PMU player then defeated Endravuz Lahdro in heads-up play to add this new victory to his record.
'The Boa' has now reached the $1.5 million mark in live tournament earnings according to Hendon Mob, and signs a second performance on Moroccan soil this year after reaching the Mini Main Event final of the WSOP Circuit in January for around €27,000 and the Opener final just a few days ago.
As for Lahdro, he was able to console himself with 153,000 MAD (€14,000) for his performance, his second runner-up finish on this festival after having already finished second in the Opener for 98,000 MAD. Also noteworthy is the beautiful 5th place of Linda Hamidi (6 000 MAD -€5500), 8th for Laurent Azoulay (27 000 MAD - €2500) and 9th for Isabel Baltazar (21 000 MAD - €1905).
Deepstack MPO Final Table Results
| Place | Player | Prize (in MAD) | in Euros |
| --- | --- | --- | --- |
| Winner | Guillaume Darcourt | MAD 230 000 | €21 000 |
| Runner-up | Endravuz Lahdro | MAD153 000 | €14 000 |
| 3th | Amer Benmoumen | MAD 108 000 | €9 800 |
| 4th | Henri Dupont | MAD 79 000 | €7 200 |
| 5th | Linda Hamidi | MAD 60 000 | €5 500 |
| 6th | Issam Benhaddou | MAD 45 500 | €4 200 |
| 7th | Ali Habbad | MAD 35 400 | €3 300 |
| 8th | Laurent Azoulay | MAD 27 000 | €2 500 |
| 9th | Isabel Baltazar | MAD 21 000 | €1 905 |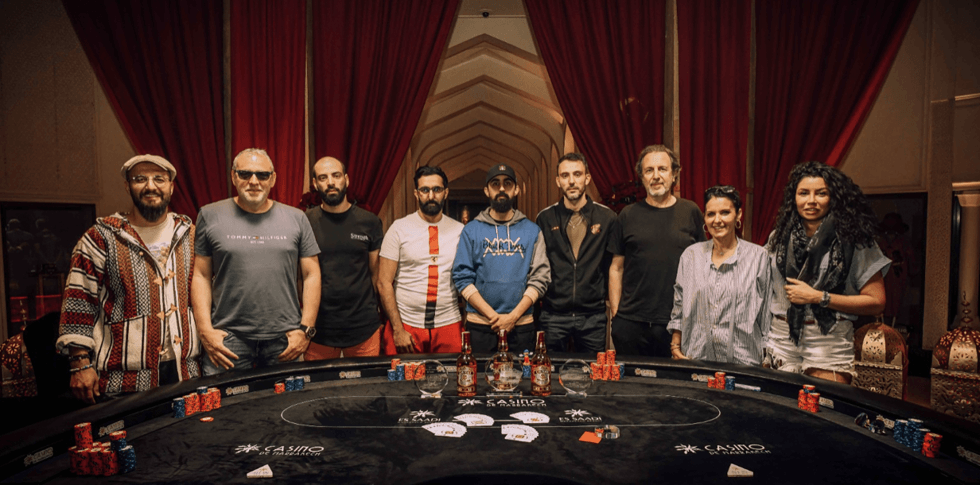 Nível 1 : Blinds 100/100, 0 ante
Nicolas Dieu started the action by raising to 300 and his opponent in the hijack three-bet to 700. The big blind player made the call and Dieu announced a four-bet to 3,300. The hijack five-bet to 5,700 and after some thinking, Dieu called after the big blind folded.
The flop gave
and Dieu quickly check-folded this time when his opponent continued for 3,500.
Jogador
Fichas
Oscilação

Nicolas Dieu

28,500

-1,500
Nível 1 : Blinds 100/100, 0 ante
The action was caught on a board
with around 7,000 in the middle. Linda Hamdi had bet 3,000 and was facing an all-in raise from El Mostafa Belkhayate worth 11,400. After some consideration, Hamdi announced the call and the cards were tabled:
El Mostafa Belkhayate:

Linda Hamdi:
Belkhayate had already hit a straight and the
bricked on the river, giving him the pot and the early double up.