MPO Main Event
Dia 1a Concluído
Nível 12 : Blinds 1,000-2,000, 2,000 ante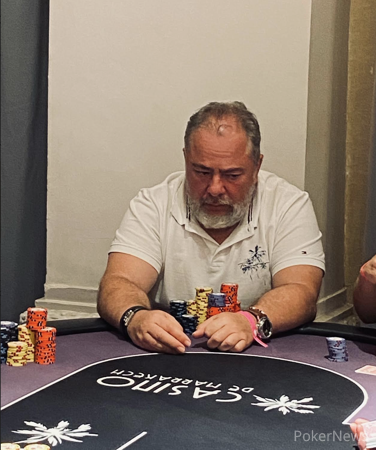 A grand total of 70 entries took to the felt in the beautiful Casino de Marrakech during Day 1a of the 55th edition of Marrakech Poker Open MainEvent.
After twelve levels of play, 14 of them have found their path to Day 2 and are still in the running for the trophy. Claiming the chip lead for Day 1a is Franck Eburderie with a massive 423,000 in chips.
It was a slow start today with five players that were registered at the start of the event, and tournament's director decided to delay the shuffle up and deal for one more hour.
Many regulars of Marrakech events, including Sabry Ferhaoui (188,000), Kamal Jbirane (85,000) and Rosalie Petit (62,000) found a bag tonight and will be back Saturday at 1 p.m as the bubble approaches.
Member of 888poker Team Lucia Navarro, and French famous players Paul Tedeschi, Karim Lehoussine, Roger Tondeur and WSOP ring winner Cecile Ticherfatine also took a seat today but didn't make it untill the end of the day.
Guillaume Darcourt, who just won the MPO Deepstack the day before for MAD 230 000 (€21,000), was constantly in the action over the course of the day but ended up busting during the last level not long after losing an important pot versus Nuno Correia.
Another notable also joined the field today but hit the rail, Stephane Albertini, who lost his last chips against Tondeur before the dinner break, followed not long after by Remi Castaignon who had his flush beat by the nut flush from Eburderie in a massive pot.
Play resumes tomorrow at 1 p.m for Day 1B of the Main Event, while the High Roller is still in action on the feature table with five players left, so stay tuned to PokerNews for a full new day of action and all the updates from the Marrakech Poker Open festival.
Nível 12 : Blinds 1,000-2,000, 2,000 ante
Jogador
Fichas
Oscilação

Franck Eburderie

423,000

-24,000

Francisco Moreno

324,500

151,500

El Mostafa Belkhayate

220,000

143,000

Nuno Correia

196,000

10,000

Sabry Ferhaoui

188,000

-14,000

David Fialho

183,500

103,500

NC Hakim

166,000

166,000

Rabah Ait Abdelmalek

85,000

Kamal Jbirane

75,000

Patricia Poli

64,000

28,000

Rosalie Petit

62,500

17,500

Nicolas Dieu

56,000

-56,000

Anthony Giarrana

49,000

15,000

Kader Slila

43,500

-11,500
Nível 12 : Blinds 1,000-2,000, 2,000 ante
In a heads-up situation, the flop was
when Kamal Jbirane checked to Rabah Ait Abdelmalek who tossed a pile of 5,000-chip in front of him, putting Jibrane at risk for his last 38,000. The latter quickly called and they tabled their cards:
Kamal Jbirane:

Rabah Ait Abdelmalek:
Jbirane's set of sevens held on the
turn and
river and he managed to double his stack right before bagging and tagging.
Nível 12 : Blinds 1,000-2,000, 2,000 ante
Ten minutes remain in Level 12, and the tournament clock has now been stopped with the tournament clock displaying 14 players still in contention. Three hands will be played before players bag and tag their chips.
Nível 12 : Blinds 1,000-2,000, 2,000 ante
Mael Brunel, down to only 8,700 chips left, open-shoved in middle position and it folded to Rabah Ait Abdelmalek who called in the big blind.
Mael Brunel:

Rabah Ait Abdelmalek:
Brunel had good hopes for a double up when the flop
appeared, but couldn't find one of the outs he needed on the
turn and
river to found himself eliminated before the end of the day.
Nível 12 : Blinds 1,000-2,000, 2,000 ante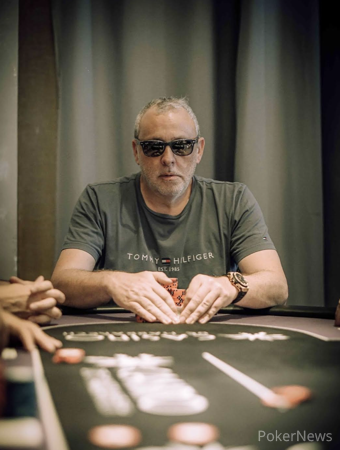 The action was caught on a paired board
with two players involved. Guillaume Darcourt checked and faced a bet worth 36,500 from Nuno Correia, putting him into a decision.
After some time, Darcourt eventually called but only to muck his hand when he was showed
by Correia for two pair.
Down to 17,000 chips left, the French player and recent winner of the MPO Deepstack event busted a few minutes after that hand.
Nível 12 : Blinds 1,000-2,000, 2,000 ante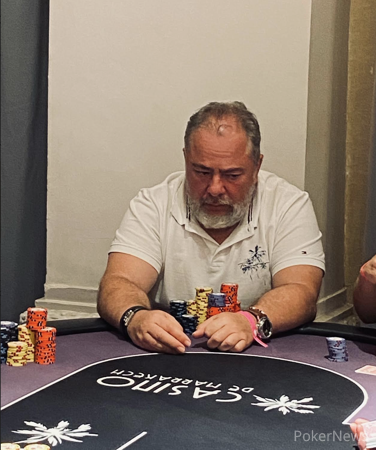 The action was caught when the board
was already dealt and with pot containing around 105,000 chips.
Three players were involved. Remi Castaignon was first to act in the big blind seat and announced all in for 50,400. Rosalie Petit went deep into the tank with a slightly lower stack before eventually folding. Franck Eburderie quickly announced "Nuts!" before sending a chip for the call and showed
for the nut flush.
Castaignon revealed
for a lower flush before exiting the tournament's area and Petit told to the table she folded
for the straight.
Nível: 12
Blinds: 1,000/2,000
Ante: 2,000
Nível 11 : Blinds 800-1,600, 1,600 ante
In a three-way raised pot, the flop showed
when Franck Eburderie checked to Remi Catsaignon who bet 5,600. Guillaume Darcourt let it go and Eburderie called.
The turn brought the
and this time Eburderie check-folded after Castaignon bet 10,000.