$2,500 Championship Event
Dias: 1a
$2,500 Championship Event
Dia 1a Concluído
Nível 11 : 600/1,200, 100 ante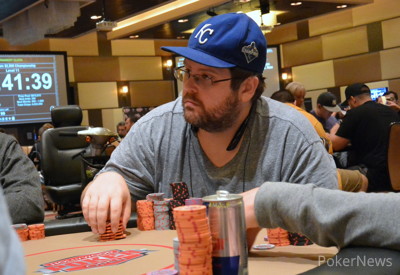 The first of two starting flights for the Hollywood Poker Open Season 4 Championship Event drew 273 entries at the luxurious M Resort Spa Casino on Thursday.
With registration and unlimited reentries available all the way through the start of Day 2, the field built slowly, but built indeed, laying to waste the $2,500 buy-in event's $500,000 guarantee with one starting flight still to come.
With hundreds of qualifiers flying in from around the country, and a ton of top pros in Las Vegas looking for a chance to take a day off from the 2016 World Series of Poker and still grind, the Hollywood Poker Open Championship has traditionally drawn big numbers, and even more are expected Friday.
Through the first three seasons of this event, the average field size approached 700 entries with an average first-place prize of $340,000.
After 11 levels of play, Kansas City's Frank Patti grabbed the chip lead on over 250,000. Only Spain's Javier Gomez was really close.
A total of 83 players survived the day, including top pros Jamie Rosen, Ray Henson, Randal Flowers, Steven van Zadelhoff, Aaron Mermelstein, Toby Lewis, Dan O'Brien, Shannon Shorr, Justin Oliver, Chris DeMaci, JP Kelly, Anthony Spinella, Michael Tureniec, Justin Young, and Neil Blumenfield.
The entire group will return to play Day 2 Saturday at 11 a.m. local time, but the HPO Season 4 Championship Event continues Friday with the second of two starting flights.
Play will kick off at 11 a.m. local time and PokerNews will be on hand to provide tournament coverage from start to finish.
Nível 11 : 600/1,200, 100 ante
Jogador
Fichas
Oscilação

Frank Patti

252,900

22,900

Javier Gomez

224,700

-300

Randal Flowers

209,900

9,900

Pavel Veksler

197,000

Hans Hein

178,400

Tom Middleton

176,500

151,500

Dustin Murphy

163,000

81,000

William Byrnes

150,800

Jamie Rosen

146,900

146,900

Ray Henson

142,900

32,900

Zo Karim

140,900

115,900

Jim Kasputis

137,800

Romualdo Deyer

130,900

Chris DeMaci

124,300

19,300

James Gettinger

124,100

-35,900

Bob Redman

123,200

69,200

Matty Levine

116,700

Rachel Kranz

111,400

Brian Mancilla

110,600

-14,400

Anthony Spinella

107,200

52,200

Michael Tureniec

105,100

56,100

JP Kelly

104,000

54,000

Justin Young

101,100

11,100

Dan O'Brien

100,800

Marc MacDonell

98,300
Nível 11 : 600/1,200, 100 ante
The clock was stopped with ten minutes left in the 11th level and a draw was conducted to determine the number of hands each table will play before bagging up stacks. They drew a three.
A recap of the day's action and full chip counts are coming up next.
Nível 11 : 600/1,200, 100 ante
Randal Flowers reentered, then spent an hour winning every single hand he played.
This included getting it in with
versus
and busting Joseph Cheong with
versus
, getting it in on a
flop with Cheong clinging to the slim hope of a back-door flush draw and wheel draw.
Flowers' dominating hand held and he now sits around 200,000 as the clock ticks down nearing the end of the day.
Nível 11 : 600/1,200, 100 ante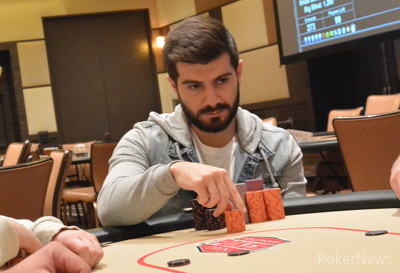 Javier Gomez' climb to spot near the top of the chip counts has been of the slow and steady variety.
The Spaniard told PokerNews he hasn't been involved in any massive confrontations or huge pots all day, instead finding a way to incrementally increase his stack throughout.
He's got more than 200,000 now and threatening to grab the overnight lead.
Nível 11 : 600/1,200, 100 ante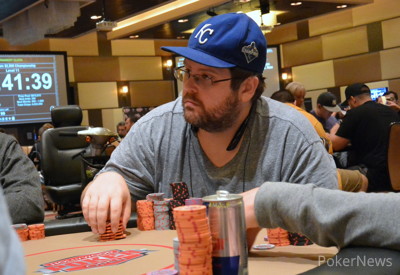 Kansas City's Frank Patti says he lost the biggest pot he's played all day.
However, he's won enough small ones to push up to 230,000 and into the lead here in the day's final level.
The winner of the Heartland Poker Tour stop in his home town in 2015, Patti looks like a lock to bag big here and should be worth watching in the days to come.
Nível: 11
Blinds: 600/1,200
Ante: 100
Nível 10 : 500/1,000, 100 ante
"I've just been losing 15% of my chips in so many hands," Ludovic Geilich said before we enquired how he got knocked out.
Geilich raised with
to 2,300 and the player in the big blind move all in for his final 10 big blinds. Geilich called and lost to
.
On the very next hand Geilich moved all in for seven big blinds with ace-four and he got called by the player he had just doubled up. Geilich was up against king-queen and he didn't manage to win.
Nível 10 : 500/1,000, 100 ante
WSOP Casino Employees Event bracelet winner Chad Holloway will likely not be adding a Hollywood Poker Open title to his trophy case.
He open shoved the
running into pocket nines for his last 20,000 and failed to improve.
Unless the the media mogul's summer package includes another bullet in this thing tomorrow, he's out.