GGSF Main Event-H: $1,500 NLHE, $10M GTD [Day 2]
Dias: 2
GGSF Main Event-H: $1,500 NLHE, $10M GTD [Day 2]
Dia 2 Concluído
Nível 32 : 3,500,000/7,000,000, 850,000 ante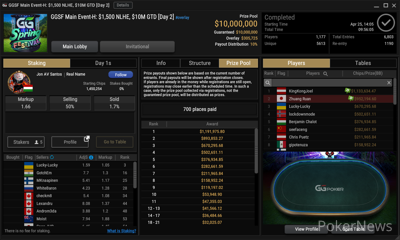 It took nearly 10 hours, but "KingKongJoel" emerged the winner of GGSF Main Event-H: $1,500 NLHE, $10M GTD for a top prize of $1,133,634. They made their way through a 6,803 Day 1 entries, who combined into 1,177 runners for Day 2 action.
The entries on Day 1 weren't quite enough to meet the massive $10 million guarantee, but they were close, only leaving $305,725 of overlay. With $10 million to play for, the top prize was originally set at $1,191,976, but a deal heads up at the break dropped that down a little to sweeten the pot for second.
The Final Table
| Place | Player | Country | Prize |
| --- | --- | --- | --- |
| 1 | KingKongJoel | Austria | $1,133,634 |
| 2 | Zhuang Ruan | Japan | $952,195 |
| 3 | Lucky-Lucky | Ukraine | $670,296 |
| 4 | Mats "lockdownmode" Ullereng | Norway | $502,651 |
| 5 | Benjamin Chalot | France | $376,935 |
| 6 | seefaceng | China | $282,662 |
| 7 | Christopher Puetz | Germany | $211,966 |
| 8 | gipotenuza | Mexico | $125,952 |
| 9 | Samuel Vousden | Finland | $119,197 |
Day 2 Action
There were 1,177 players seated for the start of Day 2 action today, out of 6,803 total entries across the Day 1 flights. That wasn't quite enough to hit the optimistic guarantee of $10 million, leaving a bit more than $300,000 in overlay.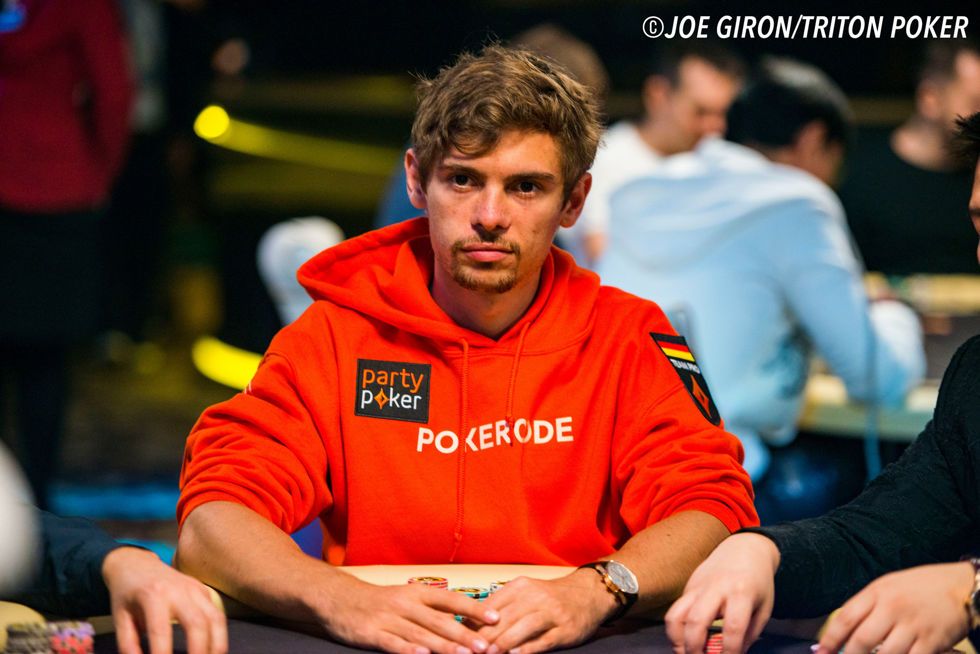 Action went very quickly from the start, with the field playing down into the 700 money spots barely an hour after they started for the day. A couple hours later it was down to 250 players left and along the way, players like GGPoker ambassador Fedor Holz, Mikita Badziakouski, Lucas Greenwood, and start of day chip leader "Cmon_gasquet" lost their stacks for cash.
It was a quick trip down to 100 players and along the way Niall Farrell surged into the chip lead for a while on the back of a hand where he got paid off big with aces. Triple bracelet winner Adrian Mateos, along with Luuk Gieles and Oleg "Ad Astra" Vasylchenko couldn't keep their chips however.
Farrell ultimately made it to 38th place for a score of $21,658, and a few of the other players joining him at the cash desk as they played down to the final few tables were GGPoker ambassador Bertrand "Elky" Grospellier, Damian Salas, Rainer Kempe, and Connor Drinan.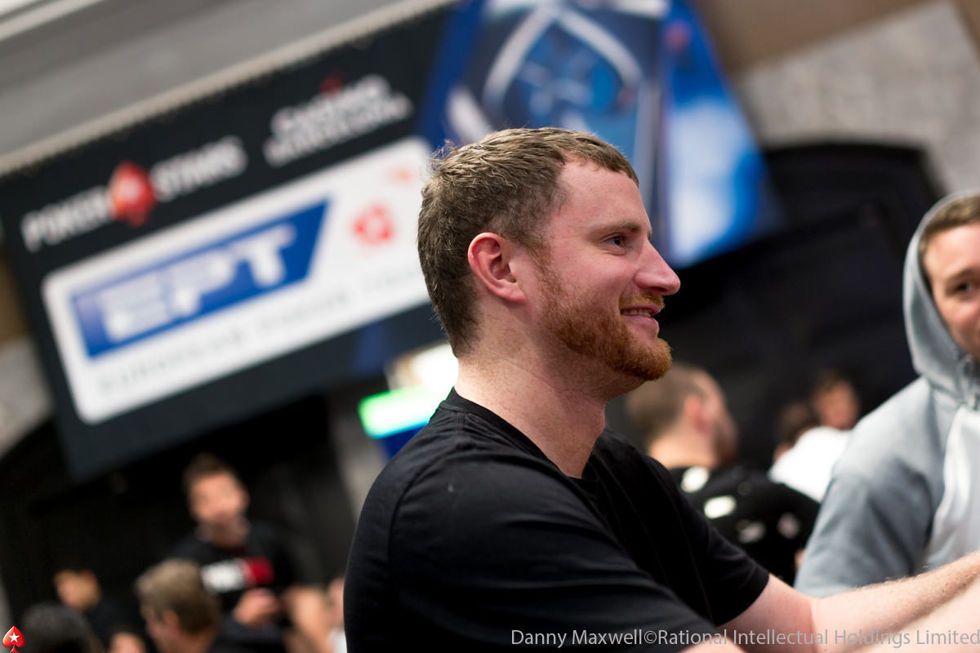 David Peters jumped into the lead as he completed a pair of beats on Sriharsha "Upswinger" Doddapaneni, busting Doddapaneni with nine-seven over jack-ten immediately after Doddapaneni's kings had been cracked by the big slick of eventual winner "KingKongJoel".
With 26 players left, Peters was still in the mix with about 25 million, while Helio "TeuCu" Neves was leading the way with more than 60 million. Neither would make the final table, however, with Neves falling in 11th, and Peters bubbling the final table in 10th. Peters may have had a consolation prize however ... around the same time he was winning H-106: $5,250 Bounty Hunters Main Event for just under $300,000.
Action finally slowed down a bit to start the final table, but it picked up again once "seefaceng" ran their ace-queen into the aces Zhuang Ruan for 6th place, and Benjamin Chalot, Mats "lockdownmode" Ullereng, and "Lucky-Lucky" quickly followed them to set up heads up play.
Ruan and "KingKongJoel" started heads up fairly even, but "KingKongJoel" quickly ran up a lead. After a few hands, the two players agreed to a deal just before the final break, and it all ended in the first hand after the break when Ruan shoved king-deuce, but the four-five of "KingKongJoel" got there for the win.
Nível 32 : 3,500,000/7,000,000, 850,000 ante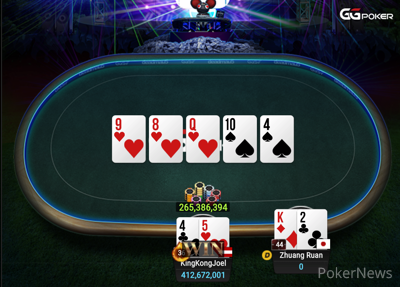 The final two players agreed to a deal over the break, and it all ended after the break when Zhuang Ruan shoved a bit more than 130 million and "KingKongJoel" called with the most.
"KingKongJoel":

Zhuang Ruan:
Board:
It looked good for Ruan to double with their king-high, but the four on the river sent the win to "KingKongJoel".
Nível 32 : 3,500,000/7,000,000, 850,000 ante
"KingKongJoel" took another pot without showdown just before the break after calling Zhuang Ruan's three-bet pre-flop and calling another bet on the
flop. When Ruan checked the
turn, "KingKongJoel" fired more than 31 million and took down a pot near 100 million.
Nível: 32
Blinds: 3,500,000/7,000,000
Ante: 850,000
Nível 31 : 3,000,000/6,000,000, 750,000 ante
Zhuang Ruan gave up a 162 million pot after calling pre-flop, then check-calling the flop and turn before folding the river of
.
Nível 31 : 3,000,000/6,000,000, 750,000 ante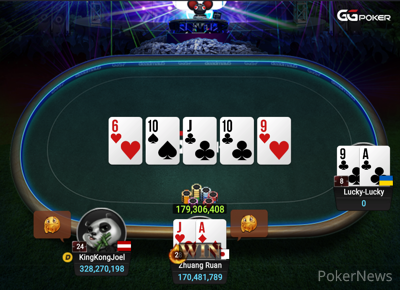 "Lucky-Lucky" shoved the small blind for more than 88 million, and Zhuang Ruan called in the big blind with more. Ruan had the best ace and held to take the lead into heads up.
Nível 31 : 3,000,000/6,000,000, 750,000 ante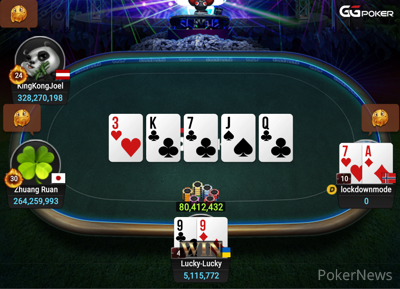 Mats "lockdownmode" Ullereng shoved from the button with ace-seven but ran into the nines of "Lucky-Lucky" for 4th place.
Jogador
Fichas
Oscilação

KingKongJoel

328,270,198

42,896,892

Zhuang Ruan

264,259,993

-50,600,000

Lucky-Lucky

85,528,204

59,467,210

Mats "lockdownmode" Ullereng

Eliminado
Nível: 31
Blinds: 3,000,000/6,000,000
Ante: 750,000
Nível 30 : 2,500,000/5,000,000, 600,000 ante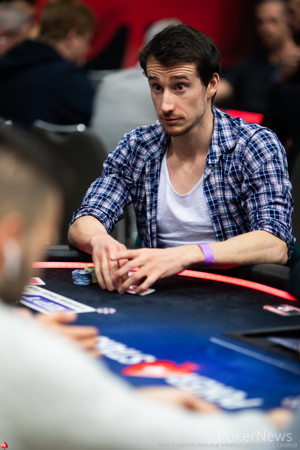 It was a huge race blind on blind after Benjamin Chalot limped the small blind, then shoved over the raise from Zhuang Ruan. Chalot had ace-king against the tens of Ruan, and the tens held for a massive pot for Ruan.
Jogador
Fichas
Oscilação

Zhuang Ruan

314,859,993

131,962,017

KingKongJoel

285,373,306

-1,200,000

Mats "lockdownmode" Ullereng

51,764,102

-1,200,000

Lucky-Lucky

26,060,994

-3,700,000

Benjamin Chalot

Eliminado