€50,000 Super High Roller
Dias: 3
€50,000 Super High Roller
Dia 3 Concluído

Nível 25 : 120,000-240,000, 30,000 ante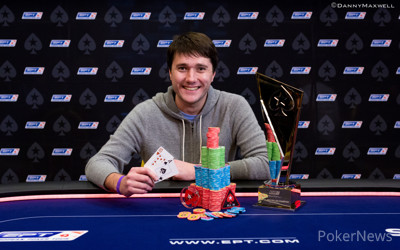 The 2014 European Poker Tour Prague €50,000 Super High Roller concluded on Thursday after Leonid Markin topped the 51-entry field to win the €771,360 first prize and etch his name on the trophy. Markin battled through the impressive field and tough final table before he met with Paul Newey in heads-up play. The two went back and forth, but in the end Markin proved to be too strong for Newey.
The day began when seven players returned for final-table action, all guaranteed a minimum of €128,565 after the bubble burst the previous night. Along with Markin and Newey, the final day included Brian Roberts, Juha Helppi, Vladimir Troyanovkiy, Ivan Soshnikov, and Stephen Chidwick.
Roberts started the day with only seven big blinds, but it didn't stop the American pro and former 2 Months 2 Million star from winning several hands and sticking around for almost two hours. Unfortunately, that's all he would last before he became the first player eliminated. Following a raise preflop from Newey, Roberts called and the flop came down
. Roberts thought for a minute before sliding out a bet only to have Newey shove over the top with enough chips to have him covered. Roberts eventually made the call with the
, but he was in trouble against Newey's pair of kings. No help came for Roberts, and the field was down to six.
Thirty minutes later and the table lost the first of its three Russian competitors. Troyanovskiy opted to move all in for half a million in chips after Markin opened with a raise to 160,000 from the button. The shove was called, and Troyanovskiy found himself dominated holding the
against Markin's
. Troyanovskiy took the lead when the flop came
and held after the
dropped on the turn, but the river would bring the
to give Markin a higher pair and the winning hand.
The next elimination then had to wait an hour to lose before the next Russian player, Soshnikov, hit the rail. Chidwick raised to 160,000 from the cutoff seat before Newey bumped it up to 425,000 on the button. Soshnikov looked down at his cards before moving all in for 730,000. That was enough to scare off Chidwick, but not Newey. He called, and Soshnikov would need plenty of help holding pocket tens against Newey's pocket kings. The help he needed wouldn't come as the board ran out
, and Soshnikov took his leave.
The longest hand in the tournament saw the demise of Helppi, as the man from Finland finished in fourth place. Markin raised to 160,000 from the cutoff seat and was called by Helppi from one of the blinds. On the flop of
, Markin threw out a continuation bet of 160,000 after Helppi checked. Helppi quickly check-raised to 400,000, but he was met with an instant all-in shove totaling 4.5 million from Markin. The shove took Helppi by surprise and he went into the tank — for eight minutes. During that time, he asked Markin several different questions to try and get a response that would make his decision easier. Finally, Helppi called only to have his
dominated by Markin's higher pair of queens. The
and
completed the board, and the field was down to three.
Three-handed play lasted almost three hours with all three players playing conservatively and not putting themselves at too much risk. Then in a crucial hand, Newey opened on the button before Chidwick came over the top with an all-in raise. Newey snap-called and was superior shape wiht pocket aces up against the younger Brit's pocket nines. The board didn't help Chidwick, and he dropped down to just over 1 million in chips as Newey climbed up to almost 5 million.
Shortly after, Chidwick open-shoved from the button and Markin quickly called from the big blind with two aces. Chidwick's
was drawing dead on the turn as the board ran out
, and that brought about heads-up play.
It could all have been over in one of the first hands of heads-up play. With blinds at 80,000/160,000, Markin raised it up to 480,000 from the button. After a short pause, Newey went all in for 4.4 million. Markin snapped and tabled his
. He was behind to Newey's
, and the board ran out
. Newey doubled to almost 9 million, whereas Markin dropped to around 4 million.
For three hours, the two exchanged pots and the chip lead constantly changed. On the final hand, Markin opened with a raise from the button before Newey moved all in for 4 million in chips. Markin instantly made the call and found himself in front with the
to dominate Newey's
. Although the flop brought two diamonds, the remaining two cards would not help Newey and Markin was crowned champion.
Final Table Results
| Place | Name | Prize |
| --- | --- | --- |
| 1 | Leonid Markin | €771,360 |
| 2 | Paul Newey | €557,090 |
| 3 | Stephen Chidwick | €355,070 |
| 4 | Juha Helppi | €269,360 |
| 5 | Ivan Soshnikov | €208,150 |
| 6 | Vladimir Troyanovskiy | €159,170 |
| 7 | Brian Roberts | €128,565 |
After his victory, Remko Rinkema caught up with an extremely happy Markin to talk about his win:
With that, PokerNews will be focusing its coverage on the EPT Prague Main Event that began with Day 1a today. We'll also be covering the €10,300 High Roller in a couple of days, so be sure to stay tuned right here to these pages for more live action straight from the tournament floor in Prague.
Nível 25 : 120,000-240,000, 30,000 ante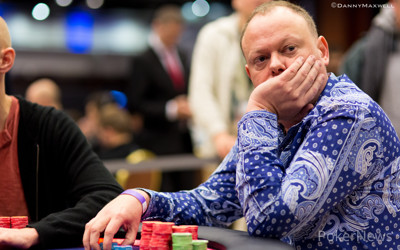 In the final hand of the night, Leonid Markin raised to 480,000 from the button. Paul Newey then moved all in for approximately four million in chips and was called instantly.
Newey:

Markin:
Newey was at risk with the dominated hand but received some additional outs when the flop came down
. Unfortunately he would miss his sevens and diamonds as the turn and river produced the
and
.
Newey pockets €557,090 for his efforts over the last three days.

Nível 25 : 120,000-240,000, 30,000 ante
Again no big pots, and certainly no all ins. Leonid Markin has called over a masseuse who's massaging his neck and shoulders right now. That's about as interesting a fact as we can describe right now, both players are cautious and avoid big pots at the moment.
Nível 25 : 120,000-240,000, 30,000 ante
Leonid Markin limped in from the button and Paul Newey checked from the big blind.
The flop came down
and Newey bet out 275,000. Markin made the call as the
fell on the turn.
Newey then cut out a bet totalling 525,000 in chips and slid it into the middle. Markin was not interested as his cards flew into the muck.

Nível 25 : 120,000-240,000, 30,000 ante
Paul Newey has pushed once more over a 480,000 raise from markin, but Markin folded. Newey then opened to 480 himself, but folded to a 1 million three bet. So nothing really has changed, though you can feel there's something going to in the near future.
Nível 25 : 120,000-240,000, 30,000 ante
Hungarian pro Balazs Botond took down the Eureke Poker Tour Main Event in Prague for a total of €206,948. We spoke to him right after his victory and he expressed how much this means to him.
Nível 25 : 120,000-240,000, 30,000 ante
In the first hand back from the break, Leonid Markin raised it up to 480,000. Paul Newey then quickly announced all in for more than 4.2 million in chips.
"So you don't want to see the flop," mumbled Markin to himself.
Markin then let go of his hand as Newey took down the pot.
Nível: 25
Blinds: 120,000/240,000
Ante: 30,000

Nível 24 : 100,000-200,000, 30,000 ante
They have opted not to go to dinner, so they'll be back in 20 minutes.