€100,000 EPT Super High Roller
Dias: 3
€100,000 EPT Super High Roller
Dia 3 Concluído
Nível 24 : Blinds 100,000/200,000, 200,000 ante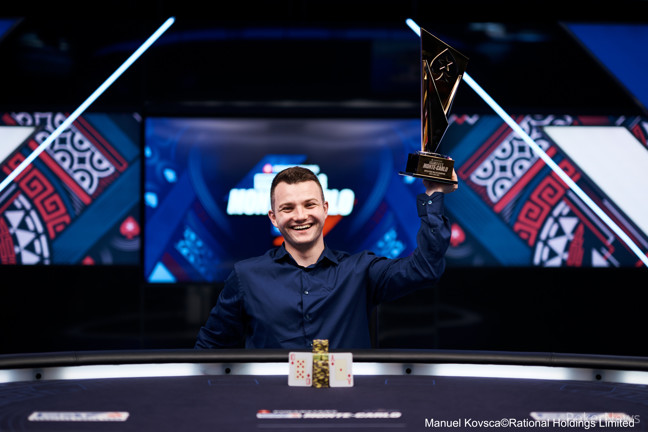 The €100,000 EPT Monte Carlo Super High Roller from the 2023 PokerStars European Poker Tour presented by Monte-Carlo Casino®️ has wrapped up on its third day of play with Alex Kulev taking home the trophy, title, and first-place spoils.
The surviving seven players from a field of 37 who returned to the felt today battled it out for the lion's share of the €3,589,740 prize pool. Kulev received €1,036,287 for the win after defeating Mikita Badziakouski in heads-up play. The final two agreed on a heads-up ICM deal, with Badziakouski also getting an extra €3,500. The duo would then compete for the remaining €43,074 as well as bragging rights.
The win marked Kulev capturing his first major title and his exploits on the felt secured the biggest score of his career. It also pushed him over the $2.5 million mark in live tournament earnings.
Final Table Payouts
| Place | Player | Country | Prize (EUR) | Entries |
| --- | --- | --- | --- | --- |
| 1 | Alex Kulev | Bulgaria | €1,036,287* | 1 |
| 2 | Mikita Badziakouski | Belarus | €1,009,853* | 1 |
| 3 | Ben Heath | United Kingdom | €556,400 | 1 |
| 4 | Artur Martirosian | Russia | €412,800 | 1 |
| 5 | Adrian Mateos | Spain | €323,100 | 1 |
| 6 | Orpen Kisacikoglu | Turkey | €251,300 | 1 |
Winner's Interview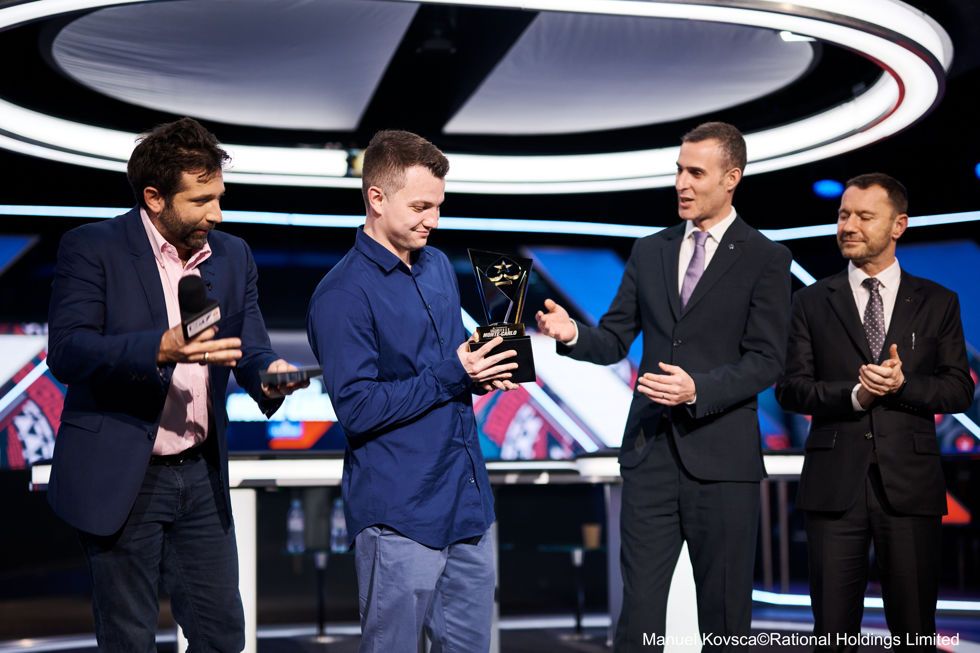 "I was really fortunate throughout the whole event. This whole occasion is so very special to me. It's my first big live event and I love the city, I love PokerStars, and I really appreciate the chance that I get to perform on the stage," a delighted Kulev told PokerNews.
Kulev came into the final day as the chip leader, but that doesn't always mean going the distance. There have been many instances of the big stack falling short of the final hurdle, but it wasn't a concern for the champion.
"I did have the confidence [to win]. But in our game, when especially with this calibre of players that were at this final table, luck plays a major factor. So I just got very lucky in all the right moments."
As always, the Super High Rollers bring out poker's elite players and Kulev pointed to that challenge as why he loves playing in these fields.
"That's one of the main reasons why I played this game. To play against opponents who, you know, are extremely good, and they give me a chance to improve by observing them. The whole challenge is what captivates me and excites me to play," added Kulev.
Action from Day 3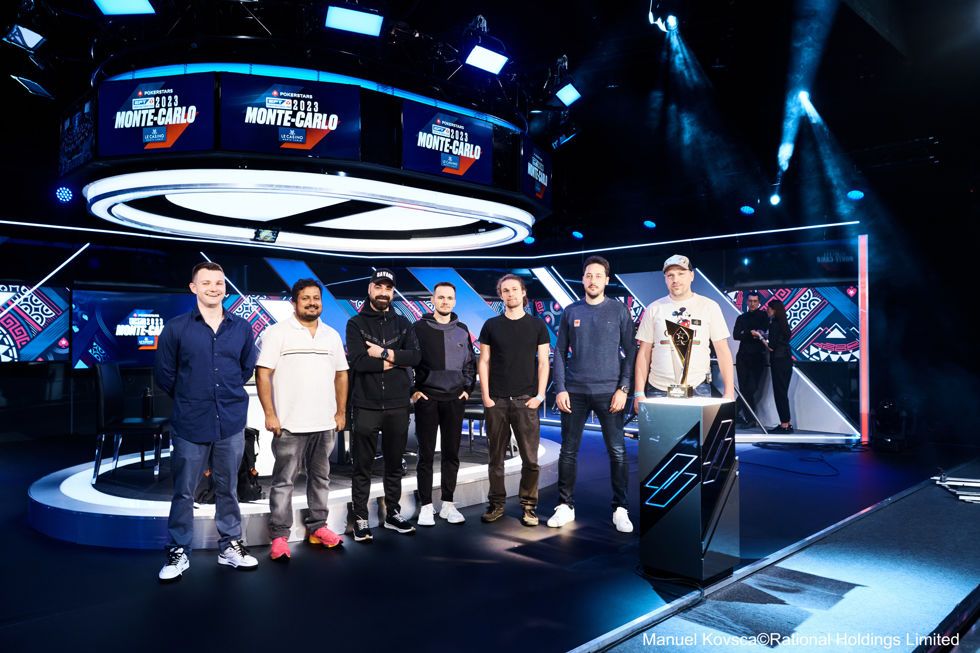 When the finalists began to play, they were on the money bubble, with the top finishers walking away with a return on their €100,000 investment.
It was a cagey affair to start off with as players were folding premium hands preflop to avoid leaving empty-handed. However, the bubble finally burst in the second level of the day after Santhosh Suvarna's pocket nines were bested by the ace-jack held by Adrian Mateos in an all-in preflop encounter. Suvarna's bust out also meant that every player who cashed did so off one buy-in.
The players then went on a break after completing that level and when they came back, it didn't take long for the next elimination. Orpen Kisacikoglu bowed out in sixth place after he ran his ace-queen into Badziakouski's ace-king suited. The latter would go on to river a flush to send Kisacikoglu to the wrong side of the rail. Kisacikoglu collected the €251,300 min-cash, which is a nice addition to the €497,090 he picked up for winning a €25,000 No Limit Hold'em event at EPT Monte Carlo just a few days ago.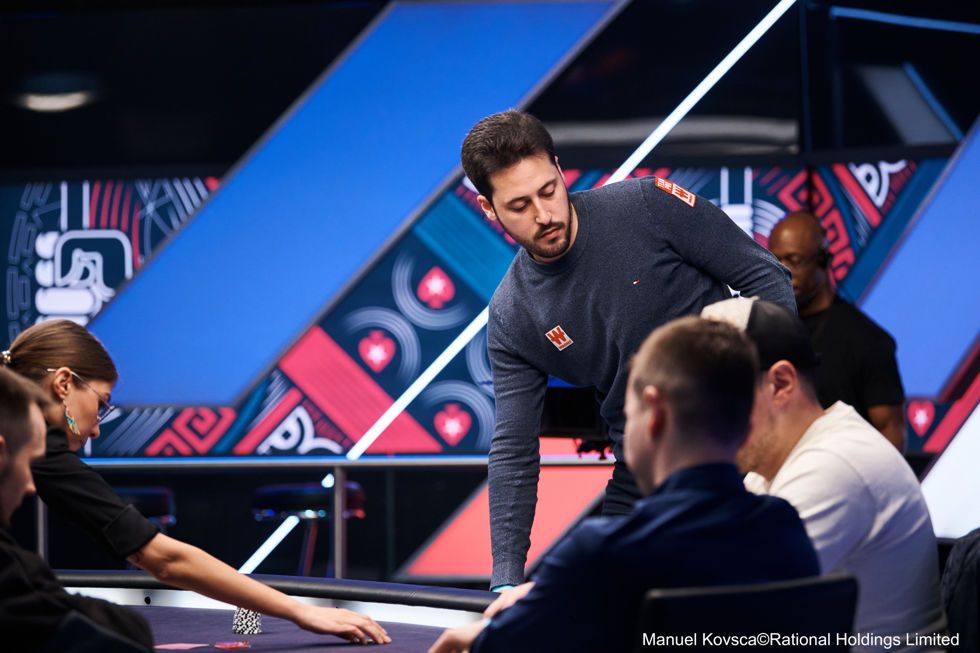 It was then confirmed that there would be a new EPT Monte Carlo Super High Roller Champion, as Mateos' title defense fizzled out following a blind versus blind confrontation with Ben Heath, who had just pulled off back-to-back double-ups. Heath moved in with ace-nine, and Mateos tank-called for his tournament life with king-three. Neither player connected on the runout, and the tournament was brought to four-handed play.
After hitting the river to survive twice already, Artur Martirosian was once again all in and at risk of elimination. Heath jammed as the bigger stack from the small blind with king-three and Martirosian called with ace-eight. Heath turned trip kings to leave his opponent drawing dead and brought the tournament to the final three.
That's where Heath's good fortune would end. He was the next final table casualty as Kulev's king-five stayed ahead of the former's queen-nine.
A heads-up ICM deal was agreed upon and it was determined that Badziakouski would lock up €993,213 while Kulev would get at least €1,009,853. They then duked it out for the remaining €43,074.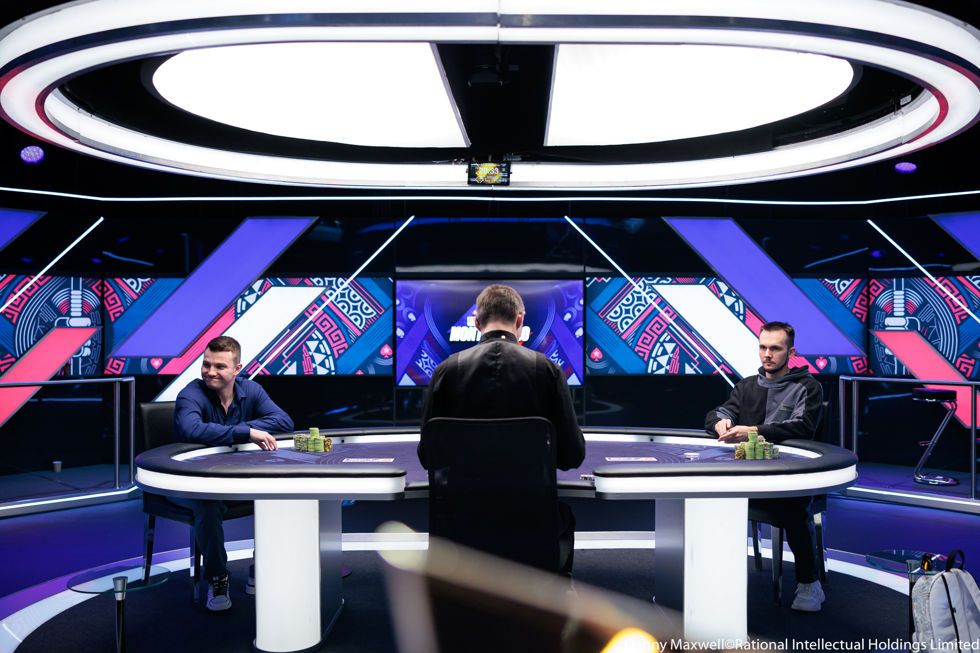 Heads-up play began with Badziakouski having the chip lead by just two big blinds. His experience began to show in the early goings, with momentum on his side. However, a defiant Kulev battled back and swung the chip lead in his favor after he rivered an ace against Badziakouski's flopped top pair.
The final two players were sent on their final break and when play resumed, the start-of-day chip leader produced the finishing blow after hitting a three-outer when all the chips went into the middle preflop.
This marks the end of PokerNews' coverage of the €100,000 EPT Super High Roller, but be sure to check out the EPT Monte Carlo Main Event live updates.
Nível 24 : Blinds 100,000/200,000, 200,000 ante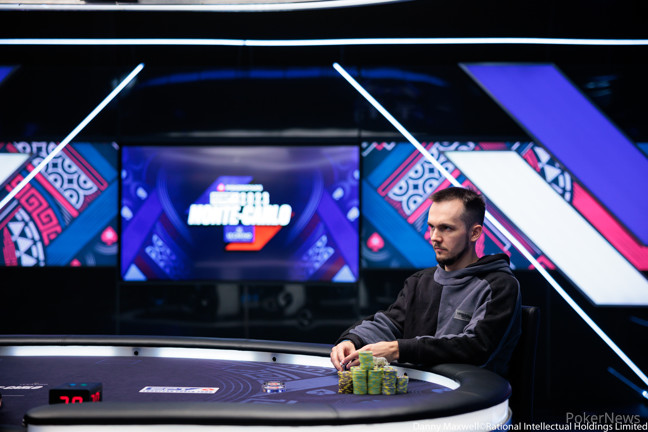 Alex Kulev min-raised to 400,000 from the button with A♦10♦ and Mikita Badziakouski moved all in for 3,075,000. Kulev snap-called and players flipped their cards, with Badziakouski at risk.
Mikita Badziakouski: A♥J♣
Alex Kulev: A♦10♦
"You couldn't have the ace-deuce off?" said Kulev.
The flop came 5♠3♣A♠ to give both players a pair of aces. The turn was the 3♠.
It looked like Badziakouski was set for the double up, until the river came the 10♠ to give Kulev two pair with his aces and tens.
The players stood up and respectfully shook hands.
Badziakouski was eliminated in second place, which after the deal meant that he will walk away with €1,009,853.
Nível: 24
Blinds: 100,000/200,000
Ante: 200,000
Nível 23 : Blinds 80,000/160,000, 160,000 ante
The two remaining players have been sent on a 20-minute break.
Nível 23 : Blinds 80,000/160,000, 160,000 ante
In a limped pot to the A♠10♣8♣ flop, Mikita Badziakouski checked from the big blind with his 9♣4♠. Alex Kulev, with Q♣10♦, bet 160,000 with his pair of tens. Badziakouski called.
Badziakouski check-folded the K♥ turn after Kulev fired another bet.
Nível 23 : Blinds 80,000/160,000, 160,000 ante
Alex Kulev opened to 350,000 with A♦J♦, and Mikita Badziakouski called from the big blind with K♣9♥.
On the K♥8♥8♦ flop, Badziakouski check-raised to 480,000 with his pair of kings after Kulev continued for 160,000. Kulev called.
On the 2♣ turn, Badziakouski slowed down and checked. Kulev did the same.
Kulev paired up on the A♣ river to seal the checkmark. Badziakouski checked again but then faced a bet of 1,000,000. Badziakouski called with the worse hand, which swung the chip lead into Kulev's favor.
Nível 23 : Blinds 80,000/160,000, 160,000 ante
Mikita Badziakouski opened to 350,000 from the button with Q♣6♦ and Alex Kulev defended his big blind with J♠4♠.
Kulev made trips on the J♥J♣7♥ flop and check-raised to 460,000 after his opponent bet 160,000.
Badziakouski folded and the pot went to Kulev.
Nível: 23
Blinds: 80,000/160,000
Ante: 160,000
Nível 22 : Blinds 60,000/120,000, 120,000 ante
Mikita Badziakouski limped in from the button before Alex Kulev made it 480,000 from the big blind. Badziakouski called.
Kulev checked on the 10♥7♠6♠ flop and Badziakouski did the same. Kulev checked again on the 9♠ turn, which prompted Badziakouski to fire for 800,000.
Kulev, who had 4♠4♦, folded. Only one of Badziakouski's cards was visible and it was the K♣.