€1,100 FPS Main Event
Dias: 4
€1,100 FPS Main Event
Dia 4 Concluído
Nível 42 : Blinds 1,000,000/2,000,000, 2,000,000 ante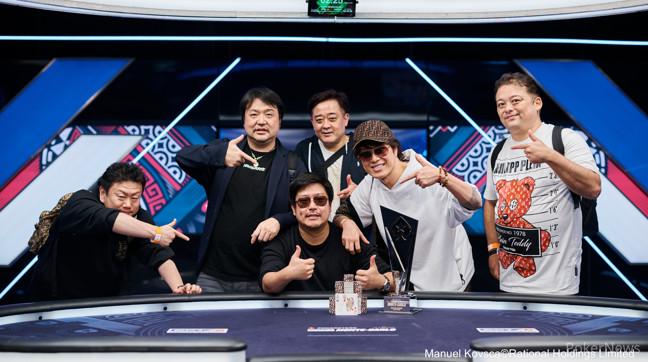 The 2023 PokerStars European Poker Tour presented by Monte-Carlo Casino®️ kicked off with the €1,100 France Poker Series (FPS) Main Event and after four starting flights and three more days of action-packed poker, Japan's Daisuke Ogita claimed the trophy and €307,160, defeating France's Rubens Sellam in heads-up play.
This year's FPS Main Event saw a record-breaking field of 2,138 entries create a massive €2,052,480 prize pool, smashing the previous record for this event. Players from 65 different countries came to compete, with France representing nearly 36% of the field.
Several PokerStars Ambassadors were in the mix but it was none other than Benjamin Spragg who made the deepest run out of his colleagues with a late Day 3 finish in 21st place for €8,850.
Ogita came into today second in chips and navigated his way into the chip lead early on, keeping his foot on the gas pedal until the end to finish victorious. With over $800,000 in live tournament earnings according to The Hendon Mob, Ogita was arguably the most experienced player at the final table and his spectacular play showed just that.
Coming off a recent first place finish in the 2023 EPT Paris €5,150 6-Max for €111,000 just this past February, Ogita had his eyes set on the top spot to up that score and put himself into the top ten all-time money winners from Japan.
€1,100 FPS Main Event Final Table Results
| Place | Player | Country | Prize (EUR) |
| --- | --- | --- | --- |
| 1 | Daisuke Ogita | Japan | €307,160 |
| 2 | Rubens Sellam | France | €191,940 |
| 3 | Tomas Patka | Austria | €137,100 |
| 4 | Anatoly Chen | Russia | €105,460 |
| 5 | Quentin Laugt | France | €81,130 |
| 6 | Stefan Dimitrov | Bulgaria | €62,410 |
| 7 | Adel Rahou | France | €48,010 |
| 8 | Maksym Mamon | Switzerland | €36,940 |
Day 4 Action
Only eight players returned to action at the start of Day 4 and with the average stack being less than 30 big blinds, things got off to a hot start. Switzerland's Maksym Mamon was the first casualty when he picked up pocket queens and moved in from under the gun. The action folded around to Ogita who made the call with king-nine and when the board flopped a king, Mamon was sent to the rail in eighth place.
A few hands later, Adel Rahou picked up queen-jack and found himself in a great position for a double up when he flopped a jack against the pocket sixes of Quentin Laugt. The turn, however, had other plans when a six fell to eliminate Rahou in seventh place. Stefan Dimitrov was the next victim when he picked up ace-jack but ran into the pocket aces of Ogita and couldn't find improvement, sending him out in sixth place.
Soon after, Laugt would be on the short stack and moved in with ace-queen. Ogita held ten-seven suited and made the call to put Laugt at risk. The board ran out giving Ogita a rivered flush and Laugt was forced to settle for a fifth-place finish. Anatoly Chen managed to maneuver his way to a healthy stack for much of the day, but in the end picked up ace-jack and jammed all in against the queens of Tomas Patka. The board didn't improve the ace-jack and Chen was sent to the exit in fourth place for a six-figure payday.
Three-handed play lasted the longest on the day and after close to two hours of back-and-forth battle, it was the start of day chip leader Patka that was left with only four big blinds. Patka called a shove from Ogita with ace-three versus his pocket eights. The board stayed clean for the eights and Patka was eliminated in third place.
Heads-up battle started slow with many pots being taken down preflop, but on the 50th hand Sellam saw a flop of ten-high and held ten-four to get his remaining stack in well ahead. Ogita made the call with the overwhelming chip lead holding ace-queen. The turn was safe for Sellam, but when the river brought a queen, it was the money card Ogita needed to seal the victory and send Sellam out in runner-up position.
That wraps up the coverage of the €1,100 FPS Main Event. Stay tuned as the PokerNews team continues to bring coverage from Sporting Monte-Carlo of select events from the 2023 PokerStars European Poker Tour presented by Monte-Carlo Casino®️.
Nível 42 : Blinds 1,000,000/2,000,000, 2,000,000 ante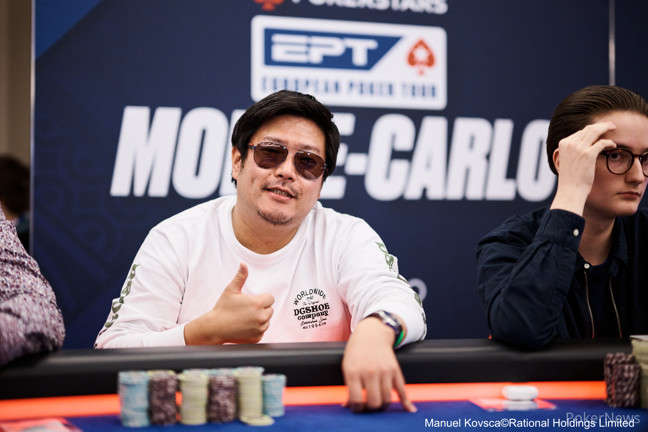 Daisuke Ogita wins the €1,100 FPS Main Event here at EPT Monte-Carlo. A full recap of the event will be available shortly.
Nível 42 : Blinds 1,000,000/2,000,000, 2,000,000 ante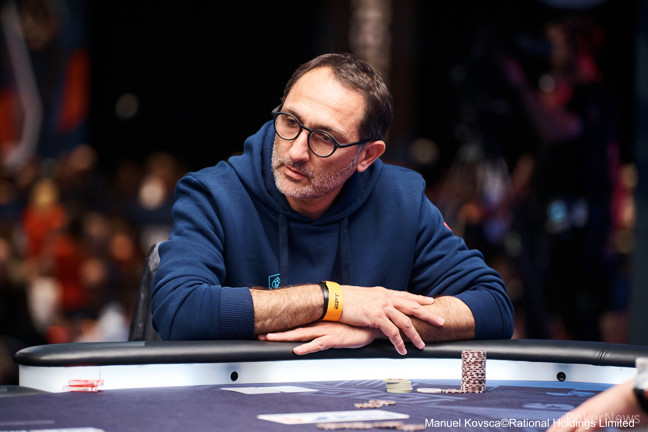 Daisuke Ogita limped in from the button and Rubens Sellam checked back from the big blind.
The flop fanned out 10♣5♦2♥ and Sellam checked to Ogita who moved all in, covering the 11,400,000 remaining for Sellam, who snap-called for his tournament life.
Rubens Sellam: 10♥4♠
Daisuke Ogita: A♣Q♦
Sellam was a big favorite after flopping top pair and would only need to dodge the live cards for Ogita to score a much needed double up. The turn came the J♠ giving Ogita more outs and when the Q♣ hit the river it was the end of the road for Sellam who finished in runner-up position.
Nível: 42
Blinds: 1,000,000/2,000,000
Ante: 2,000,000
Nível 41 : Blinds 800,000/1,600,000, 1,600,000 ante
After folding most hands preflop and paying the big blind and ante every second hand, Rubens Sellam became very short and called the all-in shove from Daisuke Ogita to put himself at risk for his last 6,200,000.
Rubens Sellam: J♥3♦
Daisuke Ogita: A♦8♣
Sellam was in need of help to stay alive and when the board ran out Q♣3♣2♠9♥4♥, it was the pair of threes that scored the pot and full double up for Sellam.
Nível 41 : Blinds 800,000/1,600,000, 1,600,000 ante
Rubens Sellam limped in on the button with Q♦8♦ and Daisuke Ogita checked back in the big blind with K♣5♥.
The flop came A♣J♦5♣ and Ogita checked to Sellam who tossed out a bet of 2,500,000. Ogita made the call and the pair saw the 8♥ turn.
Ogita was pondering his option but Sellam moved all in out of turn before he could act. Ogita eventually mucked his hand and the pot was sent to Sellam.
Nível 41 : Blinds 800,000/1,600,000, 1,600,000 ante
Heads-up play has been all raise and take preflop and the chips have been moving slowly.
Nível: 41
Blinds: 800,000/1,600,000
Ante: 1,600,000
Nível 40 : Blinds 600,000/1,200,000, 1,200,000 ante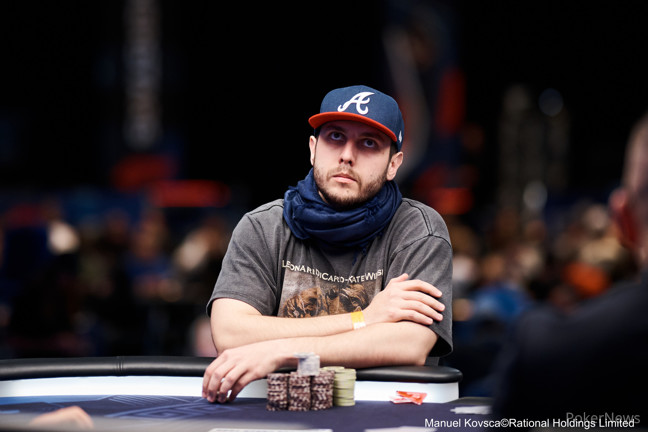 Daisuke Ogita moved all in on the button, covering both his opponents in the blinds. Tomas Patka took a moment before making the call in the small blind for his last 5,200,000 and Rubens Sellam got out of the way.
Tomas Patka: A♥3♣
Daisuke Ogita: 8♠8♣
Patka was in need of help against the eights for Ogita and when the board ran out 10♥9♦3♥K♣6♦, the eights held up to eliminate the start of day chip leader Patka in third place.