€10,200 Mystery Bounty
Dias: 2
€10,200 Mystery Bounty
Dia 2 Concluído
Nível 25 : Blinds 60,000/120,000, 120,000 ante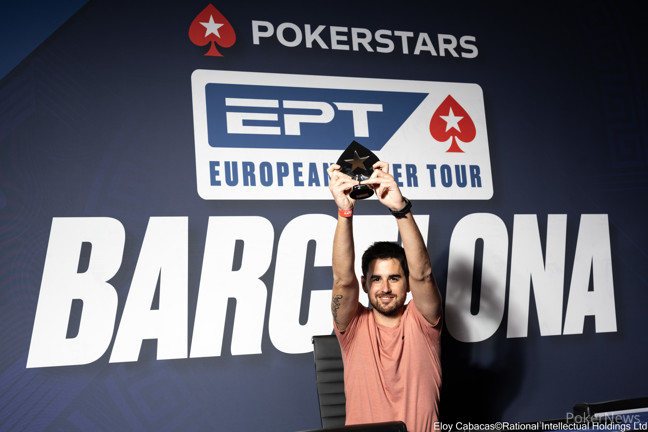 For the second straight year, the PokerStars European Poker Tour (EPT) Barcelona €10,200 Mystery Bounty trophy is headed across the Atlantic to South America.
Uruguay's Francisco Benitez won this title in 2022. One year later and countryman Mathias Duarte emerged as the last man standing in a star-studded field to earn the €104,500 top prize.
The payout is the largest in Duarte's career, which stretches back more than a decade. He made the final table of the €1,150 Mystery Bounty at last year's EPT Barcelona before finishing in ninth place. Today he managed to outlast everyone, moving his live career earnings past $500,000. In addition to the first prize, Duarte also pulled one of the €50,000 mystery bounty envelopes and collected nearly €90,000 in bounties, pushing his earnings from the event to €192,000.
Final Table Results
| Place | Player | Country | Prize | Bounties | Total Earnings |
| --- | --- | --- | --- | --- | --- |
| 1 | Mathias Duarte | Uruguay | €104,500 | €87,500 | €192,000 |
| 2 | Conor Beresford | United Kingdom | €67,500 | €32,500 | €100,000 |
| 3 | Tom Orpaz | Israel | €48,200 | €95,000 | €143,200 |
| 4 | Patrick Kennedy | United Kingdom | €37,100 | €15,000 | €52,100 |
| 5 | Quan Zhou | China | €28,500 | 0 | €28,500 |
| 6 | Erik Seidel | United States | €22,700 | €17,500 | €40,200 |
| 7 | Ramon Kropmanns | Brazil | €18,100 | €72,500 | €90,600 |
| 8 | Ouassini Mansouri | France | €14,500 | €15,000 | €29,500 |
Day 2 action
Day 2 began with 30 players returning out of 56 total entries. With late registration open for the first two levels, the field swelled to 79 by the time the prize pool was confirmed.
From the start, it looked like Tom Orpaz was prepared to take control of the tournament. Orpaz began the day as massive chip leader and continued that momentum early on Day 2, busting Nacho Barbero with a set on one of the first hands, making a full house to beat Tom Vogelsang's straight, then filling up again in a massive pot against Vahe Martirosyan. Orpaz climbed near 2,000,000, more than double his closest challenger at the time.
With only the top 11 players making the money, the likes of Niklas Astedt, Ethan Yau, defending champion Benitez, and Sam Grafton hit the rail short of securing a payday. Tsugunari Toma finished as the unfortunate bubble boy, while Pawel Krol and Keith Lehr followed to the rail shortly after the bubble burst.
By the time the final table of nine was reached, Orpaz had built up a stack of 2,575,000. Only one other player, British online legend Conor Beresford, was even over 1,000,000, while Duarte was in seventh place with 530,000.
Duarte nearly had a short stay at the final table. He had most of his chips in the middle in a pre-flop, all in race against Martin Zamani, but his two eights managed to hold on against Zamani's ace-queen to send Zamani to the rail in ninth place.
Orpaz eliminated Ouassini Mansouri in eighth, turning a straight to beat a pair of nines. Orpaz also busted Ramon Kropmanns in seventh when he called a shove of 490,000 with ace-five and hit top pair to beat king-jack. Kropmanns left with €18,100, but also found the first of two €50,000 top mystery bounty prizes. Orpaz, meanwhile, eclipsed 3,000,000 with that pot as he continued to pull away from the field.
Duarte, though, closed the gap in a massive pot when he shoved the river for 700,000. Duarte continued to take chips from Orpaz until he overtook him on the leaderboard. Duarte led the field at the dinner break, holding nearly three times the chips of Orpaz in second place.
Poker Hall of Famer Erik Seidel busted in sixth place when Orpaz turned a flush. Beresford, who had fallen all the way down to 185,000, nearly joined Seidel on the rail but doubled up with two eights against Duarte, then doubled again when Orpaz shoved blind and Beresford called for 460,000 with king-queen, dominating Orpaz's king-jack.
Orpaz got those chips back when he turned a straight to bust Quan Zhou in fifth place, retaking the chip lead. Beresford capped off his incredible comeback when he doubled up yet again for 770,000 on the river with two kings as he took his turn at the top of the leaderboard.
Patrick Kennedy, securing his first live cash after a decorated online career, got his last 870,000 in the middle with two jacks but Orpaz once again turned a straight to send him out in fourth place. Play then slowed considerably once the table got three-handed, as Duarte took down a series of small pots to climb back over 3,000,000.
Orpaz, who had controlled the tournament for so long, suddenly found himself all in for 1,805,000 with queen-nine and at risk against Duarte's ace-ten. Duarte hit top pair on the flop and Orpaz was shockingly busted in third place.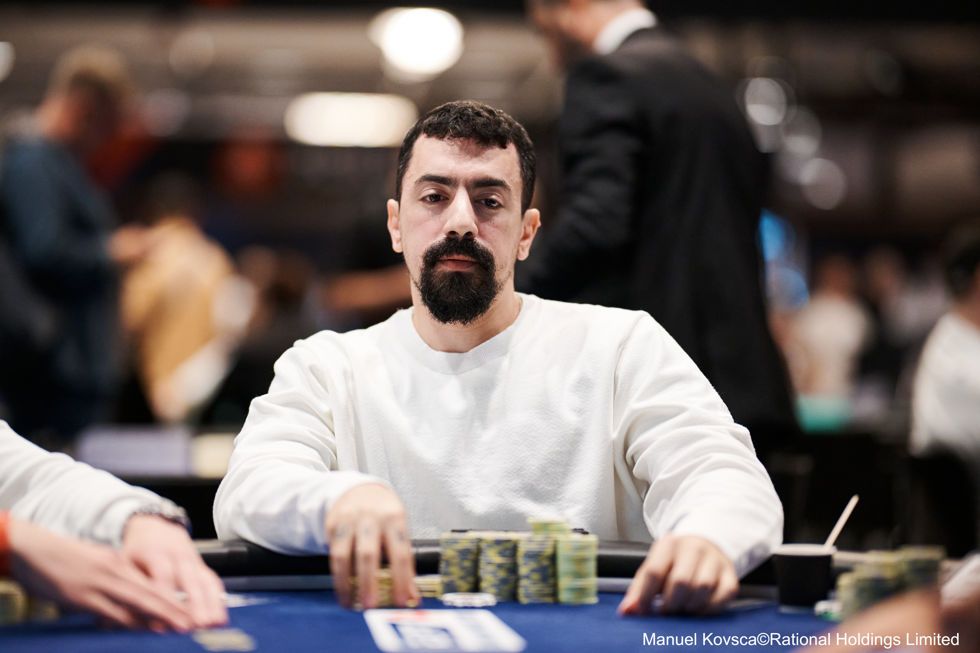 Duarte led Beresford 5,500,000 to 2,400,000 at the start of heads-up, and the match wouldn't last much longer. Beresford moved all in for 1,000,000 on the river with a pair of aces and Duarte snap-called, showing he had rivered the nuts with king-ten for a straight. The tournament ended suddenly as the trophy, once again, prepared to head over to Uruguay.
That concludes PokerNews' coverage of the €10,200 Mystery Bounty. Stay tuned for more coverage of the 2023 EPT Barcelona.
Nível 25 : Blinds 60,000/120,000, 120,000 ante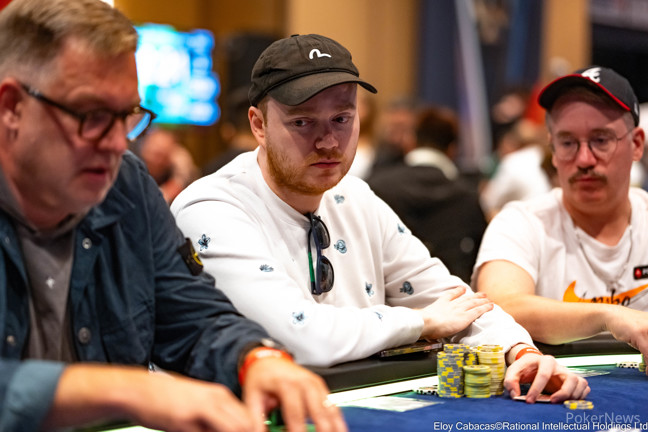 Conor Beresford raised to 250,000 on the button and Mathias Duarte called.
The flop came 3♥A♣Q♦ and Beresford continued for 210,000. Duarte called again and the 8♣ fell on the turn.
Beresford then bet another 450,000 and Duarte called. The river came the J♦ and Duarte checked over to Beresford again.
Beresford paused for a moment before announcing he was all in for around 1,000,000. Duarte immediately pumped his fist and shot up from his seat, snap-calling with K♦10♥ for the rivered straight.
Beresford showed A♥10♣ as the online legend known as "1_conor_b_1" fell short in his quest for the title.

Nível 25 : Blinds 60,000/120,000, 120,000 ante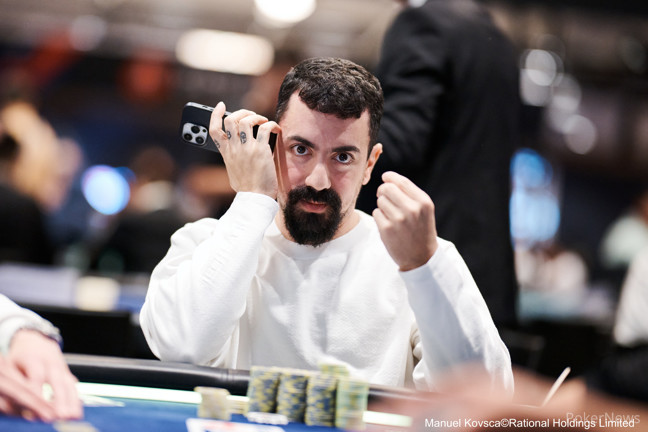 Tom Orpaz shoved 1,805,000 and Mathias Duarte called to put him at risk.
Tom Orpaz: Q♣9♣
Mathias Duarte: A♦10♥
The board ran out 7♠A♠8♦8♥5♦ and the flopped pair of aces sent Orpaz to the rail in third place for €48,200.
Nível 25 : Blinds 60,000/120,000, 120,000 ante
On the first hand after the break, Tom Orpaz raised to 250,000 on the button before Mathias Duarte moved all in from the big blind.
"I knew he was going to do it. I have queen-jack," Orpaz said as he mucked.
The next hand, Conor Beresford shoved on the button for around 1,600,000. "Bad one," Orpaz said, turning over a 2♣ followed by the 9♦ and mucking.
Nível: 25
Blinds: 60,000/120,000
Ante: 120,000
Nível 24 : Blinds 50,000/100,000, 100,000 ante
Nível 24 : Blinds 50,000/100,000, 100,000 ante
The three remaining players are now taking a short break.
Nível 24 : Blinds 50,000/100,000, 100,000 ante
Tom Orpaz raised to 200,000 on the button and won the pot when his two opponents both folded. "Walk? I have a pair," he said.
Orpaz received a walk the next hand and showed K♥5♥ as he took Mathias Duarte's small blind.
The next hand, Duarte made it 250,000 on the button before Conor Beresford shoved for 1,300,000 in the big blind. Duarte quickly folded.

Nível 24 : Blinds 50,000/100,000, 100,000 ante
Tom Orpaz shoved from the small blind and Conor Beresford called quickly from the big blind for his last 780,000.
Conor Beresford: A♠J♥
Tom Orpaz: 9♣8♣
The board ran out 6♥6♦4♣2♠7♠ and Beresford held on with ace-jack to secure the double.