€25,000 NL Hold'em II
Dias: 1
€25,000 NL Hold'em II
Dia 1 Concluído

Nível 22 : Blinds 30,000/60,000, 60,000 ante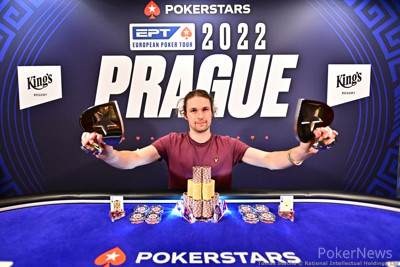 The third high-stakes contest of the 2022 PokerStars European Poker Tour (EPT) Prague festival has come to a conclusion in the early morning hours. After more than 13 hours of live poker action at the Hilton Prague, Event #13: €25,000 Single-Day High Roller has come to a conclusion.
Out of a field of 30 entries, the top five finishers shared a portion of the €720,300 prize pool, and the player to collect all the chips was the same as the previous night. The UK's Ben Heath scored back-to-back victories after a fiercely contested heads-up duel with Thailand's Kannapong Thanarattrakul, after which Heath walked away with the top prize of €273,710 and second PokerStars Spadie trophy in a row.
Thanarattrakul dominated the final table and was responsible for bursting the money bubble but he was unable to finish the job after a heads-up duel that lasted more than two hours. Aleksejs Ponakovs, Pablo Brito Silva, and Jorryt van Hoof were the only other players to earn a cash prize while Kent Staahle was the last contender to walk away empty-handed without anything to show for.
Final Result Event #13: €25,000 Single-Day High Roller
| Place | Winner | Country | Prize (in EUR) |
| --- | --- | --- | --- |
| 1 | Ben Heath | United Kingdom | €273,710 |
| 2 | Kannapong Thanarattrakul | Thailand | €176,470 |
| 3 | Aleksejs Ponakovs | Latvia | €117,050 |
| 4 | Pablo Brito Silva | Brazil | €84,640 |
| 5 | Jorryt van Hoof | Netherlands | €68,430 |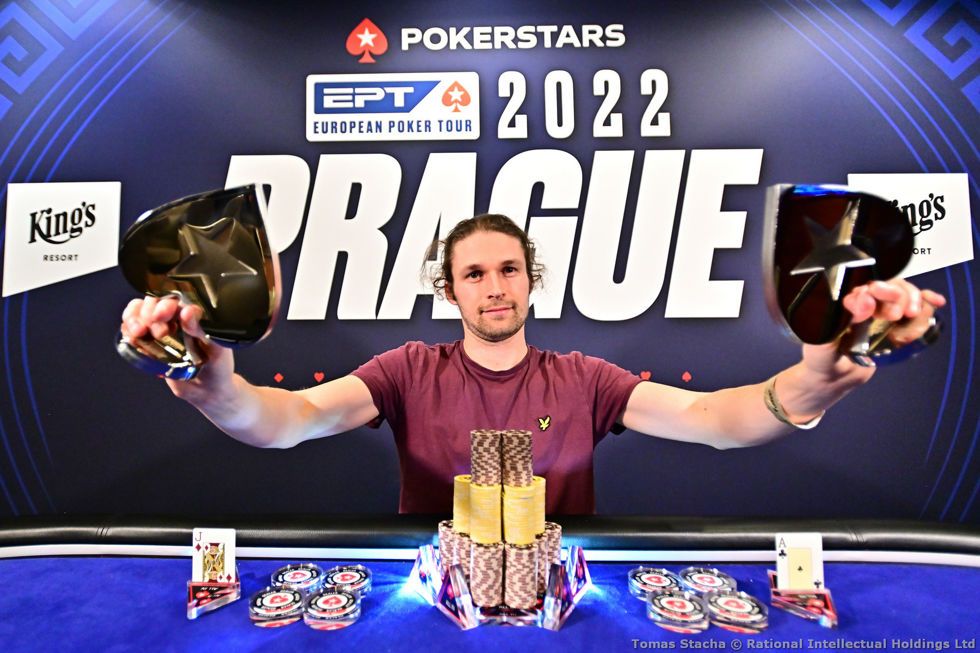 It wasn't smooth sailing by any means for Heath to claim the second victory in a row and he even needed to take advantage of the reentry option after he ran with ace-king into the pocket aces of Timothy Adams in Level 3. By then, Mike Watson was already on the rail after he crashed out on the very first level.
Other notables would follow such as Orpen Kisacikoglu, Pascal Lefrancois, aforementioned Adams, Tom Orpaz, and
Rodrigo Seiji. The eventual runner-up also had to buy back in after his ace-ten suited was cracked by the ace-nine of Adams. The latter found no fortune on bullet number two and Heath was ousted a second time, too, when Staahle rivered a straight.
Last night's runner-up Alex Kulev quickly doubled after entering the fray but couldn't keep up the momentum to bow out before the dinner break. Five late entrants at the end of the registration period paved the way for the last two tables and they quickly became one as notables such as Juan Pardo, Dimitar Danchev, €10,200 Mystery Bounty Event winner Seiji, and Steve O'Dwyer were all among the casualties.
Adrian Mateos and Sam Greenwood suffered cruel beats after the field of hopefuls had combined to a single table for the last time. The Spaniard got it in with pocket tens for an overpair only for Thanarattrakul to river a nine-high straight. However, the exit of Greenwood was even worse when his kings were up against the ace-king of Heath. Despite improving to a set with the case king on the flop, Greenwood was doomed when Heath hit running cards for Broadway.
Kisacikoglu never recovered from a major setback to fall two spots away from the money and Staahle then risked it all with the nut flush draw. Thanarattrakul looked him up with top pair and prevailed to let Ponakovs as the far shortest stack celebrate. Down to the final five players, Heath and Thanarattrakul were the runaway chip leaders and took their turns to decimate the field to the heads-up stage.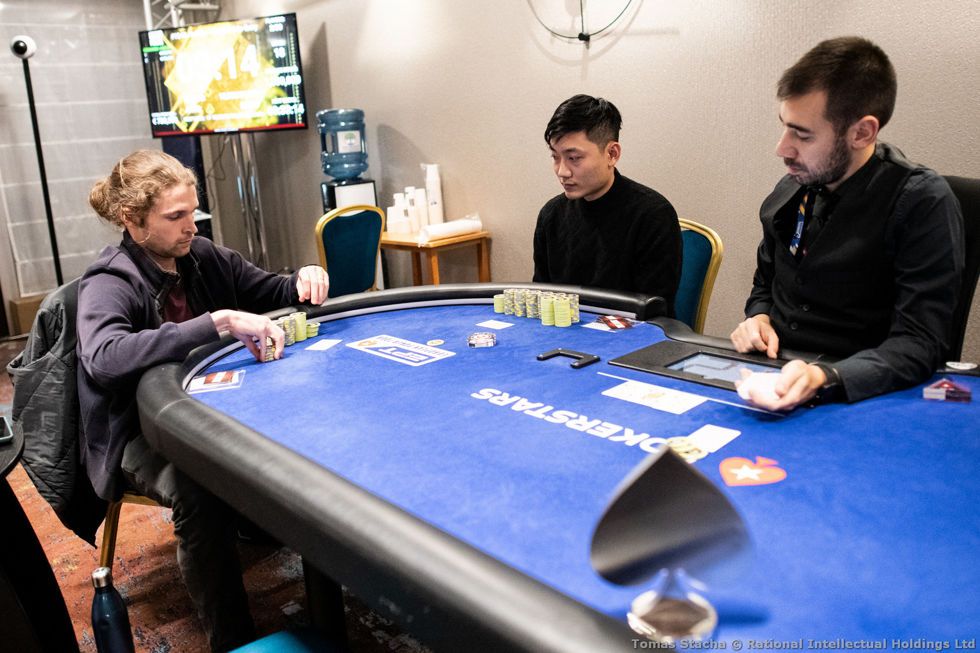 Thanarattrakul entered the duel with a two-to-one lead and Heath slowly but steadily took chunks out of his stack to take over the top spot. The Brit established a five-to-one advantage for a short period only for the Thai poker pro to regain the lead. And then, after more than two hours of cagey heads-up play, it was all over in the blink of an eye when they flipped for it with king-ten versus ace-jack as Heath came out on top once more.
Many of those who entered the two editions of the €25,000 Single-Day High Rollers are expected to jump into the €50,000 Super High Roller, which is set to take place from December 11 to 13, 2022. The PokerNews live reporting team will be back then to provide all the action from the tables in the capital of the Czech Republic.

Nível 22 : Blinds 30,000/60,000, 60,000 ante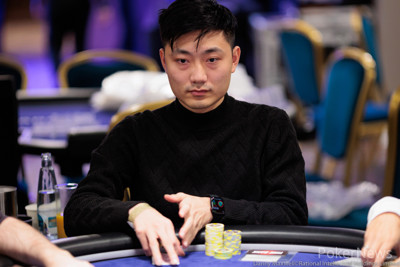 Ben Heath limped the button and Kannapong Thanarattrakul then moved all-in once more. This time, Heath snap-called and Thanarattrakul was shell-shock for a second before they flipped over the cards.
Kannapong Thanarattrakul:

Ben Heath:
"It's a flip," Thanarattrakul said to his Thai rail that included his girlfriend, business partner and Phachara Wongwichit.
The "flip" went to Heath thanks to a
board and Thanarattrakul had to settle for second place, which comes with a consolation prize of €176,470. Heath scored back-to-back victories in the €25,000 Single-Day High Roller and collects €273,710 for his efforts.
A full recap of today's action is to follow.

Nível 22 : Blinds 30,000/60,000, 60,000 ante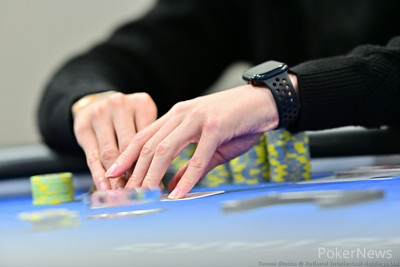 Kannapong Thanarattrakul randomly strayed in large button jams and one of them was for 1.4 million, which essentially evened out the stacks after he found no resistance.
Ben Heath then limped the button and Thanarattrakul checked as both then checked the
flop. On the
turn, Thanarattrakul bet 100,000 and Heath called to do so again on the
river for 150,000.
Thanarattrakul revealed the
for a bluff and Heath won the pot with the
.
Nível: 22
Blinds: 30,000/60,000
Ante: 60,000

Nível 21 : Blinds 25,000/50,000, 50,000 ante
Kannapong Thanarattrakul raised to 125,000 on the button for Ben Heath to call. The
flop was checked by the Brit and Thanarattrakul bet another 100,000. Heath check-raised to 275,000 and Thanarattrakul flung his cards into the muck.
Thanarattrakul jammed the next two hands preflop to chip back up and got another bet through on the river of a king-high board.

Nível 21 : Blinds 25,000/50,000, 50,000 ante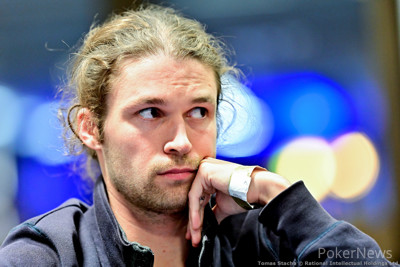 Kannapong Thanarattrakul limped the button and Ben Heath checked his option to a
flop, on which he check-called for 50,000. After the
turn, Heath checked and faced a bet of 100,000 by Thanarattrakul. The check-raise to 350,000 by the Brit was called and Heath then pushed all-in on the
river.
Within one second, Thanarattrakul tossed all his remaining time bank extensions to the dealer. Three of them were used after the exact all-in amount of 765,000 was determined and Thanarattrakul eventually shook his head and folded.

Nível 21 : Blinds 25,000/50,000, 50,000 ante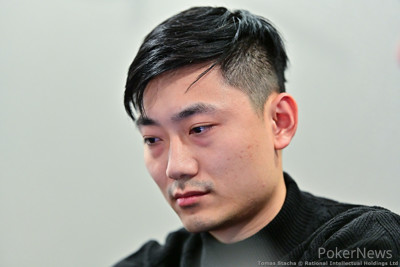 The new level brought a whelm of small pots and more of those went to Kannapong Thanarattrakul. He also scooped the biggest pot in a while and reclaimed the lead from Ben Heath.
It all started with a button limp by Heath and a check by Thanarattrakul, which led them to the
flop. Thanarattrakul check-called for 50,000 and did so again for 125,000 on the
turn after carefully checking the stack behind.
On the
river, Thanarattrakul checked and Heath bet another 350,000. This time, Thanarattrakul called swiftly and was shown the
for a bluff, which he had beat holding the
for the top two pair.
Nível: 21
Blinds: 25,000/50,000
Ante: 50,000

Nível 20 : Blinds 20,000/40,000, 40,000 ante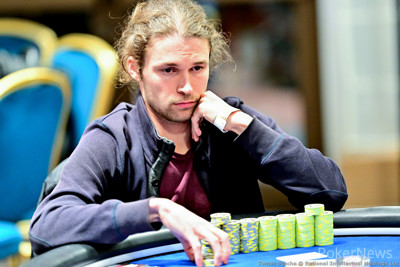 Kannapong Thanarattrakul made it 100,000 to go on the button and Ben Heath checked his option as they headed to the
flop. Heath subsequently check-raised from 40,000 to 120,000 and Thanarattrakul stuck around.
After the
turn, Heath let his shot clock run down to six seconds before he checked. Thanarattrakul bet 225,000 and Heath invested one time bank extension before folding.