€25,000 Single-Day High Roller I
Dias: 1
€25,000 Single-Day High Roller I
Dia 1 Iniciado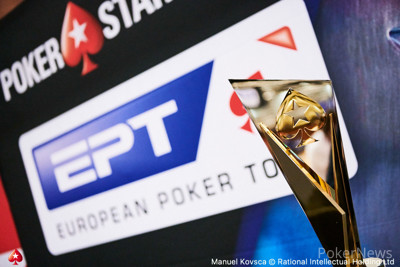 With the Main Event now in full swing at the 2019 PokerStars EPT Prague, it is now time for some of the single-day high rollers to take place. Today will mark the first of two €25,000 Single-Day High Roller with a day off in the middle separating the two.
While some players will be participating in the Main Event on the last starting flight, there is a good chance that all of the usual high-roller players will take at least one shot in this event today. Adrian Mateos, Jean-Noel Thorel, Tsugunari Toma and Stephen Chidwick have been victorious in the high-roller events earlier this week, with Mateos, Thorel, and Toma cashing on multiple occasions.
The cards are scheduled to go in the air at 12:30 p.m. local time, but as with all high-roller events, there is often a slight delay until enough players have been seated. Each player will be given a starting stack of 100,000 chips and the blinds will start at 500/1,000 with a 1,000 big blind ante.
There will be an unlimited re-entry option for the players in this event with late registration staying open until the start of level nine. The levels will be 30-minutes in length, making this somewhat of a turbo format. There will be a 15-minute break after every four levels and a 60-minute dinner break after level 12. As most high-roller tournaments have become accustomed to, this event will run with a 30-second shot clock and each player will start with six 30-second time extensions.
The PokerNews live reporting team will be back to bring you all of the action throughout the day on route to crowning another EPT champion.
Nível: 1
Blinds: 500/1,000
Ante: 1,000
Nível 1 : 500/1,000, 1,000 ante
The cards are in the air to kick off of this single-day high roller with 10 players currently in their seats.
Jogador
Fichas
Oscilação

Juan Pardo

100,000

100,000

Kahle Burns

100,000

Orpen Kisacikoglu

100,000

100,000

Sam Greenwood

100,000

100,000

Ben Heath

100,000

100,000

Jean-Noel Thorel

100,000

100,000

Teun Mulder

100,000

100,000

Luuk Gieles

100,000

100,000

Hirokazu Kobayashi

100,000

100,000

Jun Obara

100,000

100,000

Nível 1 : 500/1,000, 1,000 ante
Nível 1 : 500/1,000, 1,000 ante
Three players saw a flop of
and Rainer Kempe was the first to act who checked. Jean-Noel Thorel bet 4,000 into a pot of around 8,000 and Sam Greenwood raised to 12,000 on the button. Kempe folded but Thorel counted out a re-raise to 39,000. Greenwood instantly mucked his cards and Thorel scooped the pot.
Thorel turned over
for top two pair, proving that he had the goods.
Nível 1 : 500/1,000, 1,000 ante
It was still early in the first level of the day, but that didn't stop some players at Table 1 from getting all of their chips in the middle. Teun Mulder opened to 2,500 from under the gun and Luuk Gieles three-bet to 7,500 in the cutoff. Ben Heath tossed in a four-bet to 20,000 on the button which got the blinds to quickly fold.
Mulder announced a five-bet shove for roughly 100,000 and Gieles got out of the way while Heath quickly called. Both players turned over ace-king offsuit and an ace on the flop with a rainbow board meant the two players would chop the pot.
Nível: 2
Blinds: 500/1,000
Ante: 1,000

Nível 2 : 500/1,000, 1,000 ante
The dealer was counting out a double for Sirzat Hissou against Rainer Kempe.
The board read
and according to the table, Kempe had check-raised the flop before betting on the turn. Hissou shoved for 72,500 and Kempe called with
for two pair. Hissou was ahead with
for kings and twos, and rivered a full house for good measure to leave Kempe perilously short.

Nível 2 : 500/1,000, 1,000 ante